WhatsApp, the most commonly use and powerful messaging application for mobile devices has a limitation in itself. It can only be used on a single device at any given point of time. However, if you want the convenience of a larger screen and the comfort of typing with a physical keyboard, you can pair it with the web edition of WhatsApp using your PC or laptop. Simply open a browser, hit the 'web.whatsapp.com' url and pair your smartphone with the QR code that is displayed on the screen. Your WhatsApp messenger can then be used simultaneously on your desktop PC or laptop.
We all know that WhatsApp cannot be used on a tablet, be it Android, Windows or Apple. Since the tablet version of WhatsApp is not available, the limitations are equally disheartening. Unless you have a tablet with calling features (where you have the option to install a SIM card and make use of it as a large phone) you cannot use WhatsApp. However, if you want to use WhatsApp on your iPad, similar to how you would use it on your desktop, it is 'almost' impossible. The tablet's browser detects the device as a mobile unit and does not allow the web version to open up. Instead, it takes you to the page to download the WhatsApp app. This can be overridden with a simple trick.
All you need to use is Firefox, which has the feature that allows the mobile browser to open a website as a desktop. It basically simulates itself as a desktop browser, telling the website that it is a desktop PC and brings in the desktop website to the screen.
Also Read: How to get the latest WhatsApp update before your friend
In order to use WhatsApp from a mobile, you need a second smartphone with data or Wi-Fi connected. For an Android tablet, simply follow the steps ahead. Download Firefox on your mobile, or Android tablet and fire up the 'web.whatsapp.com' url. You will see that the browser takes you to the download page instead. Simply tap the ellipse (...) or option icon and select 'Request desktop site' and the page will switch to the desktop mode where you can scan the QR code. Open WhatsApp on the phone that is presently registered with WhatsApp and scan the QR code and your second smartphone or tablet will give you access to the same WhatsApp.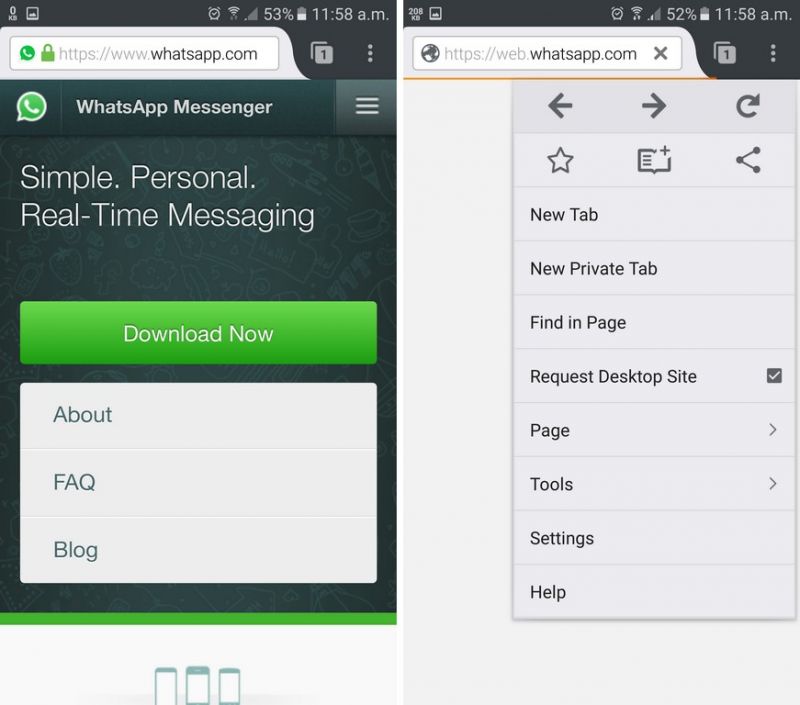 Also Read: How to use two WhatsApp accounts on your smartphone with one app
For iPad users, The Firefox trick does not work. However, you can use the Safari browser itself. Fire up Safari, hit the WhatsApp website and tap on the WhatsApp Web link there. As usual, the browser won't allow you to use it like you need it to. Now tap and hold on the refresh icon (located on the left of the url field) and select 'Request desktop site' from the popup. Do the same as explained above.
Also Read: How to transfer WhatsApp data from old phone to new?
Here you have it. You can now use the same WhatsApp account on two devices simultaneously. So if you are using your tablet for work, gaming or reading, you don't have to constantly keep shuttling between your smartphone and tablet for WhatsApp. All you need is an internet connected smartphone, tablet or iPad.
Also Read: WhatsApp's new encryption security is a ticking time bomb!
Also Read: WhatsApp, presently legal, could soon get banned in India: Report
Also Read: WhatsApp end-to-end encryption: a boon or bane?
Also Read: Facebook and WhatsApp will not work on this phone from April
Also Read: Big hoax: 'How to send WhatsApp messages without Internet'
Also Read: Beware! 'WhatsApp without Internet' fake message doing rounds
Also Read: Could WhatsApp be a potential security threat to you?
Also Read: Are WhatsApp 'blue ticks' still haunting you? Here's a trick to avoid it
Also Read: How to use two WhatsApp numbers on the same Android phone