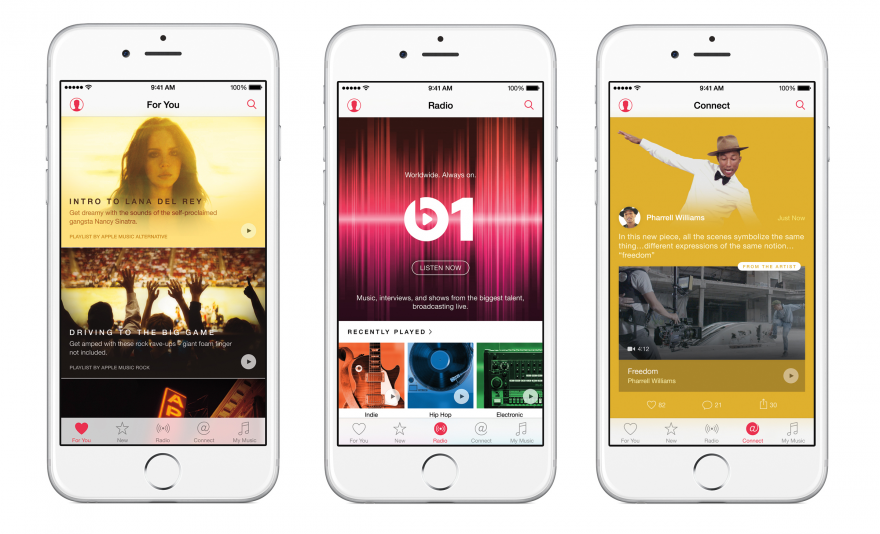 If you follow the world of technology, the cold war between the big names of the industry is pretty evident. Whether it be Google, Apple, Microsoft, Samsung or the many other players, each one is in the pursuit of outwitting the competition, either by bringing in something new to the table or improve the others' recipe with a new flavour. Apple needs no introduction to anyone and is sharpening its tools for an attack on one of the world's biggest video depositories — YouTube.
Apple Music — the company's premium music streaming service, has recently received an update for both the iOS and Android platforms. Apart from the usual array of bug fixes and stability improvements for the app, Apple brings in the ability to check out the latest music videos within the app. Users will be able to catch hold of the music videos they like in full-screen view and even create a personalised video playlist. The best part — there are no ads.
"Apple Music will soon be the home for music videos. Users can stream all the music videos they want without being interrupted by ads. They can also watch the hottest new videos, the classics or ones from their favourite artists back-to-back in new music video playlists," wrote Apple in their iOS 11.3 preview release notes.
The idea of embedding videos in music apps is not new. Several of Apple Music's rivals already allow subscribers to check out music videos. However, all of them send the user to a YouTube link to the song, thereby relying heavily on Google's video streaming service. The route that Apple has taken is different — creating a different depository that is optimised for its own platforms. Providing music videos on its own platform will give its subscribers another reason to retain their subscription with the service instead of opting out to a rival music service. And, Apple won't have many issues in providing licensed videos to users as Apple Music is a paid service.
It's hard to predict whether Apple Music's new inclination to video services will be preferred by consumers over Google's already-ruling YouTube. YouTube already has a premium subscription-based service by the name of YouTube Red available in selected countries. Following are some of the features that Apple Music shares with YouTube Red:
Ad-free music video streaming
Background video playback for smartphone platforms
Offline downloads
While both the services seem to offer a similar array of features, YouTube has an unprecedented lead over Apple Music when it comes to the content collection — the world thrives on YouTube for music videos, documentaries and vlogging. Apple Music is only focused on music videos and documentaries as of now. However, Apple's update to Music is already available across most countries, including India, whereas YouTube Red is yet to come to our market. Additionally, as with all Apple services, users should experience a quality experience, especially on all of Apple's platforms.
If you are having an iPhone and iPad, the updated Apple Music could be one of the best ways to enjoy the latest music videos in addition to the existing array of streaming services. This Apple Music update is already available on all iOS as well as Android devices. Users can start a trial period of 30 days, followng which it becomes a monthly/ yearly paid service.
Click on Deccan Chronicle Technology and Science for the latest news and reviews. Follow us on Facebook, Twitter.
Click on Deccan Chronicle Technology and Science for the latest news and reviews. Follow us on Facebook, Twitter.
...