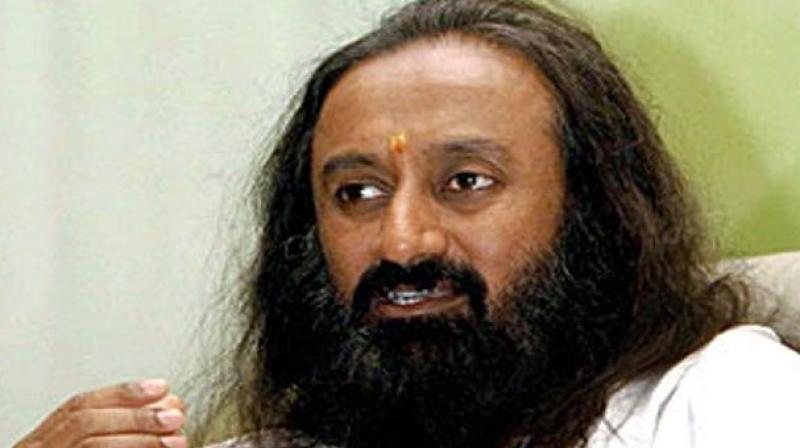 Srinagar: Spiritual leader and the Art of Living founder, Sri Sri Ravi Shankar on Wednesday termed the Kashmiri separatists and militants as cash-cows and claimed that ninety percent of the Valley's 'neglected' people want peace.
Sri Sri who was speaking to reporters after the launch of South Asian Peace Forum Programme 'Back to Paradise Kashmir' organised by the Art of Living foundation in the restive State's winter capital Jammu said, "High percentage of people living in Kashmir want peace but they feel neglected" and ignored" as their voice is not heard outside and even not being highlighted by the media".
He added, "The solution to the Kashmir problem can only come from the Kashmiris". The meet is being attended by Kashmir's multiple stakeholders including ex-militants, families of victims of violence, youth leaders, women, entrepreneurs, parents bodies, select Kashmiri NGOs, Sufi leaders, academicians, media, persons in art and culture, representatives of the Sikh community and some of those who have indulged in stone-throwing, a spokesman of the AOL said.
Sri Sri said the purpose of holding the meet was to provide platform and space to the "ignored" section of people in the Kashmir Valley, which is around 90 percent and they want peace for an overall development, progress and prosperity of the region." He, however, said that some Imams (religious preachers) also met him and they also batted for peace but expressed resentment that nobody listened to them. Replying questions, he said that peace was the only way out in Kashmir and that "it is proven that conflict becomes cash-cow for some people and they do not give up." He asserted, "Such elements earn in the name of struggle and freedom movements, but actually they also don't know from whom and what 'Aazadi' (freedom) they want." He added that the people need to understand this and must come forward and realise the truth.
Speaking speaking at the conference, Sri Sri said, "Many of you have traveled 12 and 15 hours to get here because you are deeply pained by what has happened in the recent months." He added, "I have not come here with a ready-made solution. We will all have to come together, sit together and bring out a solution. Solutions cannot be found in the streets, not with stones and guns."
He also said, "Kashmir has been a bastion of the intellectuals, artists, spiritual leaders, Sufis, literary greats, Rishis and Munis. But unfortunately today, we are helplessly watching schools being burnt, schools and buses are being burnt, shops being gutted. There are many sane voices which are unheard. The common man is caught between harthaal and curfews. So there is a dire need for a platform where common people can express their opinions, ideas. So I thought we should come together and form a platform, South Asian Forum for Peace."
A statement issued by the AOL later said that it is for the first time in recent months that such a diverse and large representation of stakeholders from Jammu and Kashmir came together for a dialogue on peaceful and prosperous Kashmir.
...