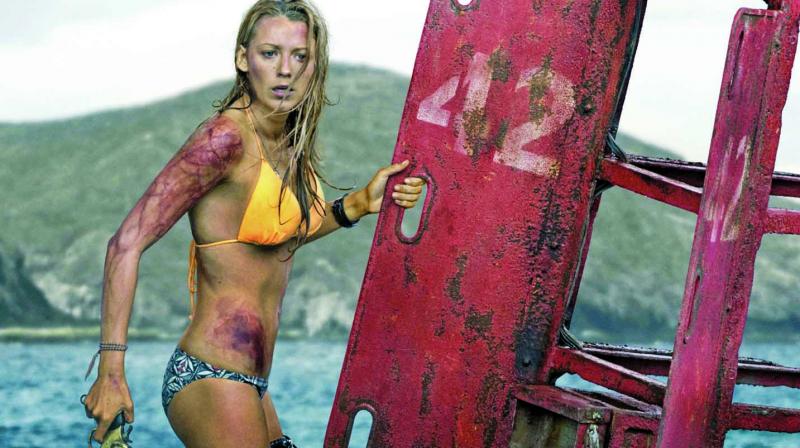 Rating:
Cast: Óscar Jaenada, Brett Cullen, Blake Lively
Director: Jaume Collet-Serra
The Shallows is yet another survival thriller, a genre populated by such films as 127 Hours (2010) and Gravity (2013), but has neither the pathos of the former, nor the stunning visual effects of the latter to enrapture the viewer. Nancy Adams (Blake Lively), a medical student, decides to visit an unnamed beach during a holiday in Mexico. Her plans to surfboard go awry when, barely a few yards away from the shore, she is trapped by a shark. The rest of the film involves how she tends to her own injuries, survives without food and water, and fights her way out of the jaws of death. The action of the film unfolds within a very small geographical space, a territory defined by the shark's movements.
Although within visual distance of only a few hundred yards from the shoreline, Nancy finds herself swimming to and from the carcass of a shark, a rock, and a buoy for safe haven, thus imbuing the atmosphere with a sense of claustrophobia and heightening her helplessness. The fact that she is a medical student is conveniently used when, after she is bitten by the shark, she climbs on to the nearest object available and stitches her own leg up. Echoing 127 Hours, she makes a video, seeking help from whoever discovers the camera when it gets washed ashore. But the trope of man — or in this case, woman — against nature fizzles when nature is invested with a streak of personal vendetta against humans.
The depiction of sharks as obsessive predators is far from unprecedented; Jaws is, after all, four decades old. One would, therefore, think that Hollywood would come up with newer ideas instead of serving old wine in a new bottle. Within this rather hackneyed plot, there is interwoven an ineffectual back-story about Nancy's family conflict. She has distanced herself from her father since her mother's death, and is now in Mexico, on her mother's favourite beach. The said conflict is about how Nancy needs to be a strong person and not drop out of medical school just because the revered profession failed to save her mother from the clutches of cancer.
All this is conveyed through FaceTime videos which are displayed on our screen. The intrusion of her escape into the lap of Mother Nature by technology is mawkishly blamed on her American roots as soon as her character is introduced. During her drive towards the beach with a Mexican man, Nancy nostalgically flips through pictures of her mother on her phone before the driver tells her to put it aside and, instead, admire that which is "real and authentic" around her. There are few other characters in the film, most of whom are eaten up by the shark. For most part, the background score is eerie and is employed well. Blake Lively looks convincingly harrowed, but her performance is encumbered by choppy writing which, although makes her character resourceful, finds her talking to herself or the seagull in scenes that call for horror, but are simply rendered cringe-worthy.
We must sympathise with our protagonist — not because ending up as food for sharks is one of the most gruesome ways to die, but, as is pointed out by her father in the FaceTime conversation, Nancy is a good girl who always likes to help others. The seagull, then, becomes an important character whose broken wing Nancy repairs, even though she is ill-equipped to prevent her leg from turning gangrenous. The CGI shark, with its mouth wide open in an eternal yawn of voraciousness, could have been more terrifying were it not for the shallowness of the plot. Even at one hour and twenty-six minutes, this aptly titled film gets weary.
The writer is programmer, Lightcube Film Society
...