Nation
Telangana poll results: KCR is back in state, in one clean sweep
Deccan Chronicle | DC Correspondent
Published on: December 11, 2018 | Updated on: December 11, 2018
Telangana Assembly election was held on Dec 7 after KCR dissolved the government almost eight months before its expiry.
Telangana Rashtra Samithi (TRS) chief K Chandrasekhar Rao is greeted by his partyworkers as they celebrate their party's victory in the state Assembly elections, at Telangana Bhavan in Hyderabad. (Photo: PTI)
Hyderabad: The Telangana Rashtra Samithi is set to form its second successive government in the state as the people have returned it to power with a thumping majority, a ringing endorsement of party chief K Chandrasekhar Rao's populist policies.
It was evident as soon as counting started that the TRS juggernaut would not falter till it had captured the Assembly. The party has managed a little less than 90 seats so far in the 119-seat Assembly.
The People's Front – a combine of the Congress, the TDP, the TJS and CPI – is likely to get around 20. The BJP will settle for 2, while the AIMIM is leading in 5 Assembly seats.
Analysts feel the Congress would have fared better if it had gone alone and not with Andhra Pradesh Chief Minister Nara Chandrababu Naidu.
Rao had dissolved the Assembly in September, eight months ahead of schedule, in a political gamble that paid off handsomely, as the party is expected to improve on its previous strength of 63 in the 119-seat Assembly.
However, TRS strength had risen to 82 after defections from TDP and Congress before the elections. "The people reposed faith in the leadership of our chief minister and they did not believe in the disinformation campaign of the opposition," said T Harish Rao, a minister in the outgoing government and a nephew of Rao.
T Harish Rao created a record by winning 6 times, scoring a double hat-trick .
In a major setback, however, for the TRS, three of its ministers T Thummala Nageswara Rao, Chandulal and Jupally Krishna Rao have lost to the Opposition.
The Asaduddin Owaisi-led All India Majlis-E-Ittehadul Muslimeen (AIMIM) Tuesday won seven of the eight seats it contested in the Telangana assembly polls, retaining its hold in its traditional bastion of the Old City of Hyderabad.
All the seven sitting MLAs, including Owaisi's brother Akbaruddin Owaisi, were re-elected.
MIM won in seven assembly constituencies for the first time in 2009 and repeated the feat in 2014.
TDP candidates have not done well, losing even in areas where migrant the population was high.
Celebrations erupted early in TRS offices throughout the state as well as in the Telangana Bhavan, the party headquarters in Hyderabad. TRS activists danced to drum beats, burst firecrackers and distributed sweets.
Read: KCR: A Congress foot soldier who became mascot of Telangana pride
Congress candidates were leading in merely 20 seats and its ally TDP in two, confirming that their alliance was facing an expected rout in the face of the TRS juggernaut, which also trampled BJP, which was ahead in three seats. The BJP had five members in the dissolved Assembly. Congress and TDP had 18 and three seats in the outgoing house.
Senior TDP leader Ravula Chandrasekhar Reddy said the factors leading to the drubbing needed to be analysed. "We were expecting to get more seats. The results are not to our expectations. We have to analyse and introspect where it went wrong, and we have to work together," Reddy told PTI, adding the peoples' verdict needed to be respected.
Highlights:
* The swearing-in ceremony of the 2nd government in Telangana is scheduled to take place on Wednesday afternoon.
* Rural voters form 80 per cent of the chunk that voted in favour of TRS.
* Trends show schemes like Shaadi Mubarak and the farmers' insurance cover of Rs 8,000 per acre played a major role in voter swing.
* TRS secured 48% of poled votes, highest so far.
A party or a coalition needs to win 60 seats in the 119-member Telangana Assembly.
Also Read: Telangana has shown way to the whole nation: KCR after victory
Telangana Assembly election was held on December 7 after K Chandrasekhar Rao dissolved the government almost eight months before its expiry.
A total of 1,821 candidates contested the Telangana Assembly election 2018. Congress president Rahul Gandhi and Prime Minister Narendra Modi held extensive campaigns across the state to woo voters.
Also Read: Live election results: Congress leads Rajasthan, MP, C'garh; TRS takes Telangana
This was the first election to Telangana Assembly after a separate state was carved out from Andhra Pradesh in 2014. Andhra Pradesh was not yet divided when the last assembly election were held.
After division, the Telangana Assembly got 119 seats, 63 of which belonged to the TRS followed by 21 of the Congress and 15 of the TDP.
Here are LIVE updates on counting of votes in Telangana:
03.30 pm: It is clear with wins and leads that the TRS was coming back with a sweeping majority.
02:57 pm: Telangana caretaker minister and TRS candidate Talasani Srinivas Yadav wins from Sanath Nagar constituency by 30,217 votes.
02:10 pm: As the counting is underway, till 2 pm, K Chandrasekhar Rao-led TRS has won in 17 of the 119 assembly seats and is leading in 70 seats.
Congress has bagged 3 seats and is leading in 18.
AIMIM is leading in 6 seats, BJP is leading in 2 and TDP is leading in 1 seat.
TRS' M Sanjay Kumar and Sunke Ravishankar won with impressive margins.
Sanjay Kumar defeated his nearest Congress rival T Jeevan Reddy by a margin of 57,127 votes in Jagtial constituency. Sunke Ravishankar won from Choppadandi by a margin of 42,249 votes against his nearest Congress rival Medipalli Satyam.
02:04 pm: TRS President and Telangana caretaker Chief Minister K Chandrasekhar Rao wins from Gajwel constituency by 51,514 votes.
01:35 pm: With TRS leading in Telangana, Congress delegation on Tuesday submitted a complaint to Telangana Chief Electoral Officer (CEO) Rajat Kumar raising suspicions that Electronic Voting Machines (EVMs) have been manipulated in the state.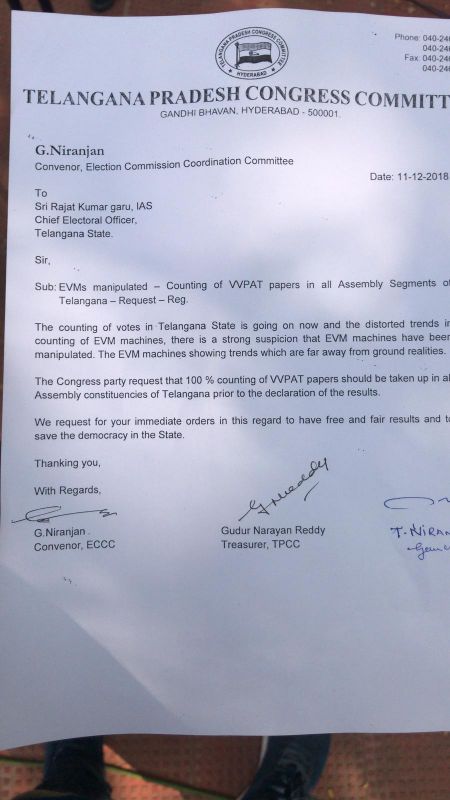 (Photo: ANI)
12:45 pm: It's celebration time outside Telangana Bhavana where party workers have gathered to rejoice the victory of TRS following early trends.
Also Read: TRS set to rule Telangana for second term, party celebrates after early trends
12:29 pm: "The losing party always says the EVMs have been tampered with, this is absolutely false. Even the CEC in a press meeting yesterday said that it is not possible to tamper EVMs. People have given victory to TRS, what Congress is claiming is false," TRS MP K Kavitha told news agency ANI.
12:01 pm: TRS is leading in 92 out of 119 Telangana Assembly seats. Congress is ahead in only 16 segments, while the TDP headed by the Andhra Pradesh Chief Minister N Chandrababu Naidu was leading in just 2. AIMIM is leading in 5 seats and the BJP is leading in 2 constituencies.
11:32 am: "I am having doubts on results we're getting in Telangana ballot paper counting. We're doubting that tampering could have been done in EVMs. Slips should be counted in VVPATs," Telangana Pradesh Congress Committee's Uttam Kumar Reddy told news agnecy ANI.
"All the Congress leaders will complaint to RO officers. We will also complaint to ECI on this matter. How can TRS leaders say before counting that who will lose in elections," Uttam Kumar Reddy added.
11:26 am: TRS president and Telangana caretaker Chief Minister K Chandrasekhar Rao leading by 17,074 votes in Gajwel seat over his nearest Congress rival Vanteru Pratap Reddy after sixth round.
11:20 am: Leading in 90 constituencies in Telangana, TRS looks set to sweep the state assembly elections. The Congress is leading in 15 seats, its ally the TDP in one. Asaduddin Owaisi's AIMIM that backed the TRS was leading in 5.
BJP is leading in 4 constituencies.
11:15 am: Secunderabad Cantonment TRS Party candidate Sri Sayanna won by over 12,000 votes.
11:02 am: Sri Harish Rao of TRS leads by over 56,000 votes in Siddipet.
10:58 am: Telangana state Congress chief N Uttam Kumar Reddy is leading in Huzurnagar constituency by 1,852 votes over his nearest rival Saidi Reddy of TRS after the third round.
10:47 am: TRS members celebrate outside party office in Hyderabad as the party leads in early trends.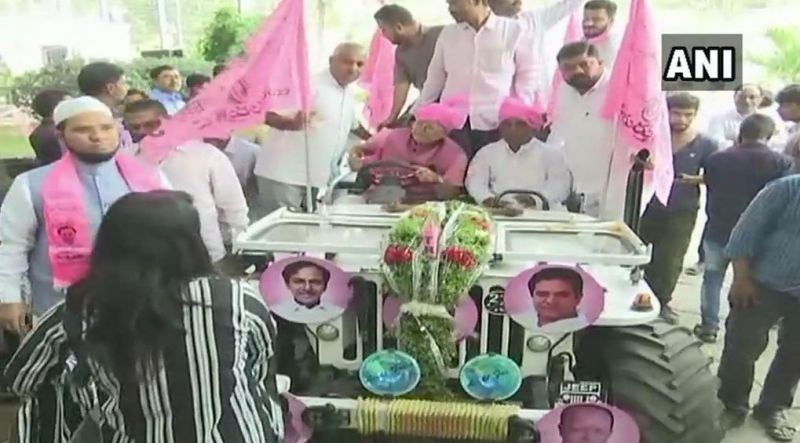 (Photo: ANI)
10:32 am: A few candidates of Congress have left the counting centres after observing the initial trends.
10:30 am: The initial trails are shocking for the Congress, as big wigs in the party such as Jana Reddy, party working president Revanth Reddy, former Deputy CM Damodar Rajanarasimha, campaigning committee Chairman Bhatti Vikramarka, former Ministers J Geetha Reddy, DK Aruna, Shabbir Ali, Ponnala Lakshmiah are trailing behind TRS candidates.
10:23 am: The early trends are completely in favour of KCR-led TRS in Telangana. It seems another term of pink wave in the state. According to early treands, TRS is leading in 87 seats. Congress is leading in 14 seats while and its ally Telugu Desam Party (TDP) in one constituency.
The BJP was leading in 5 constituencies, the Asaduddin Owaisi-led AIMIM in 4 seats and others in 3.
09:57 am: AIMIM leader Akbaruddin Owaisi wins from Chandrayangutta constituency.
09:47 am: Telangana caretaker minister T Harish Rao leading by 19,989 votes over his nearest TJS nominee Bhavani Reddy after fourth round in Siddipet segment.
09:22 am: TRS leading in 78 seats, Congress in 26, while the BJP is leading in meagre 2 seats.
09:20 am: Care taker Chief Minister of Telangana K Chandrasekhar Rao is leading from Gajwel against Congress' Vanteru Pratap Reddy.
09:15 am: Early trends show TRS racing ahead with leads in 41 seats while the Congress is leading with 22 seats. The BJP is leading in 5 seats.
09:11 am: Senior TRS leader T Harish Rao, a minister in the Caretaker government, leading in Siddipet by 13,040 votes over his nearest TJS rival Bhavani Reddy after the completion of the third round.
In Zaheerabad, TRS nominee Manik Rao was leading by 738 votes after the first round.
08:57 am: Early trends show KCR-led TRS bracing ahead with an advantage in 20 seats. Congress leading in 10 seats while the BJP has managed to open its account with a lead in 1 seat.
08:55 am: "We believe people of Telangana are with us. We have sincerely worked and utilised the opportunity given to us. So I believe voters will bring us back to power, and that too independently. We are very confident about it," Telangana Rashtra Samithi (TRS) MP K Kavitha told news agency ANI.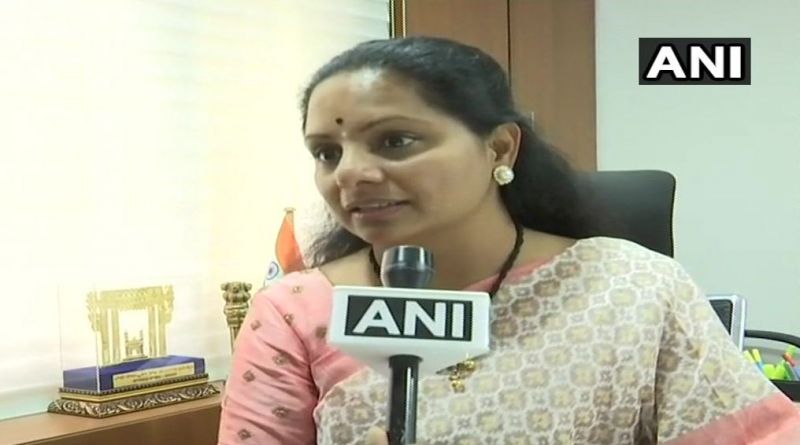 (Photo: ANI)
08:30 am: Early trends give TRS a lead in 10 seats while the Congress-led alliance has fallen behind with just 3 seats. Meanwhile, Asaduddin Owasi-led AIMIM and Bharatiya Janata Party (BJP) have not opened their books yet.
08:05 am: In 2014, KCR won the election for the first time on TRS ticket from Gajwel over TDP candidate Vanteru Pratap Redddy with a margin of over 19,000 votes.
08:04 am: Telangana's caretaker chief minister K Chandrasekhar Rao is contesting the assembly election from Gajwel seat in Siddipet district. He is the sitting MLA from the constituency.
KCR is facing fight against Congress candidate Vanteru Pratap Reddy and Akula Vijaya of the BJP.
08:00 am: Counting begins across 43 centres in Telangana.
07:55 am: 73.20 per cent voter turnout was recorded in the December 7 Telangana Assembly election.
Latest News
Most Popular
Columns