Nation
Budget 2019: Some relief for tax payers, focus 'gaon, gareeb aur kisan'
Deccan Chronicle | DC Correspondent
Published on: July 5, 2019 | Updated on: July 5, 2019
Usually the duration of the presentation ranges from 90 to 120 minutes.
Finance Minister Nirmala Sitharaman presented Union Budget for Modi 2.0 government. (Photo: ANI | Twitter)
New Delhi: Newly appointed Finance Minister Nirmala Sitharaman on Friday presented the first budget of the second term of the Narendra Modi government.
It was the maiden budget for Sitharaman, who became the second woman finance minister after Indira Gandhi to do so in the history of independent India.
Sitharaman presented the full-year budget for the year ending March 2020.
Here are updates:
01:22 pm: Sitharaman also proposed to increase custom duty on gold and other precious metals from 10 per cent to 12.5 per cent.
01:10 pm: The fiscal deficit this year is 3.3 per cent, brought down from 3.4 per cent.
01:05 pm: She said, "I propose to increase special additional excise duty and road and infrastructure cess each one by 1 rupee a litre on petrol and diesel."
01:03 pm: "To resolve the so-called Angel Tax issue, the startups and their investors who file requisite declarations and provide information in their returns will not be subjected to any kind of scrutiny in respect of valuations of share premiums," she said.
"At present startups are not required to justify fair market value of their shares issued to certain investors including category 1 alternative investment funds. I propose to extend this benefit to category 2 alternative investment funds also," she added.
01:00 pm: She said, "to discourage the practice of making business payments in cash I propose to levy TDS of 2 per cent on cash withdrawal exceeding Rs 1 crore in a year from a bank account."
"As I stated earlier, we have taken a slew of measures to ease burden on small and medium earners. Those having annual income up to Rs 5 lakhs are not required to pay any income tax. We are thankful to tax payers who play an important role in nation building," she said.
She also added that all companies having annual turnover of 400 crores, will now be under the bracket of 25 per cent. This will cover 99.3 per cent of all the companies.
12:54 pm: She said that Strategic disinvestment of select Central Public Sector Enterprises will continue to be a priority; strategic disinvestment of Air India will re-initiate; Rs 1 lakh 5 thousand is disinvestment target for 2019-20.
12:52 pm: "More than 120 crore Indians now have Aadhar card, therefore for ease of tax payers I propose to make PAN card and Aadhar card interchangeable and allow those who don't have PAN to file returns by simply quoting Aadhar number and use it wherever they require to use PAN," she said.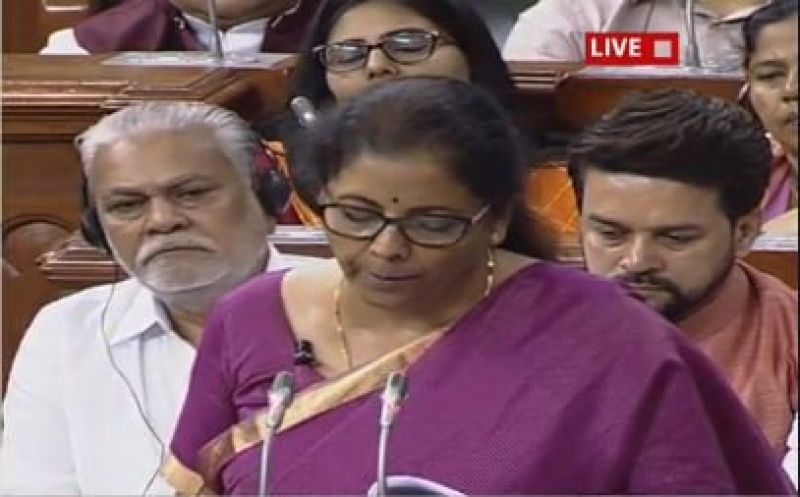 Photo: ANI | Twitter
12:50 pm: She said, "Direct tax collection increased by 78 per cent; Tax collection rose from 6.38 lakh crore rupees in 2013-14 to 11.37 lakh crore rupees in 2018."
12:48 pm: On currency, she said a new series of coins of Re 1, Rs 2, Rs 5, Rs 10, Rs 20 will be easily identifiable to the visually impaired were released by the PM on 7th March 2019. These coins will be made available for public use shortly.
12:45pm: Government has already moved GST council to lower the GST rate on electric vehicles (EV) from 12 per cent to 5 per cent. Also to make EVs affordable for consumers our Government will provide additional income tax deduction of 1.5 lakh rupees on the interest paid on the loans taken to purchase EVs.
12:40 pm: Government has been following policy of disinvestment in non-financial public sector undertakings, maintaining government's stake not to go below 51 per cent.
12:35 pm: India's sovereign external debt to GDP is among the lowest globally at less than 5 per cent. Government will start raising a part of its gross borrowing program in external markets in external currencies.
12:26 pm: 'Gandhipedia' is being developed to sensitise the youth about positive Gandhian values.
Read | Union Budget 2019: 'Gandhipedia' being developed to inform youth on Gandhian values
12:25 pm: Speaking about banking sector, she said that Rs 4 lakh crore was recovered through NPA over last four years. She also mentioned that NPA was down by Rs 1 lakh crore in the last one year.
Read | Union Budget 2019: NPAs worth Rs 4 lakh crore recovered in past four years
12:24 pm: She said that she proposes to consider issuing Aadhaar Card for Non Resident Indians (NRIs) with Indian passports after their arrival in India without waiting for the mandatory 180 days.
Read | Union Budget 2019: Govt proposes doing away with 180-day rule for NRIs to get Aadhaar
12:21 pm: To boost bilateral ties, she said, "To give further impetus to India's growing influence and leadership in the international community, Government decided to open Indian embassies and high commissions in countries where India doesn't have a resident diplomatic mission as yet."
Read | Union Budget 2019: India to open new diplomatic missions, including 18 in Africa
"The government intends to open another 4 embassies, new ones, in the year 2019-20. This will not increase the footprint of India's overseas presence but also enable us to provide better and more accessible public services especially to the local Indian communities in these countries," she added.
12:20 pm: To popularise sports at all levels, National Sports Education Board for development of sportspersons to be set up under Khelo India.
12:15 pm: "Under PMAY (Urban), over 81 lakh houses with investment of about Rs 4.83 lakh crore have been sanctioned of which construction has started in about 47 lakh houses. Over 26 lakh houses have been completed of which nearly 24 lakh houses have been delivered, to beneficiaries," she added.
Read | Union Budget 2019: 1.95 cr houses to be provided in second phase of PMAY-Gramin
12:11 pm: For women, she said, "I draw attention to the women of India, 'Naari tu Narayaani'. This Government believes that we can progress, with greater women participation."
"To further encourage women entrepreneurship, Women Self Help Group(SHG) Interest Subvention Programme to be expanded to all districts in India," she said.
12:08 pm: She said that she is happy and satisfied to report that India will be made Open Defecation Free on October 2nd, 2019, as per the dream of PM Modi.
Read | Union Budget 2019: 'India will be open-defecation free on Oct 2 this year,' says FM
12:05 pm: Talking on framing Jal Shakti Ministry, she said, "Ensuring India's water security and providing access to safe drinking water to all Indians is a priority. A major step in this direction has been the constitution of Jal Shakti Ministry."
Also Read | Union Budget 2019: Electricity, cooking facility by 2022 to rural families, says FM
She said this new Ministry will look at the management of our water resources and water supply in an integrated and holistic manner and will work with states to ensure 'Har Ghar Jal', to all rural households by 2024 under 'Jal Jeevan Mission'.
Read | Union Budget 2019: 'Har Ghar Jal' for all rural houses by 2024, says Sitharaman
11:58 am: She said to provide Non-resident Indians (NRIs) seamless access to Indian equities, NRI portfolio investment route to be merged with foreign portfolio investment route.
11:55 am: Speaking about the projects since 2014, she said, "9.6 crore toilets have been constructed since Oct 2, 2014. More than 5.6 lakh villages have become open defecation free. We have to build on this success. I propose to expand the Swachh Bharat mission to undertake sustainable sold waste management in every village."
Read | Union Budget 2019: Sitharaman proposes to expand Swachh Bharat Mission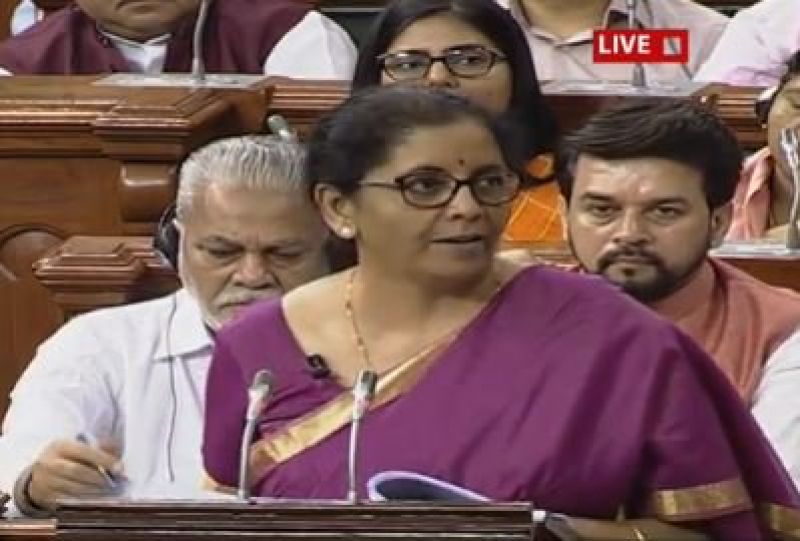 Photo: ANI | Twitter
11: 53 am: She said, "We'll invest widely in agricultural infrastructure. We'll support private entrepreneurship in driving value addition to farmers produce and those from allied activities too, like bamboo, timber and also for generating renewable energy. Ann daata ko kyun oorja daata bana nahi sakte?"
11:47 am: "India has emerged as a major space power. It is time to harness our ability commercially. To harness India's space ability commercially, a public sector enterprise, New Space India Limited (NSIL) has been incorporated to tap benefits of ISRO," Sitharaman added.
11:45 am: She said that with the changing economic scenario it's important to upgrade roads connecting villages to rural markets. "For this Pradhan Mantri Gram Sadak Yojana phase 3 is envisaged to upgrade 1,25,000 km of road length over the next 5 years," she added.
11:43 am: "Annual Global Investors' Meet to be organised in India, using National Investment and Infrastructure Fund(NIIF) as the anchor to get key sets of global players to come and invest in India," she said.
11:40 am: Sitharaman said, "The FAME II scheme aims to encourage faster adoption of electric vehicles by the right incentives and charging infrastructure."
"It's right time to consider increasing minimum public shareholding in the listed companies, I have asked SEBI to consider raising the current threshold of 25 per cent to 35 per cent," she added.
11:38 am: "To deepen corporate tri-party repo market in corporate debt securities, government will work with regulators RBI and SEBI to enable stock exchanges to allow AA rated bonds as collaterals. User friendliness of trading platforms for corporate bonds will be reviewed, including issues arising out of capping of International Securities Identification Number," she said.
Read | Union Budget 2019: India to strengthen corporate bond market, says Sitharaman
11:35 am: In her maiden speech, Sitharaman said that the government will invite suggestions for further opening up of FDI in aviation sector, media, animation AVGC and insurance sectors in consultation with all stakeholders. 100 per cent FDI will be permitted for insurance intermediaries.
Read | Union Budget 2019: Govt contemplating higher FDI in aviation, media, says Sitharaman
11:30 am: Sitharaman in Parliament said, "Rs 350 crore allocated for 2 per cent interest subvention for all GST-registered MSMEs on fresh or incremental loans."
Read | Union Budget 2019: FM announces 2 pc interest subvention for GST-registered MSMEs
She said pension for shopkeepers and retailers with turnover less than Rs 1.5 crore to be launched under Pradhan Mantri Karma Yogi Maan Dhan Scheme.
Also Read | Union Budget 2019: Pension benefit to be extended to around 3 cr retail traders
11:27 am: In 2015, UDAY was launched for financial and operation turnaround of DISCOMs. We're examining performance and it'll be improved. We'll work with state governments to remove barriers, cross subsidy, surcharges, undesirable duties on open access sales, or captive generation for industrial and bulk power consumers.
11:25 am: Sitharaman said that comprehensive restructuring of National Highways Programme will be done, to ensure the creation of National Highways Grid of desirable capacity.
She also added that the Government envisions using rivers for cargo transport which will also decongest roads and railways.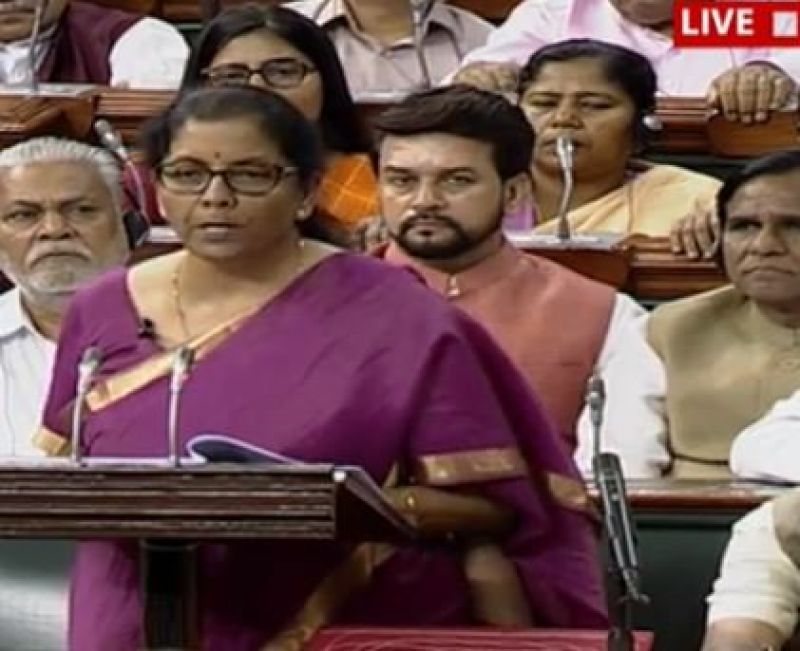 Photo: ANI | Twitter
"Railway infrastructure would need an investment of Rs 50 lakh crores between 2018 and 2030. Public Private Partnership will be used to unleash faster development and the delivery of passenger freight services," she added.
Read | Union Budget 2019: 'PPP to be unleashed to develop rail infrastructure,' says FM
11:20 am: "We don't look down upon legitimate profit earning. Gone are the days of policy paralysis and license quota control regime. India Inc are India's job creators, nation's wealth creators. Together with mutual trust we can gain, catalyse past and attain sustained growth," Sitharaman said in Budget speech.
11:18 am: Schemes such as 'Bharatmala', 'Sagarmala' and UDAN are bridging the rural and urban divide, improving our transport infrastructure.
11:12 am: Sitharaman said that the Indian economy will grow to become a USD 3 trillion economy in the current year itself. It is now the sixth largest in the world. 5 years ago it was at the 11th position.
Read | Need structural reforms to reach USD 5 trillion economy: Sitharaman
"It took us over 55 years to reach USD 1 trillion dollar economy. But when the hearts are filled with hope, trust and aspiration, we in just 5 years, added USD 1 trillion," she added.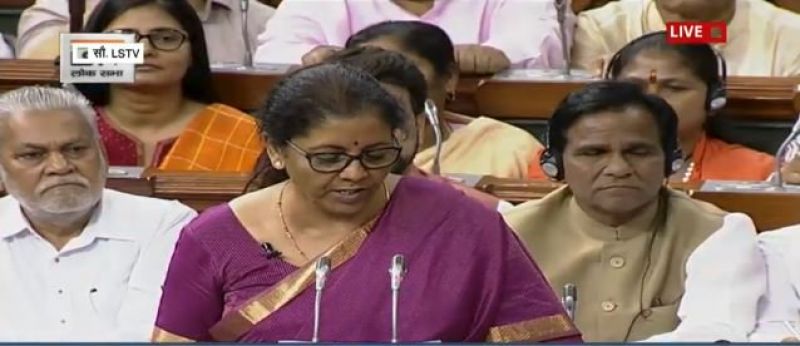 Photo: ANI | Twitter
11:10 am: She said an Urdu couplet: 'Yakeen ho to koi raasta niklata hai, hawa ki ot(protection) bhi le kar charagh jalta hai'
Read | Union Budget 2019: Parliament echoes with urdu couplet, quote from arthshastra
Chanakya Neeti sutra said 'Kaarya purusha kare na lakshyam sampa dayate'. It means with determined human efforts the task will surely be completed.
11:09 am: "The first term of PM Narendra Modi led NDA government stood out as a performing government and between 2014 to 2019; it provided a rejuvenated centre-state dynamics, cooperative federalism, GST council and strident commitment to fiscal discipline," said Sitharaman.
11:05 am: While presenting the Union Budget, Sitharaman said, "The recent election was charged with brimming home and desire for a bright and stable 'New India'. Voter turnout was highest; every section came to stamp their approval for performing Government."
11:00 am: Finance Minister Nirmala Sitharaman presents Union Budget for Modi 2.0 government.
10:50 am: Union cabinet approves Budget 2019. It will be presented by Finance Minister Nirmala Sitharaman at the Lok Sabha shortly.
10:37 am: Parents of Finance Minister Nirmala Sitharaman - Savitri and Narayanan Sitharaman - arrive at the Parliament.
Read | Proud! Nirmala Sitharaman's parents attend her first budget speech
10:35 am: Union Cabinet meeting begins in Parliament.
10:30 am: Copies of Budget 2019 have been brought to the Parliament.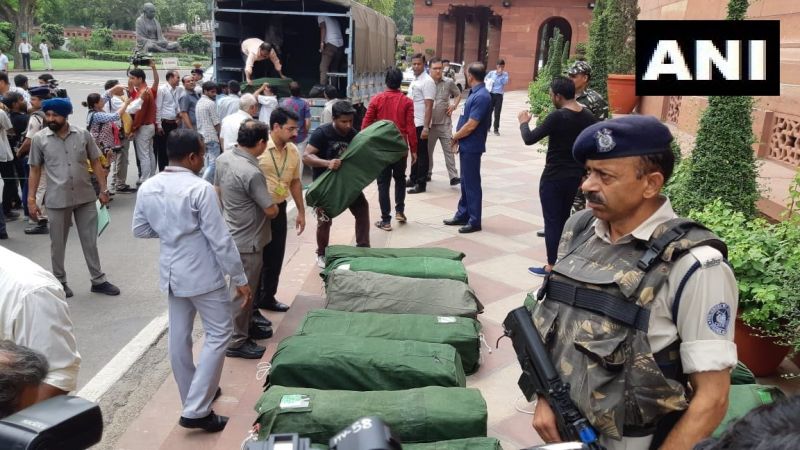 Photo: ANI | Twitter
10:15 am: Finance Minister Nirmala Sitharaman and MoS Finance Anurag Thakur arrive at the Parliament.
09:40 am: As per tradition, Finance Minister Nirmala Sitharaman calls on President Ramnath Kovind before presenting the Union Budget.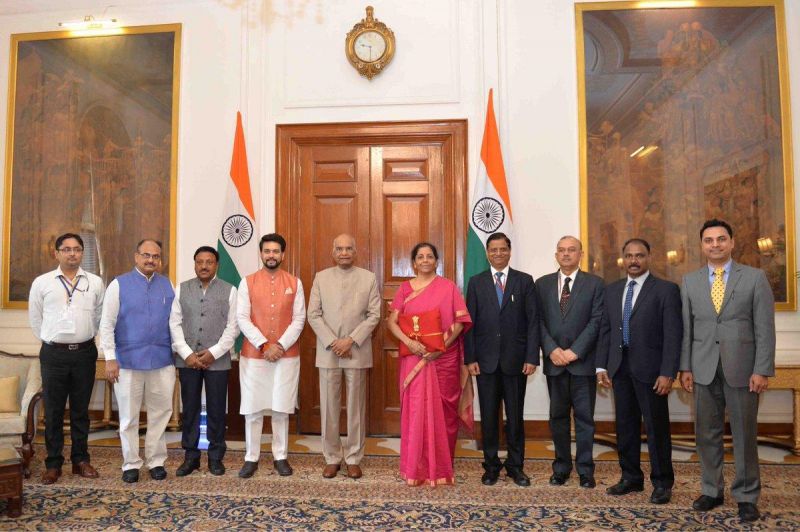 Photo: ANI | Twitter
09:30 am: "It is in Indian tradition. It symbolizes our departure from slavery of Western thought. It is not a budget but a 'bahi khata'(ledger)," said Chief Economic Advisor Krishnamurthy Subramanian on Nirmala Sitharaman keeping budget documents in four fold red cloth instead of a briefcase.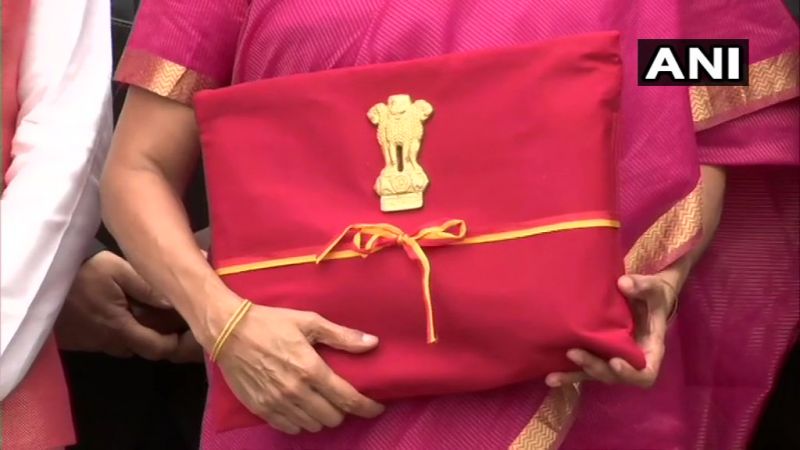 Photo: ANI | Twitter
Read | Union Budget 2019: Breaking tradition, Sitharaman leaves office without briefcase
09:10 am: Finance Minister Nirmala Sitharaman, MoS Finance Anurag Thakur, Finance Secretary S C Garg, Chief Economic Advisor Krishnamurthy Subramanian and other officials outside Finance Ministry.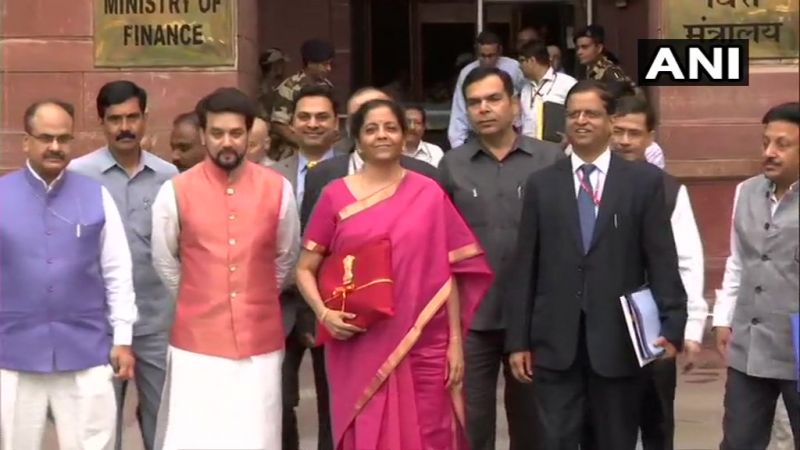 Photo: ANI | Twitter
08:46 am: Finance Minister Nirmala Sitharaman arrives at Ministry of Finance.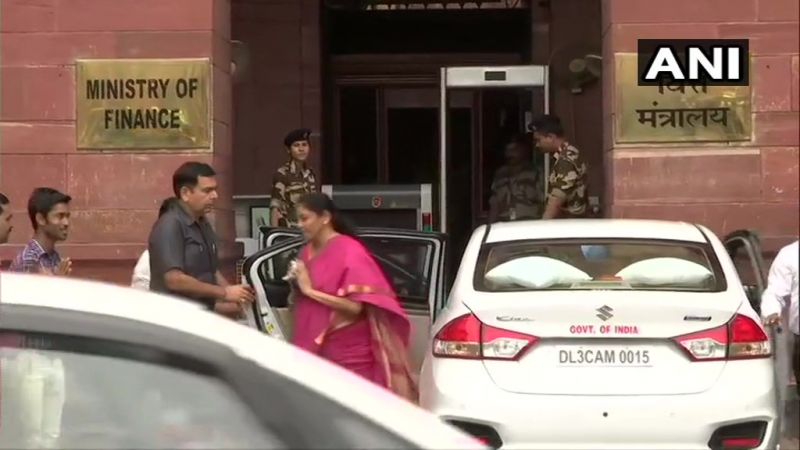 Photo: ANI | Twitter
08:45 am: MoS Finance Anurag Thakur offers prayers ahead of Budget 2019.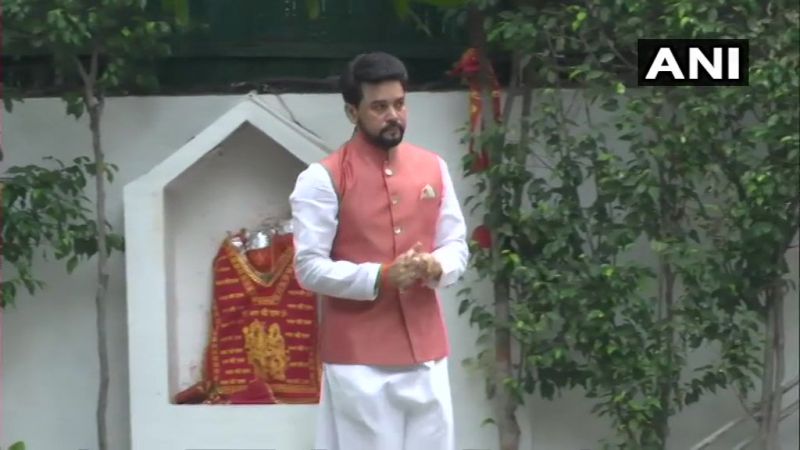 Photo: ANI | Twitter
The Budget speech began at 11:00 am with an address to the speaker of Lok Sabha.
Usually the duration of the presentation ranges from 90 to 120 minutes.
Read | Union Budget 2019: What to expect from Sitharaman's first Budget
The Railway Budget was also be presented on Friday along with the Union Budget. This practice was also begun in the year 2016, where the practice of presenting the rail budget separately was discarded.
The Finance Minister on Thursday tabled in Parliament the pre-Budget Economic Survey for 2018-19, which projected the state of the economy and outlined its challenges. The survey was released by Chief Economic Adviser Krishnamurthy Subramanian on Thursday.
This was be the 89th Union budget, which is the financial statement of the government, detailing its revenue and expenditure in the past, as well as estimated spending and projections for the coming year.
Latest News
Most Popular
Columns