Maxwell might not play first ODI versus Pakistan due to illness
DECCAN CHRONICLE | DC Correspondent
Published on: March 21, 2019 | Updated on: March 21, 2019
---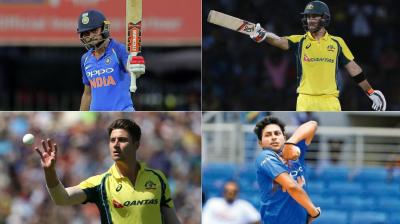 Melbourne: Australia all-rounder Glenn Maxwell is doubtful for the opening one-day international against Pakistan after being struck with illness.
Australia and Pakistan are scheduled to play a five-match series, beginning March 22 at Sharjah.
Maxwell missed training two days out from the first ODI.
Australia could again unveil dual spin threats after being greeted by a pair of dry-looking surfaces. The ground that proudly trumpets its 'Guinness World Record' for hosting the most ODIs in the format's history is expected to take considerable turn, cricket.com.au reported.
Off-spinner Nathan Lyon has a strong chance to retain his place after his key role alongside leg-spinner Adam Zampa in the recent ODI victory over India.
"Spin will be important for both sides. We've got two spinners, I'd be surprised if they don't both play out here. They've got quality spinners as well. It will be a good battle," paceman Nathan Coulter-Nile said.
Lyon also suffered from illness as he got over a stomach bug, but the off-spinner returned in yesterday's session.
Meanwhile, Australia captain Aaron Finch said the team will wait to decide on whether the conditions require both Lyon and Zampa, adding slow bowlers will play a vital role.
"The stats from here all suggest that spin takes a bigger impact. I'll expect them to spin. We even saw yesterday the training wickets looked how we expect the middle to play," Finch said.
"You're never quite sure though, once there's a bit of traffic on it they start to slow up pretty quick and spin a bit. I think that will be a feature, especially the two games in Sharjah," he added.