India should have been USD 5-6 trillion economy by now: Pranab Mukherjee
DECCAN CHRONICLE | DC Correspondent
Published on: November 29, 2018 | Updated on: November 29, 2018
---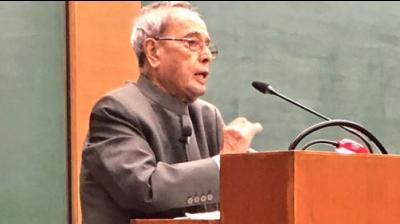 Bengaluru: Former President Pranab Mukherjee on Wednesday expressed dissatisfaction over the current economic growth of the country and stated that India should have been a five to six trillion US dollar economy.
"Today, the Indian economy is worth 2.268 trillion US dollar. I am not satisfied. As a former Finance Minister, I think we should have done much more progress. It should have been five to six trillion US dollar economy," Mukherjee said while addressing a seminar at the Greenwood High International School here.
However, the former President appreciated the country's achievements in the field of science and technology.
"We are the only country till today out of 184 members of the United Nations, who succeeded in sending its orbiter to Mars in its very first attempt," Mukherjee said.
"We are the third military power of the world," he said.