Hyderabad: Man held for 3 rape-murders
DECCAN CHRONICLE | Jayendra chaithanya t
Published on: April 30, 2019 | Updated on: April 30, 2019
---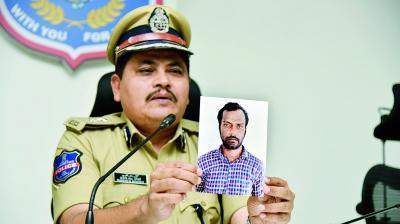 Hyderabad: A 28-year-old man who had kidnapped, sexually assaulted and murdered three aged between 11 and 18 years was arrested by the Rachakonda police on Tuesday.
Tension prevailed in Hazipur in Bommalaramaram mandal of Yadadri Bhongir district on Tuesday after villagers set ablaze the house of the accused, Marri Srinivas Reddy, as news of his arrest spread. Police were posted in the village to prevent violence.
The body of the first victim, an 11-year-old girl who went missing in 2015 was recovered from a well by special teams constituted to investigate the case. Srinivas confessed to having sexually assaulted and killed her. Police had recovered the bodies of two other victims, P. Shravani, 14, T. Maisha, 18, from the same well in a span of two days.
Addressing the media, Rachakonda police commissioner Mahesh Bhagwat said that Srinvas kidnapped T. Kalpana on April 23, 2015. She was on her way to Maisireddipally on foot from Hazipur after visiting her maternal grandmother.
"Srinivas kidnapped Kalpana and raped her before throttling her to death. The body was buried in the well, which had been abandoned for a long time. The incident came to light only after he confessed during questioning," said the commissioner.
On March 25, Srinivas kidnapped P. Shravani who was on her way home from school after offering her a lift, raped and killed her, said another police officer associated with the investigation.
In a similar way, he had kidnapped T. Manisha and killed her last year. Her family believed she had eloped, and had not filed a complaint. Her body was also buried in the well on his land.
The commissioner said Srinivas was caught by locals and beaten up for teasing a woman from Maisireddipally, in 2015. A case was registered but the victim struck a compromise. "He developed a grudge against the villagers after the incident and was taking revenge. He is perverted and psychotic in nature. We need to do a psychiatric analysis of his mental condition," the commissioner said.
While Shravani's body was being recovered recently, Srinivas was present in the crowd. Anticipating that his name would surface, he escaped and took shelter in his cousin's house. The special teams nabbed him on Monday and placed him under arrest on Tuesday.
Mr Bhagwat said that any person involved in rape and murder would sentenced to death. "Srinivas is involved in three such offences where the victims were all minors. We will try to ensure that Srinivas receives the death penalty," he said.