Bonding over food, fitness
DECCAN CHRONICLE | Sashidhar Adivi
Published on: April 27, 2019 | Updated on: April 27, 2019
---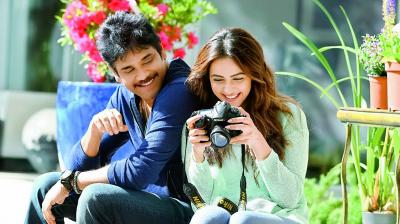 It certainly seems from the stills from the sets of Rahul Ravindran's forthcoming directorial Manmadhudu 2 that Rakul Preet Singh and Nagarjuna are having a blast shooting for the film. This is the first time that the Dev actress is working with Nagarjuna, and she says that it has been an amazing experience so far. "I totally admire the person that he is. He is an excellent co-star, a chilled out human being, not egotistic, and forever concerned about everybody on the sets. He prefers to bask in the joy of every moment and live life king size. And now that I think of it, I kind of get why people call him 'King' Nagarjuna. I've always been quite a fan of him, and now I'm an even bigger fan," Rakul said.
Although the actress is tightlipped about her role, she seems quite upbeat about it. "Our roles are fantastic, and both our roles are completely different from anything we've ever done before. The script is hilarious, which is probably why we're pretty much always laughing on the sets. This is easily one of the most fun experiences I've ever had on a film's sets," she said.
Rakul and Nagarjuna happen to share common interests as well!
"We've bonded a great deal while working out together, and we're both foodies. Since we were in Portugal, we try a new cuisine almost every day. Oh, and we love eating fish," Rakul shared. Having worked with Nagarjuna and Naga Chaitanya, Rakul believes that both the father and the son are very passionate about whatever they pursue. "They're extremely chilled out, well-behaved, and non-judgmental."
The actress is indeed making the most of her stay in Portugal. "We have been shooting on the streets of Portugal. Cork is very popular here, and I've bought a bunch of cork jewelry and artifacts," shares the Jaya Janaki Nayaka actress.