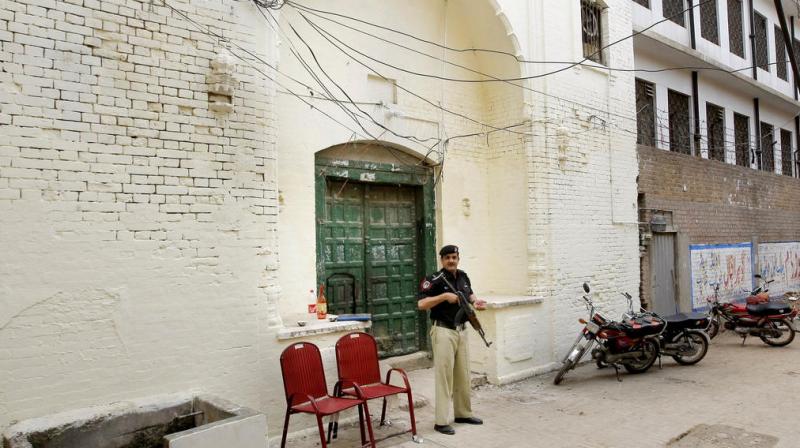 Peshawar: An armed policeman stood guard outside the 300-year-old Sikh temple, known as a gurdwara, in northwest Pakistan. He kept a watchful eye on everyone who passed him on the narrow street, looking for a suspicious gesture, or a bulge beneath the clothes that hints at a hidden gun or a bomb.
Earlier this month, the gurdwara in Peshawar's crowded Old City opened its doors to worshippers for the first time in 73 years. The reopening was celebrated by Pakistan's tiny Sikh minority, but security is a constant concern.
On Friday, a Sikh leader and provincial lawmaker was shot and killed outside his home in a remote area in Khyber Pukhtunkhwa province, some 140 kilometers from Peshawar. The murder of Sardar Suran Singh devastated the Sikh community and heightened their fears of militant attacks.
It also added to human rights activists' despair over rising violence against religious minorities in Pakistan. "It is tragic, but this is the trend in Pakistan right now. It is increasingly intolerant," said Zohra Yusuf, chairwoman of the independent Human Rights Commission of Pakistan (HRCP).
The Taliban claimed responsibility for the shooting of Sardar Suran Singh, but police disputed their claim, blaming the shooting on political rivalry and saying they had arrested the culprit. There was no response from the Taliban, who often make unsubstantiated claims.
Peshawar is a deeply conservative city at the foot of the mountainous Khyber Pass once a popular route for traders and tourists travelling to nearby Afghanistan, now the focus of an extremist insurgency.
Militants have attacked Peshawar schools, killing children as they studied, bombed buses of government workers and attacked Christians in their churches.
The newly-opened gurdwara has a 24-hour Sikh Security detail as well as police guards, but their Muslim neighbors believe an attack is inevitable.
"Security is very necessary ... for the people who want to come here for prayers without any fear," said Gurpal Singh, security chief for Peshawar's Sikh community.
Gohar Iqbal, a bookseller who works at a busy stall opposite the temple was certain the building would be targeted by militants.
"We are worrying because of the children if something happens," he said, gesturing to the white cement building that houses a girls' high school, which abuts the gurdwara.
...