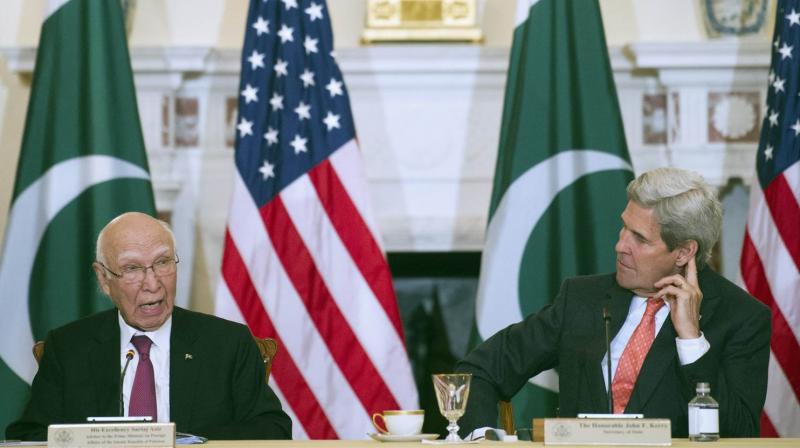 Islamabad: A high-level US delegation arrived in Pakistan on Friday amid tensions in bilateral ties after a recent American drone strike in Balochistan killed Afghan Taliban chief Mullah Mansour and strong concerns over growing Indo-US strategic cooperation.
Senior Director for Afghanistan and Pakistan at the US National Security Council Peter Lavoy and Special Representative for Afghanistan and Pakistan Richard Olson are part of the delegation which will hold talks with civilian and military leaders, according to Pakistani officials.
"The agenda of the talks is open and several issues will be discussed including drone strikes, strategic and defence matters and reconciliation process in Afghanistan," an official from the Foreign Office said.
Pak-US ties are sliding down the hill due to difference over handling of peace issue in Afghanistan and US' growing defence tie with India, especially a blanket support for India's candidacy in the Nuclear Suppliers Group (NSG).
According to Prime Minister's Advisor on Foreign Affairs, Sartaj Aziz, growing US-India ties were creating strategic instability as Washington's support for Indian membership for the 48-nation NSG was discriminatory.
Pakistan has strongly protested the May 21 drone attack which killed Mansour. "The recent drone attack in Balochistan in which the Taliban leader Mullah Akhtar Mansour was killed, has breached our sovereignty, caused a serious setback to the peace efforts and intensified hostilities in Afghanistan.
The drone strike must, therefore, be condemned by all stakeholders," Sartaj Aziz said on Friday. Pakistan is also unhappy over the scuttling of F-16 fighter jet deal by US Congress which blocked funding to it citing Pakistan's non-impressive actions against Haqqani network.
But Islamabad believes that the Congress was prompted to act due to Indian lobbying and pressure. There are differences over nuclear programme of Pakistan which the latter considers is key to the 'credible minimum deterrence'.
...