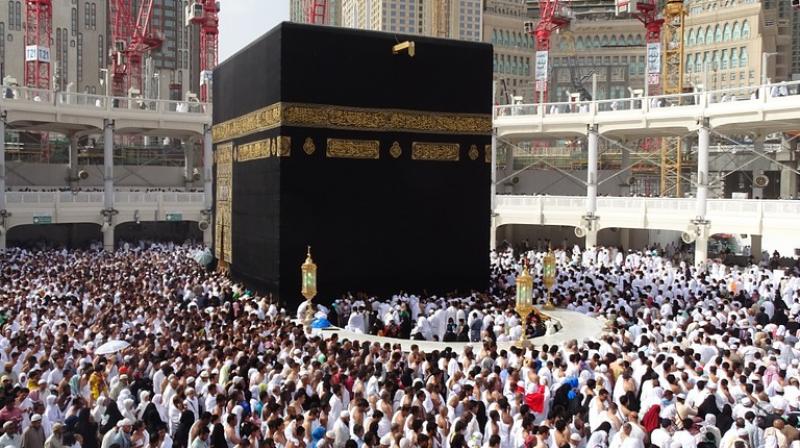 The #MeToo campaign has brought horrific details of women being harassed across the world, shocking the world to its very core however, without surprising anyone.
As accounts of women being groped, raped, tortured, harassed and bullied inundated the social media, more and more found the strength to voice their own stories.
Sabica Khan from Pakistan is one such woman, who rocked the Muslim world with her accounts of being sexually violated while in the holy city of Mecca, the DailyMail reported.
Soon enough, Muslim women from all across the world came forth to share their own experiences of being assaulted and harassed ironically, during Hajj- the most auspicious pilgrimage for Muslims.
Sabica took to Facebook to share her story:
"I was afraid to share this because it might hurt your religious sentiments. While performing my tawaaf around the Kaaba after isha prayer, something really weird happened. It was my 3rd tawaf, and I felt a hand on my waist. I thought it was just an innocent mistake. I completely ignored. Then... I felt it again. It made me feel very uncomfortable. I kept moving. During my 6th tawaf I suddenly felt something aggressively poking my butt, I froze, unsure of whether it was intentional. I ignored and just kept moving slowly because the crowd was huge. I even tried to turn around but woefully couldn't. When I reached the Yemeni corner, someone tried to grab and pinch my butt. I decided to stop there. Grabbed his hand and threw it off me *couldn't move or turn around* I was literally petrified. Couldn't even escape, so I stood, and turned around as much as I could, to see what's happening, I turned around but... couldn't see who it was. I felt so violated. I felt unable to speak out. Stayed quiet because I knew no one would trust me, or nobody would take it seriously, except my mum. So I told her everything when I returned to the hotel room. She was incredibly confused and devastated. After this incident, she never allowed me to go there again alone. It's sad to say that you are not even safe at holy places. I've been harrased, not once, not twice , but thrice. My entire experience at the holy city is overshadowed by this horrible incident.
I believe it's totally okay and important to be open about harassment.
Don't know how many of you had similar experience there but this incident has unfortunately left me feeling upset."
Facebook later removed her post for reasons still unknown.
After Sabica's post – which has been shared by scores and has received close to 840 comments – Egyptian Feminist author and public speaker on Arab and Muslim issues and global feminism Mona Eltahawy kick-started #MosqueMeToo campaign and Muslim women followed suit.
Most women complained about being harassed while performing 'tawaf,' a ritual central to Hajj wherein devotees circle around the sacred Kabaah inside the Al-Masjid AL-Haram Mosque.
Another talks about being groped at the tender age of ten during the holy Friday prayers for Muslims called Jumaa.
Another woman talks about being harassed at the age of fifteen next to Al-Masjid Al-Nabawi in Medina,. "I thaught Madina is a safe city, but I was wrong. I'll never forget and forgive," she writes.
Hajj is compulsory at least once for all Muslims who are physically capable. For many it commemorates the most landmark moment of their lives. To have that tainted by something as animalistic as sexual predation is beyond understanding and yet a part of reality for so many Muslim women, as is clear from the accounts of those who participated in the #MosqueMeToo campaign.
...