London: A Pakistani-origin shopkeeper in the UK has been brutally killed by another Muslim in a "religiously prejudiced" attack hours after he posted an Easter message on Facebook to "my beloved Christian nation".
Asad Shah, 40, a devout Muslim originally from the Pakistani city of Rabwah, was stabbed 30 times and had his head stamped on during a savage attack at his store in Glasgow last Thursday, British media reported on Monday.
On Friday, police confirmed that a 32-year-old Muslim man, who travelled over 320 km to kill the trader belonging to the Ahmadiyya minority community, had been arrested in connection with Shah's death.
A spokeswoman added: "A full investigation is under way to establish the full circumstances surrounding the death which is being treated as religiously prejudiced."
Yesterday, prominent members of Glasgow's Muslim community called for calm and solidarity after police confirmed that the man arrested in connection with the killing was also a Muslim.
Following the revelation, Humza Yousaf, the Scottish government's only Muslim minister, immediately responded in a tweet: "No ifs, no buts, no living in denial - vile cancer of sectarianism needs stamped out wherever it exists - including amongst Muslims."
Shah, whose final Facebook update, posted a few hours before his death, offered Easter greetings "to my beloved Christian nation", was a member of the minority Ahmadiyya Muslim community in Pakistan.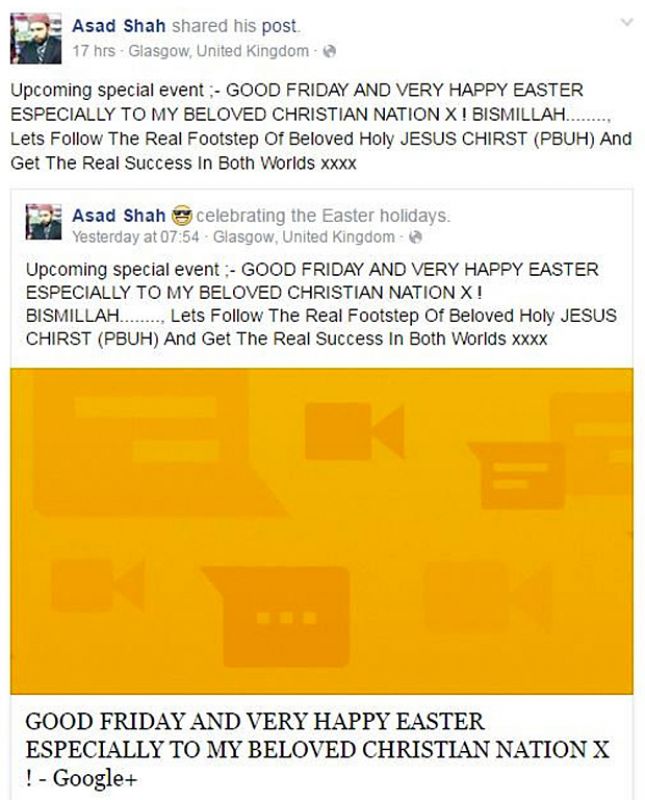 The message posted by Asad Shah hours before has was stabbed to death. (Photo: Facebook screen grab)
The Ahmadiyya community faces persecution in Pakistan and is treated with open hostility by many orthodox Muslims.
Meanwhile, over 70,000 pounds has been raised on an online fundraising page for the family of Shah, the Guardian reported.
Over 3,500 people have donated on the GoFundMe page, which was created on Good Friday by some of his customers to raise money for his family, the report said.
...