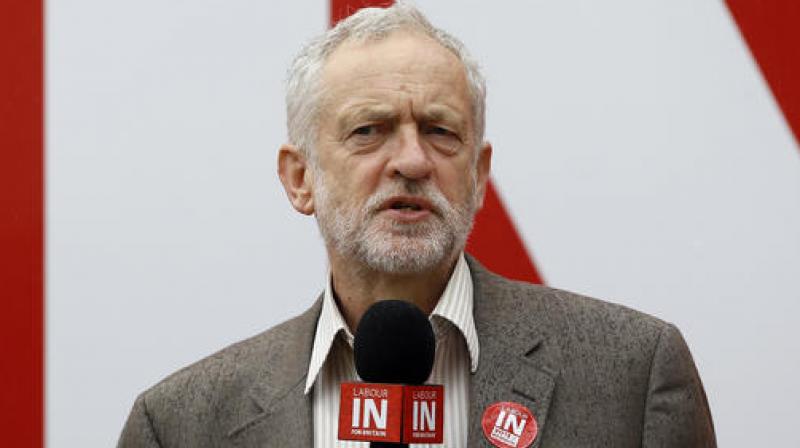 London: Opposition Labour leader Jeremy Corbyn insisted Thursday that he could still win Britain's snap June general election despite dire poll ratings, pitching himself as an anti-establishment candidate fighting for change.
Almost exactly 20 years since Tony Blair led Labour to the first of three consecutive election victories, the party is languishing in the polls ahead of the June 8 vote.
A YouGov poll for The Times puts Corbyn's party 24 points behind Prime Minister Theresa May's Conservatives.
But addressing a hall in London packed with supporters, the beleaguered Corbyn denied a Conservative victory was a "foregone conclusion", pointing to his own unlikely election as Labour leader in 2015.
Railing against wealthy elites and big business, the left-wing leader said he would not play by the rules "set by failed political and corporate elites" and would defy expectations.
"It is these rules that have allowed a cosy cartel to rig the system in favour of a few powerful and wealthy individuals and corporations," Corbyn said.
"It is a rigged system set up by the wealth extractors, for the wealth extractors. But things can, and they will, change."
May is seeking to capitalise on her strong opinion poll ratings to increase her slim majority of 17 in the 650-seat House of Commons ahead of tough Brexit negotiations.
Corbyn said he did not want an election about Brexit -- an issue that has exacerbated tensions in his deeply divided party -- but about what kind of country Britain should be.
The vote would be a battle of "the Conservatives, the party of privilege and the richest, versus the Labour Party, the party that is standing up for working people to improve the lives of all", he said.
He dodged a question about whether Labour might back a second referendum on the final Brexit deal secured by May, stressing only that he wanted continued economic ties with the EU.
Corbyn was elected party leader in 2015 and again last year thanks to strong backing from grassroots Labour members, but many of his more centrist MPs believe he cannot secure the broad public support needed to win power.
...