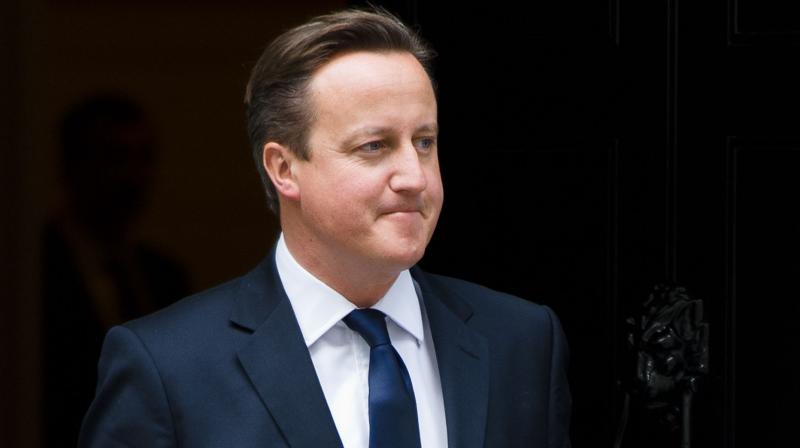 Brussels: Panic rather than love may keep Britain in the European Union when voters cast their ballots in a referendum, probably in June, on whether to stay in the 28-nation bloc under Prime Minister David Cameron's "new settlement".
While few may be swayed by the lightly amended membership terms, a plunging currency, tumbling share prices and fears for property values could drive enough Britons to opt at the last minute for the status quo rather than a leap into the unknown.
That was how the British political establishment managed by the skin of its teeth to hold the United Kingdom together in 2014, when Scottish voters tempted by the centuries-old dream of regaining independence from England ultimately chose safety.
It is also a plausible scenario for the EU vote, especially since a decision to leave would reopen the Scottish question.
Ordinary Brits tempted to give the unloved "Europe" a kicking may plump for stability to avoid economic uncertainty rather than risk financial and political turmoil.
In Scotland, the communications director of the "Better Together" campaign, Rob Shorthouse, got into trouble for joking that his strategy was "Project Fear". The idea that unionist campaigners were setting out to frighten voters stirred outrage in the nationalist camp, but it proved effective.
Eurosceptics accuse Cameron of planning a similar scare campaign now, but events may produce the same impact even without political orchestration.
Two weeks before the Scottish vote in September 2014, a single opinion poll showed independence supporters had taken a slender lead for the first time. That jolted financial markets and prompted banks and insurers to announce contingency plans to move their headquarters south of the border amid uncertainty over what currency an independent Scotland would use.
Economic anxiety trumped political adventure in the final days of campaigning, with British leaders rushing to Scotland to tell Scots how much the rest of the United Kingdom valued them, and how they were "better off together".
With a record high turnout of 84.6 percent, Scots voted by 55.3 to 44.7 percent against breaking up the union.
It's an understatement to say Britons are less emotionally attached to the EU than they are to national unity. Yet the potential economic damage from a "Brexit" could be greater than if Scotland had left, and the former might trigger the latter.
Economic forecasters say the British economy would suffer a significant setback if the country decided to leave the EU, with its 500-million-strong single market, common external trade policy and free movement of capital, goods, services and people.
An exit vote would not take effect immediately but there would be several years of uncertainty and acrimony while Britain negotiated a new, more distant relationship with the bloc.
The City of London financial centre, which has thrived as an offshore capital for euro trading, would almost certainly lose some ground. How much is a matter of fierce dispute.
Eurosceptics say that EU supporters made the same case in the early 2000s that if Britain did not join the euro, the City would wither. On the contrary, it has flourished.
Yet leaving the EU would present a different challenge.
Big foreign banks use London as their European gateway due partly to the EU's "passporting" principle that an institution regulated in one member state can trade all over Europe. Some are now making contingency plans to move certain activities and staff to Dublin or Frankfurt in case of "Brexit", bankers say.
Fewer bankers and less investment would hit property values over time. Uncertainty over the status of some 2.1 million EU workers in Britain could also dampen the housing market.
Since markets tend to anticipate and hedge for political risk, it is reasonable to assume that if opinion polls are showing the "Leave" campaign in the lead in late May or early June, some of that damage would start to occur before the vote.
US investment banks Goldman Sachs and Citi have both estimated the pound could lose between 15 and 20 percent of its value against major trading currencies if the "Out" camp wins.
A run on sterling could start in the final phase of the campaign, just as the middle classes are packing their beachwear for continental summer holidays in the euro zone.
While many British companies have kept quiet about support for EU membership to avoid upsetting shareholders or customers who favour a "Brexit", currency instability, stock market losses and an incipient investment freeze could make them more vocal.
Even strong EU supporters such as Charles Grant, director of the London-based thinktank Centre for European Reform, acknowledge that the "In" campaign will struggle to convince voters of the positive case for staying in the bloc.
"There are many reasons to be pessimistic about the campaign," he told a Brussels audience. "The 'Out' campaign have jolly good arguments superficially... Big business is pathetic and cowardly."
Opponents argue that under EU rules, Britain cannot control its national borders to shut out migrant workers; that the UK net contribution to the EU budget would be better spent on the National Health Service; and that foreign judges in the European Court of Justice should not be able to overrule British courts.
By contrast, many of the benefits of EU membership in global trade, international political influence and shared norms and values are hard to quantify and explain simply, Grant said.
Hence the temptation for pro-EU campaigners to focus more on what Britain stands to lose in case of a "No" vote - foreign investment, jobs and security.
"Project Panic" may not be the official strategy, but it looks likely to play a big role in shaping the British vote.
...