Technology
Top VoIP apps to avoid exuberant international calling charges
Deccan Chronicle | DC Correspondent
Published on: March 22, 2017 | Updated on: December 1, 2018
Making overseas voice calls is an expensive affair.
These apps also provide the liberty to call landlines and phone numbers across the globe at dirt cheap rates.
Making overseas voice calls is an expensive affair. So, if your friend or family member is abroad, it makes sense to go with a good VoIP service. VoIP (Voice over Internet Protocol) transmits voice and multimedia content over Internet. Compared to conventional voice calls, VoIP is a cheaper and effective alternative.
Considering the huge potential, the app repositories are filled with such VoIP apps. Worry not though as we have hand-picked best apps from the lot. You can ask your family, friends or colleagues to install the same app as yours to enjoy unlimited calls, video calls, messages and chats. Apart from these basic functionalities, these apps also provide the liberty to call landlines and phone numbers across the globe at dirt cheap rates. Some apps also provide monthly country specific packages for as low as 10$ for unlimited duration of calls and video calls. You can buy these packages easily with credit/debit card or mobile banking options. Some of these apps let you earn free credits by performing some easy tasks.
Do keep in mind that VoIP programmes require a reliable internet connection. Ideally, you should use it over Wi-Fi unless you have unlimited data plan on mobile.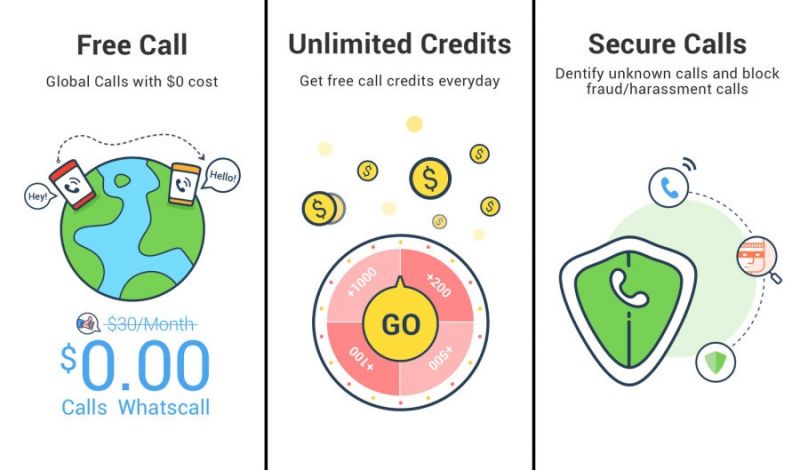 WhatsCall
WhatsCall VoIP app by Cheetah Mobile Cloud is currently the best rated app on the Android app store with over 10 million downloads. It offers free international calls, chats and messages to your WhatsCall contacts, friends, family or colleagues. Its messenger service allows you to send photos, text and voice messages to your WhatsCall contacts. The app is very easy to setup and once done all you require is an internet, Wi-Fi or LTE connection to make use of its services.
WhatsCall enables you to call international landline and phone numbers directly from the app through credits. First time users can avail up to 1000 credits upon joining which can get you up to 30 minutes of free call time based on the country specific call rate chart of the app. For example, calling top destination countries would cost you India- 170 credits/min, Saudi Arabia- 1150 credit/min, United States- 120 credits/min, Malaysia- 330 credits/min etc. You can earn daily credits per day via the various in-app tasks, treasure hunts and play games to enjoy seamless calls. The app integrates your contact list to facilitate good functionality and calling experience. The call quality at both ends was exceptionally good to say the least.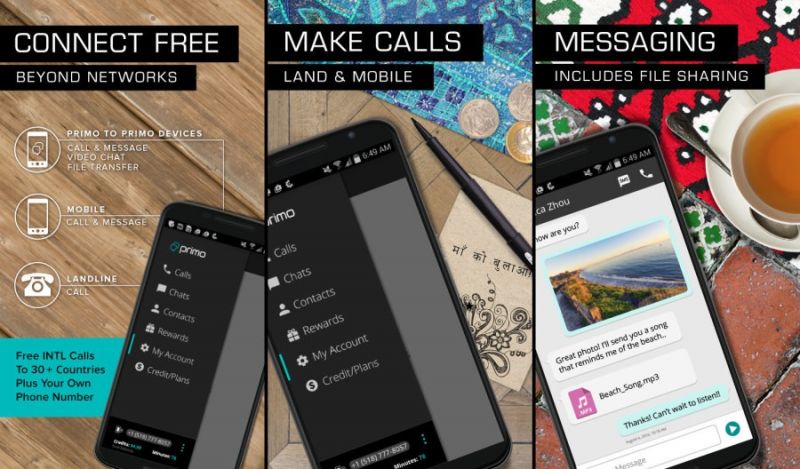 Primo
Unlike WhatsCall, Primo follows a more straightforward approach. The app provides free calling and messaging to over 60 countries. Adding friends and family to your Primo contacts is fairly easy. The service allows you to avail video chatting, messaging as well as file sharing with ease.
Primo offers 30 minutes of free trial credits for first time users to experience the calling feature and its capabilities. You can either pay-per-minute with primo's low calling rates or can avail monthly packages ranging from $4.99 to $9.99, which enables you to call landline and phone numbers directly without much fuss and is pretty cost-effective. Call connections are established fairly quickly and were stable for most of the times with good call quality. Primo also offer free credits which can be availed by inviting your friends and entering you profile credentials like email address, birthday, profile photo and gender.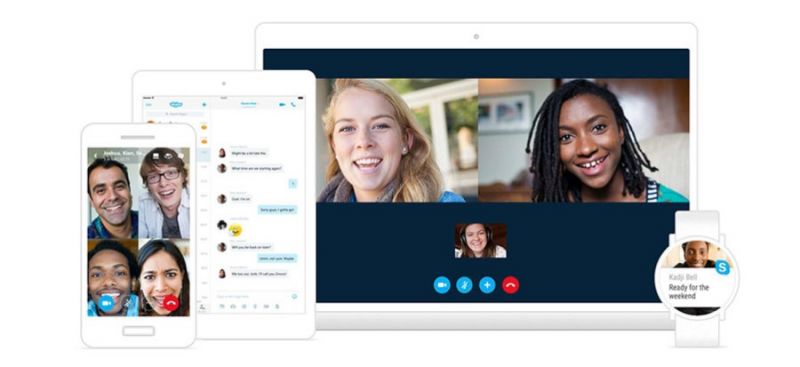 Skype
Skype from Microsoft requires no introduction as it is the most widely used Internet calling app with over 500 million downloads. Skype offers instant messaging and cheap international calling packages. Skype is available for use on smartphones, tablets, and Mac platforms. You can stay connected with your family, friends, and colleagues from all over the world and also allows you to perform group chats and video calls. Skype is also widely accepted in the corporate world for its seamless group calls, video calls, and conference abilities. Skype messenger service can be used to share photos, videos, locations and one can also add emoticons and emojis to chat.
Skype can be signed in with your Microsoft account or phone number. It is easy to setup with just a couple of steps and you are set. Skype offers free trial month credits for new users which can be used to call landlines and phone numbers across the globe. Later one can either opt for credits from the Skype store or buy monthly calling subscriptions. For instance, North America Unlimited pack would cost you Rs.475/month and a World unlimited for Rs 925/month. You can also send credits or buy subscriptions for other via the app.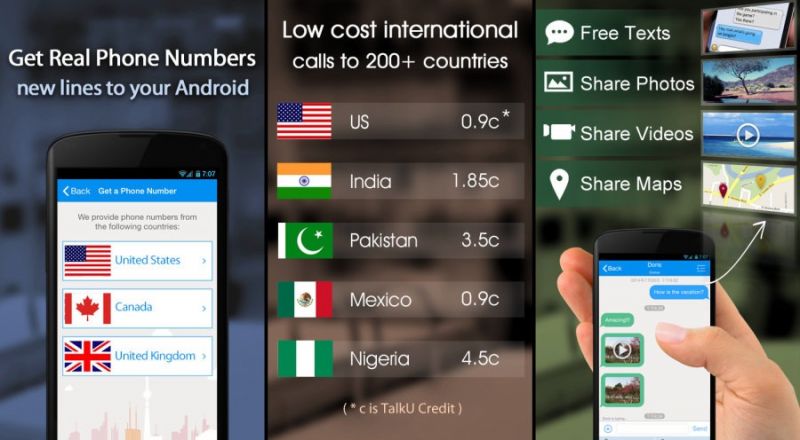 TalkU Free Calls
TalkU lets you make free and cheap phone calls to any landline or mobile number over Internet. The app lets you earn credit by downloading sponsored apps and games. Those who don't wish to waste their time can purchase credits using credit-debit card.
Calls to hot destinations such as United States are as cheap as 0.9 cents per min. For Pakistan, it is 4.9 cents/min. Calls to Africa and Middle East cost to the tune of 6 cents per minute. TalkU offers free visual voicemail. You can block unwanted calls, and even forward calls to any phone number. You can place conference calls with up to eight participants. There's even an option to record the conversation.
Disclaimer: The views and opinions expressed in this article is soley those of the original author. These views and opinions do not necessarily represent those of Deccan Chronicle and/or other staff and contributors to this site. Ajinkya is a tech aficionado. Though he mostly writes about gadgets, he prefers things that guzzle gasoline more than those running on lithium-ion batteries. He is a content guy at Couponraja.in
Latest News
Most Popular
Columns