Pokemon Go, as we know, is the only topic people are talking about online. Ever since the new game took off, there have been reports on how addictive the AR-based game is, with people posting photos and info pieces of where all they have caught their monsters. The game is presently only launched in the US, Australia and New Zealand, but the amount of downloads have crossed the handling power of the servers, that the international launch had to be halted. The international launch for Pokemon Go has not yet been announced, but it will soon be out.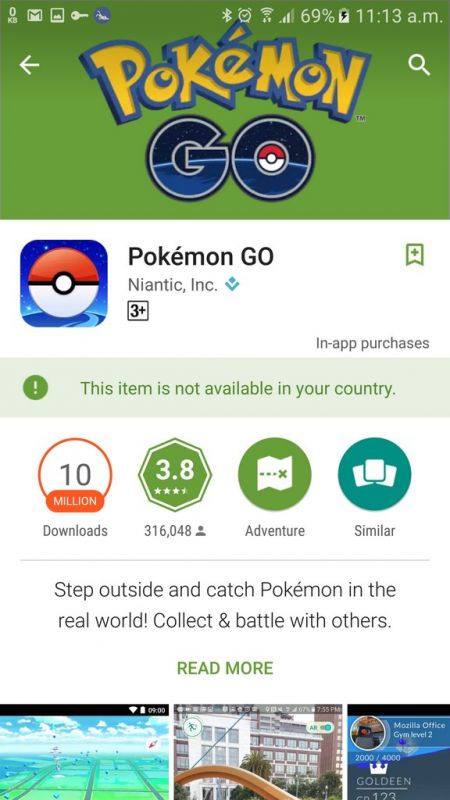 Though the Pokemon Go game is not officially available for download in many countries, here in India, there are other methods that can be adapted for downloading and playing it. While the game is available on various torrents and app hosting websites, some can even download them using a VPN to tunnel through the three countries. Since using the VPN to download the game is usually ineffective, you can download the game from the following links. iPhone users will have to wait for an official release unless they prefer jailbreaking their devices.
The links given below will allow you to download the APK file and sideload it to your Android devices. Simply download the apk file, copy it to your phone's internal storage and tap on the apk file from any file browser app. the app will install and you are set to go. However, installing third-party apps requires you to enable a setting from your smartphone's control panel. Head to the security setting on your Android and locate and enable 'unknown sources'. This will allow you to install an app without Google Play. Different Android versions will have the settings in different locations—some may see it in 'applications', while others see it in 'security'.
Download links:
Other ways of doing so is by downloading via torrents and third-party app market apps.
Note: Installing third-party apps from any source other than the official app play store could cause security issues and malware infections. Apps from unofficial sources could be tweaked with malware to spy on your data. There have been reports about Pokemon Go being infected with malware and supplied on third-party websites. Do check the reviews, comments and other information before download them. We are not responsible for any damage caused to your smartphone or data by using the above methods. Do this on your own risk.
We installed Pokemon Go on our test Android smartphone and found it working perfectly in India. However, we did find something hilarious—almost 90 per cent of Pokemon to be captured in our area (Wadala, Mumbai) were located in religious places and schools. Check out some of the screenshots below that shows you more information.
Click on Deccan Chronicle Technology and Science for the latest news and reviews. Follow us on Facebook, Twitter.
...