WhatsApp is continuously updating new features on its messaging platform. Each version has something new added. As for now, we are still waiting for the video chat option to start, but it seems to take a while as the developers are still working on the same to probably optimise it for audio, video and data. But for now, the beta version of WhatsApp (v2.16.118) for Android has seen a new feature being added — the quote feature. Soon, the final release will also include the same feature.
The quote feature comes in really handy when you are in a group chat. You can quote somebody's message when replying so that it makes it easier for all of the participants in the group to know which message you are actually referring to. The feature also works in one-on-one chats, where you can quote a message and reply back when referring to some older message in the list.
If you are on the beta version, when you select a message by long-press on the particular message, you can see an additional arrow pointing to the left (on the top menu bar). Simply tap that and your message will be quoted. You will then be able to see the messages showing up with quoted text and replies accordingly. People on the group or the recipients will be able to know which messages are actually being replied to. The quoted message shows inside the box with a preview.
iPhone users can do the same, but on the iOS version, after long-pressing on a message, you will see the 'reply' option which is meant for quoting.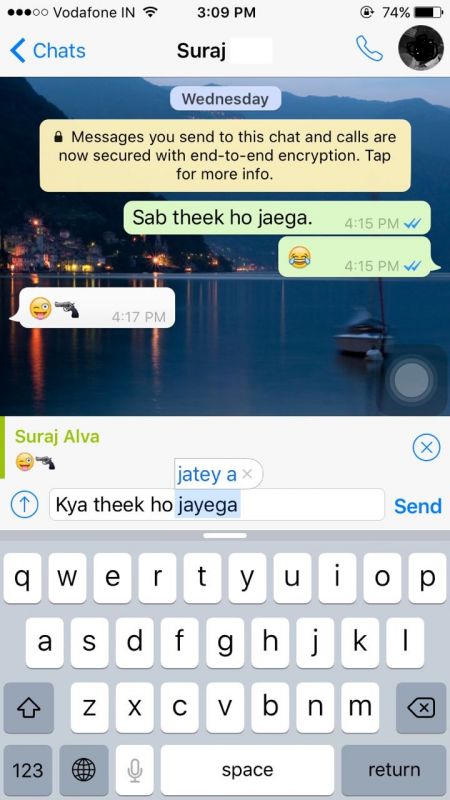 iPhone users are already seeing this feature implemented. Make sure you update your WhatsApp to v2.16.6. The desktop version (WhatsApp Web) does not have this feature as yet and we could soon see it there too.
Also read: How to use same WhatsApp number on two or more phones
Click on Deccan Chronicle Technology and Science for the latest news and reviews. Follow us on Facebook, Twitter.
...