Acer today expanded its convertible notebook offerings with the Spin 7, Spin 5, Spin 3 and Spin 1. The new Spin series convertible notebooks run on Windows 10, and incorporate innovative 360-degree hinges, along with Continuum, that enable them to be used in various ways: as a notebook or tablet, in a space-saving display mode, or in tent mode.
The Spin 7 is thinner than a standard DVD case, the Spin 7 is a mere 0.43 inches thin (10.98 mm) and weighs just 1.2 kg. Its 13-inch all-aluminum uni-body houses a 14-inch Full HD IPS Corning Gorilla Glass touchscreen display with a narrow bezel. It offers up to 8 hours of battery life.
It is powered by a 7th Generation Intel Core i7 processor, with up to 8GB of memory and a 256GB SSD. Dual USB 3.1 Type-C ports are included for quick data transfers, connection to an external display, and to charge the notebook.
The Spin 5 features Acer's proprietary wobble-free 360 degree dual-torque hinge, which makes it easy to open but prevents it from toppling over when using the touchscreen.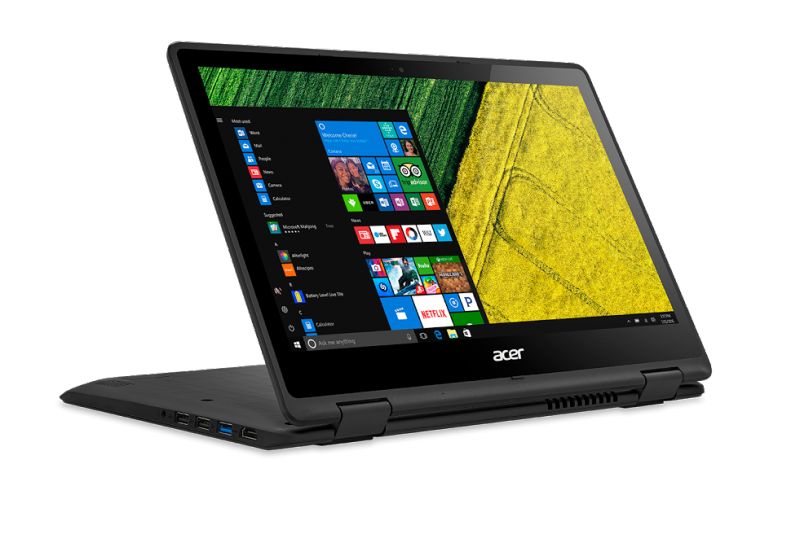 Spin 5 is powered by 7th Generation Intel Core processor and has up to 16GB of fast DDR4 memory and up to 512GB of SSD storage for fast boot up and data transfer. The Spin 5 delivers up to 10 hours of battery life, and the bright 13.3-inch Full HD IPS touchscreen display can be used with an optional Acer Active Pen with Windows Ink.
The Spin 3 features a 15.6-inch HD or Full HD IPS display and is powered with a 6th Generation Intel Core processor and provides up to 12GB of fast DDR4 memory. It also features dual storage support, and comes with both solid state drives (up to 256GB) and hard drives (up to 1TB), providing fast boot up times and ample storage for documents and media. It also includes an HD webcam with HDR imaging with up to 9.5 hours of battery life.
With ultra-affordable prices and up to 9 hours of battery life, the Spin 1 is ideal for students or for use as a second computer. The Spin 1 comes in models with 13-inch or 11.6-inch Full HD IPS displays, and includes configurations with all new Intel Pentium or Celeron processors.
The Spin 1 (SP111-31) supports an Acer Active Pen with Windows Ink, and features a display that's covered with Antimicrobial Corning Gorilla Glass, made possible by embedded antimicrobial ionic silver that lasts the lifetime of the touch surface.
Click on Deccan Chronicle Technology and Science for the latest news and reviews. Follow us on Facebook, Twitter.
...