Mumbai: LG Electronics India, one of the leaders in consumer durables, showcased its futuristic technology at the fourth edition of its annual technology convention – the LG India Tech Show 2016 in Mumbai. This year saw the unveiling of LG's 'Signature Series' Cutting-Edge Premium Lineup consisting of state-of-the art OLED 4K TV with Dolby Vision, 12 kg Front Load Washing Machine, Knock-on Door-in-Door Refrigerator, Air Purifier. Also, the newly launched K series smart phones K7 and K10, under LG's 'Make in India' initiative were displayed.
Speaking at the Tech Show, Kim Ki Wan, Managing Director, LG Electronics India said, "After receiving such a good response over last few years from our consumers, we are happy to launch the 4th edition of the LG Tech Show in Mumbai. We strive to deliver the best for our customers in terms of quality products and service and our commitment to making life good which is reinforced through the innovative products that we bring to the market year on year. This year we will be opening the LG tech show for the end consumers with the sole aim of coming closer to our consumers and build emotional connect. This is one of the finest initiatives the consumer durable industry has ever witnessed. We are confident that with this unique initiative, LG will certainly raise the bar of customer aspirations. This tech show will be spread to 50 locations in India. We are displaying LG signature series which brings together the company's best technology and designs under a single name."
Key products under 'Signature Series' unveiled at LG India Tech Show 2016 were:
LG OLED 4K TV with Dolby Vision: LG brings the future of television technology to its consumers with the all new G6 and E6 series OLED TV. The flagship G6 SIGNATURE OLED TV feature exceptional contrast and colour as well as 4K Ultra HD resolution and high dynamic range (HDR) capability. Certified as UHD Premium by the UHD Alliance, the series supports the industry-standard HDR formats established by the world's leading broadcasters, film studios and consumer electronics manufacturers, including generic HDR and DolbyVision technology, making them among the firsts to be compatible with all formats.
Unlike LCD displays where the LED backlight can only locally dim sections of the screen, each pixel on an OLED panel can switch on and off independently. As a result, OLED TVs render crisp, vibrant colours and rich shadow details, even when bright objects are directly next to deep, dark areas — unlike LCD TVs which have a halo effect from light bleeding. New LG SIGNATURE OLED TV models feature LG's new webOS 3.0 smart TV platform, featuring advanced new features that make finding and switching between LG's expanded content options — including broadcast TV, streaming services and external devices – simple and fast.
Air Purifier: The only Air Purifier that cleans air before your very eyes: LG believes that nothing is more important than clean air. The exquisitely designed LG Signature Air Purifier allows the air cleaning process to be a visual experience with its innovative transparent panel. Equipped with an advanced Aqua-Cyclone feature, this air purifier harnesses the power of water to filter out harmful chemicals and contaminants while quickly bringing the room to comfortable humidity levels. The unit is equipped with LG's Semi-Permanent Filter System, allowing consumers to remove, wash and reuse the filters for up to 10 years, saving both time and money.
While fine dust particles are typically invisible to the naked eye, customers can see the air quality of their indoor environment by simply glancing at LG's Smart PM1.0 Indicator. Positioned around the control display, the indicator uses four different colours of light to signify the concentration of super-fine dust particles.
12Kg Front Load washing machines: The new premium laundry solution comes with an innovative separate 24"mini washer thus maximizing capacity. The washing machine provides special care for different types of clothes; it has professional cycles for premium clothes, gentle cycles for delicate fabrics and special washing and restoration cycle for functional clothes. The inverter heat pump technology dries clothes at a temperature as low as 600 C, thus minimizing fabric damage and at the same time reducing energy consumption by up to 50 per cent. The smart washing solution adjusts cycle time and washing options by sensing load size and soil level. The Centum system technology provides highest energy efficiency of up to 60 per cent and lowest noise at both washes & spin cycle. The washing machine has the biggest capacity of 12Kg in a 24 inch size. The premium ergonomic design maximizes usability and provides easy and intuitive touch controls. It also has a Turbowash feature which gives efficient wash in 49 minutes. It has an auto detergent dosing system, auto optimal wash cycle along with smart technology supported by Wi-Fi.
Knock-on Door-in-Door Refrigerator (950ltrs): Knock on Door in Door Refrigerator, that lights up and becomes transparent when you knock on the door allowing you to check what is inside the refrigerator without opening the door with Steel ART wall design giving you the ultimate in convenience, better organization and easy access, while maximizing conservation of cold air. The right Door-in-DoorTM is accessible from the outside with a simple push of a button and can also be accessed from the inside, making it easy to load with frequently-used items like snacks, drinks, lunches and more. The left Door-in-DoorTM provides additional easy access storage space via a trigger on the bottom of the door. By utilizing LG's innovative Door-in-DoorTM feature without opening the entire refrigerator, cold air loss is reduced by up to 47 percent to help keep food fresh longer. This refrigerator has a WiFi Eclipse display. The FRESH shield cooling and HYGIENE freshTM technology increases the shelf life of the food in the refrigerator. The LUMI lighting on the shelves provides adequate lighting inside the refrigerator.
The display zone also showcased the following products:
Twin Wash technology Washing Machine: The LG Twin Wash washing machine completely redefines the concept of doing laundry. The first of its kind innovative technology enables us to wash two separate loads at the same time. The Twin Wash washing machine, the laundry innovation of the year, has a capacity of 21Kg, the biggest capacity in the Indian market till now. The 3.5 kg mini washer not only maximizes the total capacity to 24.5 kg but also provides a separate section to wash intimates, delicates, white and baby clothes, thereby also maintaining hygiene at the same time. With a space-efficient mini washer in the pedestal, overall cycle times are reduced with fewer loads required. With TurboWash 2.0 fine clothes can be washed within 39 minutes. Thus, you save time, energy, water and space with innovative Twin Wash technology. The premium ergonomic design gives the washing machine a tilt at a six degree angle making it more accessible to users. Thus the users don't have to bend over as much to put clothes in or take them out and the newly designed sliding detergent box at the top reduces the likelihood of messy deter-gent spills.
The product also comes with 10 year warranty on inverter direct drive motor which also gives us efficient wash by providing powerful 6 motion TM technology.
K Series smartphones K7 and K10: The K-Series smartphones will be the first to offer LG's glossy pebble design, a contemporary, stylish look with a curved, modern finish aimed at a younger audience. The glossy pebble design is complemented by LG's new 2.5D Arc Glass for a smooth and seamless style that could only be made possible due to the sides of K-series smartphones being free of button clutter. With design cues borrowed from nature, the K10 and K7 look far more expensive and exclusive than they really are.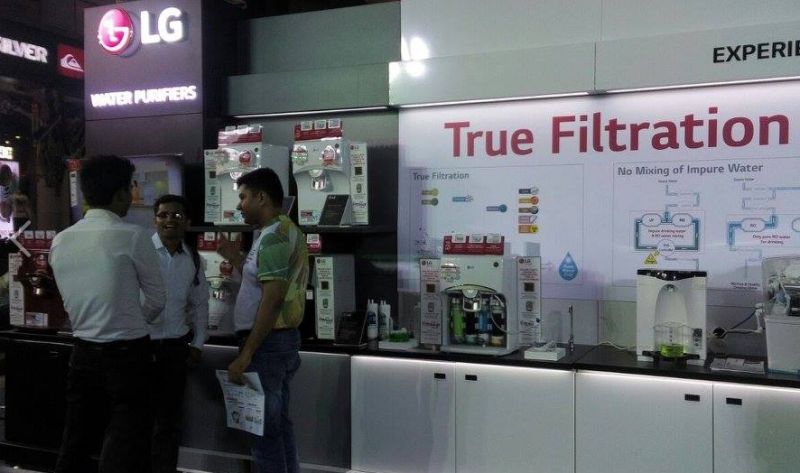 The back cover features an intricate woven pattern for optimal grip and confidence when on the move. Further, because consumers on the move tend to enjoy an active lifestyle, the K-series is designed with multimedia creation and consumption in mind – with a larger screen to display images and videos captured with the most advanced camera (13MP on the rear and 8MP on the front in the case of the K10) in a smartphone in this category.
Featuring LG's popular Gesture Shot and Gesture Interval Shot, taking selfies is easy and hassle-free. Gesture Shot enables users to take photos simply by raising an open hand in front of the lens and then clenching it into a fist. Closing one's hand twice automatically leads to the Gesture Interval Shot and will produce four consecutive photos. Both devices are equipped with Flash for Selfie in the front to help users capture priceless moments whenever and wherever the need might arise, even in the dark.
The product portfolio showcased at Tech Show 2016 demonstrates LG's commitment towards its customers in India, to deliver products that allow them to experience life in more meaningful way while being energy efficient at the same time.
Click on Deccan Chronicle Technology and Science for the latest news and reviews. Follow us on Facebook, Twitter.
...