Technology
International Yoga Day: How the Apple iPhone and Watch can help you keep fit
Deccan Chronicle| Francis D\'Sa
Published on: June 21, 2018 | Updated on: June 21, 2018
Apple's Watch is highly aimed towards health and fitness rather than being an extension to the iPhone.
Taking control of yourself, gaining clarity on what you truly want and need to accomplish, is a calming, inspirational, and transformational experience.
In today's world, most people seem to be on a speed train to nowhere, and we rarely sit back and reflect upon what this means for us in the grand scheme of things. Time is certainly moving faster these days, leaving many people feeling overwhelmed, stressed and purposeless.
Taking control of yourself, gaining clarity on what you truly want and need to accomplish, is a calming, inspirational, and transformational experience. And yoga is a powerful tool to help you accomplish this. Through yoga asana we learn to bring energy and vitality into our bodies. With simple pranayama practices (breathing), we learn to focus and relax our minds, and this allows us the ability to reflect upon our inner selves. Inner reflection leads to greater self-awareness. From this, we learn to move towards clarity and wisdom, becoming powerful creators of a life that we want to live.
Leading Yoga Expert Natasha Noel says, "Mindfulness means living in the present moment. The mind is constantly involved in activity – swinging from the past to the future – but never staying in the present. You don't need any special equipment to focus on the breath, just take these very short breaks over the course of one's day to focus on them as a way of bringing focus, mindfulness and awareness into your life. The Breathe app on the Apple Watch, gently reminds you to breathe. And for a minute you can just pause everything around you look at the flower blooming on an inhalation and shrinks down on the exhalation."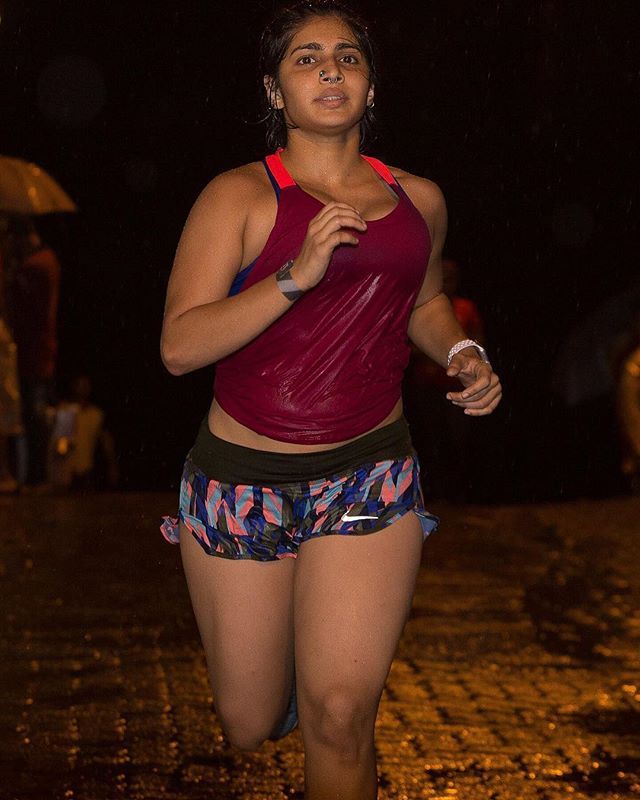 "What I really like about the Breathe app and about any kind of technique that is accessible to people, is that they do give people who might not otherwise give meditation a try, a sense of how powerful those techniques can be. The thing is we get stuck and caught up in our daily hullabaloo that we forget to "consciously breathe" so from today if taking 10 mins is too intense for your life, take just a minute to start consciously breathing. And then build your way up. Taking time and effort for your mental health is always a good thing. So if you don't have time I urge you to make time," he added.
I am not a health freak myself. However, the Apple Watch does help me relax at the most crucial periods. It senses that I would be stressed by monitoring my heart beat and alerts me to take a minute off to Breathe. The nudge on my wrist makes sure that I tone down my anxiety and relax my senses by breathing in and out slowly for a minute. While this may seem a little off at that moment, obeying the Watch's commands did help me relax and focus on what I am into, a lot better.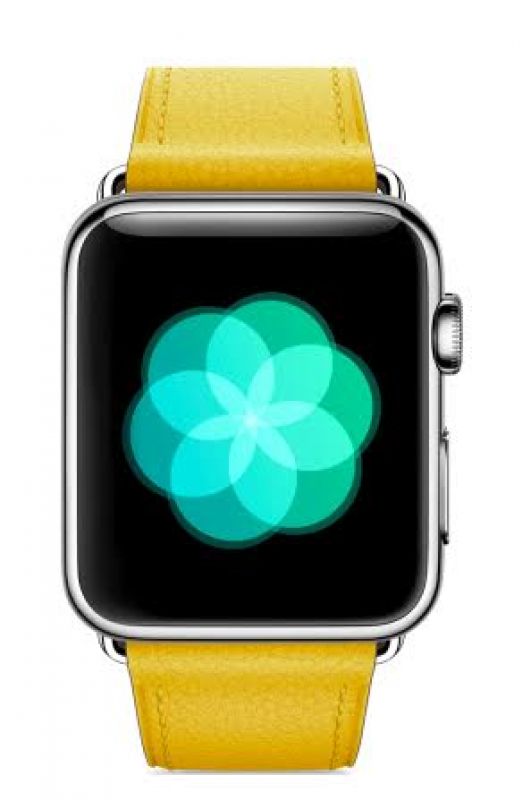 After crossing the age of 40 and only driving around to work and back, I was also getting less exercise myself. Though always running around at work, this lack of exercise to my body had made me a bit sluggish, ending up with a more tired me at the end of the day. Earlier, I did try out taking a walk in the morning and at nights after my meals, but my profession has always haunted me and the addictive internet never left my side, always keeping me occupied. The LTE Watch has managed to slowly wriggle myself out of this stressy and suffocating routine of answering emails and looking up to what's being reported out there. The Apple Watch Series 3 LTE now allows me to disconnect from the hustle and bustle of the news chaos and helps me relax. I can now happily keep my iPhone back home while am outdoors walking or shopping around, or even catching up with my old friends and colleagues without any major disturbance. I still get my alerts, messages and calls, which are equally important, but with restricted options to reply back and stay indulged is now passé. With LTE, I simply catch up with my music streaming directly from my iTunes library whilst on my daily walk.
Lastly, since I have a history of anxiety-related palpitations, my Watch is now continuously monitoring my heart rate for any abnormalities. With timely alerts on increasing heart rates, I am able to keep my stress under control and also report back to my doctor for any unfortunate conditions.
I would highly recommend the Apple Watch for those who probably have a stress-filled work environment since I look at the wearable as a health requirement more than an additional gadget on my list. The Watch will definitely help out and benefit (health-wise) in the long run. So if you are concerned about your health and want to get rid of your smartphone addiction, the LTE Watch is a good investment.
Apart from the benefits from the Watch itself, applying Yoga to your daily routine will also help you keep yourself and your health in shape and ready to take on your stress-filled day. Below are some Yoga and Meditation Apps we recommend. Apart from the apps itself, we also have also included some meditation music playlists from Apple Music that you can subscribe to, on your Watch, while meditating.
Yoga and Meditation:
Fitstar Yoga (FREE)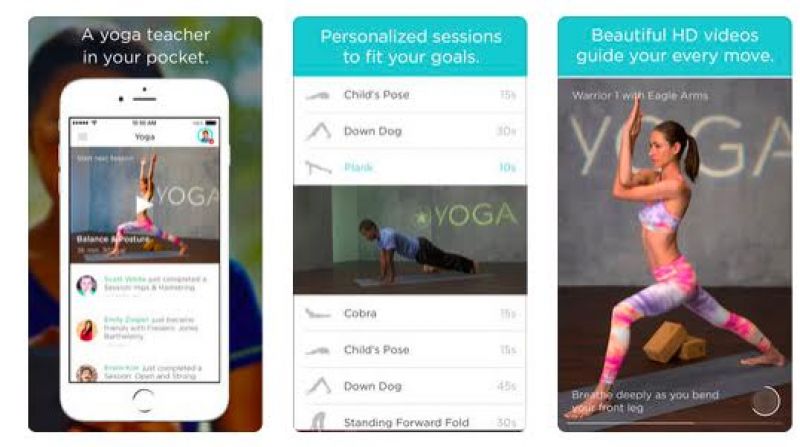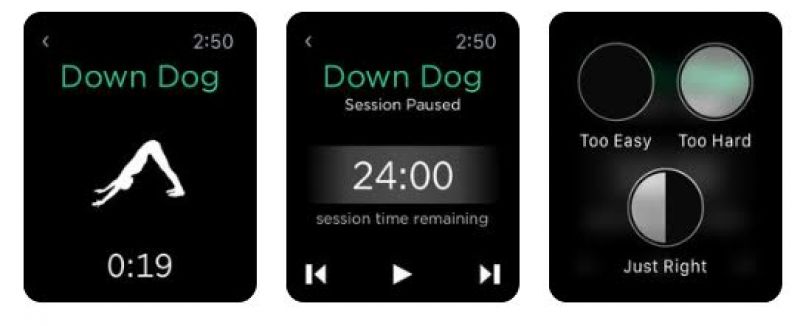 Teamed up with internationally recognized yoga expert Tara Stiles to provide the perfect experience made just for you, FitStar Yoga is made for beginners and experts alike to reduce stress and gain strength. Custom audio tracks get you flowing, and streaming music support to keep you moving at your own beat. Track your progress and milestones with achievements, unlocking new poses and badges as you improve. Integrated with Health app to track your calories burned and workouts, contributing to your overall Health dashboard.
YogaGlo – Yoga and Meditation classes (FREE)
Practice in the comfort of your home and when you travel. Our iPhone and iPad app is free to download and with your YogaGlo membership you can access over 3,800 classes in a variety of styles, levels and durations so you can find a class that meets your needs at every stage of your life. You can also track your YogaGlo activity on Apple Watch and monitor your heart rate during each practice so you can contribute to your Activity Rings and meet your daily goals. App offers curation tools that allow you to browse, search and filter the entire library of yoga and meditation classes by time, level, focus or teacher. Choose how, when and where to practice with yoga and meditation classes that meet you at your skill and interest level for a personalised experience. You can also download yoga classes to be viewed offline with no internet connection necessary so you can practice yoga anytime, anywhere.
Asana Rebel - Yoga Inspired Fitness (FREE)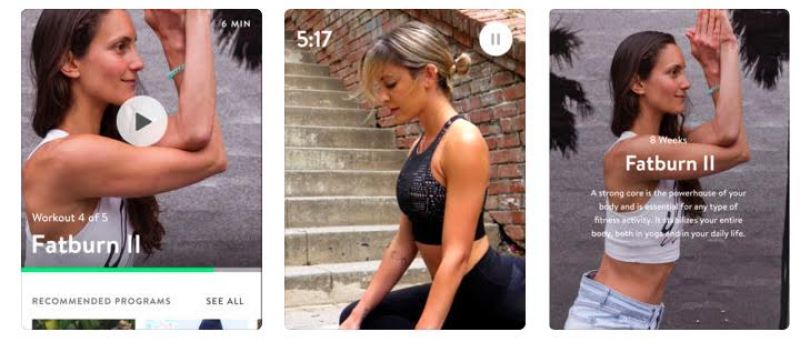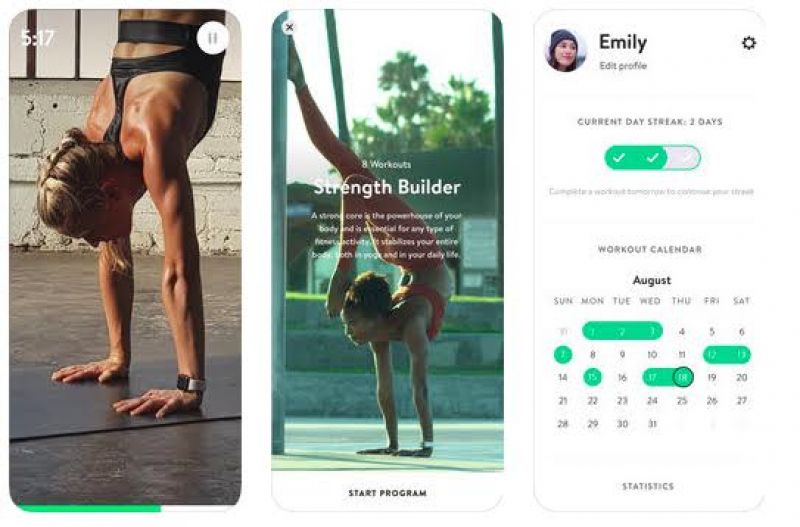 Asana Rebel is the yoga and fitness app for anyone who wants to get fit, lose weight and start a healthy lifestyle. The app helps lose weight, burn calories, get fit and lean, strengthen your core, increase flexibility to boost your performance, balance the body while focusing the mind, leave the stress of the day behind. Available in six languages: English, French, German, Italian, Portuguese, and Spanish.
Zova (FREE)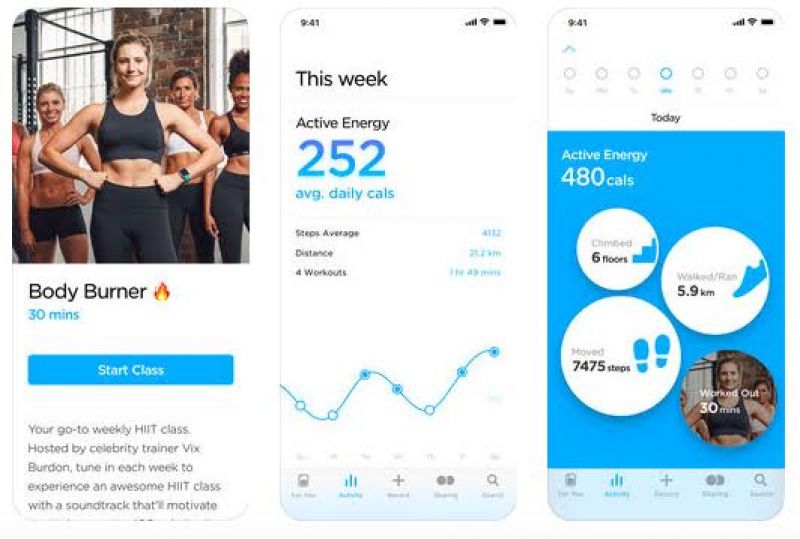 Zova is the simple way to track and improve your fitness. Whether you like classes or gym, bodyweight or swim, Zova combines all your workouts into a simple score so it's easy to know how active you are, or need to be. Stream Workouts – Make every second count with ten-minute workouts for any body area. Flexibility – Stretch your mind and body with our flexibility workouts that combine classic yoga poses with deep, effective stretches. Monitor your heart rate and exercise stats - right from your wrist with Apple Watch. Work out harder, better, faster with your favourite music, thanks to our seamless Apple Music integration.
For Wellness and Meditation:
Calm (FREE)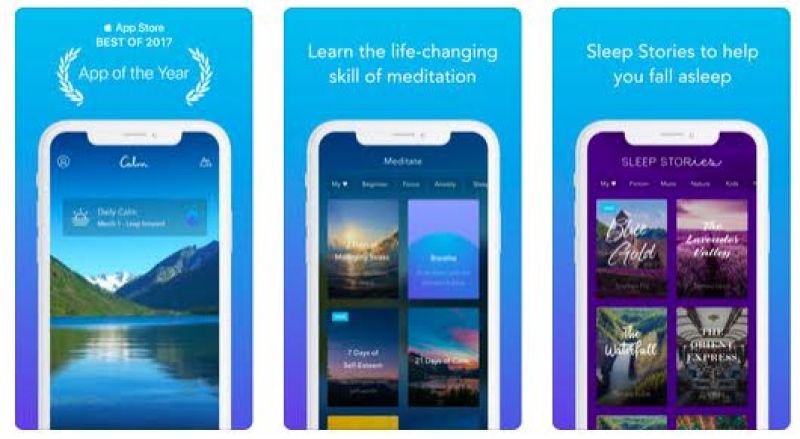 Calm is the #1 app for mindfulness and meditation to bring more clarity, joy and peace to your daily life. Calm has been the '2017 App of the Year' on App Store and 'Happiest App in the World' — Human Tech. Join the millions experiencing less anxiety and better sleep with our guided meditations, breathing programs and Sleep Stories. Calm is the perfect meditation app for beginners, but also includes hundreds of programs for intermediate and advanced users. Guided meditation sessions are available in lengths of 3, 5, 10, 15, 20 or 25 minutes so you can choose the perfect length to fit with your schedule.
Oak - Meditation & Breathing (FREE)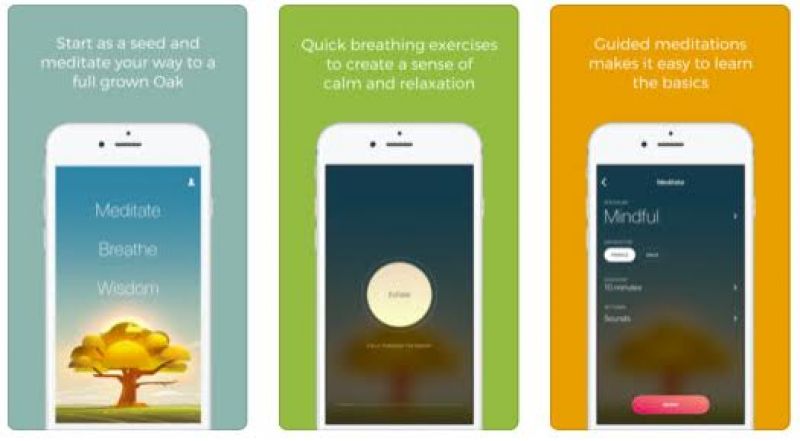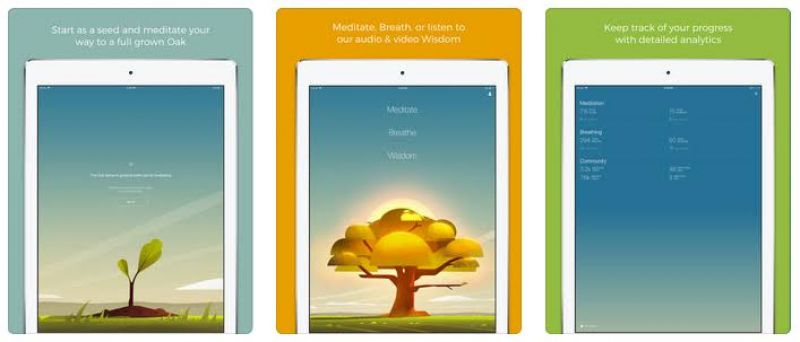 Oak is the easiest way to learn guided meditation in just 10-minutes a day. Oak's simple mindfulness practice is a great way to reduce stress, improve sleep, and find a natural balance in life. Oak user profile tracks meditation and breathing process over time, including your minutes meditated, number of breaths taken, and consecutive days (streaks). It also support Apple HealthKit for tracking "mindful minutes" with the Health app.
Headspace - Guided Meditation (FREE)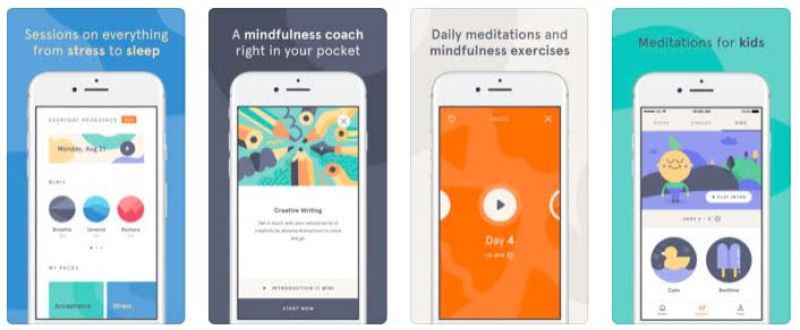 Teaches the fundamental techniques of meditation and mindfulness with hundreds of guided meditations on subjects like sleep, focus and exercise. There are 2-3 minute "mini meditations" for a quick mental reset. "SOS" sessions for moments of panic, anxiety and stress, sleep sounds to help you drift off, guided meditations and mindfulness exercises for Kids with sessions on Kindness, Calm, and Focus among others.
WaterMinder (FREE)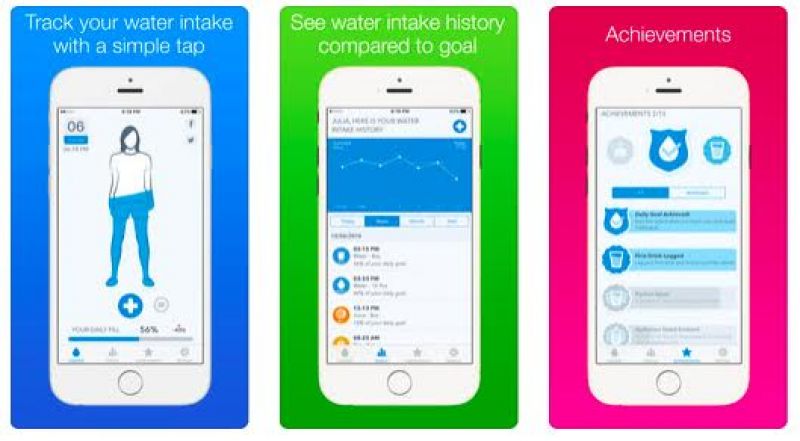 An easy, intuitive app to track your water intake. Based on your body weight (or your personal goal), WaterMinder will remind you to drink water to reach your daily goals. By seeing current water fill visually and in percents you will instantly know how well you are hydrated!
Meditation music on Apple Music:
Meditation: Early Morning Rays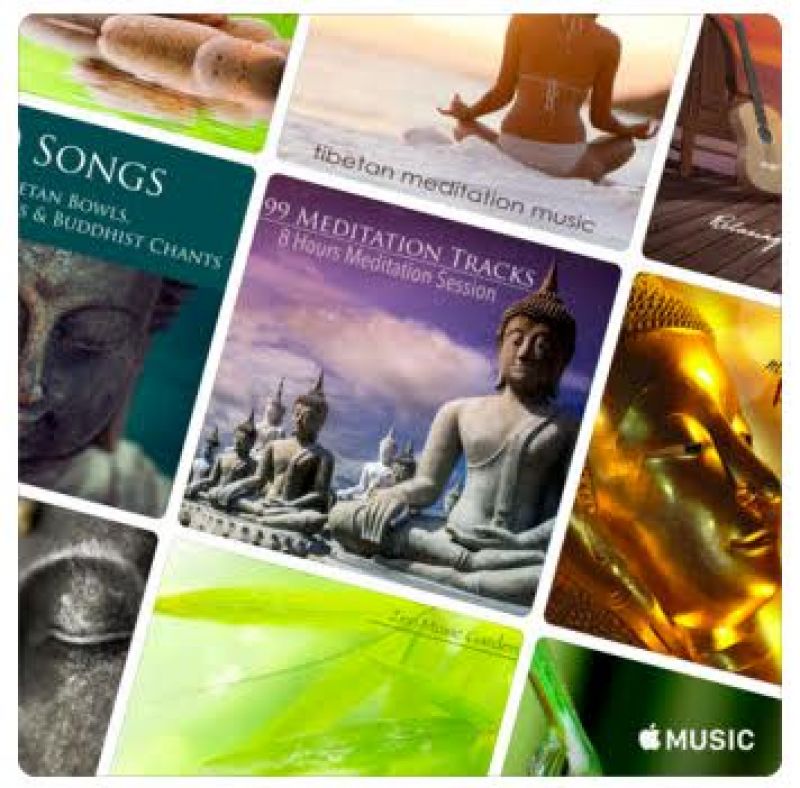 Witness nature at its best when shards of light emanate from the morning sun, songbirds in full voice - all this with a perfect early morning meditation. Embrace the positive frame of mind, and begin your day with a select playlist for some sunrise solace.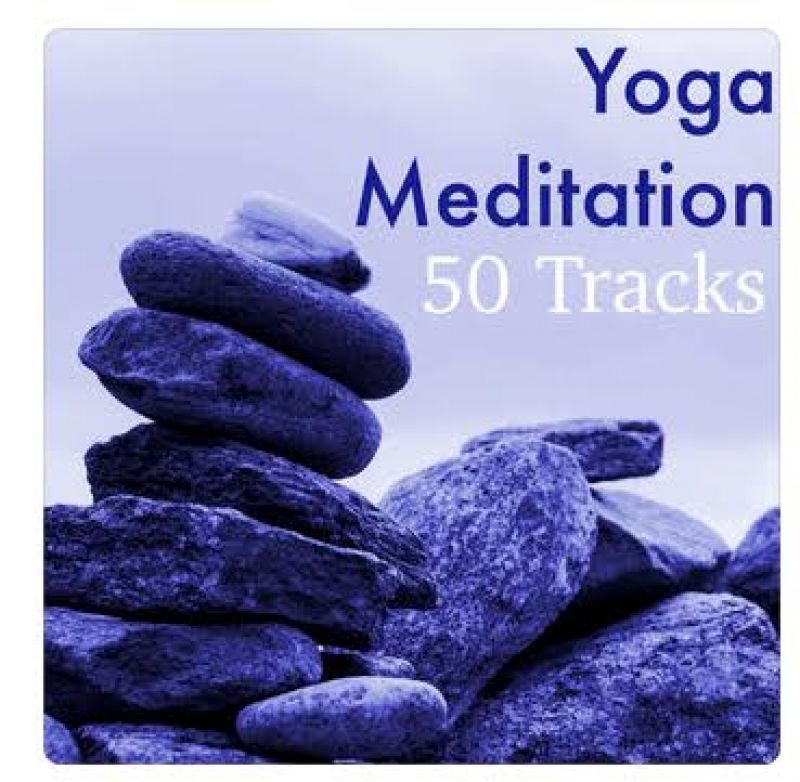 The best relaxing music with nature sounds for stress relief, Zen Massage therapy, yoga class background music, mindfulness meditation.
Also read: World Yoga Day: From the eyes of Apple's iPhone X
Latest News
Most Popular
Columns