Technology
iRobot Braava Jet 240 review: An Ideal mopper for small spaces
Deccan Chronicle| Francis D\'Sa
Published on: July 15, 2017 | Updated on: July 15, 2017
A basic floor cleaning and mopping robot with smartphone controls.
The iRobot Braava Jet 240 is a smart, semi-intelligent floor mopping robot that can help you with your daily cleaning chores, at least as far as mopping is concerned.
A while ago, iRobot, a smart home appliances company, launched the Braava Jet, a floor mopping robot. The intelligent little floor-roaming and cleaning box is aimed for small spaces and will help you take some load off your daily cleaning chores. However, though the little one is pretty efficient, it still has a few shortcomings, but we can't expect much at this point as smart devices and home robots are pretty much in a nascent stage.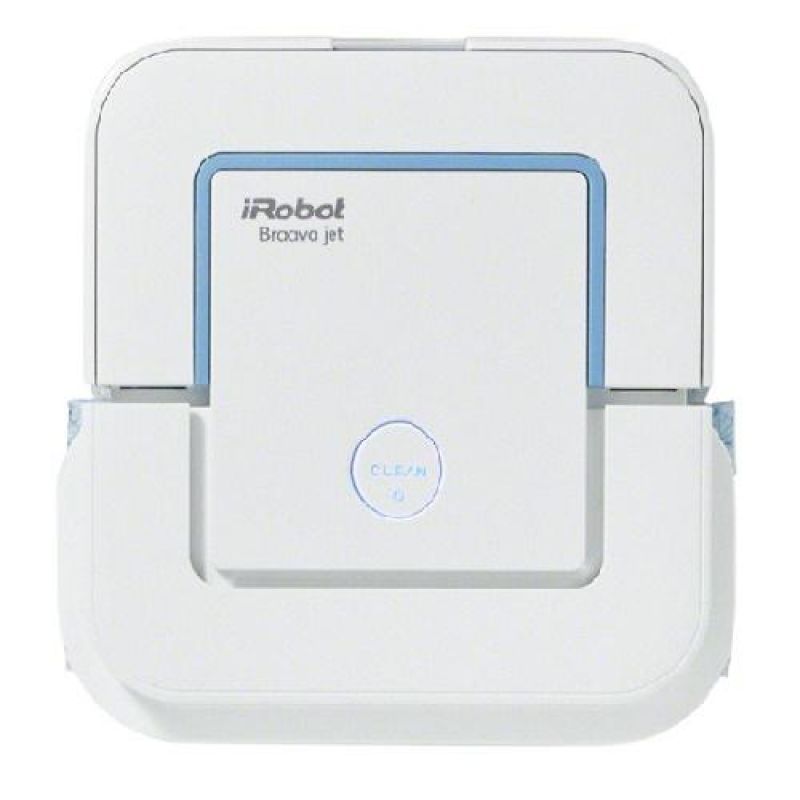 The iRobot Braava Jet 240 is a smart, semi-intelligent floor mopping robot that can help you with your daily cleaning chores, at least as far as mopping is concerned. It features a Bluetooth-controlled interface, and also works independently without a smartphone. The tasks it can perform are limited to just wet mopping, damp sweeping, and dry sweeping.
The Braava Jet 240 is a simple, plastic-encased two-wheeler electric car with a built-in water tank and a mop in the front. Powered by a 1950mA battery, the device is very simple to operate and can help you clean and mop up small spaces — around 150 – 200sqft. It measures just 170x178x84mm, and weighs just 1.2kg. Bundled with the robot are a rechargeable battery, a charger and six mops, and the unit carries a 2-year warranty (1-year on the battery).
The robot features a simple fold-back handle that can be used to pick it and place it around the room, other than hiding two elements on the panel. Below the handle is a mop eject button and an opening to fill water.
The top panel consists of just one simple backlit button that performs two functions — power and clean. Around the button you will find three LEDs — two to indicate virtual walls on each side, and one for the battery power.
On the front panel is a tiny rectangular hole that sprays water up ahead when used in wet mopping mode. The front panel also has a spring action movement that helps it move up and down, in and out to act as a bumper when it bumps into something up front. The bumper has a sensor that informs the robot's intelligence about an obstacle and which direction it can try move next.
Below the bumper is a placeholder for the three different mops. There are three types of a total six mops that come bundled with the unit — two for wet, two for dry and two for damp. Each mop has a sensor pattern cutout, which informs the robot of the type of mop you are installing on it. The wet mop can be reused by a good cleaning, but the other two types need to be replaced with new ones as they cannot be cleaned. The mops are pretty expensive and can cost you around Rs 690 for a new set of 10 cleaning pads, and washable wet pads are available for Rs 1,190 for a set of two pads.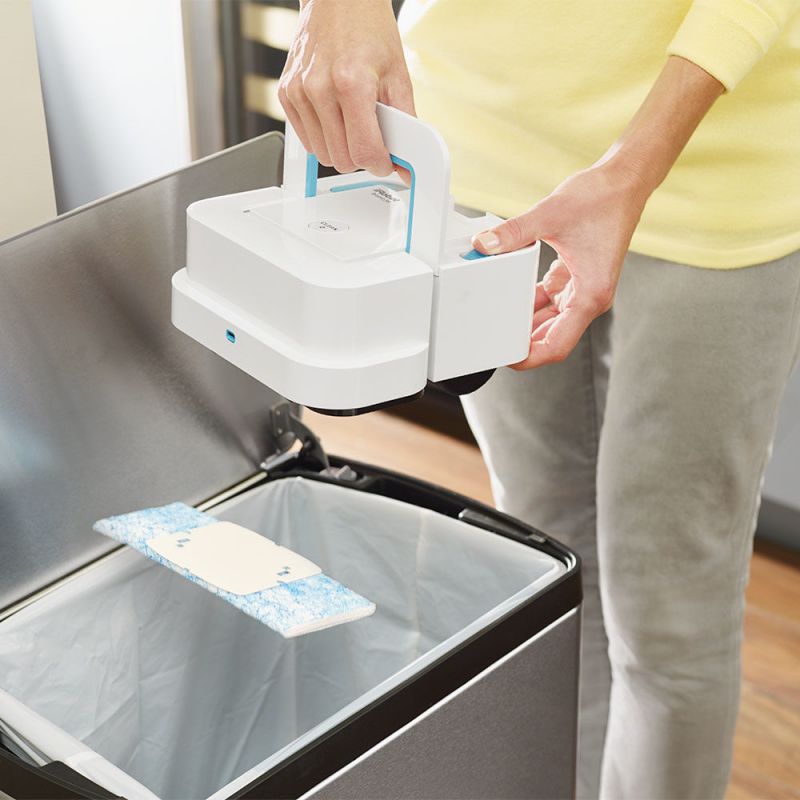 The rear panel houses a removable, chargeable battery that needs to be charged each time before you use the robot. The charge on the 1950mAh battery is good enough for just a few hours, depending on the type of cleaning mode it is being used in. Wet mode will take up more battery as it has to additionally pump out water for wet cleaning. The battery takes around two hours for a topup, which is good enough too.
The robot has three types of sensors — one for obstacle, one for the mops and one for the floor. The floor detector can sense gaps in the floor to avoid falling off a stair or an elevation. This is beneficial if you want to clean a desk or table too.
The robot works well on glass surfaces, on regular floors and also in bathrooms on glossy tiles. The robot also works in pitch darkness, but there are some online user reviews stating that the robot does not work on black floors — they state that the robot gets confused and does not move around. This is probably because the floor does not reflect the sensor light for efficient detection.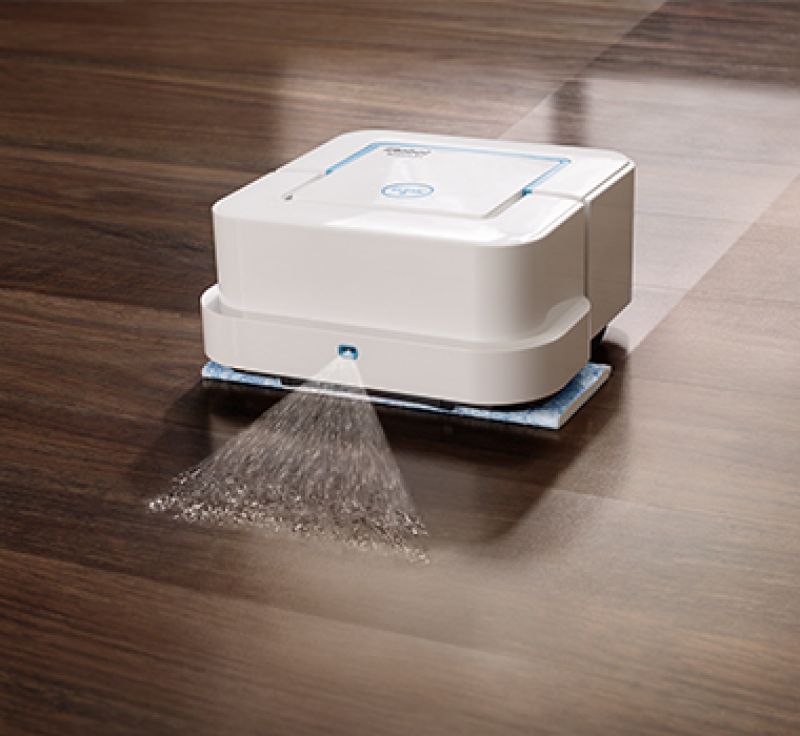 The robot works well, and works in a programmed pattern — it starts moving ahead up to one metre, turns back and continues till it completes one area, in a progressive zig-zag pattern. It then continues to other parts of the room/floor accordingly. If it detects an obstacle, it tries cleaning the corners of the obstacle and moves around it. However, we did notice that it does not have obstacle detection in place which can help it get under tight spaces. For example, we found that it gets stuck under the sofa, which is just about the height of the robot. Also we did find it gets stuck on carpet corners a few times, and twice it got stuck between a few wires. If the robot cleaner gets stuck in unknown territory, it signals an audio tune informing the user about it. The robot also auto-shuts-off when not in use for a while, if it finishes cleaning, or if it is stuck in some area.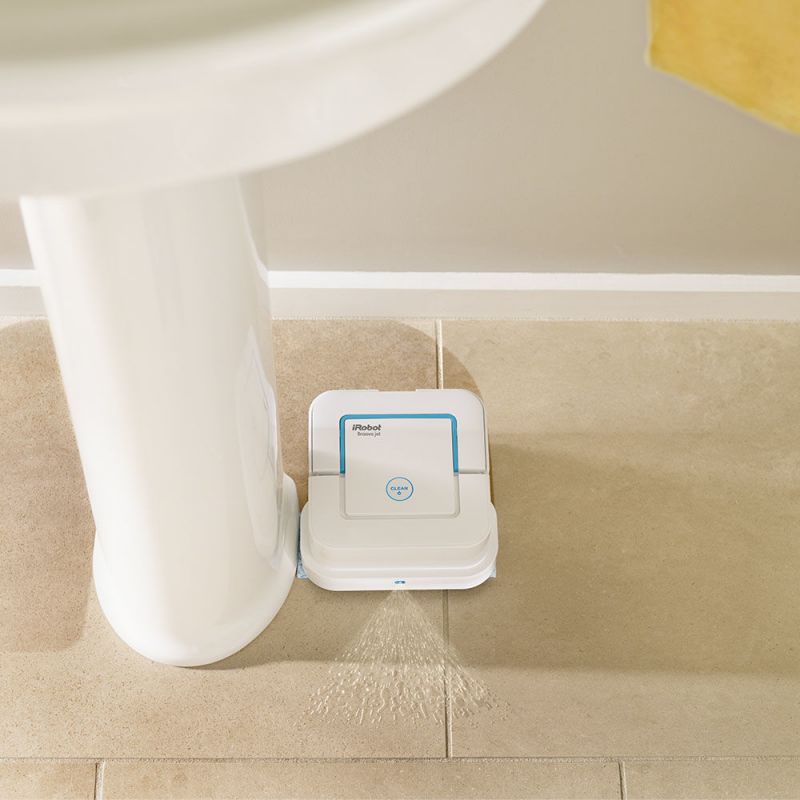 The robot can also be controlled by a smartphone app. The robot has Bluetooth connectivity, which can be paired by the smartphone app only. Once paired, you can add multiple robots for each room and name each one accordingly to identify them. For example, you can name them as kitchen, bathroom, hall, and so on. Each robot can be individually controlled, but there's nothing much to control from the smartphone. All you can do is instruct the robot to start and stop clean or inform it about the virtual wall. Apart from this, you can get crucial information about the errors, obstacle issues, battery and type of mops installed on the robot. You can also instruct the robot to do spot cleaning in a particular area, which is not possible from the robot's own control panel.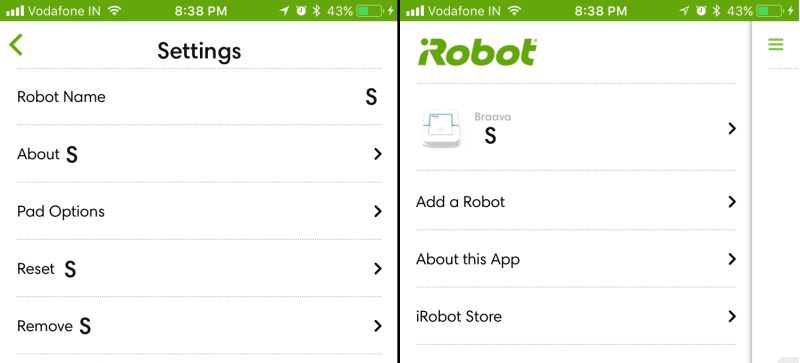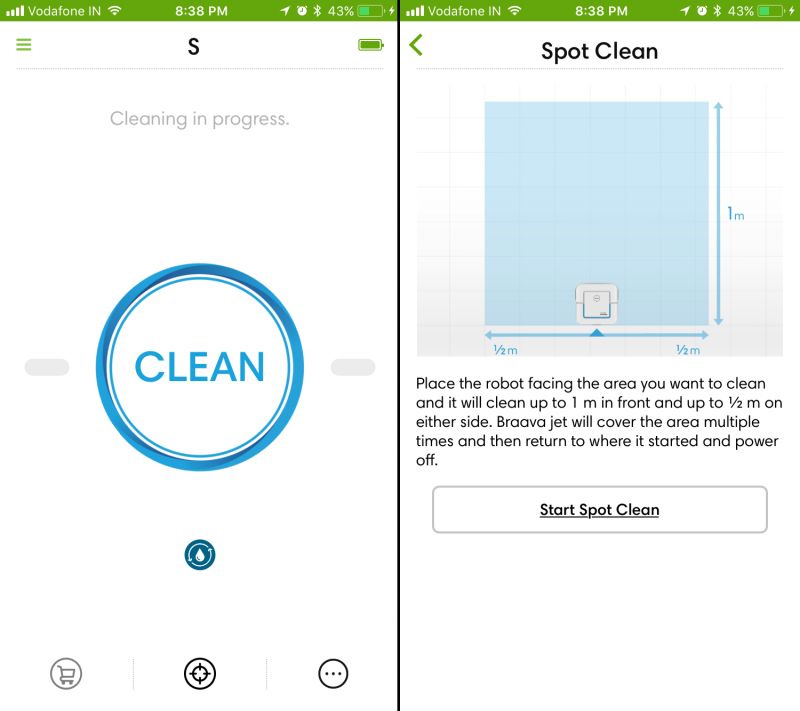 As for the performance, we loved the iRobot Braava Jet since it is extremely silent. One reason for being silent — it does not feature a vacuum cleaning function. The audio indication tones are pretty somber and low and does not yell out loud about its actions. The drive motors are efficient and silent too. The wheels have soft rubber treads that keep a very good grip on the floor. When cleaning around, the unit is very silent and you may not even know it is around you. The only time it turns a tad noisy is during wet mopping — the water jet spraying action is audible.
Dry cleaning is very good. Sadly, you need to broom your floors for the robot to take over as the iRobot Braava Jet 240 can only tackle regular dust, fur and tiny sand. For larger dust and dirt cleaning, you will need something that has a built-in vacuum cleaning function. The dry mop is a usual felt mop, which efficiently picks up dirt and dust from the floor, making sure each and every sqft of the area it is cleaning is clear and ready for wet mopping. The damp sweeping mop helps clean with minor effects, helping clean up liquid spills if any. The wet mopping is the best where it sprays a considerable amount of water on the area that needs to be mopped. This helps clean the area well. If you have bad stains, you can also instruct the iRobot to do spot cleaning, where it cleans a 1 metre by 1 metre area continuously for a period of time. Stubborn stains will have to be taken care of manually. The iRobot does have a slight vibrating function which helps clean the spots and stains, but is not efficient enough as it cannot check the area if it is cleaned well — no sensor for that.
The damp sweeping and wet mopping are best for kitchen and bathroom floors. Dry can be used for other rooms around the house, and later followed by wet mopping. The pads are basically meant for single use, which is an expensive issue in the long run. However, with minor tweaks, you can replace them with pads (DIY) using microfiber cloth, which can be washed and reused.
One sad area we noticed that the robot cannot contain sufficient water within. The internal water container is pretty small and good enough for a single use. However, this is not of any major concern.
The iRobot Braava Jet 240 is a wonderful appliance for homes, offices and alike. With a silent operation and efficient cleaning function, we would recommend this cleaner if you own a complete air conditioned house. If you have a place which gets too dusty, you will have to manually clean/sweep the place before handing over to the iRobot. The mopper is available for an MRP of Rs 19,900, but is being sold for Rs 17,900 as a special launch price, for a limited period.
Latest News
Most Popular
Columns