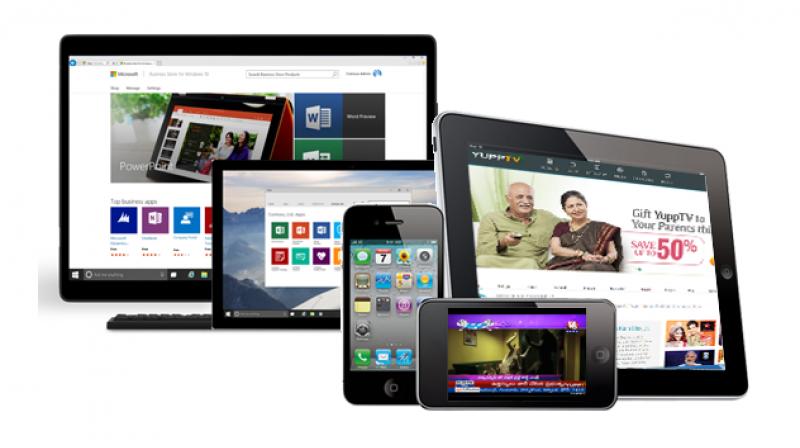 A known pioneer and one of the largest over-the-top (OTT) players in the global entertainment segment has big plans to help change the way people watch television and consume entertainment content. The service is bringing in new technologies to help enable consumers experience the convenience of home entertainment on a personal device such as a smartphone or tablet, to help users consume entertainment content anywhere and everywhere. Users who register to YuppTV can watch their favourite television channels anywhere and at anytime and also across multiple devices with a single subscription. All one needs is a strong or high-speed data connection and you are set.
Using YuppTV'platform, broadcasters can also focus the type of video content, to target audiences across different genres. Apart from regular media content, television channels and movies, the platform also encourages content from companies, businessmen and regular people to broadcast video, meetings, live events and more. YuppTV also has the ability to connect and serve content on a wider platform, apart from smartphones alone. These include Connected TVs, Internet STBs, Smart Blu-ray Player and PCs.
In a discussion with Udaynandan Reddy, CEO for YuppTV, India, we find out more about the service, the idea behind their entry into the platform, its future roadmap, and a lot more.
DC: YuppTV is one of the world's leading over-the- top (OTT) content providers for South Asian Content. Can you share how you came up with the idea to create such a platform?
UR: After graduating from Delhi College of Engineering, with over 14 years of experience in the field of telecommunications, I worked with some globally renowned organisations such as Siemens and Nortel in more than 50 countries before delving into the realm of entrepreneurship in 2006 with YuppTV. I took up this venture with a mission to make it simple and instant for broadcasters to deliver live TV, Catch-up TV and Movies anytime and anywhere in the world to any internet-enabled device.
It was during my overseas sojourn that the idea of YuppTV germinated to me. I observed how Indians abroad had no access to Indian entertainment content, and established YuppTV in order to bridge this demand-supply gap. I garnered extensive experience and understanding of the socio-economic conditions of communities in different regions during my career. These learning experiences have been optimally leveraged to make YuppTV a success across geographies.
DC: Since the inception of the platform in 2006, how has it helped broadcasters and consumers across the globe?
UR: One of the key differences that YuppTV has made in the OTT and entertainment industry is that of streamlining the processes. Today consumers are aware and actively use the platforms that serve content according to their convenience, letting them watch their favourite shows anytime and from anywhere. Besides, the broadcasters have streamlined channels for promoting their content and reaching out to new users, regardless of the geographical boundaries. Since the OTT players have already invested in acquiring customers and enhancing its reach to hitherto unexplored markets, the broadcasters enjoy an easy access to the same.
DC: What is YuppTV's unique quotient that separates it from other players in this field? Do you think Internet-based content providing platforms will take over regular cable television in India?
UR: We started YuppTV with the intent of providing the most entertaining content to Indian diaspora and expats community, and that till date is our strength. We started with just 2 channels and today offer over 200 Indian TV channels, more than 5,000 movies and 100+ TV shows across 13 Indian languages. Such vivid assortment of Indian entertainment channels is currently unrivalled and our service offering will only strengthen with time.
In India, we have only started to switch from traditional cable TV viewing to OTT. This definitely calls for major overhauls at the level of the ecosystem. With developments in the broadband infrastructure, increasing popularity of Smart TVs, aiming to revolutionize the traditional TV experience and increasing awareness amidst the masses, we expect internet-based TV viewership to replace traditional channels. However, that change, although inevitable, will happen gradually.
DC: What are the advantages (in terms of features and cost) consumers will benefit if they switch from regular cable or satellite-based broadcasters to your platform?
UR: As against to the traditional cable or satellite TV, OTT platforms such as YuppTV offer ultimate convenience and comfort. While the cable-TV forces a person to plan their time schedule around the telecast of their favourite show or movie, YuppTV allows users to stream online their favourite entertainment shows whenever they want. Besides, the Catch-Up TV at our platform records and saves the entertainment shows of the last few days on cloud and makes them instantly available at a convenient time for the users. In addition, YuppTV is available globally over 6 screens, completely compatible with Connected TVs, STBs, PC, Smart Phones, Tablets and Social Networking sites.
In terms of cost, we follow specific subscription models for overseas users, based on the package and the geography, enabling users to pay for only what they watch. Keeping Indian consumers in mind, we offer multiple subscription models, including 1 Day Pass at Rs 5, Week Pass at Rs 30 and Monthly Pass at Rs 99. These passes provide users with complete access to all the content available on YuppTV.
DC: Moving on to the technological aspects, OTT content providers are foraying at large into the Indian market. However the internet connectivity (3G and 4G) in India is the lowest across APAC countries. Do you think this diminishes the scope for expansion?
UR: Yes, the 3G and 4G spectrum isn't at par with other countries, however, we are looking at the bigger picture, following the recent internet spectrum auctions. We expect the infrastructure to improve in times to come, with global players entering Indian markets and inspiring their indigenous counterparts to up the game.
Furthermore, going by the previous consumption patterns of our users, a lot of them accessed YuppTV via broadband connections. To offer our users with a seamless experience on the platform, irrespective of their network speed, we follow ABR (Adaptive Bit Rate) streaming service. Furthermore, we believe as the internet broadband infrastructure strengthens in the country, users would be more inclined in transitioning from cable viewing to OTT and VOD services.
DC: You recently went in to a partnership with LeEco for providing exclusive content to their users. Can you tell us about any other similar partnership in recent times? How do these partnerships help YuppTV?
UR: We are always open for partnerships, both with production houses and telecom partners. In addition to LeEco, we have partnered with Etisalat, the leading telecom operator of UAE to reach out to the Indian expats and diaspora community in the Middle East.
Furthermore, we entered into a strategic alliance with ACT Broadband in Hyderabad, extending our reach in the Indian markets with a good broadband speed ensuring good streaming experience for users. Following the partnership, our entire array of service offering was made available at ACT broadband, as an add-on package.
DC: You have recently launched an on-demand movie streaming service YuppFlix. Can you discuss some of the other services under the company's belt?
UR: At YuppTV, we are constantly trying to innovate and provide the best services and content, most suitable for the evolving consumption habits of present day digital viewers. In addition to our Live TV service, allowing users to stream content live, we have Catch-Up TV. This feature records and stores shows in the last few days on-cloud, allowing users to catch up their favourite shows, at a convenient time and place. Furthermore, we launched YuppTV Bazaar in 2015, as an online marketplace for curated entertainment content, bridging the gap between independent content producers and viewers. Lastly, we have also come up with YuppNews, curating short snippets and video clippings of latest news on a daily basis.
DC: Is there anything interesting that you would like to highlight in the story?
UR: Our device partners like Samsung, Sony, LG among many others have seen incredibly high usage of content on their devices and have promoted the app on their devices via retail and digital space.
With many other OTT services in the similar segment, there will be a competition for sure in the market. Existing players in the satellite television service are also offering similar content, though not more than what they already offer on TV, and many more. With more players in the OTT segment, it sure could be a tough call for YuppTV to survive against rivals. However, in this race too, the consumer plays god and the only deciding factors in the service competition is price, service and quality.
Click on Deccan Chronicle Technology and Science for the latest news and reviews. Follow us on Facebook, Twitter.
...