If you've ever been stuck in a hot, crowded subway tunnel or caught in gridlocked traffic wishing that you could magically transport yourself to work, you know that commuting can be hard.
Why are commutes so stressful? They're unpredictable and long. Commute data in 25 North American cities tells us daily commute times during rush hour traffic can be up to 60 per cent longer than what you expect when you start your drive—resulting in a lot of stress, missed meetings, and skipped breakfasts. According to historical Google Maps data, people in North America spend a full day per month commuting—which almost adds up to a two-week vacation each year. Plus, a bad commute can negatively impact the rest of your day, long after the actual commute is over.
However, Google Maps wants to help you take control of your daily commute— enabling you to plan ahead, prepare for the inevitable disruptions, and possibly avoid them altogether.
Know before you go
Google Maps now features a commute tab that provides one-tap access to live traffic and transit information tailored to your commute. It will tell you if your commute is going to be a normal one or if you'll need to budget extra time due to things like an accident or heavy traffic. In the case of a delay, it will tell you about alternative routes to help you get to work faster. On Android, you'll also receive notifications about delays and disruptions on your route as they happen, so you can know about an incident before you get caught up in the delay.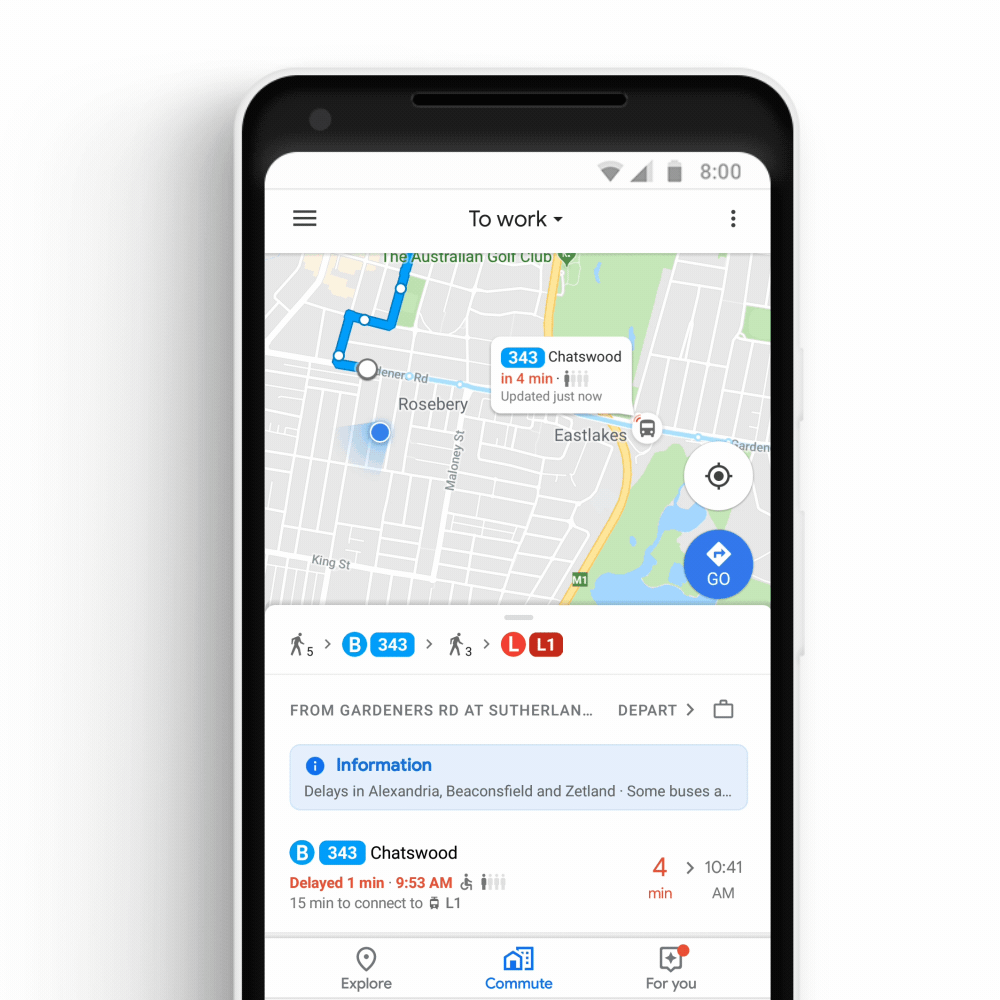 There's a new feature for people whose commutes involve both driving and public transit. You can see helpful information about when to leave, and for each leg of your trip: you'll know if there's traffic on your drive, when the next train departs, and how long it'll take to walk from the train station to the office. We do the work for you and automatically factor this into your ETA so you can anticipate exactly when you'll get to work.
Stop the guessing game
Sprinting to the subway station only to find that your train is delayed is our least favourite way to start the day. Now, transit riders in 80 regions worldwide will be able to see exactly where their bus or train is in real time on the map. This will help you plan your day more efficiently — you'll know if you can spend an extra few minutes grabbing a coffee, or if you really do need to make a run for it to catch your bus.
Get your motor running, head out on the highway
If you have to sit in traffic, you may as well do it while listening to good music. Now, Spotify, Apple Music and Google Play Music will be available within Google Maps so that you can control your tunes and podcasts right from Google Maps navigation. With Spotify on Android, you can also choose your favourite content by browsing through songs, albums, podcasts, and playlists with the new, easy to use navigation. Say goodbye to toggling between apps, and rock out knowing that you can keep your eyes where they should be—on the road.
Click on Deccan Chronicle Technology and Science for the latest news and reviews. Follow us on Facebook, Twitter.
Click on Deccan Chronicle Technology and Science for the latest news and reviews. Follow us on Facebook, Twitter.
...