Technology
Portronics Sound Cake review: Tuna tin can-sized speaker packs a bassy oomph!
The Sound Cake is perfect as a personal Bluetooth speaker, and also won't shy away from satisfying a mini house party.
If you turn up the volume to the max, it can get really seriously loud enough to be the life of your mini house party.
Wireless speakers are almost a must-have accessory today for all the audiophiles looking to enjoy their favourite tracks with their acquaintances. If you have an unconstrained budget, then you have an unrestricted choice between a variety of speakers from reputed brands. However, if your budget is limited to that of a dime, then you are left looking at smaller speakers with an average audio quality. However, budget speakers do not mean that you have to compromise on audio quality anymore.
In the recent times, the growth of audio technology has led to the arrival of decent wireless speakers in the affordable speaker segment. Smaller and relatively unknown players are pushing for even more powerful speakers in this category — take Portronics for example. Their latest Bluetooth speaker — the Sound Cake — costs just Rs 2,999, and yet packs a speaker arrangement with a total output of 10 Watts. As a package, it sounds impressive. Let's dig deeper into what it has to offer.
Budget Bluetooth speakers generally come in a variety of funky form-factors and eye-popping colours. The Sound Cake is a complete departure from that trend, flaunting sober yet classy aesthetics. In fact, it resembles a Tuna tin can — or famous round 'The Laughing Cow' cheese box.
The top has a backlit 5-key control panel for various parameters — ON/OFF, volume, a wireless mode and TWS (True Wireless Stereo — a feature that lets you connect two Sound Cake speakers for a stereo setup). The buttons also support gestures — a long press on the volume up button will jump you to the next track and doing the same for the volume down button will hop you back to the previous one. A built-in microphone for taking calls is also available.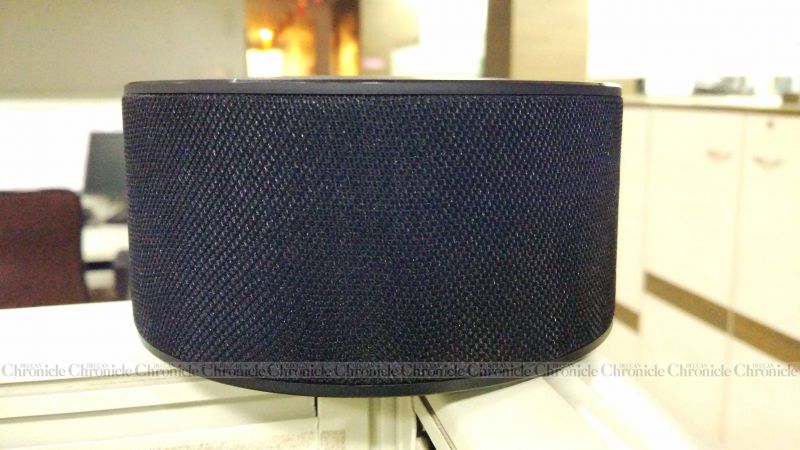 The speakers are front-facing (on the sides), and covered with a black fabric cladding. While this makes it look premium, it also makes it prone to dirt and dust, which won't gel with the aesthetics over the course of time. You will find a micro USB charging port and a 3.5mm AUX port on the rear end, while the bottom has rubberised circular feet for an enhanced grip on most surfaces. Overall, it's a well-built speaker with a mix of soft-touch plastic surfaces, rubber and cloth.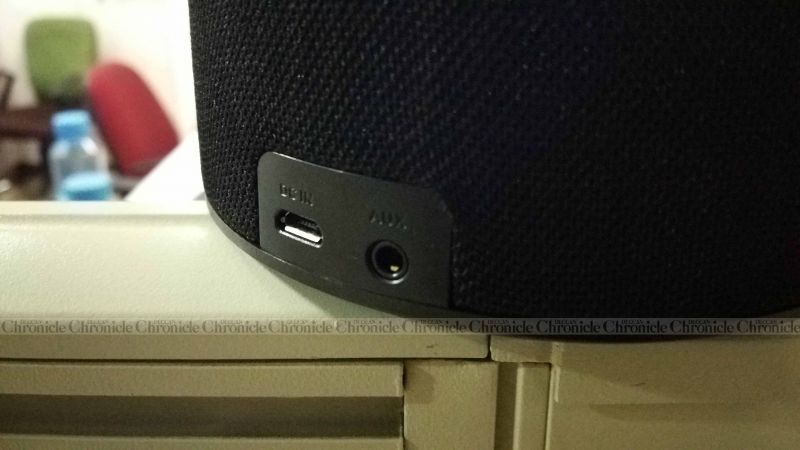 However, what we found missing on this one is a handle or some sort of provision to easily pick it up from a flat surface. You will have to be cautious about your grip while carrying it even within your room. That said, it is still a very portable speaker at 412g — you can just pop it in your bag and carry your mini music system anywhere. To make things safer and cleaner, Portronics' Sound Cake ships with a zippered hard case that helps protect it when not in use, while also making it portable using a carabiner clip.
Bluetooth speakers are all about being a better extension of your smartphone's puny speakers and the Sound Cake is a very good option to overcome your smartphone's audio capabilities. With a total rated output of 10 Watts, the speaker definitely packs a punch. There are two speakers rated at 5 Watts each. The one up front takes care of the highs and mids, whereas the rear is employed for bass (woofer).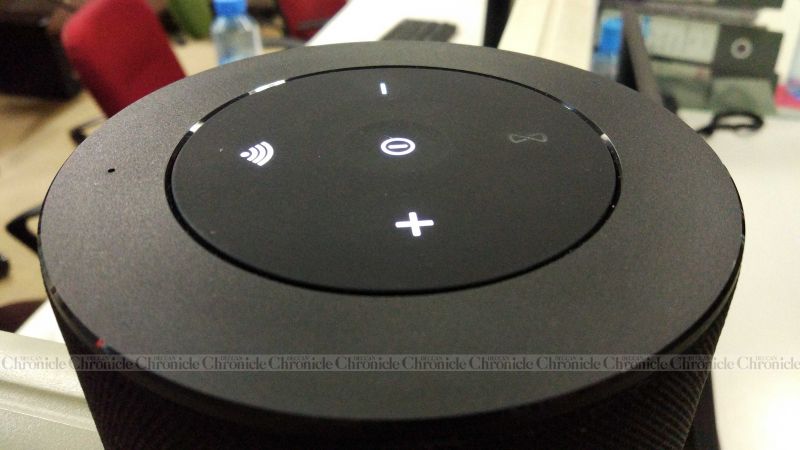 With a well-balanced speaker setup, the Sound Cake produces great sound. It is extremely capable of catering to a wide audio frequency band — whether you prefer high-pitched vocals or the bass-heavy drum beats or guitar tones, you won't be disappointed with the audio quality. There's no noticeable distortion at high volumes and the lower bass-heavy frequencies tend to deliver well too. If you turn up the volume to the max, it gets seriously loud enough to be the life of your mini house party.
Since this is meant to be a budget wireless speaker, it uses Bluetooth 4.1 instead of the latest Bluetooth 5.0 for connectivity. Bluetooth 4.1 has been the primary short wireless connection standard across all mobile devices until recently and it certainly doesn't mean weaker signal transmission compared to the newer standard. The maximum range from the source to the speaker is 10 metres and you can even keep it in the next room without experiencing any noticeable audio distortion.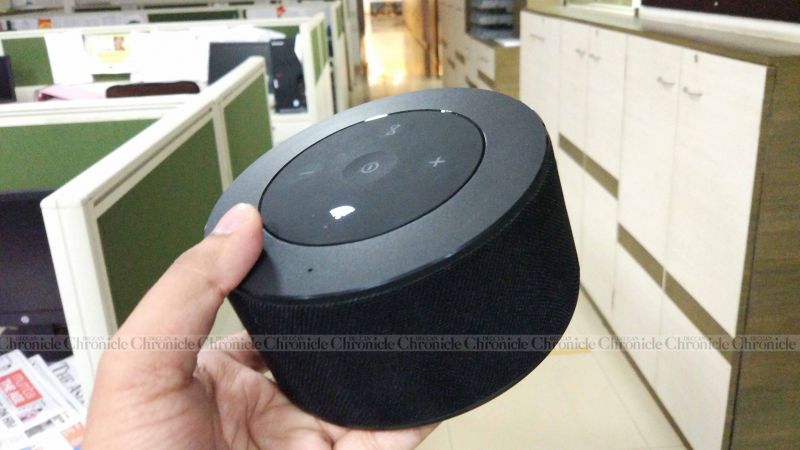 However, apart from the audio quality, battery life is also of prime concern to a wireless speaker user and the Sound Cake shines here with an exceptional battery life. A 2400mAh Lithium Ion battery powers the Sound Cake, and while it takes a considerable amount of time to fill it to the brim, it still manages to retain the juice for a very long duration. While Portronics claims 8 hours in total, our tests gave us more (around 14 hours approx). However, this battery life differs from case to case. It all depends on the type of music you play, the volume at which it is played, the distance from the smartphone and the number of calls you attend to on the speaker.
Summing up the whole, the Portronics Sound Cake is a worthy Bluetooth speaker with an affordable price tag of Rs 2,999 and is capable of rubbing shoulders with bigger brands in the same segment, as far as the audio quality is concerned. The build quality is great and the audio quality is above average across a wide range of audio frequencies, with a high volume and distortion-free performance. If you are looking for a portable wireless speaker with a good audio performance and a decent battery life, then the Portronics Sound Cake surely earns a recommendation from us.
Latest News
Most Popular
Columns