Technology
LG NanoCell 9 Series 4K (65SM9000) review: Avant-garde performance!
Deccan Chronicle| Aaron Almeida
Published on: September 22, 2019 | Updated on: September 22, 2019
LG has always been a dominant force with televisions; now, with the 2019 NanoCell SM9000, they prove that you don't need to look further.
The design of the LG SM9000 is absolutely stunning and it can complement any home.
Having reviewed televisions for close to nine years, LG is the one brand that always sticks out for me personally. With its TV line-up, LG has always successfully walked the fine line between offering the very best technology at cost-friendly prices. The brand has become synonymous with launching TVs that offer a wholesome experience no matter the price point you're looking at.
While OLED televisions are the gold-standard, because well, they're OLED; LG wants to make sure that you don't forget that they have a huge line-up of LED-backlit TVs as well. Since a couple of years, LG has been pushing its NanoCell TVs which offer an OLED-like picture quality sans the hefty price tag.
This year, LG is back with a whole range of NanoCell TVs that offer a better cinematic experience and also come with features such as Nano Colour with full array dimming, Nano Accuracy, Nano bezels, AI ThinQ smarts with Google Assistant and Alexa integration, an Alpha 7 Gen 2 intelligent processor, WebOS 4.5 and Dolby Vision Atmos technology. The feature list is so vast that you can be sure that you're getting more than what you pay for.
In for review, we received the 65-inch SM9000 NanoCell TV and it has effectively reignited our passion for LED televisions at a time when OLED TVs dominate the headlines. Read on to know why the LG 65SM9000 is the one you should set your cash aside for.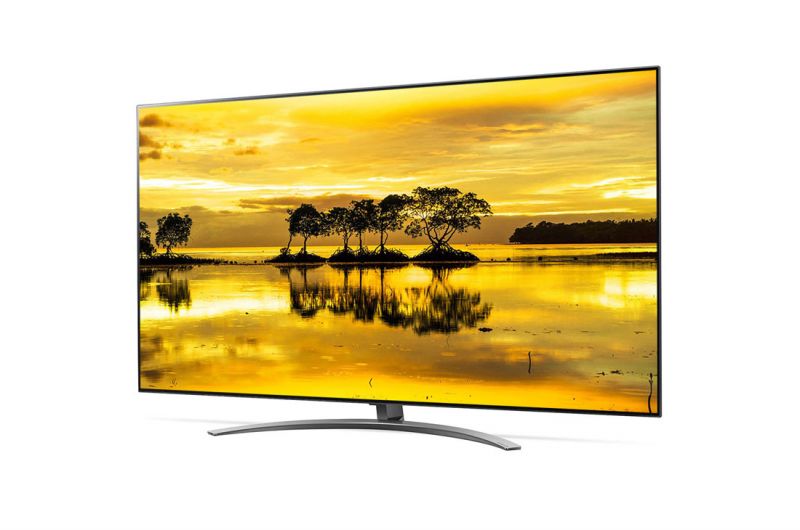 Design, Build
Coming in at Rs 2,54,900, this LED-backlit TV ain't cheap especially when you consider rival brands such as Xiaomi offering the same sized TVs for a paltry Rs 54,999. However, with the LG option, you can be guaranteed that you will get performances that are almost on par with high-end OLED TVs and a gorgeous design to match.
The design of the LG SM9000 is absolutely stunning and it can complement any home as it comes with super-slim bezels on all four sides and a curvature on the back. This flat-panel LED TV props itself upon a crescent-shaped stand which LG has been using with its high-end televisions for the past few years. So, if anyone comes to your home, they could mistake it for a product that costs double the selling price of this model; which is always a good thing to boast about. The crescent stand has a futuristic design and although the panel will turn heads, the stand will deserve its due praise as well.
Aesthetically speaking the SM9000 and its stand is a beautiful work of art; however, it does have a couple of pain points that prospective buyers should keep in mind prior to purchasing it. Once the stand is placed on a table, you won't be able to move it around as there isn't any swivel here. However, with the TV's great viewing angles, we don't see this as much of a problem for most. While the stand easily carries the weight of the SM9000, it does have a bit of a wobble, which makes you a bit nervous since this isn't a cheap investment. If handled a bit roughly, the TV could possibly tip over. Wall-mounting it is always an option if you fear for its safety; but with that being said, taking the utmost care during the cleaning process should keep it from falling down accidentally.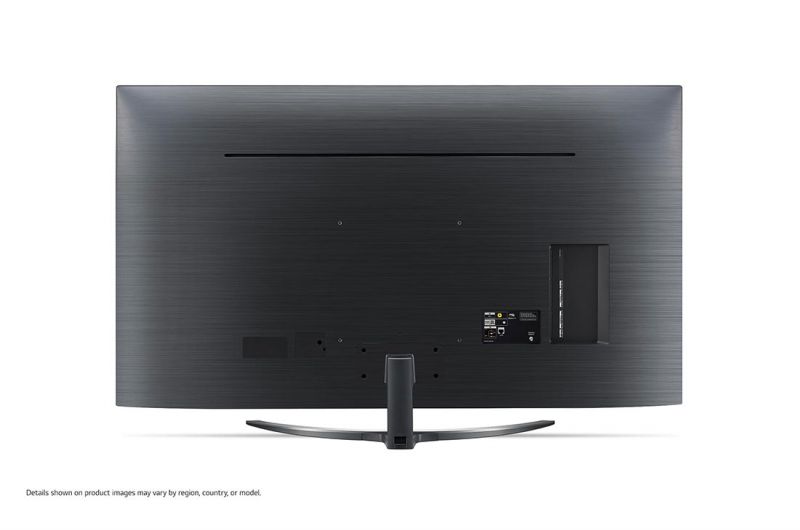 The rear of the SM9000 is absolutely littered with ports that could make anyone who has a lot of peripherals swoon. While there are ports for virtually everything, the stand-out ones are four HDMI 2.1 ports that support HDCP 2.2 and eARC. Since this is a high-end television, we would like to single out the fact that LG has added the HDMI 2.1 port. With this port, the SM9000 is a gamer's delight as it supports future-proof tech such as Variable Refresh Rate and Automatic Low Latency which is helpful for the 4K gaming consoles out there. This puts this model in the upper-echelon of televisions.
Apart from the HDMI port, LG has also thrown in three USB ports, an Ethernet port, a 3.5mm headphone port, digital optical output, a cable antenna input and component sockets. Other connectivity options include built-in Wi-Fi, Bluetooth 5.0 and AirPlay.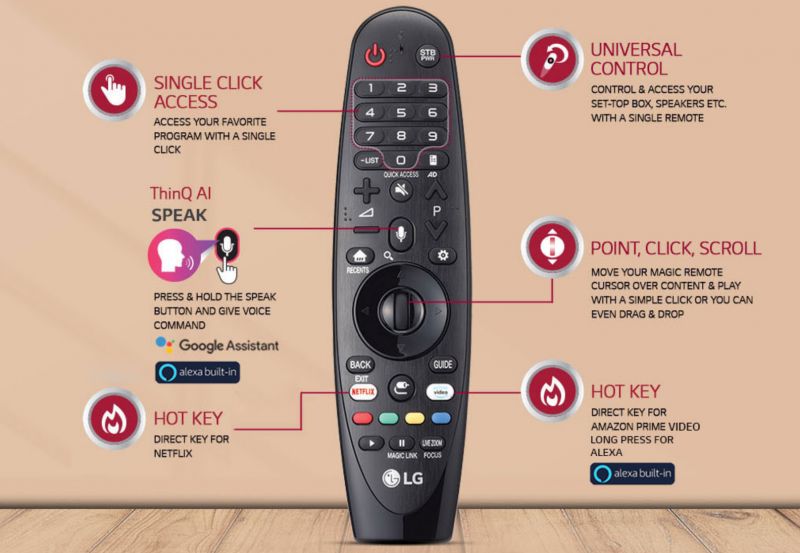 The LG Magic Remote is back with this option and this time around come with some extra, useful features. The motion-sensitive Bluetooth remote has an in-built microphone which allows you to use it with Google Assistant and Amazon Alexa. The LG Magic Remote is by far one of the best features of its television sets no matter the model of TV you purchase. Being able to use it as a virtual mouse to access different channels and options made the overall experience feel extremely natural and intuitive. Also, LG has now added quick-access buttons for Netflix and Amazon Prime. This makes accessing these popular OTT platforms absolutely easy and all it takes is just the press of a button and you're in.
Lastly, like the television, the Magic Remote is built well and the premium design travels through every aspect of the SM9000.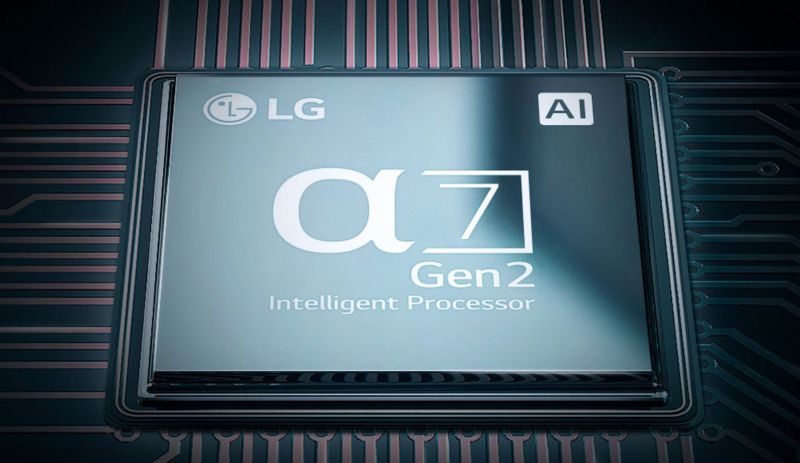 Features
WebOS is probably the sole feature that puts LG televisions above every other smart TV available in the market and with ThinQ AI; it has established itself as the best, most intuitive smart TV interface there is.
WebOS 4.5 offers a smooth and easy to use interface and when compared with last year's webOS 4.0, there is little that has been changed with the only addition being a feature called Home Dashboard. This new tool is pretty excellent and enhances the user experience by interacting with IoT devices, smartphones, and other inputs by collating them into a single menu. With Home Dashboard, you can not just monitor, but also control the devices that are connected to the TV.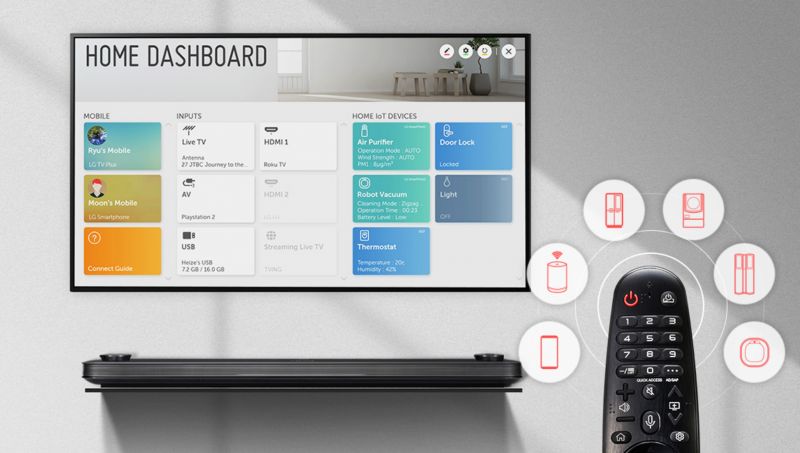 Additionally, WebOS is filled to the brim with preinstalled apps such as Netflix, Amazon Prime, YouTube, Hotstar, Web Browser, Eros Now and more. In this dock, you also find LG's very own TV app store called LG Content Store which allows you to download additional apps or games. Interestingly, this already works with Amazon Alexa which is pretty convenient. Also, the fact that it comes with Amazon Alexa built-in, you don't need to purchase an additional Amazon device like an Echo speaker to use it.
Apart from the aforementioned features, there's also a media player that's built-in and it comes loaded supporting a wide variety of codecs. And Lastly, WebOS 4.5 comes with a handy recommendation feature that works with the brands ThinQ AI. This will work by analysing your viewing habits and suggest recommended content for you.
NanoCell
While OLED TVs are grabbing all the attention these days and it's becoming more mainstream, the price of it is pretty high. Hence brands are playing around with the cost of products by tinkering around and pushing LED-backlit televisions to its maximum potential. AS is the case with the 65-inch SM9000, LG has added its proprietary NanoCell technology here and with it, the brand promises an OLED-like experience which allows for an increase in colour gamut and wider viewing angles.
The SM9000 comes with zone dimming capabilities which is often referred to as full-array local dimming. To fit this backlighting system in the TV, LG has made the rear a bit thicker but still slim enough in comparison to previous-generation models. However, in comparison with OLED televisions, this TV is a bit on the chunkier side.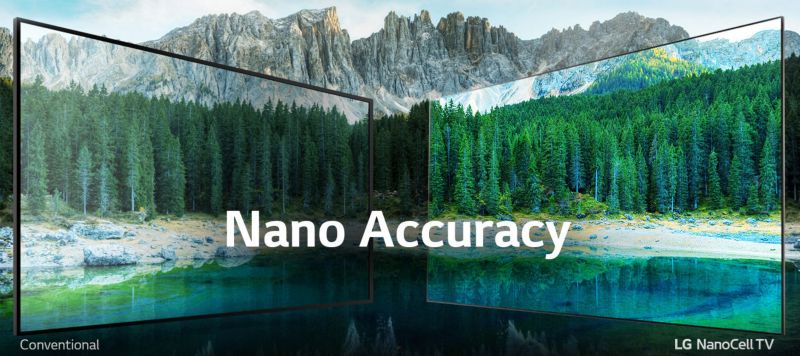 With NanoCell technology, LG uses an IPS panel which helps in the overall viewing angles which are pretty great and it also uses a new nanoparticle technology that helps with the wider colour gamut. LG's NanoCell TVs make use of uniformly sized particles that offer more subtle, accurate colours that can be viewed from a wider angle. To break it down, there is an accurate reproduction of colours even at angles of up to 60-degrees. This is especially helpful for homes when more than a couple of people are watching the TV.
NanoCell is capable of achieving amazing results by absorbing extra light wavelengths thereby enhancing the colours displayed on the screen. Due to these light-absorbing capabilities, the SM9000 manages to filter distinct colours with a greater accuracy, therefore, rendering each colour as it was intended by the content creator.
Performance
As mentioned in detail above, the television is a strong performer when it comes to viewing angles and colour reproduction; however, due to the limitation of its IPS display, the SM9000 tends to struggle in contrast ratio. We aren't saying that the contrast levels are pathetic or anything like that; it just means that when producing deep and highly saturated black levels, the panel did not have the extended range that's required.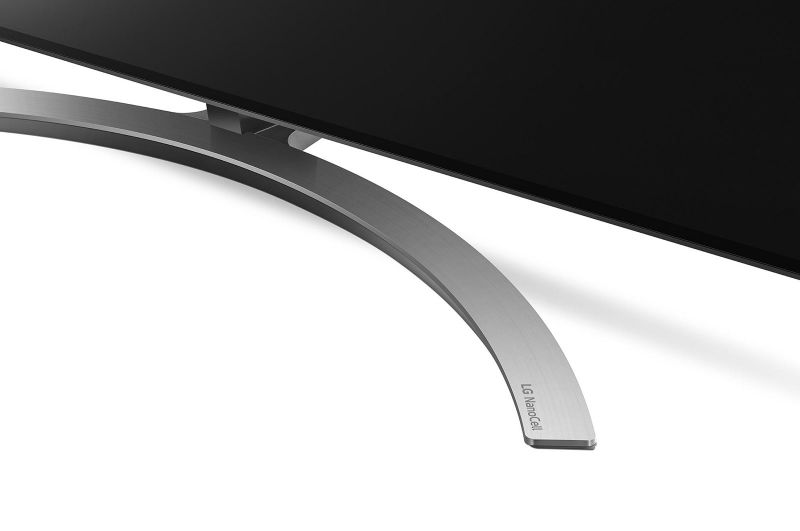 If you are one of those who are a stickler for the deepest black levels while watching television in a pitch-dark room then this model will not serve you well. A great option for you would be one of LG's OLED televisions which are A-grade performers across the charts.
However, if you do most of your TV viewing in a well-lit or moderately dark room, which is practically most people, then the lack of inky black levels and contrast will most probably not be noticed by you.
With that being said, the TV does give you the option to fine-tune it a bit to get the appearance of contrast. To achieve this, head on over to the Picture Options, the LED Local Dimming and then choose either High or Medium. This does help with the black levels to an extent however, it won't provide you with the contrast levels found on an OLED model or an LED TV with a VA panel.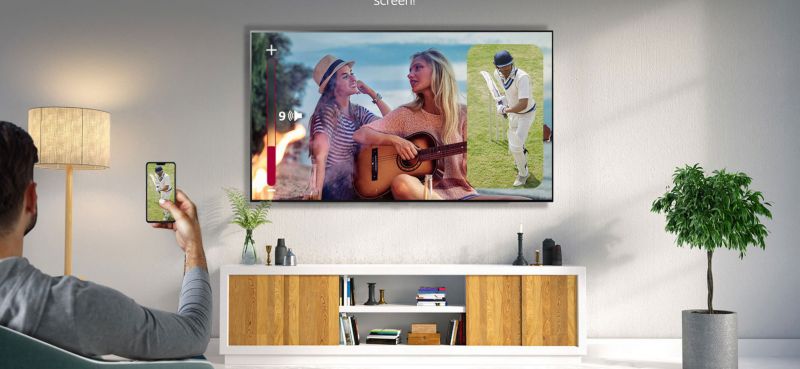 When it comes to colour reproduction, the NanoCell 65-inch SM9000 is a strong performer with colours appearing vivid and with the perfect amount of saturation all the while without being over-processed or gaudy. Overall, colours were represented well with an accuracy that's rich and this was especially prevalent while viewing HDR content.
The clarity and detail is something we marvelled at from the moment it was turned on with there being a range of sharpness that helps in providing image depth. While viewing HDR content, using the Cinema mode produced a stellar output and here you find that there is brightness visible that helps liven up the content onscreen. And thanks to the wide colour gamut, the colours here appear rich and have the pop that's needed for an enjoyable movie experience.
Motion handling on LG televisions have been worked on in recent years and with the SM9000 it was commendable. In certain fast-paced scenes, some artefacts were visible like motion blur but by using the TruMotion feature, it will help negate it to a considerable extent. With that being said, we advise you to keep the Motion setting to off to get the best content unless completely necessary.
LG has added 2.2 channel speakers here with audio output of 40W RMS. With these speakers, you get a sound that's clean and clear and this should be enough for most medium-sized homes. Also, the speakers had very crisp sounding dialogues which is always appreciated from a product you are paying this much from especially since televisions don't always have the best speakers.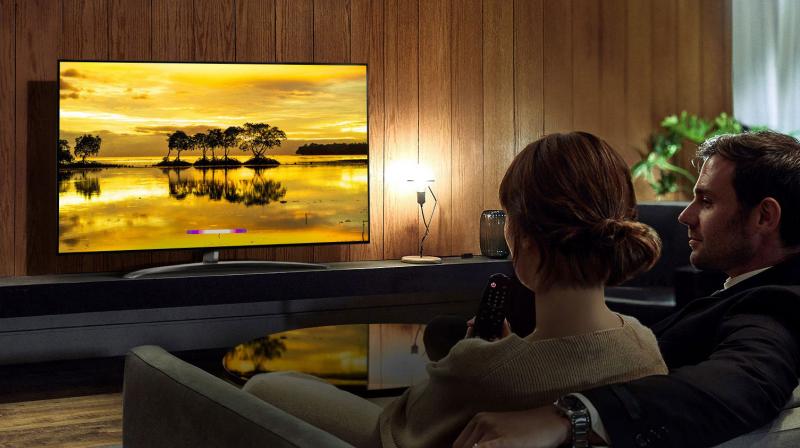 Verdict
The LG NanoCell Series 9 65SM9000 is priced at Rs 2,54,990 in India and it is probably the best television in its class. From the design to the performance it is an all-around winner. The argument can come up that its contrast levels are left wanting but it has enough of smarts in it to take care of black levels as well. At this price, you're not just buying a great solution for your home but you're paying for an investment that's sure to bring out some great and enjoyable experiences with your family.
This 65-inch TV provides life-like performances which the competition is still struggling to match and with the SM9000, you get a low-cost theatre-like experience right in the comfort of your home.
Latest News
Most Popular
Columns