Technology
Optoma ML330 Review: Good projector, cursory smart features
Deccan Chronicle| Chandrakant Isi
Published on: June 22, 2018 | Updated on: June 22, 2018
The Optoma ML330 is a compact projector easy to lug around.
The projector is based on Android platform so you can download apps such as Netflix, YouTube, Prime Video and start streaming content.
If you are a movie buff, nothing beats a cinema hall. What's even better is your own cinema hall where you don't have to put up with the crowd. Unfortunately, good projectors have been quite expensive and a pain to set up. This is exactly what Optoma is set to change with its ML330 projector. Priced at Rs 38,490, it costs slightly more than a 42-inch TV from a good brand. But, is it a good investment for you?
Design
The Optoma ML330 comes with an impressive carry bag. It can neatly hold the projector, remote, power brick, and other accessories. The bag is quite sturdy, which minimises the possibility of damage during your trips.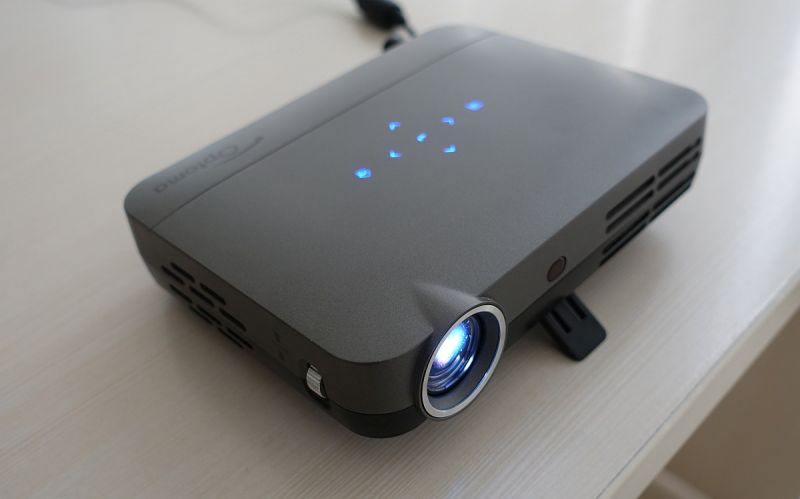 The ML330 has a utilitarian design. The company hasn't taken any efforts to enhance the aesthetics. The front houses a lens and vents. Then, there are more vents on the sides along with a power button and a dial to fine tune the focus. A bunch of connectors are placed on the back. At the bottom, you get a kickstand, tripod thread, and a downward firing speaker. Apart from the branding, the top houses capacitive keys to control the projector.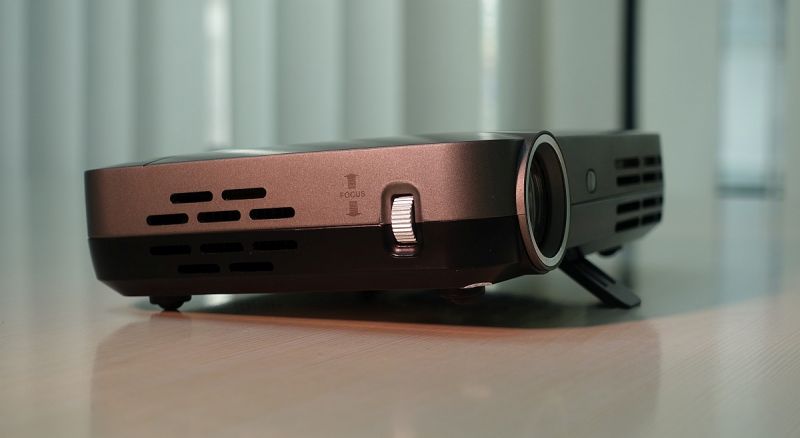 The ML330 won't catch your eye in understated grey. It is quite compact, but not enough to qualify as a pico projector. To put things in perspective, the ML330 is smaller than an 8-inch tablet and thicker than a pizza box. Easy to lug around as it weighs only as much as three smartphones. Overall, the projector's build quality is good, the plastic material could have had a better finish. For those looking for precision, the projector measures 157 mm (l) x 133 mm (w) x 35 mm (d) and weighs 460 grams.
Connectivity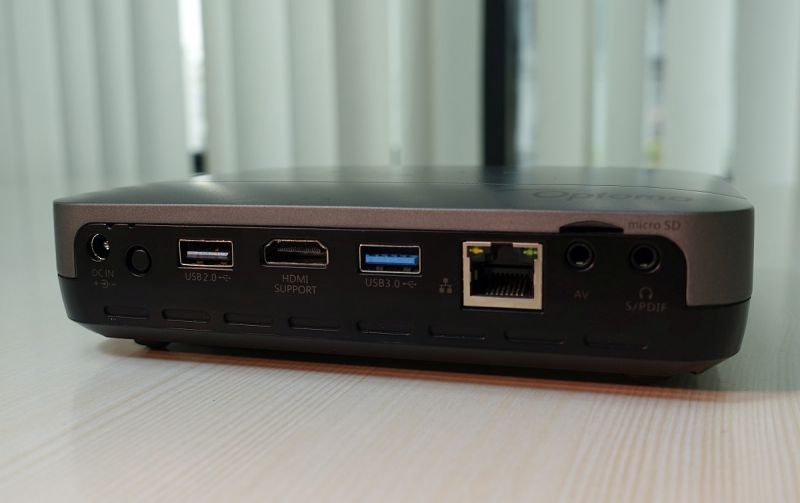 The ML330 comes with an HDMI port, 3.5 mm audio jack, microSD card slot, and two USB ports. Out of the two, one even supports USB 3.0 standards. There's an RJ45 ethernet port, but you are unlikely to use it thanks to the Wi-Fi support. Last but not the least, there's Bluetooth to hook it up with wireless speakers.
Setup
Setting up the ML330 is incredibly easy. Just turn it on, and you can start playing videos right from the build in media player. It can play clips from pen drives or microSD cards without an issue. It can also connect to a laptop or gaming console via the HDMI port. I hooked it up with my PS4 and wireless speakers under five minutes. The video feed would go from PS4 to the projector. Since the PS4 lacks Bluetooth audio out, the audio would route through the projector and end up on a connected Bluetooth speaker. I must say that these elaborate connectivity options are very useful.
Features
The projector is based on Android platform so you can download apps such as Netflix, YouTube, Prime Video and start streaming content. It does, however, lack Google services. So, you have to rely on third-party Aptoid store. Sure, these smart features add a value, but using them with a bundled remote controller is cumbersome.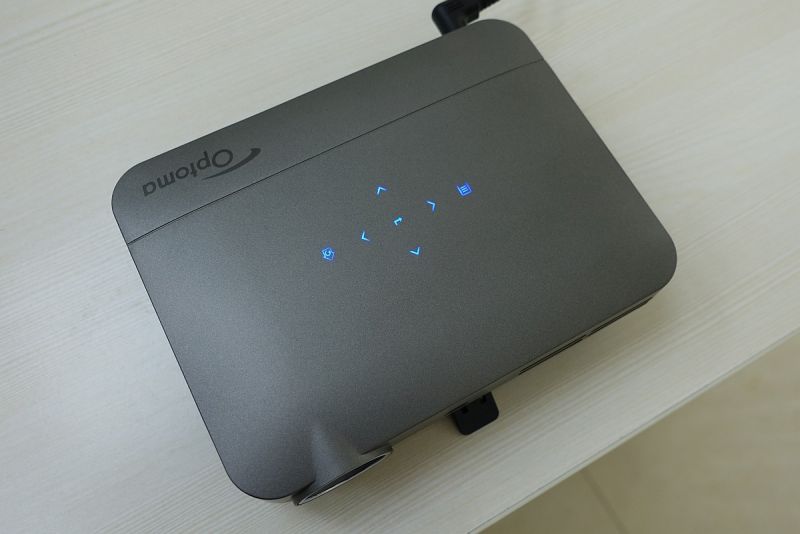 I found myself using the pen drive playback option more than streaming services. Mostly, because it was easy to use. And anyway, many of my favourite movies and TV series such as Office Space, Pan's Labyrinth, Family Guy are not available on Netflix India or Prime Video.
Performance
The ML330 is based on DLP (Digital Light Processing) technology. For those not in the know, as opposed to LCD projectors, in which light passes through glass panels, DLP relies on a chip comprises of thousands of tiny mirrors. As a result, you get more compact projectors. Another advantage is relatively better contrast.
It uses LED, known for its long life. Optoma claims that it can clock in 20,000 hours. At 500 lumens, the ML330 is quite bright for its size. That makes it ideal for business presentations where you cannot blackout a room. You can project up to a whopping 120-inch screen. But, since the resolution is capped at WXGA 1280 x 800, going over 60-inch makes picture quite pixelated. But, if you are watching it from 12 feet away, going up to an 80-inch screen is not a bad idea.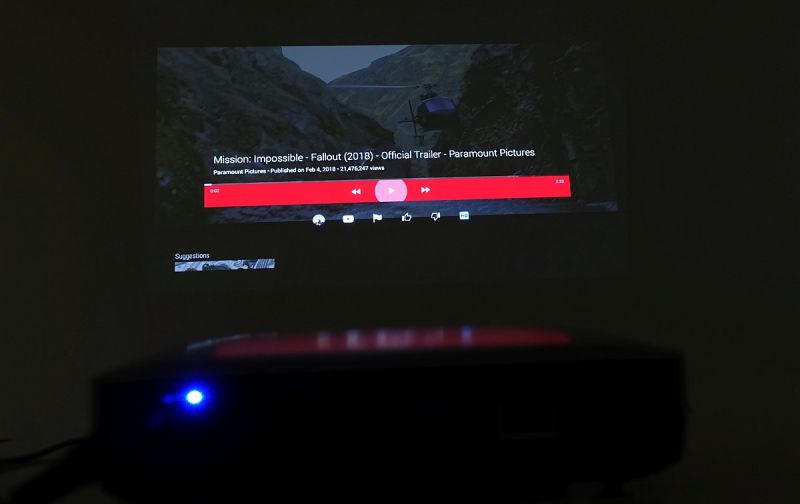 To avoid any confusion, WXGA has slightly more pixels than HD. It has screen aspect ratio of 16:10. When you require, it plays HD movies in 16:9 ratio without a problem. Having said that, Full HD native resolution would have been a great addition. The projector has a nifty keystoning feature that automatically corrects the warped image.
The picture quality is quite good. The projector offers superior contrast and colours. As mentioned already, the brightness levels are good too. The only gripe here is the lack of uniformity in the sharpness. If you pay attention, there's a noticeable difference between the sharpness in the centre and around the corners of the projected image.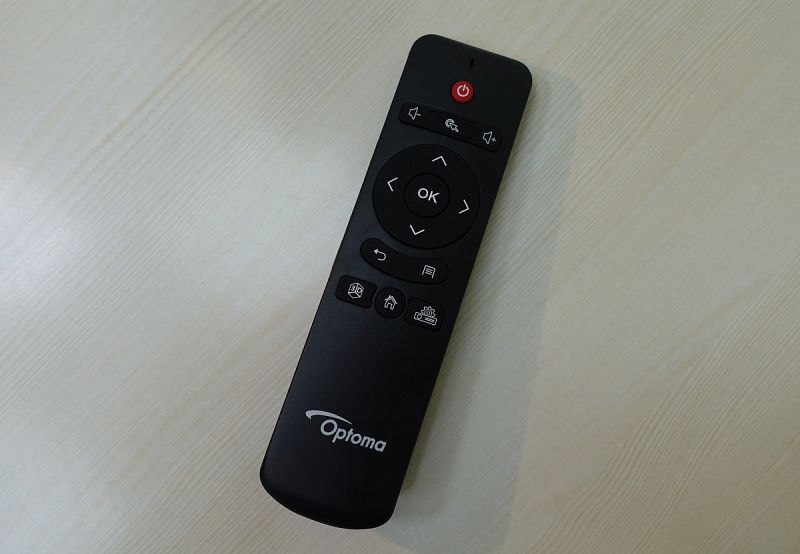 The projector is also prone to the rainbow effect. It is not easily noticeable when watching movies, but you could see hazy red or blue flashes around the moving objects while playing games. Again, most people won't notice it. The ML330 has two built-in 2W speakers. The sound output is nothing to write home about. So, I would suggest sticking with external speakers whenever possible.
Verdict
The Optoma ML330 is a compact projector easy to lug around. Backed by DLP tech, it offers bright picture and good contrast. Its biggest strength, however, is the incredibly easy setup and a myriad of connectivity and playback options. It would have been a killer product, had Optoma opted for Full HD native resolution.
If you are not an average joe who likes to watch cable TV, then you should seriously consider buying this projector to enjoy movies on a big screen. Since it also comes in handy for presentations, bill it to your office.
Pros:
Good picture quality, compact size, easy to set up and a optomaplethora of connectivity options.
Cons:
Weak speaker and smart features are cumbersome.
Click on Deccan Chronicle Technology and Science for the latest news and reviews. Follow us on Facebook, Twitter.
Latest News
Most Popular
Columns