Technology
Apple Watch Series 3 LTE review: Caution! You could get healthier
Deccan Chronicle| Francis D\'Sa
Published on: June 22, 2018 | Updated on: June 23, 2018
In its third iteration, the new Watch supports LTE, and this probably makes it a complete smart watch.
The LTE and non-LTE 3rd Generation Apple Watch GPS look identical, and the only difference is a red dot marked on the crown.
Apple is known for polishing their products with better iterations each year and no company has yet managed to perfect it to the level that the Cupertino tech giant does. While the iPhone is something that shows this perfection, the Watch has finally stepped into the same zone. Apple has finally created a smart watch that no other brand has managed to beat — the Watch Series 3 with LTE.
As the name suggests, LTE means the watch can now work independently (almost) and would not need your iPhone anywhere near you. With the older generations, the Watch would work only if it is in the vicinity or range of the Bluetooth with your paired iPhone or in the same wireless network. But with the introduction of LTE, you can operate the Watch even when the iPhone is not in range. I have been using the 3rd Gen LTE version for about a month now and am impressed with the flexibility it offers.

But first, let me compare the LTE version with the standard non-LTE GPS to make things a little more clear. The LTE and non-LTE 3rd Generation Apple Watch GPS look identical, and the only difference is a red dot marked on the crown. Size and specifications remain identical too, but the only add-on is the LTE technology, which now allows the Watch to directly communicate with the telecom tower when your iPhone is not around.
A small, but notable change on the dial are four dots on certain watch faces. These dots are like the battery level indicator, but for the telecom or phone network signals, similar to the cell tower signal/icon on the smartphone. Swipe up from the bottom and you will see the control panel, which has changed a bit too. It has two newly added fields or buttons — one for the mobile (LTE) network and the other for Wi-Fi, which resides on the top level. The second level has the airplane mode and battery level icons, which interchange their places as compared to the non-LTE GPS version. The rest of the Watch is the same with almost no difference in operation too. Another subtle change in feature is the tap to call/answer icons that allows you to make/receive a call directly from the Watch. While this was available on the non-LTE GPS versions too, with LTE, you can use this feature even if your phone is not in range as your Watch now connects to the telecom service directly.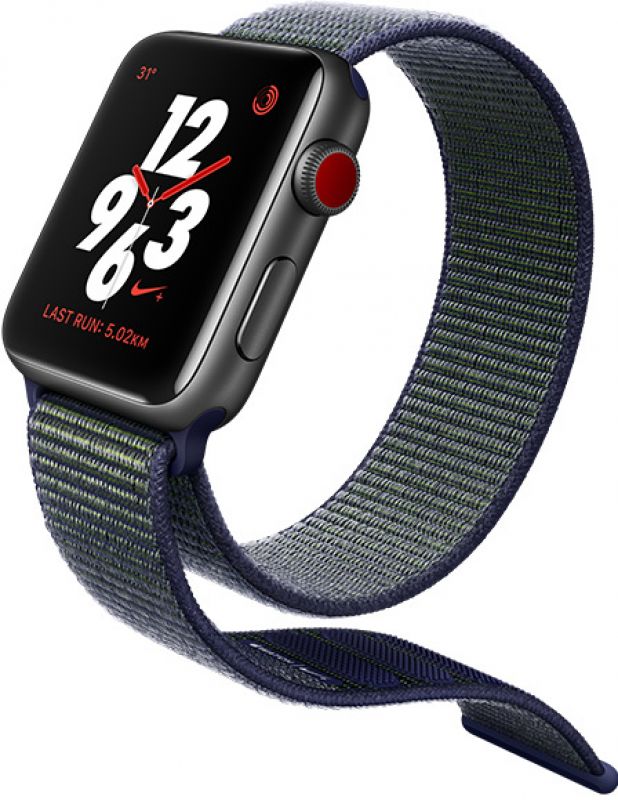 Now that the Apple Watch features LTE, it only works with two telecom services in India — Airtel and Reliance. Other telecom services are yet to get their services for LTE Watch online and this could take a while. So those on Vodafone, Idea, and other networks would have to wait a while till their service providers enable the LTE feature for Apple Watch.
The LTE feature on the Watch is highly beneficial for those who are constantly on the move. Be it a fitness freak, health-conscious, absent-minded or mostly busy individual. Well, I come into the latter two categories. Being a journalist, I am always occupied with tons of work around me. This includes frequent travel, managing immediate staff, research and overload of information and lastly continuous phone calls. Well, add to that my personal life too and being around with family and having kids means keeping the smartphone completely out of reach. But since it is pretty much impossible to be completely disconnected from work, the smartphone has to be around me. Well, the Watch took that burden off me and in fact helped me relax too. With my iPhone around, I would usually peek into it for alerts, emails, messages and calls. But with the Watch, I get minimal and adequate alerts without having to unlock my phone.
As stated, being absent-minded and busy due to my professional requirements, I often end up with a low battery on my iPhone. This forced me to keep the phone on charge when at home or office, and many-a-times, I would head out of my office for other work and miss out on important messages or calls as my phone was away from me. But the Watch LTE now benefits me hugely.
I am not a health freak myself. However, the Apple Watch does help me relax at the most crucial periods. It senses that I would be stressed by monitoring my heartbeat and alerts me to take a minute off to Breathe. The nudge on my wrist makes sure that I tone down my anxiety and relax my senses by breathing in and out slowly for a minute. While this may seem a little off at that moment, obeying the Watch's commands did help me relax and focus on what I am into, a lot better.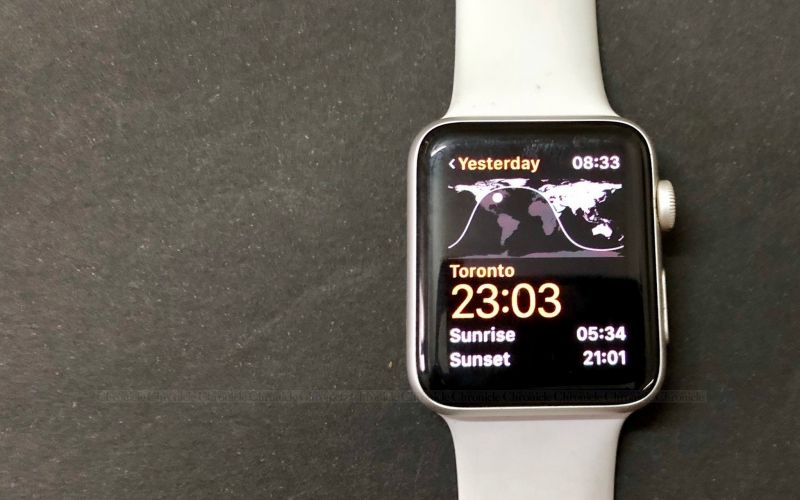 After crossing the age of 40 and only driving around to work and back, I was also getting less exercise myself. Though always running around at work, this lack of exercise to my body had made me a bit sluggish, ending up with a more tired me at the end of the day. Earlier, I did try out taking a walk in the morning and at nights after my meals, but my profession has always haunted me and the addictive internet never left my side, always keeping me occupied. The LTE Watch has managed to slowly wriggle me out of this stressy and suffocating routine of answering emails and looking up to what's being reported out there. The Apple Watch Series 3 LTE now allows me to disconnect from the hustle and bustle of the news chaos and helps me relax. I can now happily keep my iPhone back home while being outdoors walking or shopping around, or even catching up with my old friends and colleagues without any major disturbance. I still get my alerts, messages and calls, which are equally important, but with restricted options to reply back and stay indulged is now passé. With LTE, I simply catch up with my music streaming directly from my iTunes library whilst on my daily walk.
Lastly, since I have a history of anxiety-related palpitations, my Watch is now continuously monitoring my heart rate for any abnormalities. With timely alerts on increasing heart rates, I am able to keep my stress under control and also report back to my doctor for any unfortunate conditions.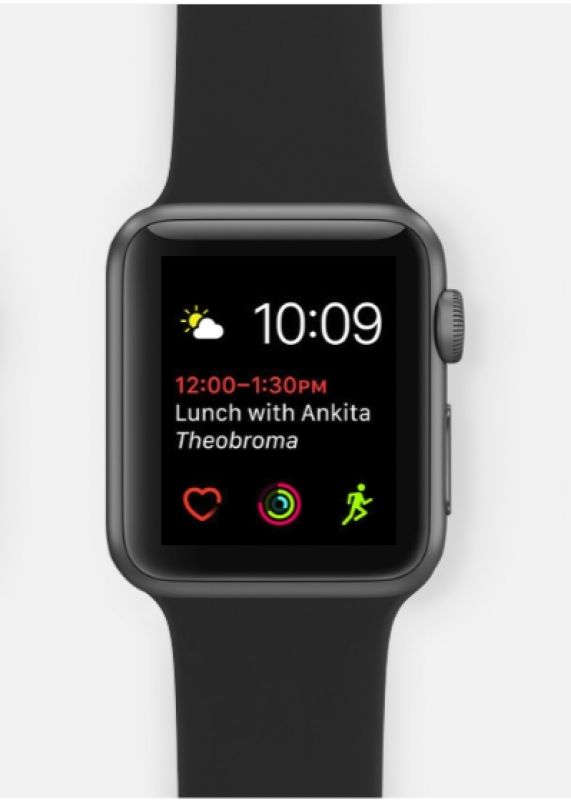 The Watch communicates with the iPhone using Bluetooth. If it is in the BT range, the Watch functions as usual, without any issues. When out of the BT range, the Watch then hunts for a known and available Wi-Fi network that is registered with the iPhone and continues to stay online and connected. But usually when am out for short breaks, there's no Wi-Fi there too. That's when the Watch switches to LTE mode and now talks directly to the telecom tower.
So whether my iPhone is in range or not, or even if the iPhone's battery is dead, the Apple Watch takes on the duty of my iPhone. Though it does not give me the privileges of the plethora of apps that are on my iPhone, it definitely helps me stay connected, without fail. The Apple Watch helped me relax and now allows me to keep my iPhone away from me. So now, even if my phone is oh the charger, or even if I forget my phone at home, my Watch keeps me connected.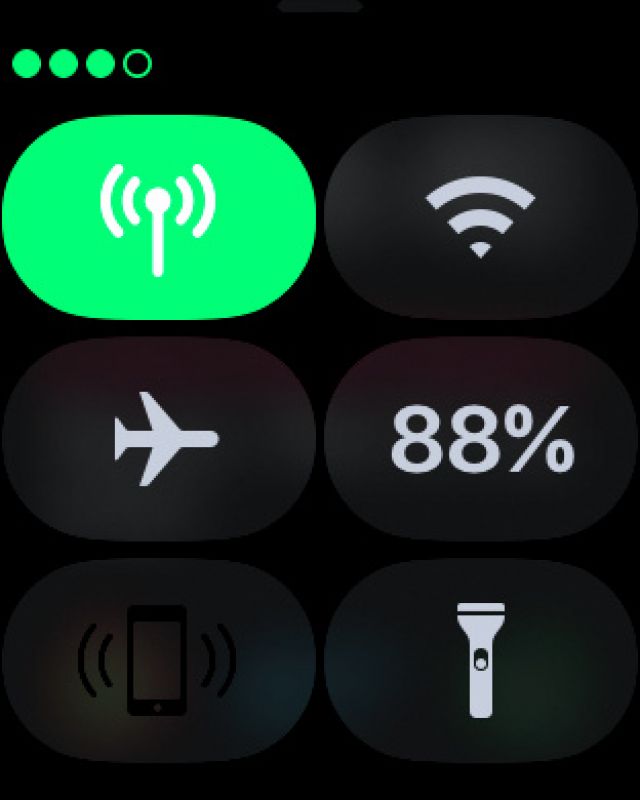 However, there's still one grudge from smart watches that I have — battery life. Though the Watch can survive for almost two days on a full charge, this is not usually the case when it switched to LTE mode. When using the Watch in the iPhone's vicinity, the power consumption is regular, but when in LTE mode, my battery runs out in less than 6 hours. So I have to ensure that my Watch is always topped up at most times. The other issue is charging the Watch. Since it uses wireless charging, carrying the charger around and topping up the Watch battery is not something that I favoured. If the Watch had a USB port for charging, probably it would have been a lifesaver, but this would totally change the design of the Watch, making it bulky and prone to water damage. Nevertheless, the Watch has managed to save my day on many occasions. So now I can confidently head down to the local shops or run some errands outside the house without having to carry my iPhone all the time — my Watch helps me make calls, get alerts and SMS messages.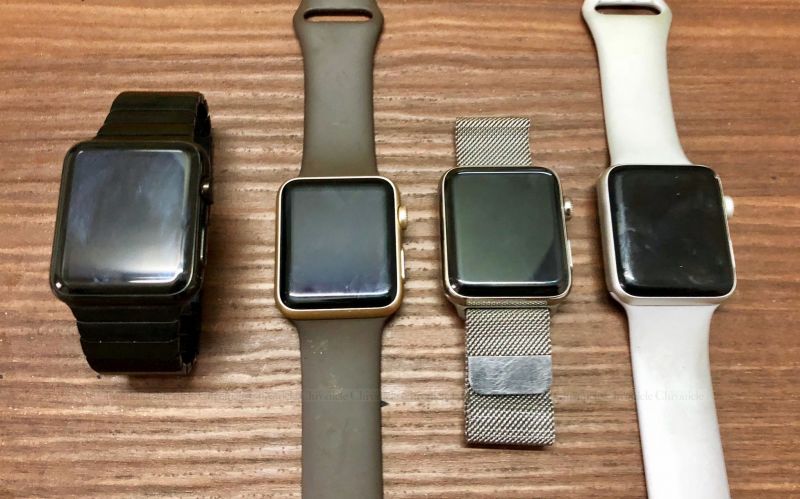 Since the Watch is similar to the older series, it can make and receive calls with ease. However, the puny speaker, which is a tad louder than the previous versions, is still now loud enough to comfortably make calls. I usually ended up trying hard to understand the caller, especially when outdoors. And I would look weird talking to my wrist in public. Pairing a Bluetooth earphone to my Watch helped a lot. Now I can conveniently make calls directly from my earphones via the watch, and without my phone.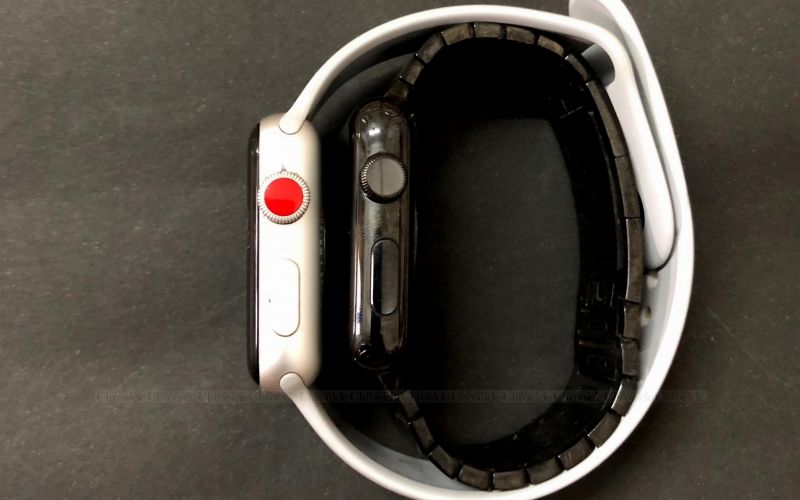 I must state that I am pretty satisfied with the new LTE Watch after using the older non-LTE GPS version before, simply because now I don't need to carry my phone everywhere, neither do I need to bother about my smartphone dying of battery at the end of the day. With the LTE Watch in place, I can state that I get an additional 4 hours on average over and above my iPhone's battery which helps out in case of emergencies. The feeling of being handicapped when my phone's battery had died is now passé.
What's more? There a little something more than one can ask for. While the Watch could play music off the iPhone when paired via Bluetooth, it is not the same when it functions on LTE mode. So if you want to play music on the LTE Watch, you either have to download the playlist from your Phone to your Watch or you have the option to stream it directly from your iTunes playlist via LTE. However, this does come at a cost of data expense and battery life.
As for the Watch itself, there's nothing much of an upgrade in the hardware. As stated earlier, the Watch is almost identical to the non-LTE GPS variant apart from the subtle changes that you will witness if you were using one of the older series. You can catch on the non-LTE GPS variant of the Apple Watch Series 3 in the review done earlier.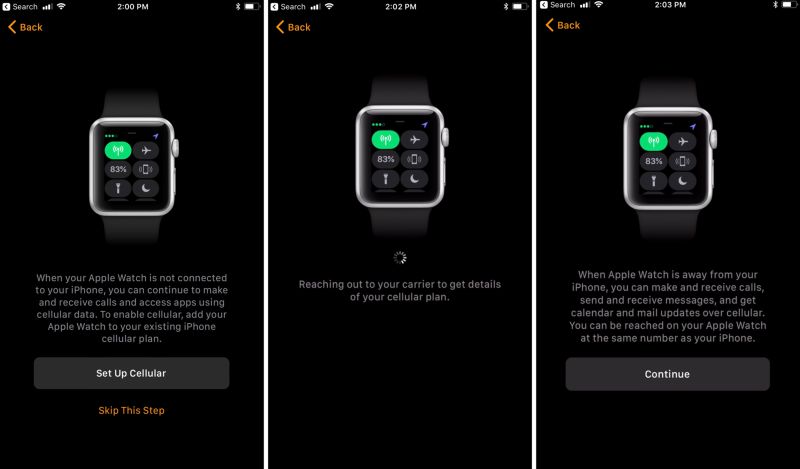 Installation and setup of the Watch are identical to the older versions. The iPhone has a Watch icon/app in iOS, which guides you through the procedure, which is very simple. However, there is a gap in between the installation where the setup takes you through a detour and help you hook up with your telecom provider's LTE. During the process, you will be guided accordingly and after a few pages of keying in your details, your telecom provider will enable LTE mode and latch your Watch to the service. The rest of the setup is as usual.
The Watch uses eSIM technology which is actually a virtual SIM card that is present in your Watch. This virtual SIM card is paired with your telecom service provider's network and enabled with voice, messages and data services. No, it does not get a new number but is an extension to your existing mobile number itself. If a call comes through, it, by default, rings on both your iPhone and Watch, whether you are around your Phone or far away from it. You can make and receive calls directly from your Watch or using a BT earphone paired to it. What's crazy here is that Apple has managed to cramp the antenna for the GSM network in a very intelligent manner, to help avoid a bulky chassis and avoid transmission issues. The antenna is sandwiched between the screen and the case. Shown below is this antenna that is placed between the screen and the display. Image credits: iFixit.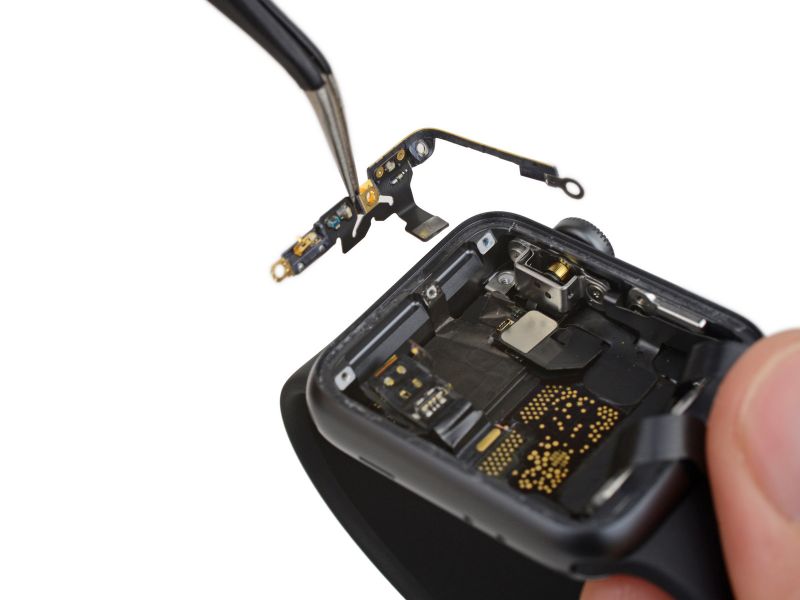 The calls and data and the charges will be part of your mobile plan itself, provided you have a plan that allows Apple's LTE Watch to be used over it. Check your telecom service provider's plans to know which plan is best for you. For now, only Reliance Jio and Airtel are providing the service for LTE Watch, at no extra charges. Sadly, this is not the case for many abroad. While India enjoys the free service on the existing plans, other telecom service providers around the world charge an additional amount for enabling LTE services on the Watch.
The Apple Watch sports a faster dual-core S3 processor with Apple's W2 wireless chip. It features GPS, GLONASS, Galileo and QZSS for location and barometric altimeter for differentiating altitude so that it does not confuse the health app when you are climbing flights of stairs. Additionally, sensors for heart rate, accelerometer, gyroscope and light are as usual. In comparison to the non-LTE Series 3 GPS variant, the LTE version now carries a larger internal storage — 16GB. The display stays the same at 2nd-Gen OLED Retina with Force Touch and a sapphire crystal surface. IPX7 rated waterproof case stays as usual. The LTE variant is available in two sizes — 38mm and 42mm and prices start at Rs 39,080. The Nike+ edition starts from Rs 39,130 onwards. As for the price, the LTE version is almost Rs 7,000 higher than the non-LTE variant, which makes it a great deal.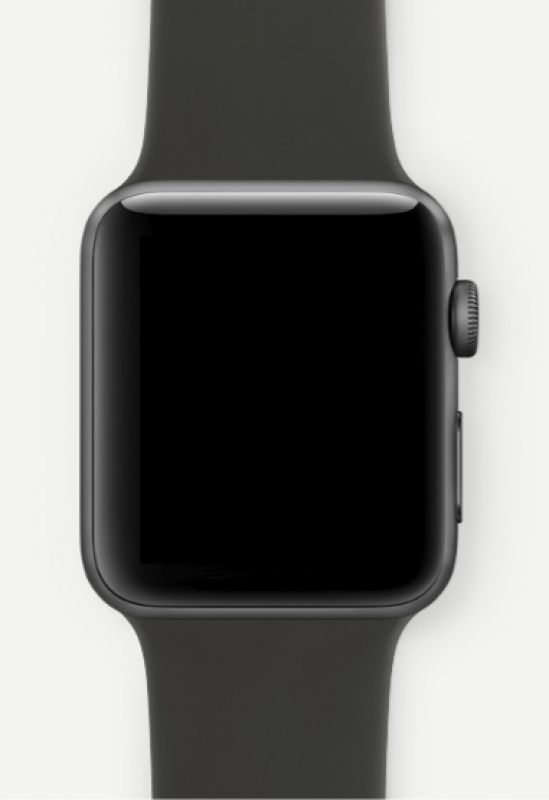 The Apple Watch LTE is one watch that no other brand could compete with and we would state that it actually plugs in the gap of the iPhone-Watch pair. The LTE variant may not be for all as there are three areas of concern — the high price tag, telecom operator compatibility and the requirement for an iPhone for it to function. However, if you already are an iPhone user and are looking thinking of opting for the Watch, the LTE version is your best bet. But if you are a person who is usually caught you're your iPhone on you at all times, the LTE variant Series 3 GPS variant should suffice. However, at Rs 7,000 extra, the LTE variant is what we would definitely recommend.
Latest News
Most Popular
Columns