Technology
Xiaomi Mi LED FHD TV 4A Pro 49 review: Where content is king
The Mi TV 4 Pro 49 offers truckloads of content served with the goodness of Android TV for a stellar price.
With the PRO' upgrades to the Mi TV 4 lineup, Xiaomi has made it an even better value-for-money proposition.
In the current generation, Xiaomi is one of the most disruptive brands ever to exist in the market. Whether it be smartphones, accessories, TVs or stationary, the brand has made a reputation for itself for offering quality products at never-before-seen prices. Earlier this year, the Mi TV series was unveiled and it saw a substantial amount of interest from consumers, owing to tremendous value it was offering. However, in order to keep their growth momentum intact, Xiaomi unveiled an updated range of Mi TVs for the Indian market, which is now relying on Google's Android TV platform.
The Android TV platform allows users to get access to official Android TV apps via the Google PlayStore and brings in the ability to Chromecast content without buying a separate accessory. The updated PRO lineup starts at Rs 14,999 for the smaller 32-inch HD 4C model whereas the mid-tier 49-inch full HD 4A model costs Rs 29,999. The 55-inch LED TV 4 Pro also gets the Android TV treatment and an increased price tag of Rs 49,999. On paper, it appears to be a very interesting proposition, especially when you look at all the features it provides. We had the mid-tier 49-inch MI LED TV 4A sitting in our test lab for a while and it came up to be an interesting proposition in the world of smart TVs.
Design, Build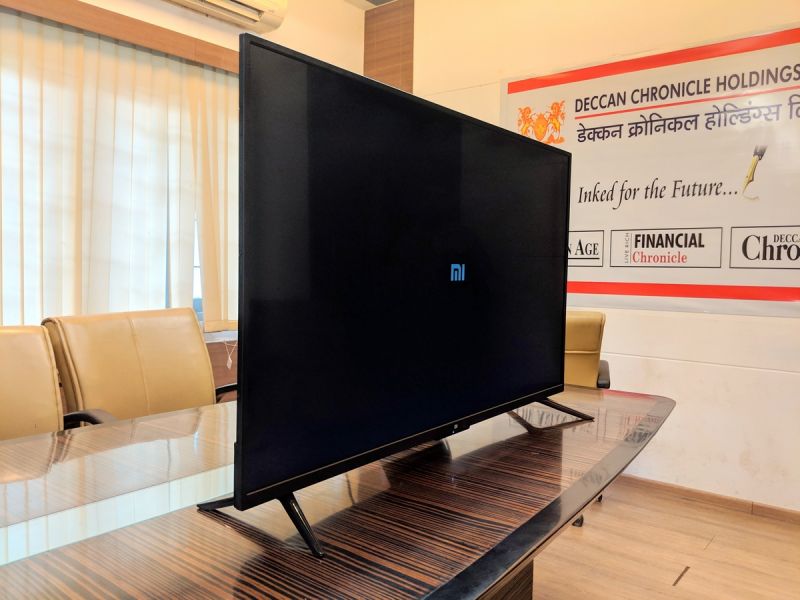 Excluding their flagship 55-inch model, all the models in the Mi LED TV lineup bear a very regular and identical look. The 4A Pro, therefore, has slim yet noticeable bezels all around and is substantially thicker. The frame is made of plastic, while the rear body sports a metal back. The frame isn't as sturdy, which could be a concern for those who wish to keep it on its stands — but this is the usual case with larger panel TVs. The screen has a matte anti-glare finish that should help with reducing reflections from brighter light sources. The TV is devoid of any button, except for the power button which rests under the frame in the centre and sports a large and easy-to-locate button.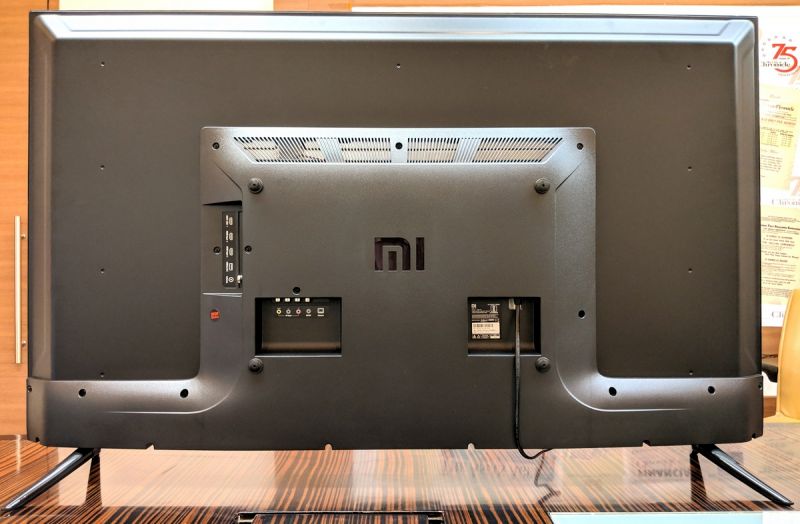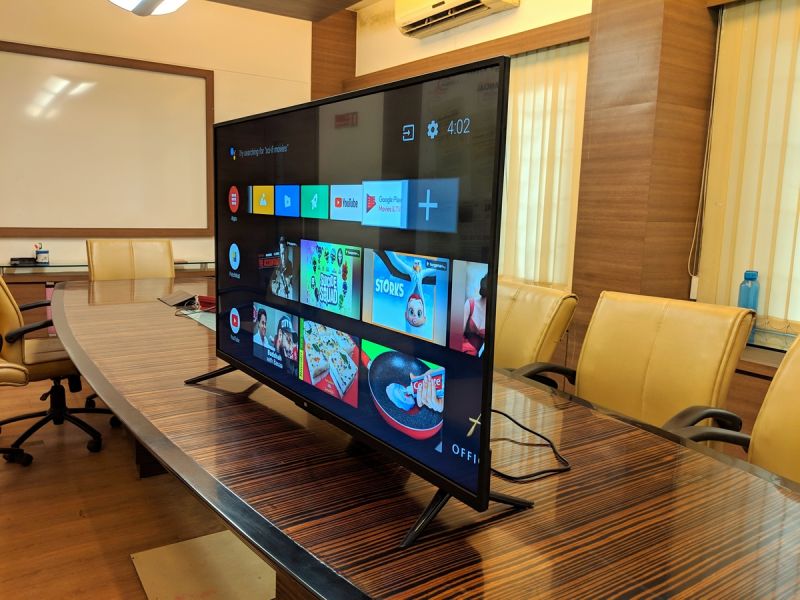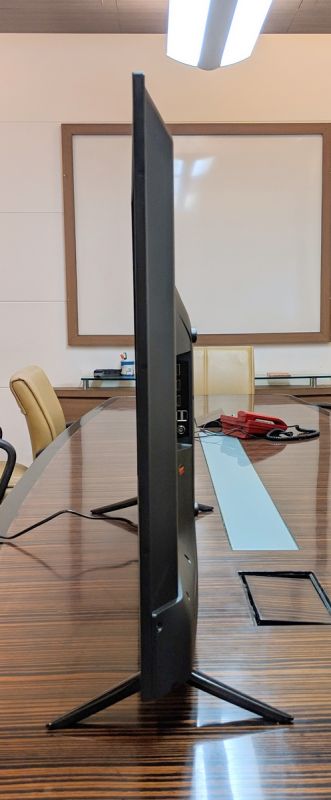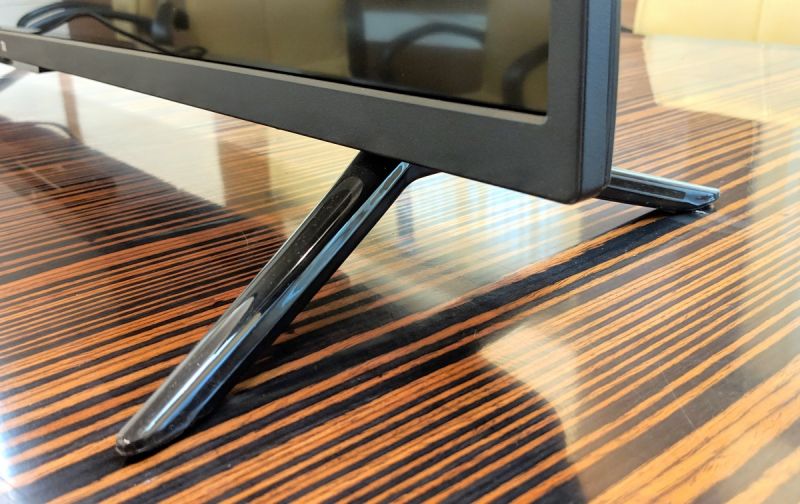 Therefore, it will be extremely difficult to take control of the TV of you misplace the remote controller, unless you have your smartphone connected to the same Wi-Fi network and hosting the Android TV app. The rear hosts the usual array of ports that are arranged neatly in positions easily accessible even when the TV is wall mounted. At around 10kgs, the TV can easily be moved around, although one must still exercise caution with the large and delicate panel.
Xiaomi's brilliant smart Bluetooth-enabled remote controller from the previous Mi TV 4 models makes a return, with an update to the original design. It now boasts of 12 buttons, with the most important one being the voice button for summoning the Google Assistant. The volume adjusting buttons, as well as the directional keys, remain.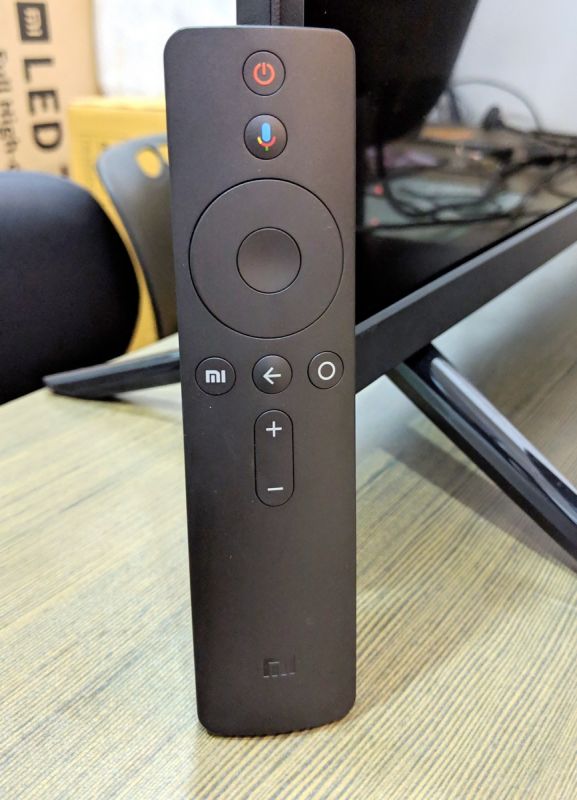 However, there are two new discrete buttons — one for summoning the PatchWall interface and the other for the Android TV interface. The remote feels well built as before and still is presently one of the few controllers with a solid and very easy-to-use layout.

Connectivity
The Mi TV 4A Pro doesn't disappoint when it comes to connectivity options. You get two USB 2.0 ports, three HDMI ports with one supporting ARC, an Audio/Video analog port, a coaxial S/PDIF out and an Ethernet RJ45 port. Surprisingly, Xiaomi chose not to offer a 3.5mm headphone jack here too for connecting external speakers or a headphone. However, you can use the S/PDIF port or use the Bluetooth connectivity for your audio excitement.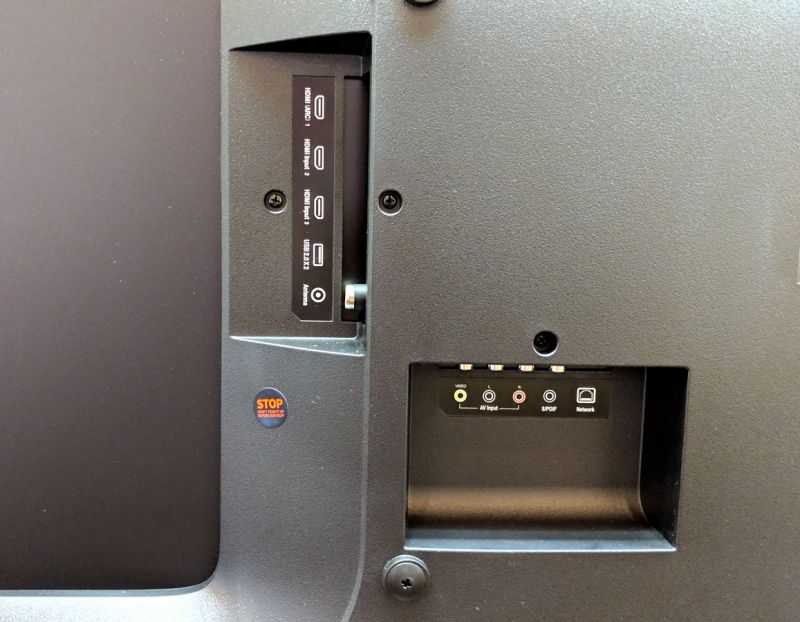 On the wireless side, Xiaomi offers Bluetooth and 2.4GHz Wi-Fi connectivity as standard — sadly there's no 5GHz (dual band) option that could avoid interferences from other BT and Wi-Fi devices in your room and around the area. And since Android TV is running the show, you also get Chromecast built-in, which means it's only a tap way to cast your video from your phone to the big screen of the Mi TV.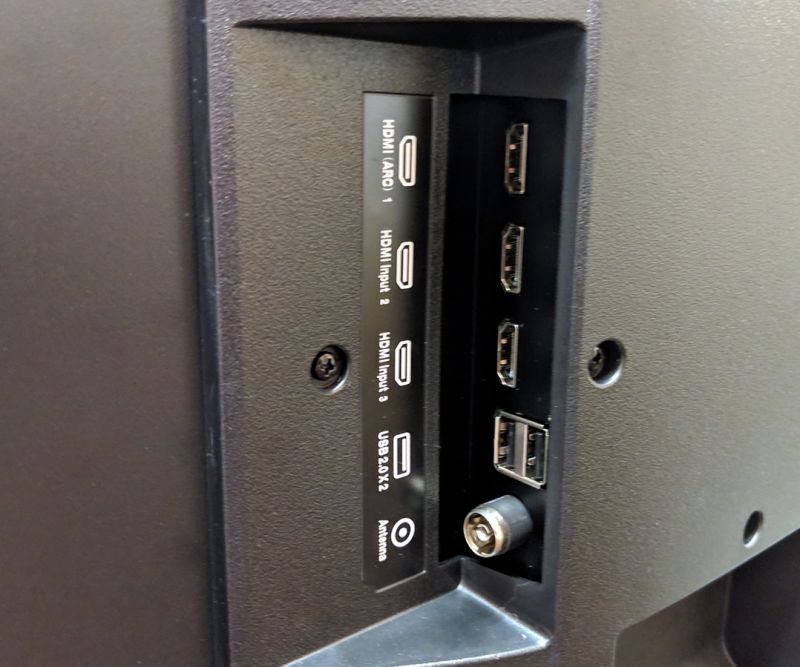 Display
Xiaomi is one of the few manufacturers in the budget TV segment to offer an HDR-enabled panel. The IPS LCD panel with LED backlighting measuring 49-inches offers a reasonably good viewing experience with a decent dynamic range and brightness levels. The panel comfortably plays anything up to Full HD resolution.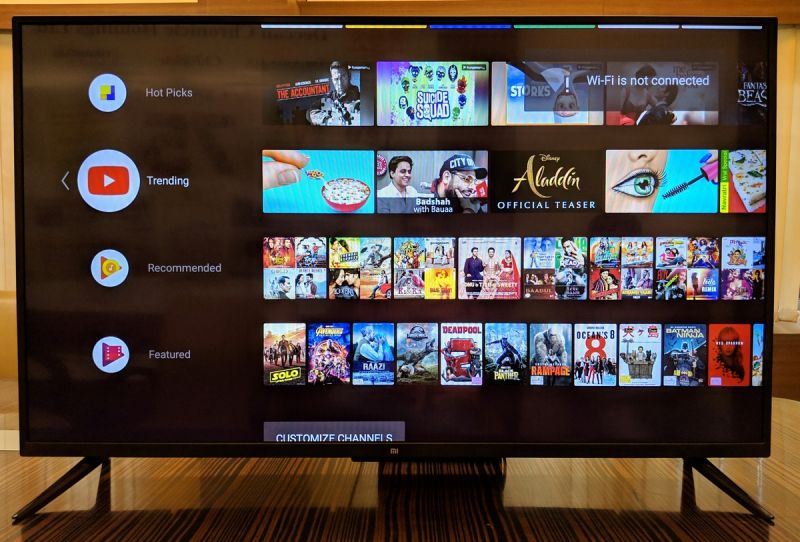 The pictures carry lots of sharpness and a fast 6.5ms response time means there was no noticeable motion blur, whether you are catching up on 4K Hollywood action titles or enjoying your weekly Xbox gaming sessions. Viewing angles are extremely wide while the anti-glare coating reduces reflections up to a wider extent.
The smart TV experience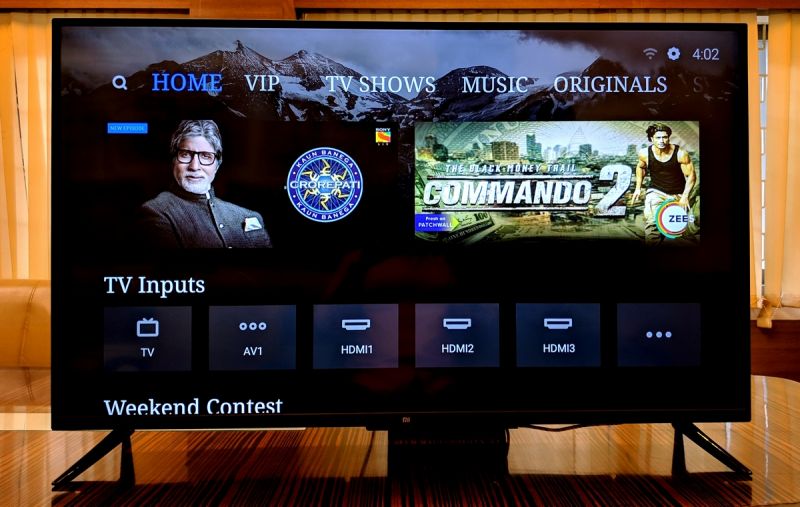 One of the biggest overhauls that Xiaomi has brought to the Mi TV 4 series is Android TV. With Google's TV OS taking care of the daily errands, Xiaomi finally manages to bring the official PlayStore app, which results in giving users an unbridled access to several exclusive apps designed for TVs — still no Netflix or Amazon Prime Video. Android TV brings with itself Play Movies and TV, wherein users can buy or even rent movies for as little as Rs 20. And then there's YouTube, where you have the world to your self without spending a dime (unless you count the data costs). Xiaomi did mention that we would get to see Amazon Prime Video on their platform soon, but did not comment on the Netflix angle. We assume that they are definitely in talks to get the same done there too.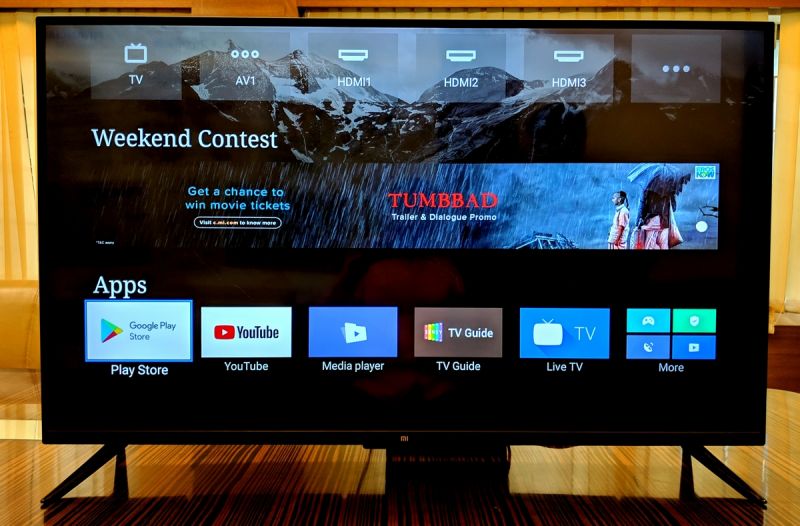 However, Xiaomi isn't giving up on it PatchWall OS anytime soon, which is why it also stays on the new Pro series TVs, albeit as a sort of launcher. The TV boots up to the Android TV home screen but PatchWall sits on top under the favourite apps section. The updated PatchWall has a slightly revamped interface with new fonts and a slightly more intuitive layout than before. Xiaomi has partnered with more content providers than before and you can see a plethora of OTT channels and apps with a flood of content that you can watch. The unlimited scroll of content on Patchwall is simply overwhelming with free and paid content all over your screen. Simply lift the remote and scroll or even simpler, ask Google's Assistant for what you want to watch and you will have it on your screen in a matter of seconds.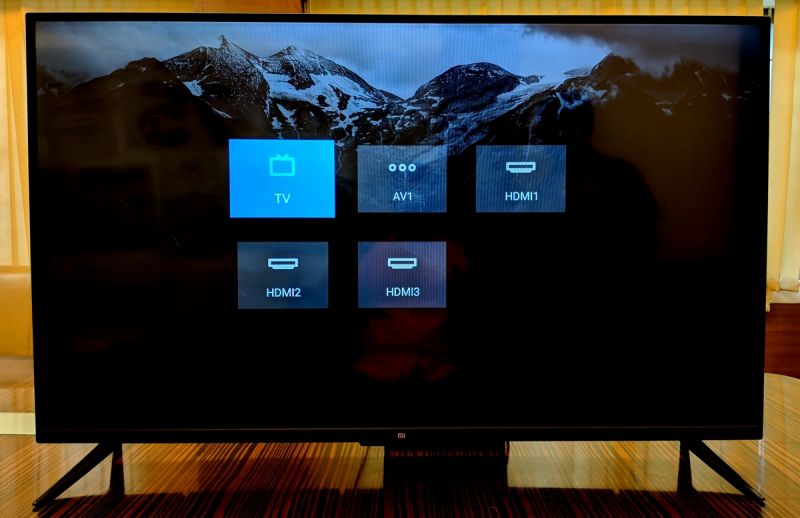 The TV also comes with an optional USB-to-IR cable that can connect to your existing set-top-box or media player. The Patchwall interface is tightly integrated with features that allow the TV to take control of your set-top-box with the same TV remote itself. This means that after you have set up your TataSky box (for example) to your TV on HDMI 3 (for example), and if you want to search for Tarak Mehta Ka Ulta Chashma (as an example of an episode that runs on SAB TV), all you need to do is simply speak to Google Assistant using the microphone on the remote and the Patchwall will automatically hunt for the content on your live TV (TataSky) or OTT channels and display the Live channel first. It automatically senses that the TataSky is connected to HDMI 3, switches to the input, change the channel automatically to SAB TV and starts the show for you. If the channel is not presently playing your live content, it then automatically lists the respective content from online OTT channels and shows you a list. With Patchwall now even smarter, you can also search for content based on actor, genre and a lot more. For example, searching for Julia Roberts via Google Assistant will list all live TV channels and OTT channels that feature Julia Roberts in it. All this is cleverly populated and used from SENSEI TV guide, a tie-up between Xiaomi and SENSEI that pulls information from the internet and helps with your content hunting experience on Patchwall.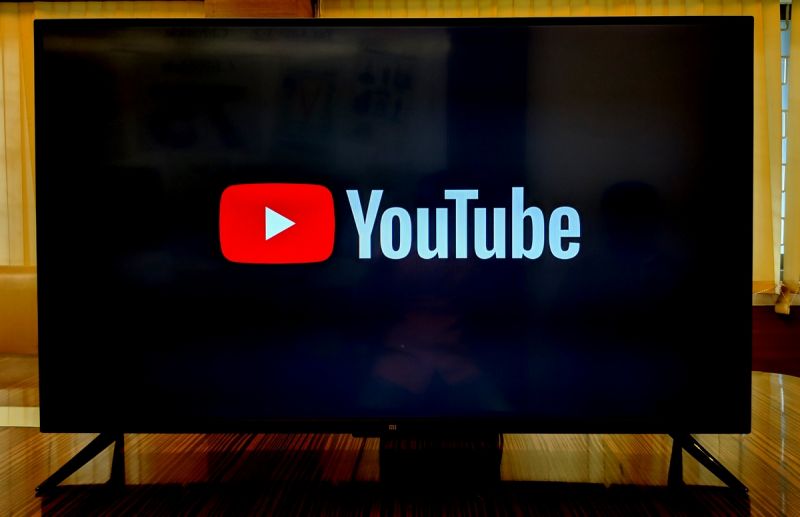 Compared to a pretty limited Android TV interface, PatchWall's multitude of content is phenomenal. There's something for everyone — from animated movies for kids to the usual drama for family members, there's something to watch on PatchWall. None of the content is created by Xiaomi, but the interface brings together everything from all the apps and STB, thereby giving you control over what you want to consume. The endlessly scrolling home screen does make you want to watch something more, once you have finished binging on something else.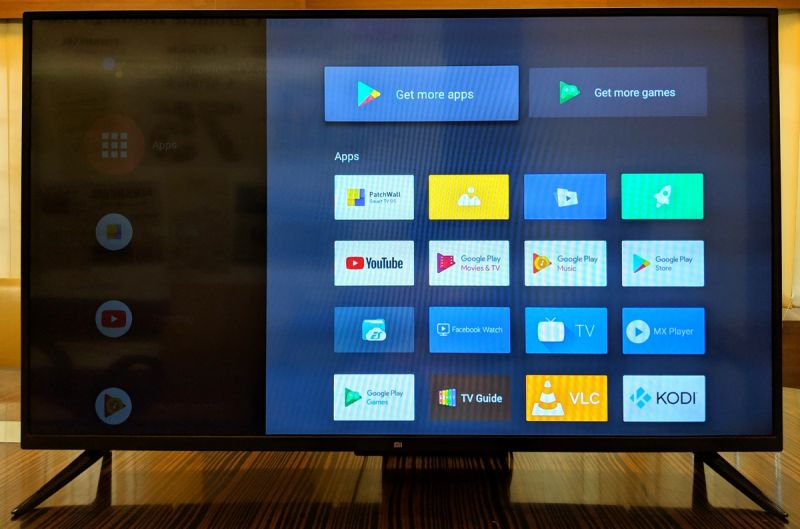 If you prefer the more localised content collection on PatchWall instead of the more international content –heavy Android TV home screen, Xiaomi gives users an option to set PatchWall as the default OS. However, at any time as you desire, you can access any of the platforms directly from the remote.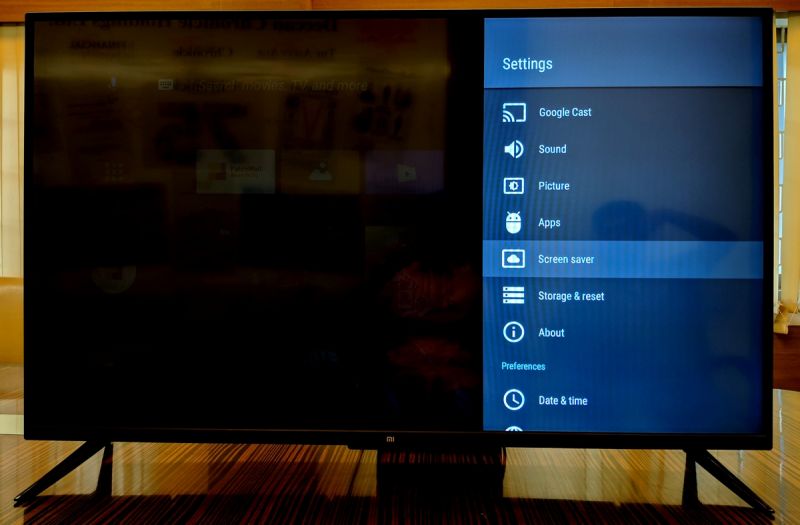 Coming back to Android TV, the platform requires at least 2GB of RAM, a dual-core processor and at least 5GB of storage. The 4A Pro gets exactly gets 2GB of RAM and 8GB of storage as standard. There's a 64-bit Amlogic Cortex A53 quad-core CPU to take care of the processing duties while a Mali-450 MP3 GPU takes care of all the graphics. Out-of-the-box, the Mi TV 4A Pro was running on Android TV 8.1 Oreo and Xiaomi has promised an update to Android Pie in the upcoming months.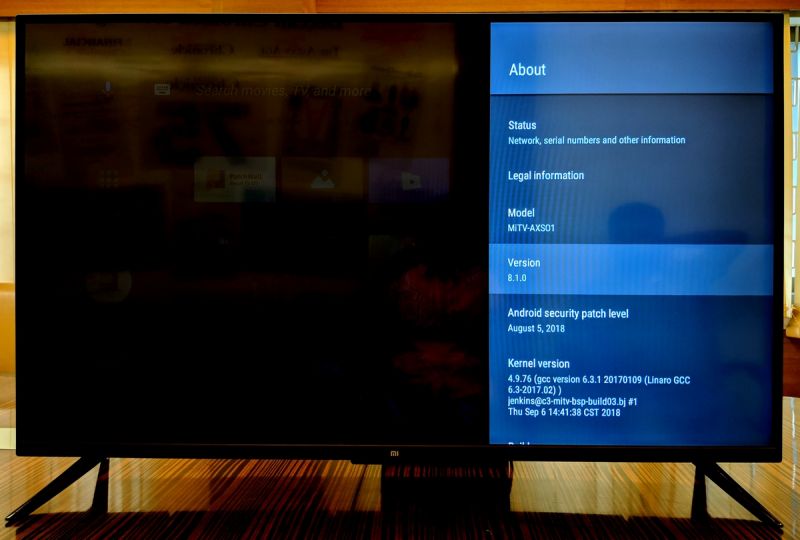 Throughout our testing period, the 4A Pro kept impressing with its fluid performance. Navigating throughout the interface through the buttons was smooth and easy. The new voice search functionality makes it easy to hunt for content from any screen, on any source.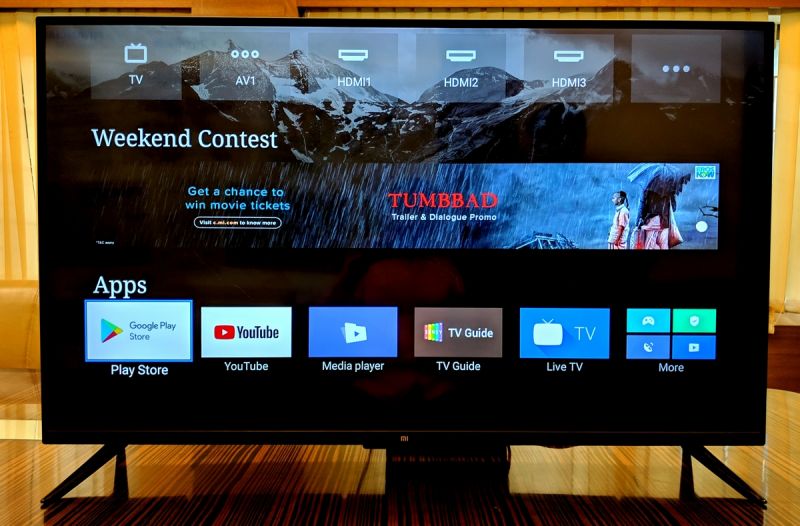 Unlike other Android TV sets from other OEMs, Xiaomi has beautifully integrated all parameters of the TV in the modern smart interfaces. There's even an Android smartphone-inspired File Manager, which lets you browse through the media files on your external media drive and play it via the inbuilt video player app or choose from third-party options such as VLC and MX Player. Therefore, there's almost a zero learning curve on this TV — even a child can master the operation within a few minutes.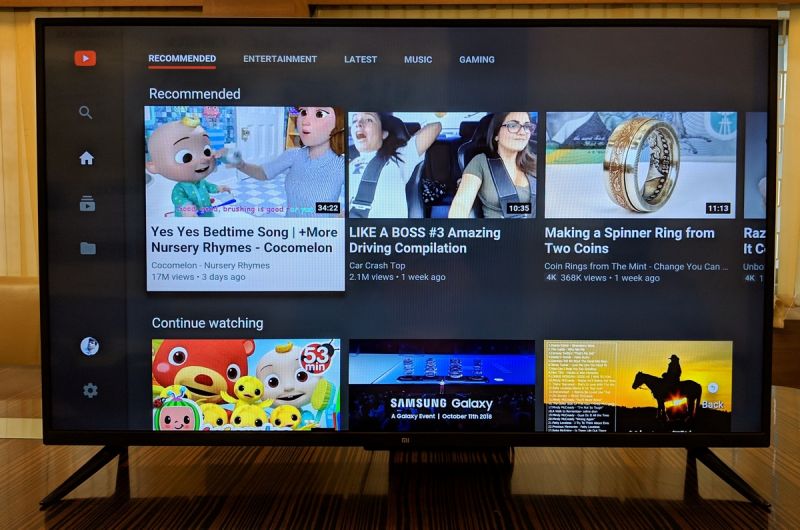 However, all is not well with the Mi TV 4A Pro. The TV has a presently plagued with a severe issue — a Wi-Fi connectivity bug keeps on disconnecting from the network frequently. While this may not be easily noted on apps that buffer the video, such as YouTube, and others, a few apps such as Hotstar streams in real-time due to no compression technology used here, suffers big time. Upon tinkering a little here and there, we minimised the problem by removing the batteries from the remote and using the smartphone remote instead. However, the problem still persists, though very minimal and not as annoying. Xiaomi says that they are working on a fix with Google and will roll out an update soon to resolve the issue.
Audio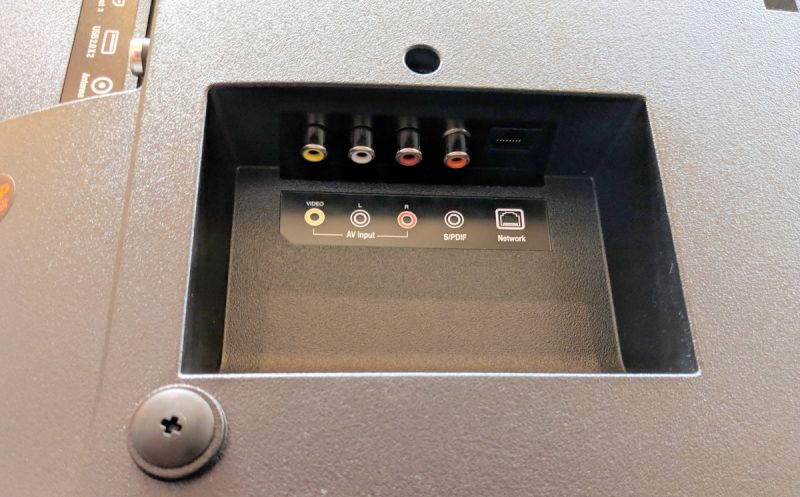 The 4A Pro relies on two 10W speakers for managing the audio department. There's Dolby DTS-HD surround audio built-in as well. In a moderately sized living room, the pair manages to put on a good show. If you are catching up on weekend shows or movies, the audio experience is mostly satisfactory. The vocals are clear while the mids are clearly distinguishable. Due to the lack of a subwoofer, the TV does struggle with good bass. However, for casual users who don't require the 'pinch-in-the-ear' experience even while watching the news or a reality show, it shouldn't come across as a bother. As with any TV, you can help yourself to your particular taste of audio expectations by heading into the settings and tweaking the equaliser as well choose from the preset sound modes.
Conclusion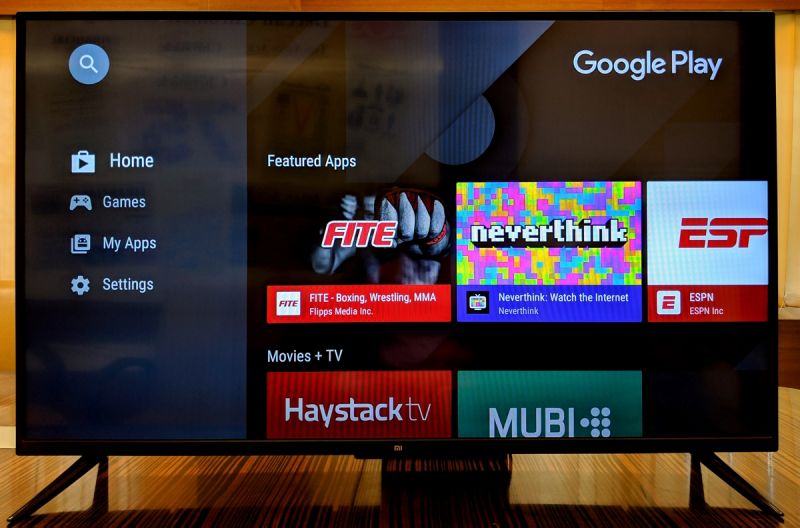 When Xiaomi unveiled the Mi TV earlier in the year, consumers went berserk on seeing such a capable product selling for a price that makes it affordable for everyone. With the 'PRO' upgrades to the Mi TV 4 lineup, Xiaomi has made it an even better value-for-money proposition. For the 4A Pro, it offers a good looking full HD panel equipped with Google's Android TV and Xiaomi's content treasure PatchWall at a price where the competition offers scarcely equipped offerings. At Rs 29,999, the Xiaomi Mi TV 4A is a steal. If you are looking for a large panel smart TV that works as intended and doesn't burn a hole in your wallet at the same time, keeps you content happy and is the simplest of all TVs in terms of usage, then the Mi LED TV 4A Pro 49 is a great option to consider and gets an absolute recommendation from us.
With inputs from Francis D'Sa, Editor
Latest News
Most Popular
Columns