Technology
HP Ink Tank Wireless 419 review: An ideal home/office printer
Deccan Chronicle| Francis D\'Sa
Published on: August 18, 2018 | Updated on: August 23, 2018
Inkjet home printers are often expensive due to high cartridge costs, but the ink tank system rules that issue out.
The HP Ink Tank Wireless 419 is a compact all-in-one printer that demands a low space and can be easily kept in any corner of the room thanks to the wireless connectivity.
Parents today would promptly remember their school days when the computer rooms were as good as a holy place in schools or offices. The computer room would be highly air conditioned, dust-free and one would not be allowed with shoes into the same room where a PC was placed. They were expensive equipment that could cost equivalent to luxury cars sold today. In those days, only the elite and super-rich kids would probably own their own Personal Computer at home. Fast-forward to today and things have changed completely. The internet changed almost everything and communication and the information is now at each person's fingertips. Technology got cheaper and brought the PC and internet to homes and now in our pockets. Letters changed to emails and almost everything today is digital. However, though things have changed massively in the last few decades, nothing has managed to change the way we require paper. We still need those printouts — be it a CV or a bill, an office document or an agreement, or for that matter even school assignments and craft, we are still in need of physical documents. And these documents come from printers, a computer peripheral that can create an image on paper.
Printers are nothing new—from noisy dot matrix and line printers to the new-age laser printers, they are all equally bulky, expensive and need timely maintenance. While printers may not have changed much, they are definitely getting eco-friendly, in terms of both power and ink. Ink is the main ingredient in printers and the most expensive too. With numerous documents and waste being printed in homes and offices, the requirement of ink is always high. And with expensive ink cartridges, most refrain from opting for a printer at home.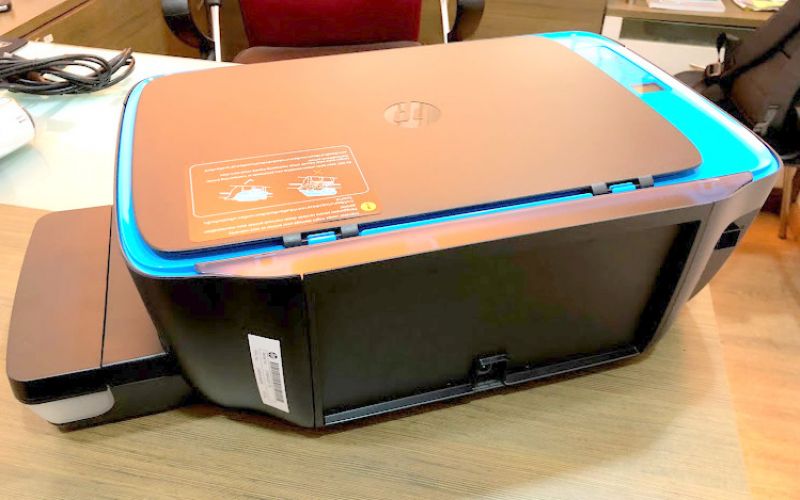 But this scenario is changing soon — with the invention of ink tank printers, printing larger volumes is becoming affordable. Brands such as Canon, Epson, HP, Brother and a few others are out with ink tank printers where the problems of cartridge replacements are soon taking a back seat. Ink tank printers now need a single cartridge and the ink can be refilled by the user themselves.

Ink tank printers are nothing but regular inkjet printers that use an ink reservoir separately. These reservoirs or tanks are linked to the cartridge heads using pipes, which supplies the ink to the heads as and when required. This system makes it very cheap as the ink gets cheaper and a head replacement is not needed.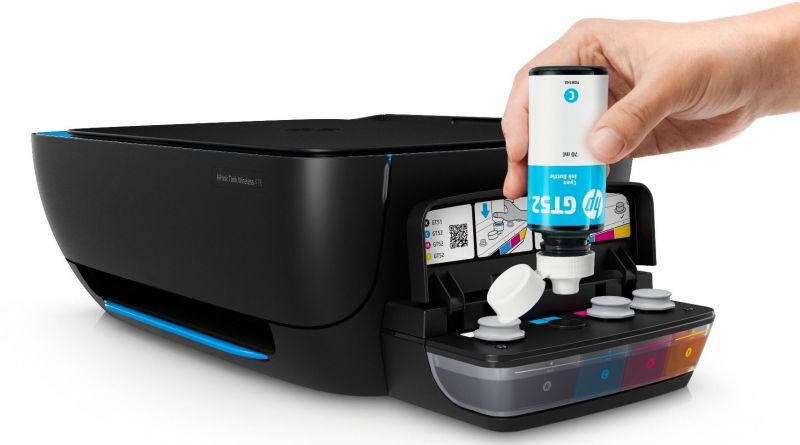 HP has ink tank printer systems too and they have a plethora of models with them. One such printer was under our magnifying glass recently, which is aimed for homes and can be used for SMEs too. HP's Ink Tank Wireless 419 is an all-in-one printing solution that allows users to wirelessly scan, print and copy on a very economical budget. The printer costs Rs 14,955 and can be availed on a discounted price of Rs 13,999 or lower.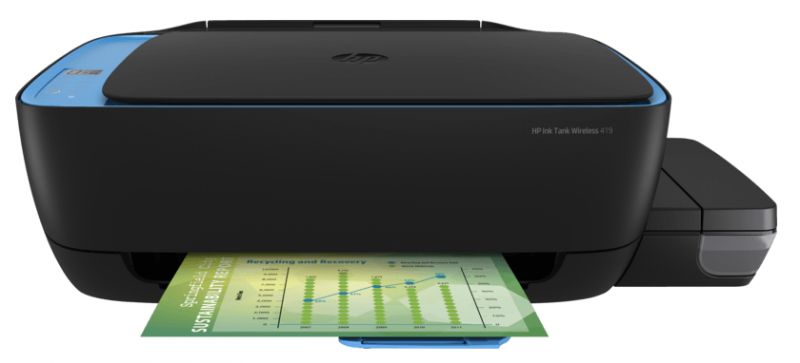 The HP Ink Tank Wireless 419 is a compact all-in-one printer that demands a low space and can be easily kept in any corner of the room — thanks to the wireless connectivity. The printer is made from an all-plastic exterior, but the though the plastic's quality seems good, the overall build seems a bit flimsy and delicate, and could have been better.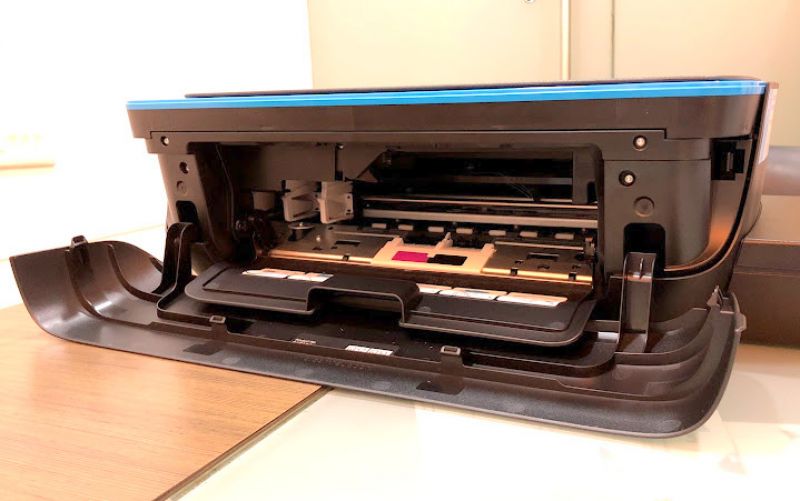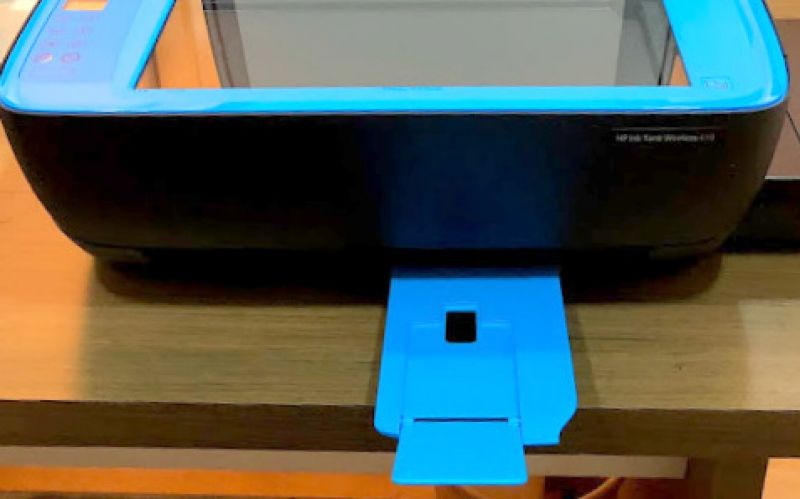 The exterior definitely looks elegant with a black and blue dual-tone colour. Lastly, the printer weighs around 4.7kg and has a low profile height and width to fit regular work desks.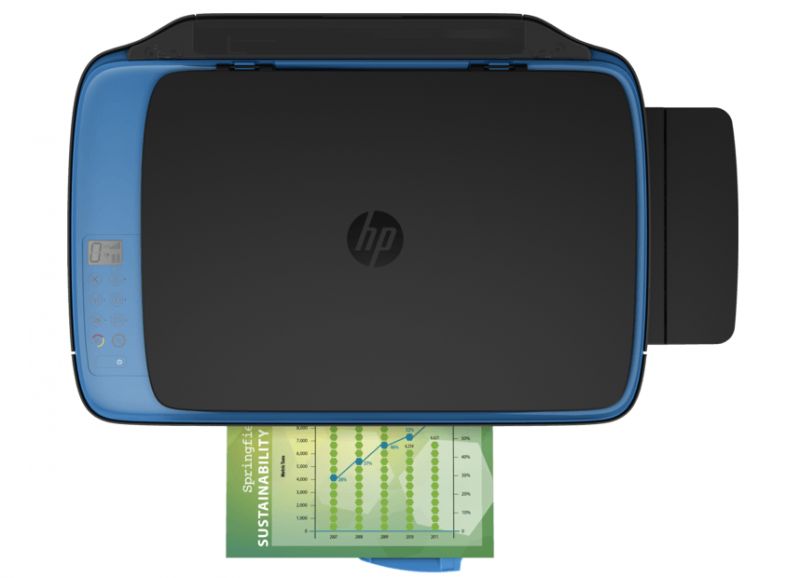 The top features an A4 flatbed scanner, while behind that is a pull-out input sheet feeder that can hold up to 60 sheets of paper. The front has a plastic door that houses the cartridge heads, and also to access paper jams, apart from a retractable and foldable output paper tray that can hold up to 25 sheets of paper. The right side is where the ink resides — four large tanks or reservoirs for ink, with a top door to prevent dust.

The tanks are translucent and the user can physically see the level of ink remaining inside each tank. The four tanks are one each for black, cyan, magenta and yellow. While the black tank can hold up to 80ml of ink, the colour tanks can each hold 70ml of ink. Each tank has a small spout that digs into the ink bottles for refilling, making it spill-proof and convenient. Once filled, each tank has a lid that closes in tight.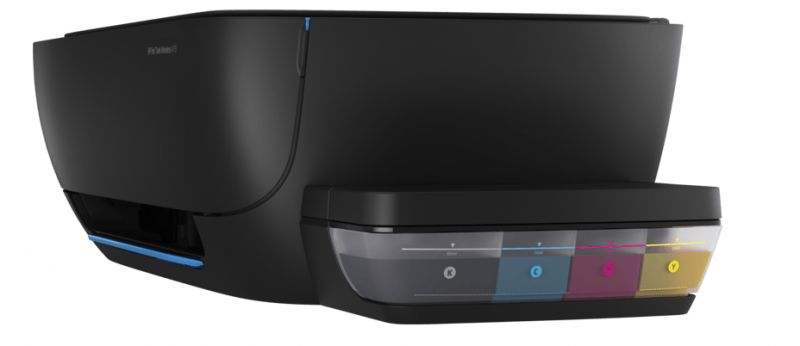 The user needs to keep a watch on each tank level and refill them before they get empty to avoid aid bubbles getting into the pipes and drying out the ink in the pipe and cartridge heads. If such a case happens, then the expense for cartridge and pipe replacements will increase the cost of printing in the long run. Coming back to the unit itself, the rear panel is home to just a USB port and the power socket.
The control panel is seen on the top face, left to the scanner lid. This panel consists of 9 touch buttons, each labelled with just icons. Beside the buttons are a few LEDs that marks the status of the printer accordingly. The control panel also consists of an LCD display that only displays a few important things such as the number of pages (0-9), ink levels, paper jam, error and wireless signal strength. We found the control panel too delicate as the protecting plastic layer was easily pressing down. Additionally, we weren't too happy on the buttons either as they seem that it may not last long if used roughly. Physical plastic buttons like many other brands would have been an added advantage here. Overall, it isn't as bad either and will work longer if used less and most importantly with a light hand. Nevertheless, the printer will almost mostly be used from the PC, unless the user is using it to create copies.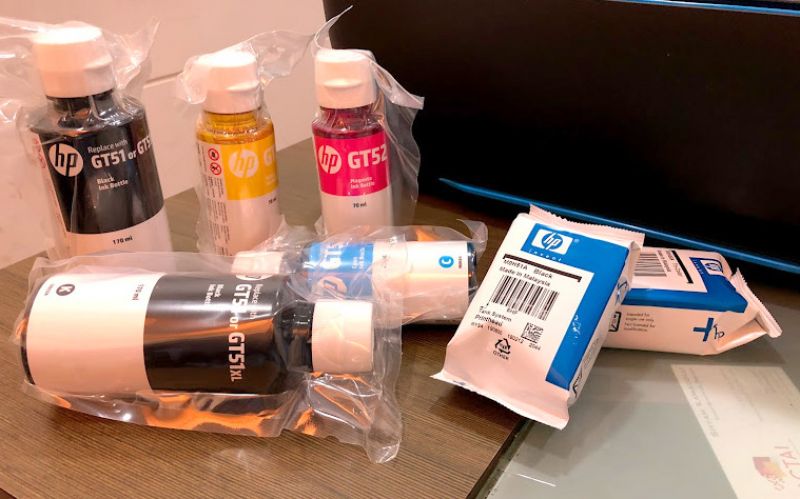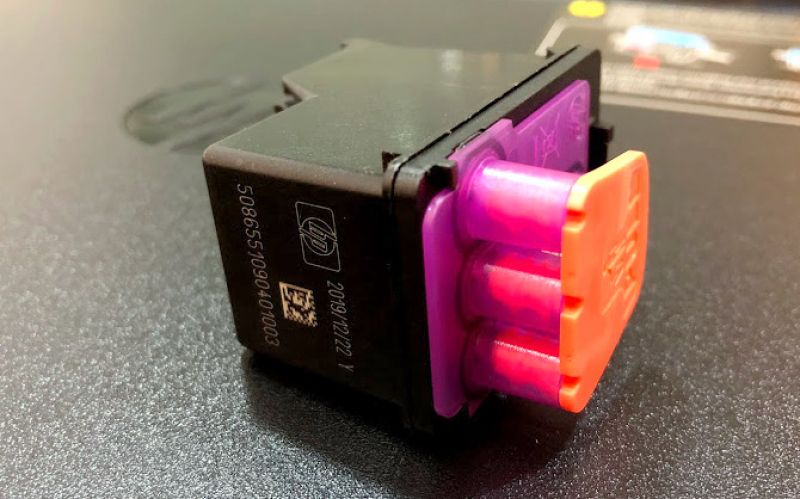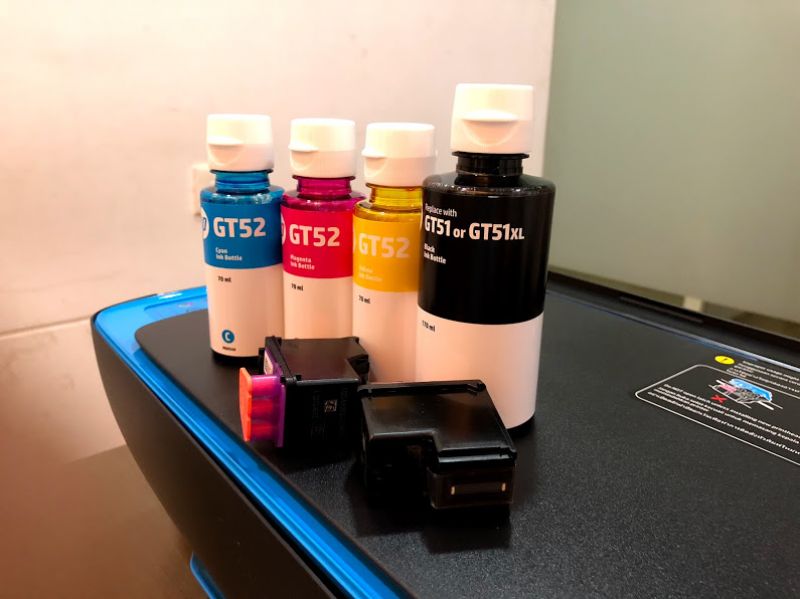 The printer ships with a two-year supply of ink, which is the best USP for the HP Ink Tank Wireless 419. While two cartridges (one black and one colour) are shipped in sealed containers each, the ink is shipped in individual spill-proof bottles. Each colour bottle is 70ml, while there are two black ink bottles of 170ml each. HP has thrown in an extra bottle of blank ink, which will last you at least five refills in total. And since black is used most often (even during colour prints), a larger quantity of black ink is highly required. Given that there are now 5 bottles of ink within the starter pack itself, the price of the over printer seems to be cheaper in perspective.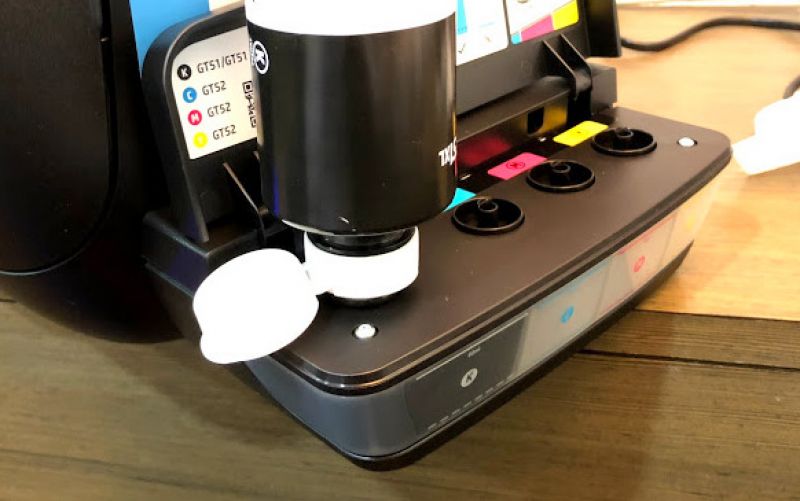 Each bottle of ink should cost you around Rs 400 - Rs 500 on average, which is far cheaper than refills or a new cartridge. To put things in perspective, 10ml of ink refill from your local stationary guy will cost you around Rs 400 per cartridge, while a brand new cartridge could put you down around Rs 750 – Rs 1,500 each. The 70ml (or 135ml) ink bottles are almost 1/4th or even less the cost of refills. This makes printing costs even cheaper and highly affordable.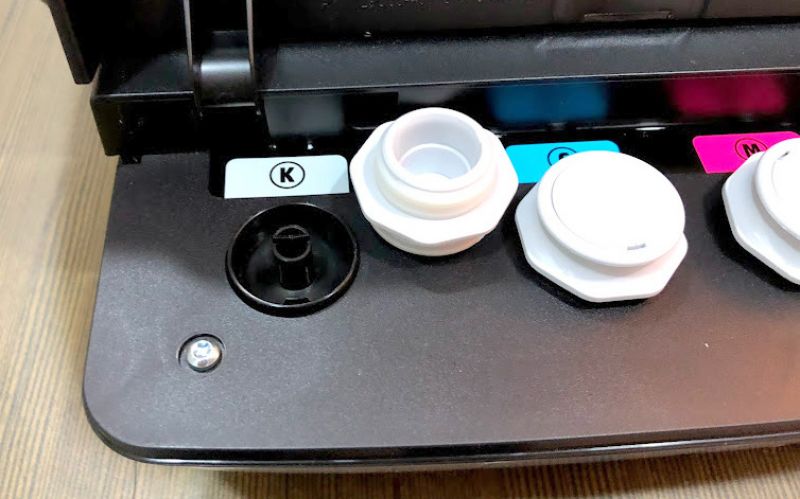 Setting up the printer is child's play — all you need to do is switch on the printer, insert the driver CD into the PC, start up the setup program and follow the instructions on screen step by step. To pour ink into the tanks, all you need to do is open the seal of each bottle, open the respective ink tank cap, and place the bottle upside down on the spout on the tank. No need to press the bottle for the liquid to fill in the tank. Simply place the bottle upside down on the tank mouth and the ink will find its way into the tank within a few seconds. Once done, close the tank's caps and you are done. The black ink bottle will fill and automatically stop until the tank is filled — no overflow. Each black ink bottle can fill the black tank around 2.5 times.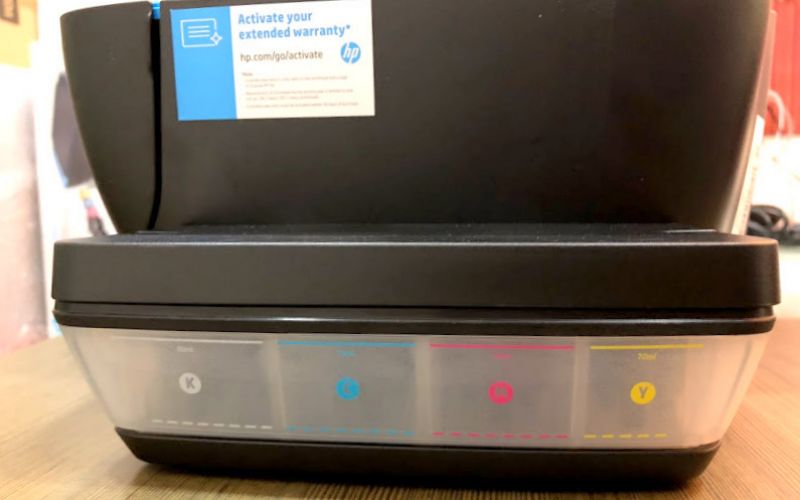 Following the instructions on the computer setup screen will allow you to connect the printer to the PC or network using the USB cable and Wi-Fi accordingly. Setting up is simple and easy. The initial stage will take you through the printer head alignment steps to ensure that all cartridges are aligned to give you the best result. The printer can also be used for printing from tablets and smartphones using the HP printing app from the respective app stores. The printer can also be used as an online printer, where the setup helps you procure an email address for the printer. So when the printer is powered on and connected to the internet, you can simply fire a print command from anywhere in the world, by simply shooting an email to the printer's set email address. A discrete button is also provided on the control panel which can turn off the ePrint feature when not in use and avoid accidental waste.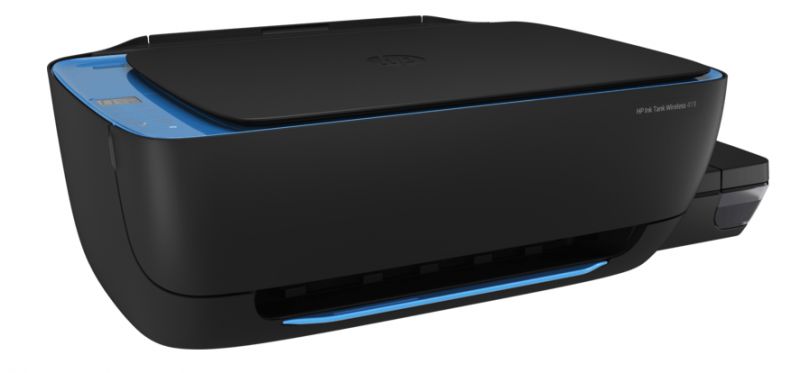 The printer can print black and colour copies in above-average speeds too. The initial copy takes up to 14 seconds for black and 18 seconds for colour, and subsequent copies take even shorter time. Scanning speeds are 21 seconds per A4 page.
While the duty cycle of this printer is around 1,000 pages per month, the average recommended volume set by HP is up to 800 pages. This is the usual case with small offices and homes. If your printing volume is higher, this printer may not be recommended for you. However, considering the amount of ink supplied with this printer, the HP Ink Tank Wireless 419 can serve you an upper limit of 8,000 pages in colour and a whopping 15,000 pages in black (with the two black cartridges). Now you should know that this amount of prints specified by the company is based on their own tests, which involves a particular type of ISO standard document (black or colour) and printed in draft. A user's document will vary (be it a regular black document or coloured photos) and you would end up with a lower number than promised.

The printer can print regular black and colour documents as well as full borderless colour photos too. Photos printed are vibrant and great in quality. However, you have to ensure that if you want the best of print quality, you will need to use the recommended and specific papers for each type of prints. The ink used here is Dye-based (colour) and pigment-based (black), which are said to be smudge resistant and water-proof with a longer age, provided it is used with the right type of paper. Printing resolutions are 1200 x 1200 dpi in black and up to 4800 x 1200 dpi in colour.
The overall performance of the HP Ink Tank Wireless 419 is well above average and nothing great as far as other brand printers are concerned. However, the brownie point this one has to offer is the chic looks that work well as far as aesthetics are concerned. Sadly, the feeble build quality is of big concern here as spare parts would not be easily available or cheap too. The printer is very easy to set up and use and the ink is extremely easy to refill by anyone. The low-cost inks, convenience and looks are what works for this the printer, and the HP Ink Tank Wireless 419 all-in-one printer gets a thumbs up from our end. We recommend this printer for all those who have low-to-average printing needs at home or in office. For Rs 13,999 with an average 2-year ink supply, the printer is a great value for money.
Click on Deccan Chronicle Technology and Science for the latest news and reviews. Follow us on Facebook, Twitter.
Latest News
Most Popular
Columns