Technology
Content first TVs: Now, anytime is show time!
Deccan Chronicle| vishnu anand
Published on: January 14, 2019 | Updated on: January 14, 2019
No more flipping channels. Content-first TVs are redefining your viewing experience.
With TVs becoming smarter, the set top box (STB) is no longer the only thing that's plugged into your TV.
An Indian Premier League match between your two favourite teams is scheduled to begin at 8 pm. You are habituated to tune in to Sony Six and catch the action. Last year, Star Sports became the broadcaster for the league. Overnight, you had to recheck if your service provider offers Star Sports, if you subscribed to it, and whether you have subscribed to the HD variant? Of late, cricketers are making controversial statements about their wonderful personal lives on celebrity chat shows. Suddenly, you feel the urge to tune in to know what the fuss is about. But no, you neither remember the channel number nor the telecast time. Not done, bro!
Unplug your TV
It's 2019 and you do not have to worry about any of these things. But you must be prepared to give up the TV viewing habits that you have grown up with. With TVs becoming smarter, the set top box (STB) is no longer the only thing that's plugged into your TV. The consumption of web content is skyrocketing, and with stick-on devices like the Amazon Fire or Chromecast, gaining popularity, the STP is becoming just another source, pretty much like the humble VCR which died a natural death a couple of decades back. The next big leap in TV technology is not a device that needs to be plugged into your TV. It's the software that runs on it. Popularly known as a content-first approach to TV viewing, the user interface (UI) on your smart TV is redefining the way you watch stuff.
Content-first
Take for instance the PatchWall from Xiaomi. It is a screen with infinite scrolls, that throws up TV content categorized into genres, themes, languages, formats and many more. Of course, the options keep changing as you use your TV more and the machine learning algorithm churns along, in an attempt to personalize your results. The beauty about PatchWall, is that it doesn't care where your content is sitting. For instance, if you wish to catch the new season of The Kapil Sharma Show, you can search in comedy TV and the show name appears in multiple options. If you have a SonyLIV account, it connects automatically to the web stream. If you don't, it will automatically fire up your STB, go to the Sony Entertainment channel and push out the content on your screen. Xiaomi has tied up with almost all cable TV providers, including regional ones, to offer this feature. This is a welcome change from having to switch source and wait for STBs to go to a particular channel. The latest version of PatchWall comes with a regional language section that sorts content by language. Then there are interesting bells and whistles like colour changing backgrounds.
Twin offerings
The first duo of smart TVs to come pre-installed with the new and improved PatchWall are the Mi LED 4X Pro (55 inches) and 4A Pro (43 inches). While the former comes with a 4K UHD 2160p display, the 43-inch variant comes with a full HD screen. Both have sound outputs of 20W stereo with DTS, and 2GB + 8GB, 1GB + 8GB memory configurations respectively. This time around, the new Mi TVs also come in a combination of PatchWall and Android TV. Currently, PatchWall offers over 700,000 hours of content. Xiaomi has also launched its first ever Soundbar, a rectangular speaker with 20mm dome tweeters, two woofers and four sound radiators whose main job seems to be to improve the bass frequencies of the TV sound. It is priced at Rs 4,999 while the TVs are Rs 39,999 (4XPro) and Rs 22,999 (4A Pro).
TVs on a roll — and talkative
If this year's Consumer Electronics Show (CES) is anything to go by, the TV biggies are riding the content-first wave to offer a multitude of options to buyers. Samsung has announced that its smart TVS will come with support for archrival Apple's iTunes, and well as HomeKit and AirPlay 2. It has unveiled an insanely huge 219 inch Wall TV.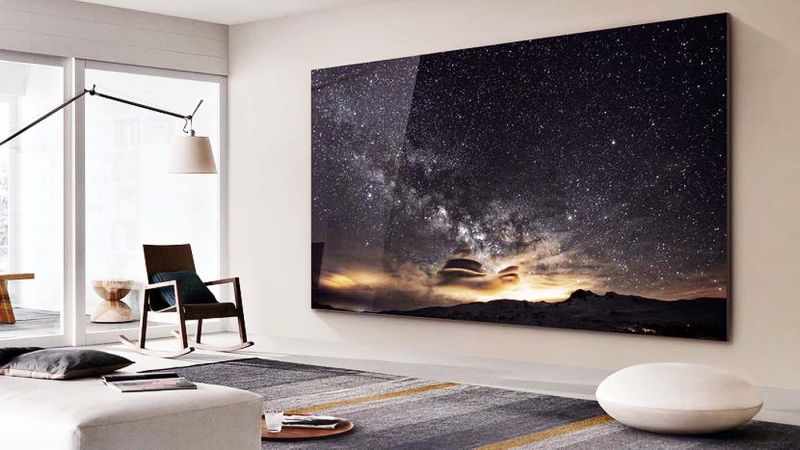 LG will soon launch a foldable TV, in its 65 inches Signature series. Basically, these are TVS that can be rolled up or pulled open like a map.
Most brands are also focusing on a crucial aspect of a TV viewing experience -- the remote that accesses your content. The time is almost here to throw away the remote and talk to your TV. Manufacturers are integrating Alexa and Google assistant into TVs. The mantra seems to be: Why twiddle (with buttons) when you can talk to your TV?
—IndiaTechOnline
Latest News
Most Popular
Columns