Technology
1MORE Stylish True Wireless review: Budget Galaxy Buds alternative
Deccan Chronicle| Aaron Almeida
Published on: July 12, 2019 | Updated on: July 12, 2019
When it comes to audio quality the 1MORE Stylish True Wireless are great but it has some issues which can't be ignored.
The 1MORE Stylish True Wireless is priced extremely competitively in a sea that's rapidly getting overcrowded with options spanning different price points.
1MORE are continuously setting the standard of what quality earphones are supposed to be. This year, the brand is implementing a new approach in a bid to reach a far wider and more discerning audience. With its Stylish series, 1MORE is offering users the opportunity to witness truly great audio and also look great flaunting their products.
The 1MORE Stylish True Wireless is the newest model from the brand's Stylish series and boy are these babies pretty to look at. With the new option, 1MORE doesn't want you to merely enjoy the freedom from wires; they want you to look good doing so.
The 1MORE Stylish True Wireless is priced extremely competitively in a sea that's rapidly getting overcrowded with options spanning different price points. At Rs 8,999, these are the brand's first foray in the true wireless spectrum and looking at the spec sheet, these earbuds are completely power-packed.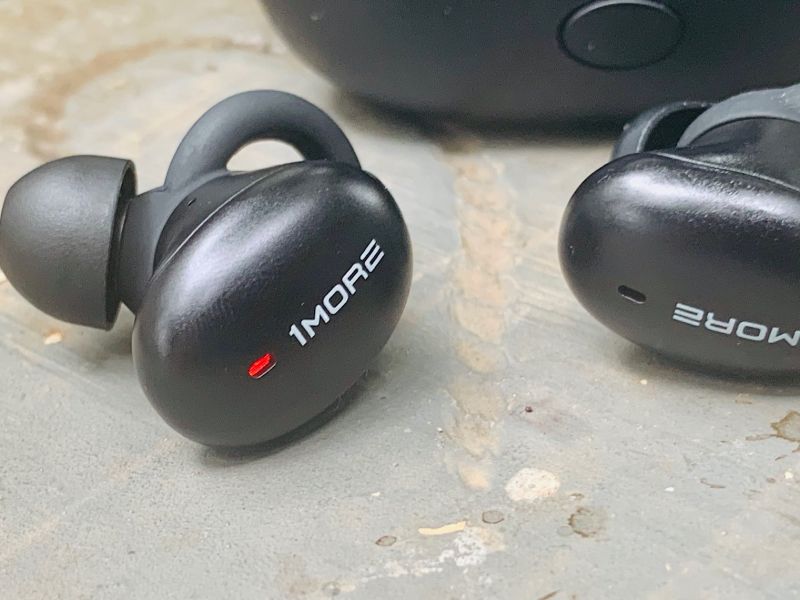 Design, Build
The 1MORE Stylish True Wireless earbuds have a lot going for it in terms of style and build. Built entirely out of plastic, these earphones are completely lightweight which makes for comfortable listening even for prolonged periods of time. However, coming with an all-plastic build, they feel a bit cheap to the touch and not premium. It's actually funny because 1MORE was going for an all-around 'Stylish' appearance and this model sadly loses out on that title. If these earbuds did not have the 'Stylish' tag associated with it, we could cut it some slack; however, that's just not the case.
As mentioned earlier, these earbuds are extremely comfortable to use. Shaped like little pebbles, they sit snug in your ear cavity without ever giving you the feeling that they will fall out. I used these earbuds in a variety of environments and doing a ton of activities and they never budged even slightly. If only more earbuds were made like the Stylish True Wireless, they would give them 1MORE a run for its money. Being true wireless earphones, comparisons with market leader, Apple AirPods naturally occur. While Apple's option is a one size fits all and if they don't it's your loss; thankfully that's not the case with these. 1MORE throws in additional ear tips and ear hooks to suit different ear sizes. We found this touch of personalization quite endearing as the brand ensures that these earphones are meant for absolutely everyone. 1MORE calls these wings O-hooks and they help with the additional stability when seated in your ear. Another advantage which these O-hooks provide is that they offer a seal that doesn't allow external noises to seep in; which is effective for the most part as it helps with the overall bass response found here. As mentioned, there's no one size fits all, so it's better to try on all options till you're completely satisfied. I found the ones that came packaged were the best ones for me as it offered a great, snug and comfortable fit.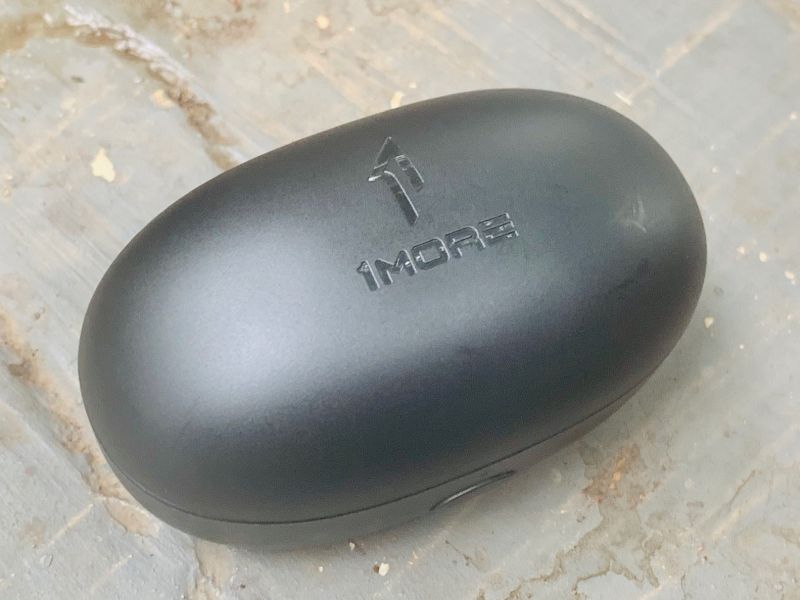 The egg-shaped charging case is cute and compact and that's not it! You also get a massive 24-hours of total playback here. While the charging case is one of the most portable ones out there; it does have its drawbacks. The first and biggest miss for me was the lack of a Type-C port. If 1MORE did, in fact, add a USB Type-C port over here, chances are that the price would have shot up quite a bit. While the compromise does make sense, I feel keeping it future proof is much more worthwhile. The second issue we had with it was the lack of a battery indicator. There are true wireless earbuds available in the market at a dirt-cheap rate that offer LED battery indicators on the charging case. I don't know why 1MORE skipped this useful and necessary feature. However, there is a charging indicator here and when it goes off; this means that the battery is topped up.
The case is spring-loaded and the only way to check on the battery is to peer at the earbuds sitting in its cradle.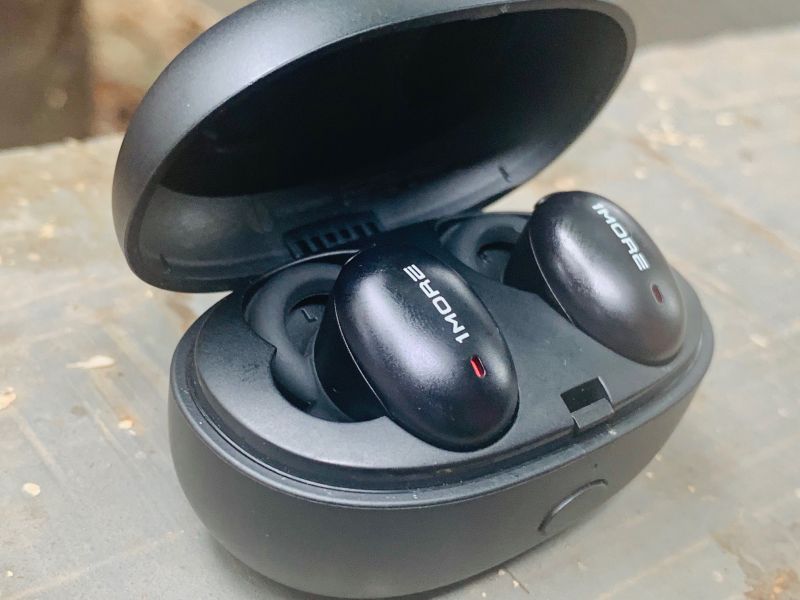 Performance
To start off, let me just get this out of the way — the audio quality of the 1MORE Stylish True Wireless earbuds are exemplary and based on this sole feature, it gets thrown to the top of our recommended list. With that being said, there are certain other performance issues which are quite a letdown which cannot be ignored.
To start of this section of the review I will first talk about the audio quality. These earbuds come with 7mm dynamic drivers that boast a titanium composite diaphragm that helps in emitting the finer details as well as offering an above-average bass output. The basic audio performance for me depended on how great the seal was and with the ear tips and hooks that came straight out of the box; I got the best experience imaginable. An issue with most true wireless earbuds is that there is an audio hiss that appears because let's face it; these form of earphones are still in its nascent stages and not as refined as traditional Bluetooth earphones. I am delighted to say that with these, there was no such sound emitted. The bass output from the True Wireless had a nice, crisp punch to it while highs had sufficient amount of extension which makes for pleasant listening. The overall soundstage is pretty good for earphones of this type but not audiophile-grade; getting no real complaints from me.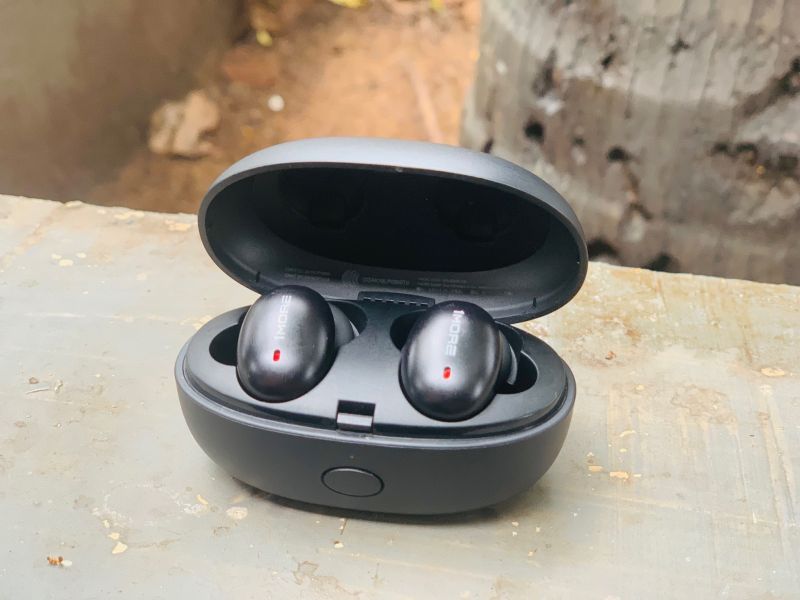 While the audio performance here is nothing short of great as it also supports aptX and AAC, there are a few issues which I can't ignore. The number one being connectivity which is strange since it features Bluetooth 5.0 as well as a Qualcomm chip that offers a fast and stable connection. While using these outdoors, the earbuds would intermittently lose its signal from the source. This anomaly was witnessed on both Android and iOS devices. This is most likely due to wireless interference that's very largely prevalent outdoors. The regular stutter or loss of connection made for an unpleasant listening experience.
The other issue I faced with the Stylish True Wireless earbuds was that every time I removed them from the charging case, they would not immediately connect to my smartphone. To ensure that it paired successfully I had to enter the Bluetooth settings on my device and reconnect the earbuds. This gets a bit annoying especially when you have to do it pretty frequently.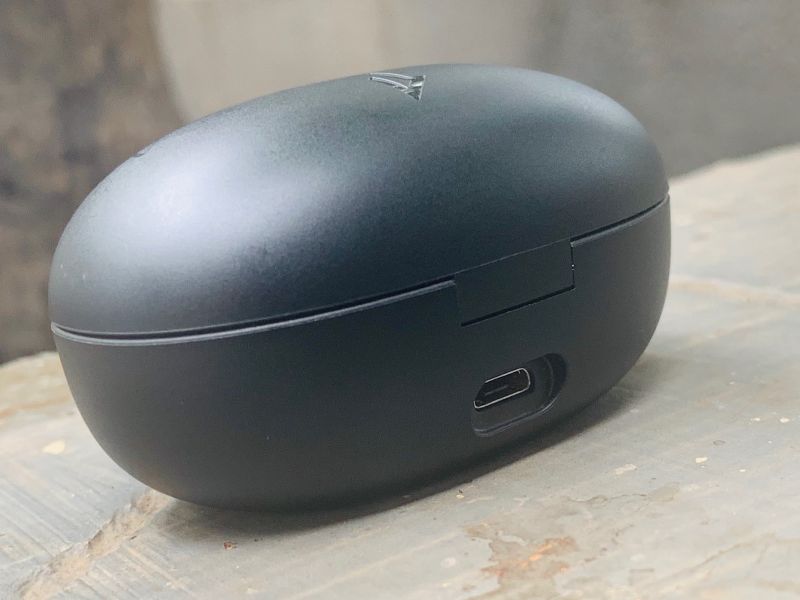 The third issue I faced with them wasn't as frequent as the first two but annoying nonetheless. When removing the earphones from the charging case only one earbud would turn on. To enable the second earbud, I had to press the single multifunction button so that they both worked.
These earbuds come with a high-stability MEMS microphone with DSP technology that helps in cancelling out ambient noises. During my testing, the earphones performed as advertised and the recipient could hear me very clearly without any issues.
Moving on, the battery life of the earbuds is rated at 6.5 hours on a single charge and in my week-long testing, I found this to be pretty accurate with the volume set at about 50 per cent. The charging case gives you a total of 24 hours and what's even more impressive is that it comes with fast charge. A 15-minute charge will give you as much as 3-hours of playback which is sufficient for completing most tasks such as watching a movie, finishing a gym session and other activities.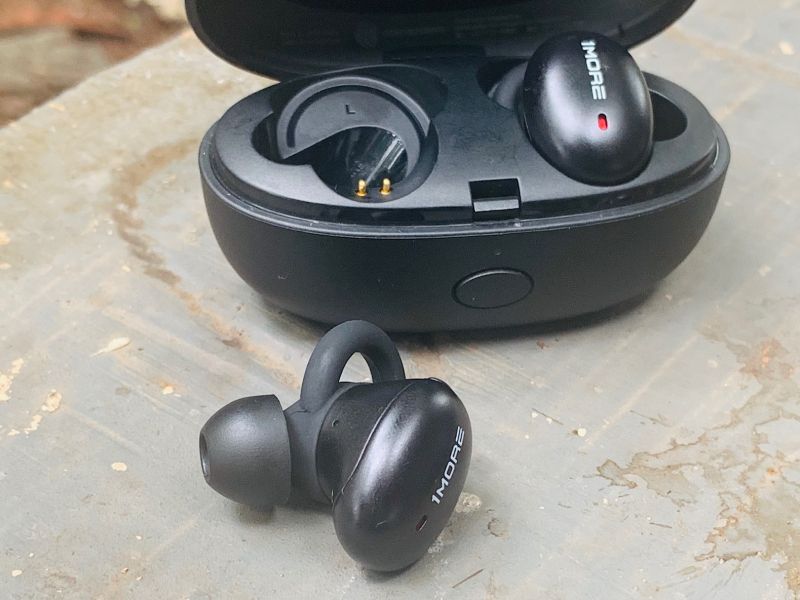 Verdict
Available in four beautiful colours — Pink, Gold, Green and Black as well as being priced attractively at Rs 8,999; these make for an excellent option if attractive looking earphones with great audio quality are your thing. These are definitely head-turners and we guarantee you if you purchase any colour apart from black you are definitely going to be noticed; thereby raising your style quotient greatly. However, when it comes to the build quality, the plastic body put me off and what lost these earphones some of its points are the connectivity issues which can't be ignored as you won't get an ideal listening experience. If you have no problems with this and want an otherwise excellent option when it comes to audio quality, then the 1MORE Stylish True Wireless is an ideal choice for you.
Latest News
Most Popular
Columns