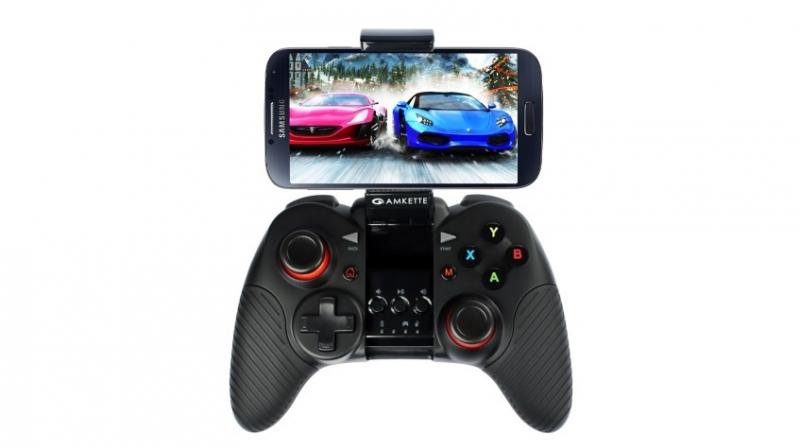 Amkette, better known for their floppy disks, entered into the peripheral market a long ago. Now it has a series of accessories under its belt, ranging from storage drives to input devices, and audio to gaming and computer peripherals. With the success of the previous gaming attachment for smartphones, company has launched the Evo Gamepad Pro 2, which the Amkette claims it will enhance the gaming experience of the user.
The Amkette Evo Game Pad Pro 2 comes with media control buttons and is compatible with more than 400 games that are curated through their Android app. The device is highly portable and can be carried in your pocket or bag with great ease.
Key specifications:
Interface: Bluetooth 3.0.
Operating Range: 10 m
Buttons: 2 Bumper Buttons, 2 Analog Sticks, 2 Analog Triggers.
OS Supported: Android.
Battery: 400 mAh rechargeable Li-Polymer battery
Material: ABS, rubber.
Color options: Black.
Package contents: Evo Gamepad Pro, Tablet Stand, Micro USB Charging Cable, Quick Start Guide, App Guide.
The Evo Game Pad Pro 2 comes with an improved clamp spring for easy docking and clamping of the smartphone. The trigger and bumper buttons too are enhanced with softer control buttons for enhances gaming control. A sleep mode has been implemented in the new version, which will ensure lower battery drain when the device is not in use. It will automatically power off the device if not in use for more than 8 minutes. The Evo Game Pad Pro 2 also has an easy change button which allows the user to switch between gamepad mode and mouse mode.
Priced at Rs 2,899, the Evo Game Pad Pro 2 seems a little steep, but only a gamer would know the actual value for money it offers. The Evo Game Pad Pro 2 is exclusively available on Amazon.in.
Click on Deccan Chronicle Technology and Science for the latest news and reviews. Follow us on Facebook, Twitter.
...