Technology
Mi Band 3 review: Xiaomi's best VFM tracker gets even smarter
Xiaomi brings a lot of new features and an attractive design without altering the price of its budget fitness tracker.
Xiaomi is making strides in providing high-quality technology for extremely affordable prices and the Mi Band 3 is a living testament to that.
The Mi Band has been an important Xiaomi product for the Indian market in the recent history. It has single-handedly added a considerable boost to the wearables market without making consumers' pocket bleed money. Last year's Mi Band 2 made for a great option for those who wanted to enjoy some of the smart wearable features without paying too much money. Xiaomi even went on to offer a cheaper HRX edition that omitted the heart rate tracker and brought down the price even lower. However, there's a replacement now for the 2-year-old tracker — the 3rd generation Mi Band.
Christened as Mi Band 3 (a sequel obviously!), the new model brings a lot of new features and yet asks the same amount of money that its predecessor demanded — just Rs 1,999. It now offers a bigger touchscreen display, a larger battery and more parameters to track. On paper, it appears to be a step in the right direction.
Design, Build
Xiaomi is known for bringing quality products at extremely affordable prices to the masses. The Mi Band 2 wowed everybody back in 2016 for offering a display and a heart rate sensor, glued together in a package that was too good to resist. The Mi Band 3, in theory, offers the same, but in an upgraded package in every area.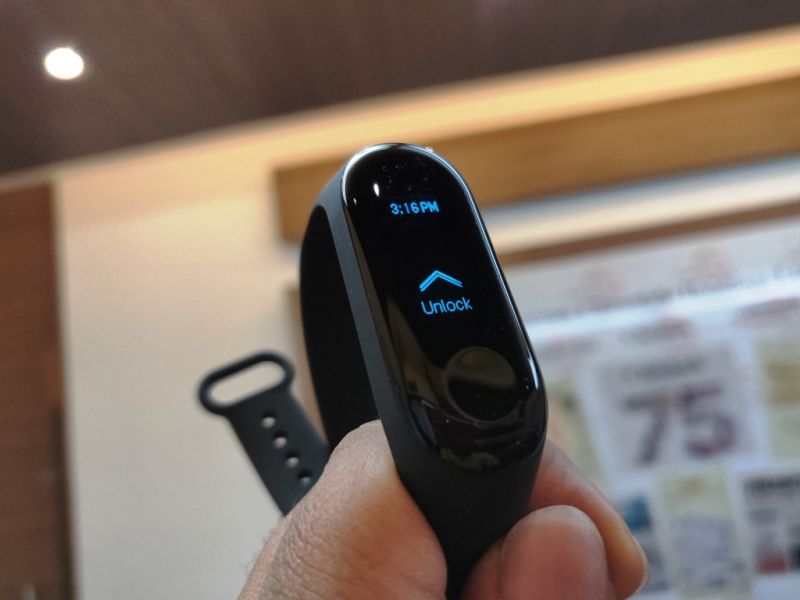 For starters, the tracker is a drastic upgrade from the older model. Instead of a flat display, the Mi Band 3 tracker gets a more curved form factor with the new edge display. The entire display is curved, which not only makes it look appealing, but also makes it easier to swipe on the screen. There's a button similar to the older bands, but now it's part of the glass panel and has a recessed dimple in order to let users know its location. The curved glass panel does raise some queries about its durability, considering the tracker will experience several bumps into hard substances and the exposed glass edges could lead to the panel prone to cracks.
Nonetheless, Xiaomi claims that the tracker is water resistant up to 50m in depth, which means it can easily withstand torrential downpours or hand washes without bothering. The actual display is still smaller than the body, but the dark glass outer panel makes it look almost bezel-less.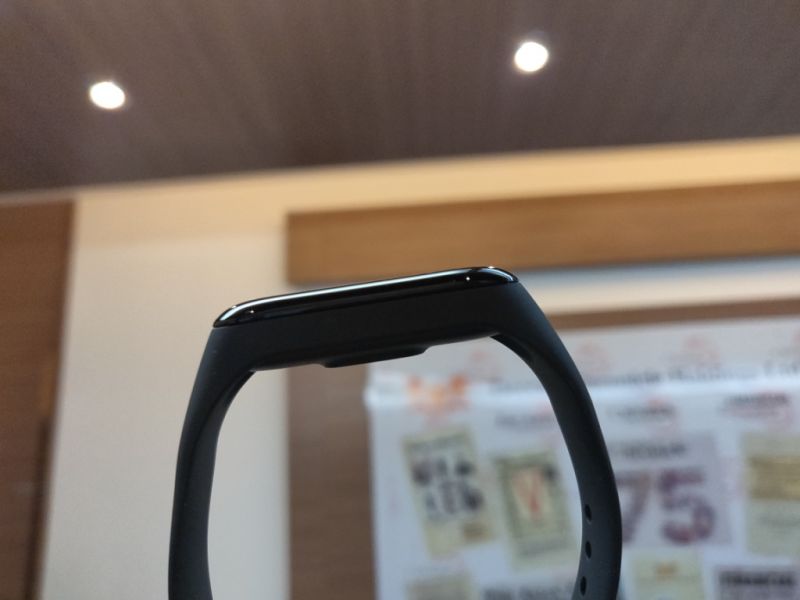 Of course, with every new fitness tracker comes the question of comfort and the Mi Band 3 impresses highly in this regard. The new silicone strap is now softer than before and feels friendlier to the skin. With a total weight of just 20g, the Mi Band 3 feels like nothing in comparison to the bunch of other affordable fitness bands out there. You can easily wear it all day and even forget that it's on your wrist. The strap's unique design lets its adjust to any kind of wrist shape/size round or flat, which eventually means you are seldom adjusting it for grip.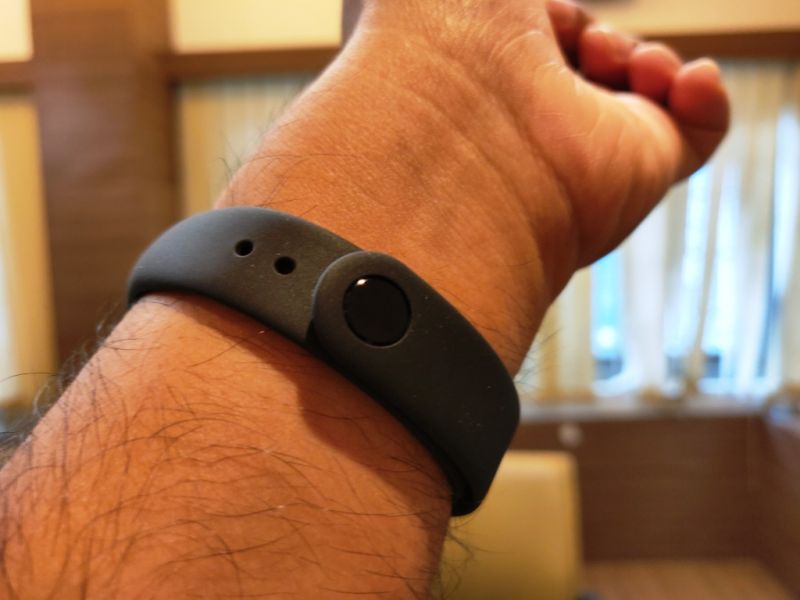 And since users of Mi Band 2 had a gripe about the tracker falling out of the strap, Xiaomi has gone in for a new strap design (the holder slot) that makes it almost impossible to pop the band out. It's held so firmly that it often becomes tricky to get the tracker out for charging. Yes, you still have a dongle with POGO pins for charging the tracker and it needs to be popped out of the strap.
Features, Performance
For this year's model, Xiaomi is promising a host of additional features compared to the older model. The biggest noticeable change is the new touchscreen display that's bigger at 0.78-inches. The panel is still a monochromatic OLED, which is why you only see all the information in white. However, the resolution is now sharper and a tad brighter than before, but it still isn't visible very clearly under direct sunlight. Since it can now be operated via touch input, you can swipe your way through the list — swipe up to go through all the categories and swipe left/right to view options in each one of them. Xiaomi has taken advantage of the bigger display and now uses it to display more information than its predecessor. The button below it acts as a sort of back button for whichever screen you are in and long pressing it will hold certain activities related to the highlighted option on the display.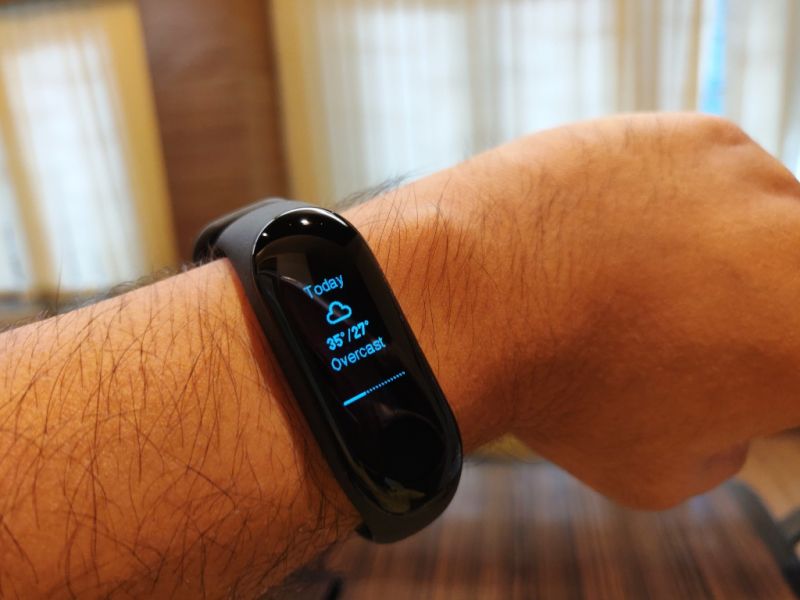 You can view weather forecasts up to three days in advance, with small intuitive icons. Most importantly, you can now read your content from WhatsApp, Instagram, Twitter and Facebook notifications. This is a highly useful addition especially for commuters when one needs to have a quick glance at the notification without taking out the phone. The Mi Band 3 will keep on accumulating up to five notifications, which can be cleared once you tap and hold the touch button for 3 seconds. Do note that the notifications don't disappear on their own even if you have dealt with them on your phone, so you will need to clear them out manually.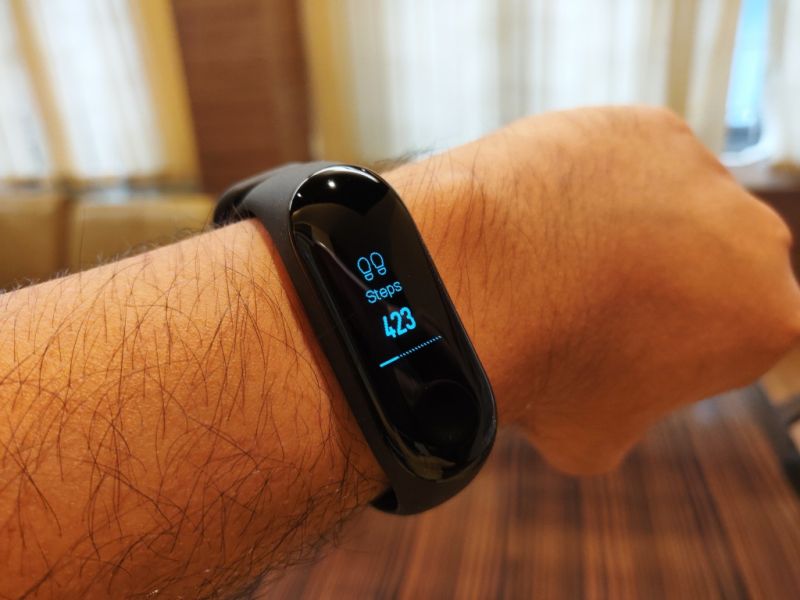 Next up is the step tracker option, which shows the number of steps, the number of calories burnt since the start of the day and the total distance covered. The step tracking is noticeably improved from the predecessor and fitness freaks can surely rely on it. Weirdly, the battery meter also sits in this section. The heart rate monitoring needs to be activated by holding the button for 3 seconds, post which it starts tracking the heartbeat and shows the information within seconds. Sadly, Xiaomi still hasn't gone for live continuous heart rate tracking, which is something the competition offers a standard. However, you can enable an all-day tracking through the Mi Fit app, which will let the band read your heart rate at user-selectable frequent intervals — a duration of at least 1 minute to 30 minutes. Do note that it depreciates the battery faster.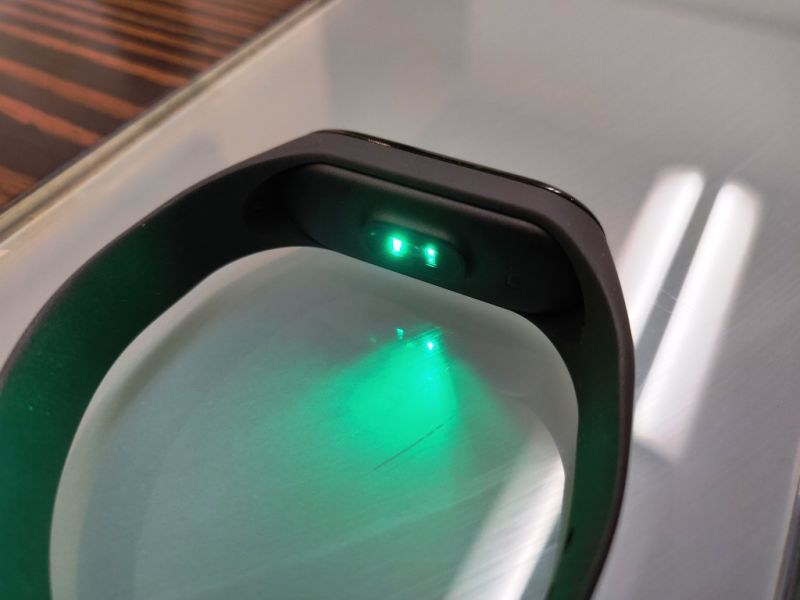 There's a new exercise mode, which once initiated, starts recording various parameters of the body using all the onboard sensors to let you know your gains in the form of calories burnt and your heart rate. In exercise mode, the tracker keeps on tracking the body stats live and one needs to manually stop it. For those who like to give their bodies a tough workout, this may be the most cost-effective way to monitor your body parameters.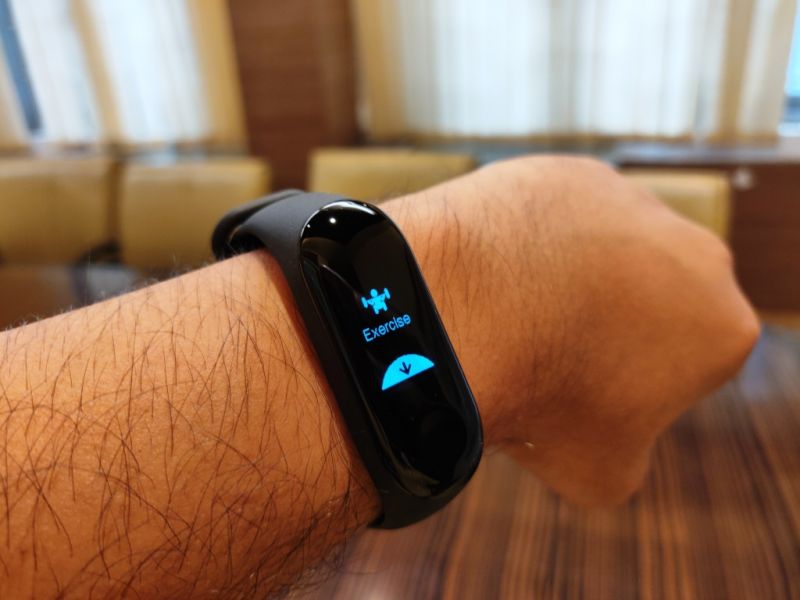 Lastly, a 'More' section houses a highly useful stopwatch feature, a silent mode to turn off the vibration feedback and a 'Find My Device' option to locate your phone if it's within the Bluetooth range by playing the ringtone. You also get a 'Screen' option that lets you choose between three watch faces that display a host of information in three different styles. You can swipe to choose your desired watch face and tap on it to select it. A highly useful feature is the 'Swipe to Unlock,' which can be enabled from the Mi Fit app and prevent the Band 3 from responding to accidental touches.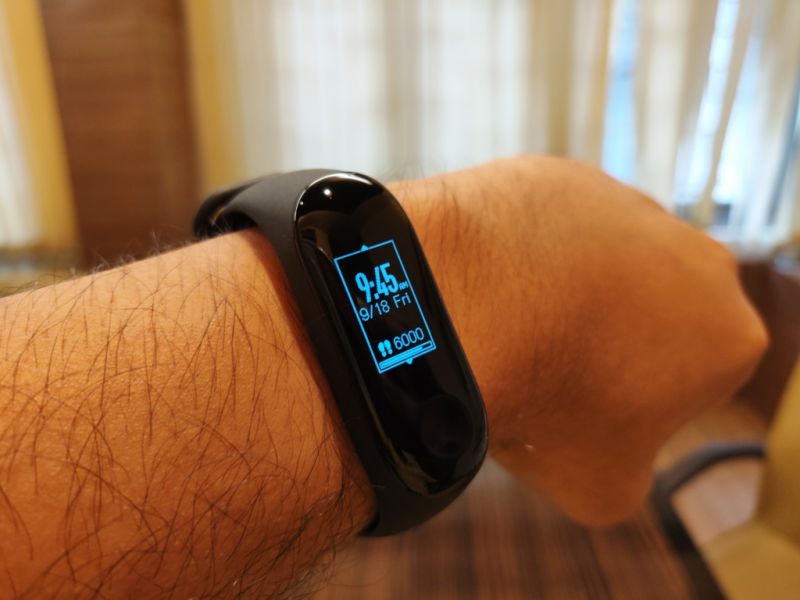 Since we have mentioned the Mi Fit app a lot, existing Mi Band users will be pretty familiar with the app. In fact, nothing much has changed since we last reviewed the Mi Band-HRX edition. The app is instrumental in setting up the tracker and delivering firmware updates. It collects all the data from the tracker and it applies algorithms on them to show various statistics such as sleep data, burnt calories, weight monitoring and heart rate variation. If you don't fancy the presentation, you can integrate your band with Google Fit for a more detailed take.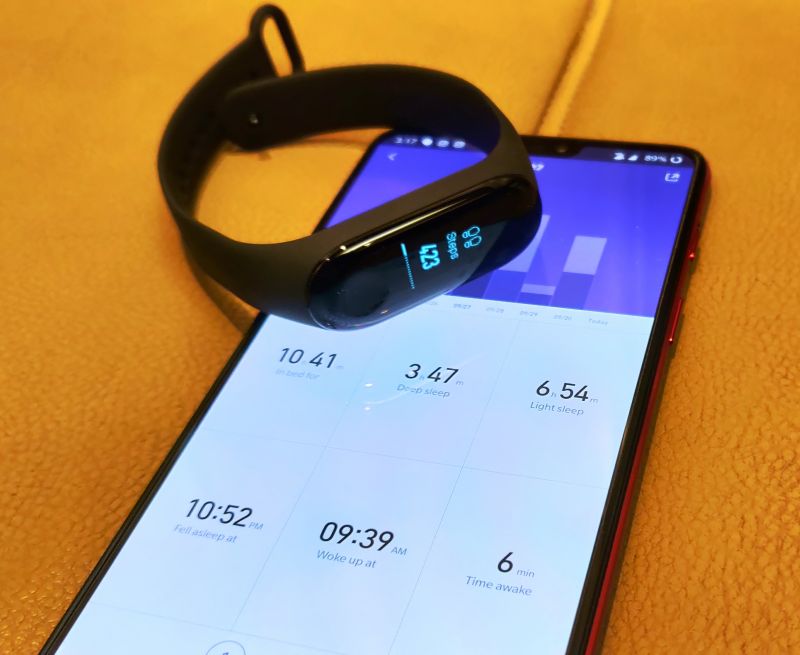 With the app, you can tweak various settings of the Mi Band 3. You can choose which apps can display notifications or set multiple alarms on the band. Fancy which ringtone to play when you request the 'Find My Device' feature? You can choose it from here. Don't like the heart rate sensor always tracking your beats? You can turn it off.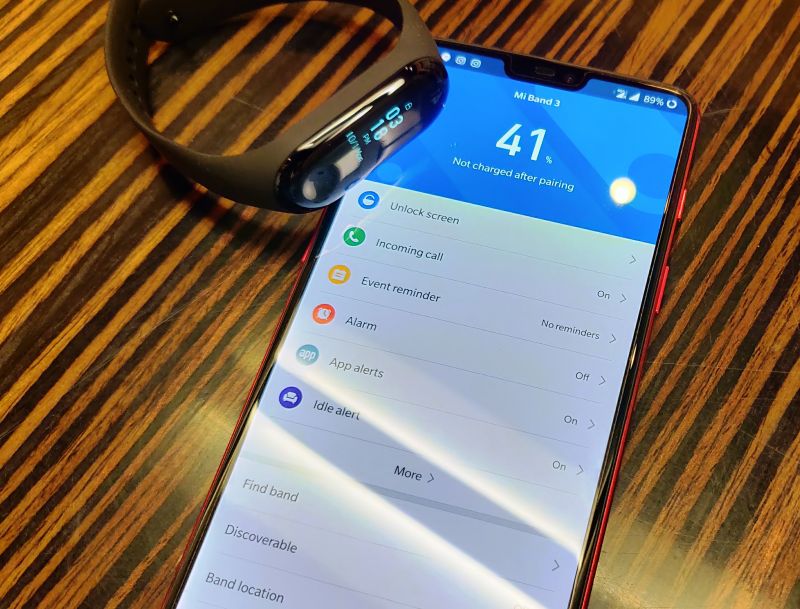 Fiddle around and you can customise a lot from here. However, there's one drawback here — you can't pair two Xiaomi wearables to a single Mi account. Therefore, if you have been using an older version of Mi Band registered to your Mi account, you will have to deregister it from the account in order to pair and use the new model. The same process also stands true if you want to re-use the older or any other wearable from Xiaomi.
Battery
The Mi Band 2 was kept alive by a 70mAh battery and that could easily last 20 days when used with all the features activated. With the Mi Band 3, Xiaomi had to keep in mind the bigger power-sipping touchscreen display and live tracking in the exercise mode. Therefore, they have plonked in a bigger 110mAh battery, which promises stamina of up to 20 days. With the continuous heart rate tracking and constant connection to a smartphone with all the notifications enabled, the Mi Band 3 lasted us for around 11-12 days. If you disable the continuous heart rate tracking, you can stretch it close to promised 20-days-mark. In both cases, you can simply charge it, strap it on your wrist and forget it as it will last enough for you not to worry about filling it up every 2-3 days. Do note that it takes around two hours to refill the band once the stamina depletes completely.
Conclusion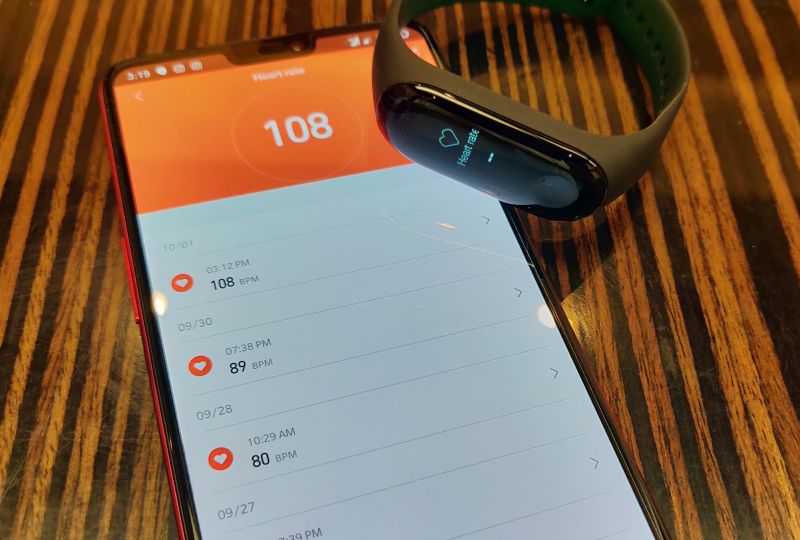 Xiaomi is making strides in providing high-quality technology for extremely affordable prices and the Mi Band 3 is a living testament to that. The new model offers a substantial upgrade over the previous model, making it an all-day assistant on your wrist keeping a tab on your health and helping you go through the day with quasi-smartwatch functions. Surely, around the Rs 1,999 mark, there are a lot of other fitness trackers that offer more features such as blood-oxygen and blood pressure tracking, and a colour display. However, when you compare all of them to the Mi Band 3, you could be impressed for the all-round refinement that Xiaomi has baked into the Mi Band 3, thereby begging a belief as to whether Xiaomi is losing some money on every single one they sell.
Therefore, if you are looking for an efficient fitness tracker or a watered-down smartwatch-like band without losing cash like sweat, the Mi Band 3 is our top pick for this year's best budget fitness tracker.
Click on Deccan Chronicle Technology and Science for the latest news and reviews. Follow us on Facebook, Twitter.
Latest News
Most Popular
Columns