Rating:
GoPro has been producing high quality action cameras for years. GoPro cameras are simple to operate, are highly compact and are available with outer shells that can survive almost any weather. Last year, GoPro introduced two new additions to the Hero 4 edition—Black and Silver. While the Black edition is the top-of-the-line action camera that can shoot 4K videos at 30fps, the Silver cuts down a few features to make it more affordable to the masses.
One notch below the Black edition, the Silver is a step down model and can be compared to the Hero 3 Black edition. For many out there, the Black edition was the only one on the desk with the best quality video and features. The Silver is identical in looks, shape and size as that of the rest of the lot. Simple layout, wide-angle lens rugged body and few others—are the highlights of all GoPro cams.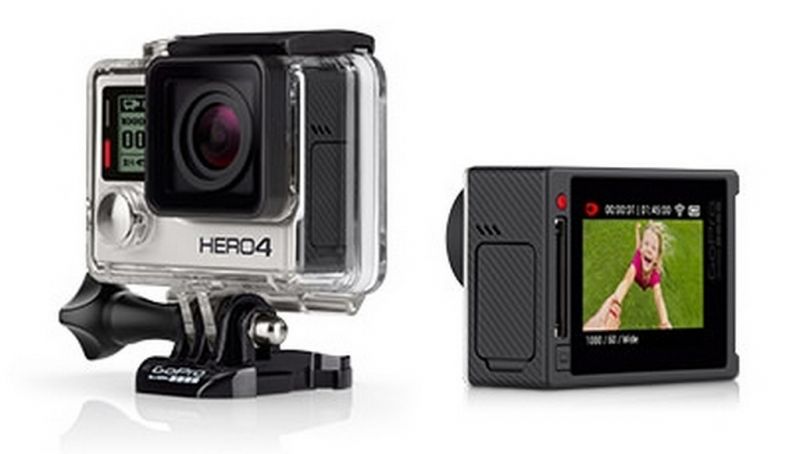 The Silver has a slightly different angle. This one has a touchscreen at the back of the camera, unlike the Black which has no LCD display to playback videos or make any settings. This LCD add-on is a great welcome to those who need to look at their videos before they delete or approve them.
Unlike other GoPros that could be controlled only via the tiny front LCD screen, the rear display allows you to control the entire camera and its settings. Choose to change the modes, features and functionality accordingly at will. This is a great option for those who are new to a GoPro camera.
The GoPro Hero 4 Silver features an 84g body with dimensions of 59 x 41 x 29.6mm. It features a 12MP sensor with a wide-angle lens for capturing photos and videos. The Silver runs off a removable battery rated at 1160mAh, which can let you shoot videos with the LCD display kept on for about an hour. Well, this will definitely depend on conditions such as video quality, display settings and storage variants. What also affects the batter life is if you are using the GoPro along with Wi-Fi, Bluetooth or with an additional battery pack. Therefore, on an average you should expect a maximum battery life of up to 3 hours.
As for the software within the camera, nothing has changed much. You can shoot videos with three lens modes—narrow, medium and wide. Video can be recorded at 4K resolutions @24fps, while slow motion can be achieved at 30fps and 60fps with resolutions of f80p and 720p respectively. Apart from videos, you can also take 12MP photos with up to 30 seconds continuously in burst mode. Optional settings include timelapse too, which can be set to achieve amazing videos of the street, sunrise, sunset, and almost anything. Timelapse options are available from 0.5s to 60s.
Advanced photo and video capture settings include manual control over White Balance, ISO, Colour, Sharpness, and Exposure. ISO settings start from 100 and move all the way to 6400—you are covered from noon to night.
The GoPro also captures audio in mono and optional stereo too. It can record at 48KHz sampling with AAC compression along with AGC. External microphone options are available and can be purchased separately.
The GoPro Silver uses a mini USB for charging and data transfer to a PC. This is the only disappointing area where GoPro should have advanced itself. With almost every smartphone and newer gadgets out there, micro USB connectors are a norm. Having a mini USB connection option is so old-school. The mini USB port also supports audio recording (via a 3.5mm microphone adapter) and CVS output (optional adapter). The Silver also sports a micro HDMI port, however, the cable needs to be purchased separately. Lastly, a micro SD card slot is available for storage, which can support high-speed storage cards of up to Class 10 or UHS-1 ratings with up to 64GB capacity. Additionally, the GoPro Hero 4Silver also supports Wi-Fi and Bluetooth, which can be used to pair with your smartphone and the app can take control over the camera remotely.
Bundled along with the camera is a standard waterproof and dustproof housing (up to 40m underwater), a curved and flat adhesive mount for mounting the camera on your car or helmet, a 3-way pivot arm which acts as a tripod when mounted and a USB cable.
Using the GoPro camera could be a little cumbersome for starters or newbies. However, a few hours of play with the Silver and you will become a pro in no time. Videos shot with the GoPro are excellent and almost flawless. However, we see that the slow motion videos, though good enough, could be beaten by iPhone's 'slower' motion camera. However, the GoPro has a different use altogether. The device is meant for those who want to shoot action when outdoors. It is a great camera with all the necessary functions, proper size and requires usability with the proper gear for any sport and environment.
Since we did not have a proper environment to shoot sample photos and videos, it would be unfair to put them out here. However, check out some samples shot and posted by various people on the internet.
The GoPro Hero 4 Silver is exclusively brought into India by Reliance Digital. GoPro has launched the Hero 4 Silver, Black and the Session in India with an exclusive partnership. The Hero 4 Silver costs Rs 34,990, while the Black will cost you Rs 43,990, and will be backed with a warranty period of 1 year. Other than the three cameras, the company will also introduce a few mounts and accessories, allowing people to explore new ways to capture unique pictures and videos. Reliance Digital will also be selling some of GoPro's best-selling mounts, including the Chest Harness, 3-way, and Headstrap along with the QuickClip. We highly recommend using GoPro cameras for a hassle-free video shooting when you want to enjoy yourself without the trouble of paying attention to your video shooting skills. Simply shoot free!
Click on Deccan Chronicle Technology and Science for the latest news and reviews. Follow us on Facebook, Twitter.
...