Rugs become the canvas for some Rajasthani weavers who thread their own life stories into them — from personal details to the kalash outside their home to the shakarparas they love to munch on.
Rugs may not be the most conventional canvas for creative expression, but when it reflects the story of someone's life, it becomes more than just a decorative addition to a living room. Artisan Originals, a collection of handmade rugs created and designed by local weavers in the villages of Rajasthan comes with several such stories. Each rug is born out of a weaver's life, incorporating anything from personal travesties to the kalash placed outside the village homes, shakarparas (a sweet snack) and more. Initiated by Jaipur Rugs Co., the enterprise ran workshops for local craftspersons in the villages.
Kavita Chaudhary, the head designer at Jaipur Rugs Co., says the idea for the collection germinated on a routine trip to a village. She recalls, "I noticed a young girl wearing a dupatta embroidered with a few names. When I asked her about those names, she said these were the names of her best friends. I found that fascinating. I also realised that the approach to design in villages is very distinct from those of us trained in schools and colleges in the city. I began to notice more things — how these people decorated their homes, how they approached their lives. There was originality here, and it was unlike anything I had observed in the city."
A villager's cycle parked beneath one of the rugs woven for the collection.
Seeking to capture this approach in the medium she knows best, Kavita and her team then set about enabling local weavers from these villages to design rugs from their point of view. The weavers were provided 1,200 kg of raw material including over 50 shades of wool and bamboo silk yarn that they could experiment with. "The idea was to focus on the visual aspect more than the technique," Kavita shares, adding that the most defining step for the weavers' creative process was the choice of colour palette. She states, "A weaver earlier told us that creating a rug with colours she didn't like was a half-hearted process. A colour palette would enable them to connect with the rug they were going to create. That's when we realised how important colours were for them. These weavers have a very specific sense of their individual colour palette. Some worked with dominating shades, while others opted for neutral ones. We had them pick their colour of choice by tearing out pages from a bunch of magazines and then develope
d a colour palette for each of them. Asking them wouldn't have given us the response that visuals did."
When it came to creating patterns and motifs for the rugs, weavers worked with a distinct process. Kavita says, "There were some weavers who made their design up as they went along — they had no vision about what their final outcome would look like. And then there were others who had a very clear idea about what they were doing. The weaver who created the shakarpara rug, for example, had a clear understanding of what her next step would be. Similarly, there were several distinct processes and modes of expression — some tended to be more pictorial, some more figurative and some completely abstract."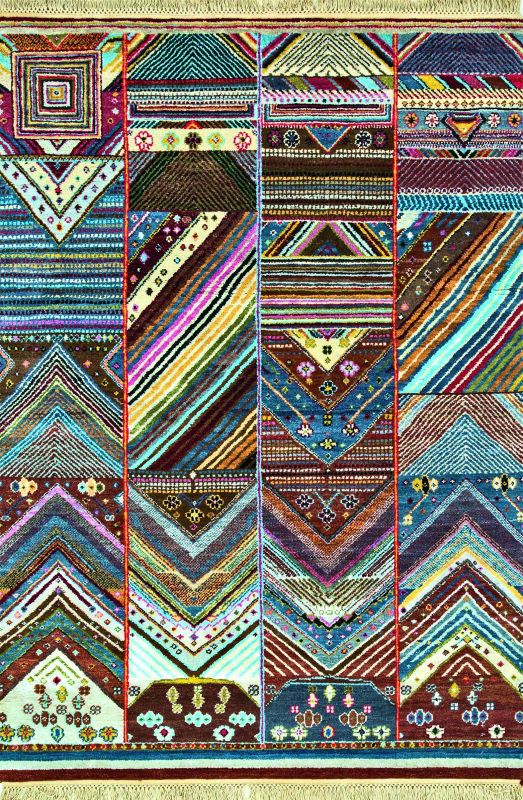 One more rugs from the collection.
Apart from the myriad elements taken from the local landscape, threads of personal experiences also wove themselves into the imagery in some of the rugs. Kavita shares, "In one specific instance, the weaver was suffering from lung cancer. When we asked her what her motifs represented, she told us that they were her lungs. The imagery was very abstract and the colours were chosen from her experience." After rugs, Kavita now plans to initiate a similar collection of pillows, giving weavers a smaller canvas to express themselves and their lives.
...