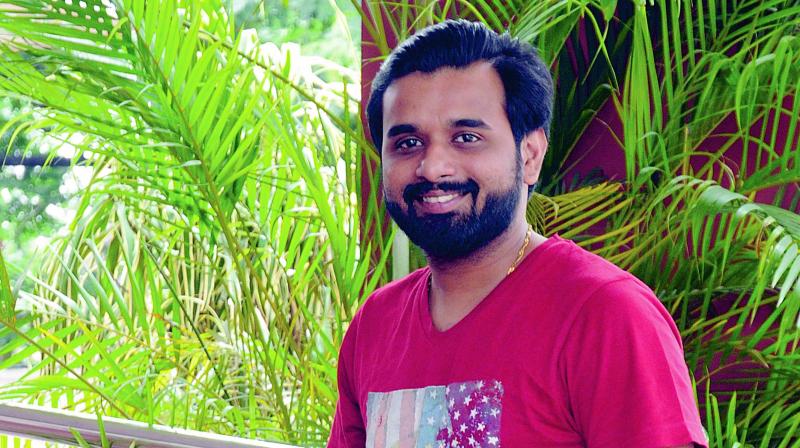 Writer Sudeep Nagarkar was as excited as a kid to watch the first shower of monsoon in Kochi and went on clicking photographs. As we sat for the interview, Sudeep looked happy with his first brush with the monsoon this year, and introduces his seventh book She Swiped Right into My Heart. Like all his previous novels, love remains the core theme of this book, set against the backdrop of a campus. It narrates the story of Geet, an unpopular girl in college, who takes the help of college hottie Rudra to get ahead.
The ups and downs in their relationship, and how Geet's transformation brings about changes in her friendship with Vivian, Shibani and Thushita, make the plot gripping. "It feels good when your work gets recognition. But for me, what matters the most is sending out a message to the young generation through my book. Every time I write a book, I keep this in mind," says the young author and motivational speaker.
This time, Sudeep has tried to address the issues faced by the LGBT community. "It was a conscious decision," says the author. "They co-exist in this society and we have to accept them. In society, 80 per cent of the people may be writing with their right hand. That doesn't mean those who write with their left hand are sinners. There is a difference between gender and sex; I highlight that in this novel," adds the author of You're Trending in my Dreams.
She Swiped Right into My Heart by Sudeep Nagarkar Rs 175, pp 256 Ebury Press
An engineering graduate, his journey towards becoming a full-time writer has not been a cakewalk. "I started writing while I was doing my engineering course. Jotting down my thoughts on my personal diary ignited the spark in me. I was not a great student and I found solace in writing. It helped me come out of depression," he recollects. "I had to convince my parents, who gave me two years to prove my mettle. The challenge was not to improve my writing skills but bank balance," he adds.
According to him, in India, it is not easy to be a full-time writer. The first challenge is to find a good publisher who would recognise one's talent and do justice to the work, he opines. "My first book was published by a local publisher. It was like a personal diary and I hardly imagined it would go places. Upon realising that there were grammatical errors in the draft, I reedited the copy with the help of a professional editor, and sent a new draft to my publisher. But he rejected it, which was disappointing," says Sudeep.
The next factor is the shelf life of a book. "The market is flooded with books in the genre I am writing. The shelf life of books has reduced considerably from the time I began writing in 2011," he says. Marketing is yet another aspect one has to take care of. However, the content comes first. "If the content is not good, the book will not survive. All I want to tell budding writers is to get ready to face criticism." Few Things Left Unsaid, It Started with a Friend Request, That is the Way We Met, and You Are The Password to my Life are Sudeep's other popular books.
Interestingly, Sudeep''s next will be about his own love life. "I was in a long-distance relationship for three years. I will be exploring its different sides in my next novel. It is difficult to write one's own life. You relive those moments which may be traumatic sometimes," he sums up.
...