Sunday Chronicle
Beyond the horizons
Deccan Chronicle| Namrata Srivastava
Published on: September 8, 2018 | Updated on: September 8, 2018
Travel blogger Shivya Nath is forever on workation' mode.
Shivya Nath.
But two years into my cubicle-bound nine-to-five routine, I began to feel a strange longing for freedom again. That's when it happened, almost as though the universe understood my longing. While tracking the online activities of brands in the tourism industry as part of my work, I stumbled upon a contest giving away two return tickets on AirAsia's inaugural flight from nearby Kuala Lumpur to Paris. To enter the contest, I had to answer a pertinent question: What would you do differently if you had a second chance at life? I scribbled the deepest answer I could come up with at the time... and won!
And this became the turning point of then 23-year-old travel blogger Shivya Nath's life. This excerpt from her upcoming book, The Shooting Star, reveals that the blogger wasn't cut out for a nine-to-five routine job. Ask Shivya what prompted her to leave the tried-and-tested path behind and take up travelling as a means of livelihood, and she quips, "How could I explain in words my craving for freedom, that longing for anonymity, the need to distance myself from everything I knew in my universe?" She shares, "I wasn't going to live out the rest of my life, and definitely not the rest of my 20s, in the confines of a comfortable cubicle and a steady pay cheque."
This craving is not new nor is it exclusive to Shivya. Many of us feel the need to break away from the monotony of day-to-day life and go out exploring the world with a backpack. But how many have the courage to do that? Shivya, however, believes there is no greater tragedy than living a mundane life. "The world is full of books, movies and stories about how the loss of a loved one, or a change in fortune, or a severe illness or another tragedy of such magnitude catapulted someone to reset their lives and chase long forgotten dreams… But what about the tragedy of a mundane, average, unfulfilling life," the traveller expresses.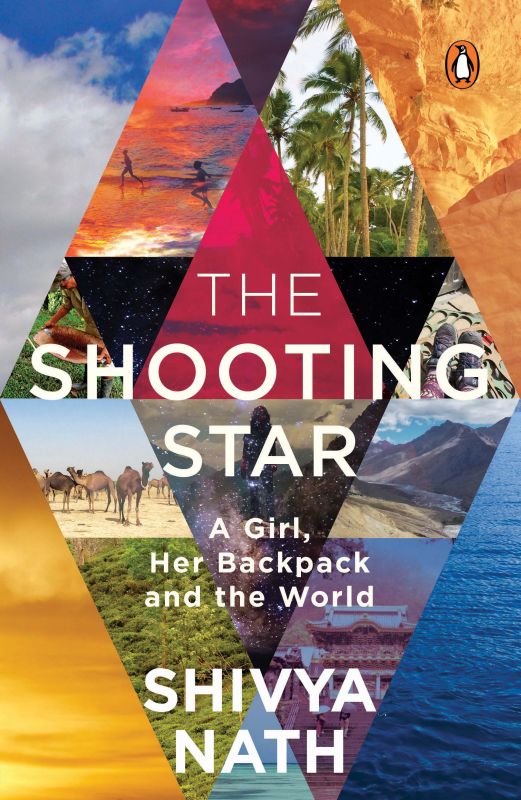 The Shooting Star by Shivya Nath Rs 599, pp 320 Penguin Random House India Cost: Rs 299 Pp: 201
Hers is one of the most-read travel blogs in the world and she has many followers across various social media platforms too. While much of her travel has been documented in her blog, theshootingstar.com, Shivya shares that the book was an explanation to herself about her life decisions and travel. "The book was a way for me to retrospect on my journey so far and understand what I wanted to do in the future," she shares. But it has a lot in store for readers too. "My blog, I believe, is a snippet of my adventures as well as a mix of travelling tips. But it also has stories from my travels that aren't a part of the blog. For a long time, I wasn't ready to share a few details about my life and travel but now I feel that I am mature enough to put them out there. All in all, the book is full of anecdotes and stories."
Sharing one such anecdote, Shivya says, "There are many places that I loved travelling to and exploring. One great experience that comes to my mind is my recent travel to Cuba. It was a bit challenging for me since there is not much internet connectivity there. The internet only works in the public park, that is if you are lucky. So you literally can't rely on any online maps or TripAdvisor. However, the people are very helpful. It was a pretty amazing experience as people went out of their way to help me figure out the place, from directions to where to eat and where to stay. They even helped me with hitchhiking."
However, not every place has helpful people. "I got mugged in Costa Rica. While I had a great time exploring the remote areas and interiors of the country, this unfortunate event took place in the capital. It just shook my faith in the world. It was difficult since I was so far away from India but one just has to keep moving on," she says. Juggling the blog, the work on her book and her explorations wasn't easy for Shivya. Explaining the process, she says, "I started putting it together last year. I don't exactly maintain a diary, but my blogs and social media posts were my points of references. So, last year, my book was my main focus. I didn't write as many blogs as I generally do. Everything took a backseat as I was only focussed on the book."
But the author is not just a traveller, she is an entrepreneur too. "I realised it soon after I started travelling that there are many unexplored destinations. Even in South-east Asia, we started looking for places that weren't explored by many people. It's always full of surprises since you aren't sure where you are headed and what kind of people you would meet — it's a lot more adventurous. So when I moved back to India, I started a company called India Untravelled, which helps you explore places that not many go to."
Shivya's blog and writings have helped many people change their perspective about young girls choosing unconventional professions. "Some readers of mine have sent me emails about how a blog post of mine has helped them convince their parents to let them travel solo. So it certainly has an impact on people when they get to know that a girl, who hasn't had a fancy upbringing, is travelling and exploring the world and also making money out of it," Shivya concludes.
Latest News
Most Popular
Columns