Sunday Chronicle
Priyanka Chopra: World's hottie, India's loss?
Deccan Chronicle | DC Correspondent
Published on: January 21, 2017 | Updated on: January 22, 2017
Read on to know why Priyanka Chopra needs to be celebrated and not condemned, applauded and not admonished!
Priyanka Chopra
Today, Priyanka Chopra, with a cool 16 million followers, is undoubtedly, the queen of social media. Just about anything she does, says or posts, is lapped up by fans within seconds. In her recent tweet, she quoted Meryl Streep (who in turn, quoted the late Carrie Fisher) saying, 'if you have a broken heart turn it into a piece of art'. Those who know her closely will also know that Priyanka did just that. She was pretty much amongst the top league of heroines in Bollywood, when she decided to pack her bags and gamble with her role in ABC's Quantico as a sexy FBI agent. Fortunately, the piece of art — Priyanka's broken heart — turned out beautiful. Priyanka is now the flavour of Hollywood and hot favourite at all Hollywood red carpet soirees. When she packed her designer bags to head to Hollywood, two years ago, she left with a broken heart. Loud whispers of her proximity to a certain superstar meant being distanced from most of the Bollywood fraternity that is at the end of the day, a small, small world.
Stills from Quantico
This some would say, translated into the actress not bagging the plumiest of roles. If sources are to be believed, the star's wife did her bit to ensure that the industry outsider, Priyanka felt like one — this meant having the actress at arm's length from two of the industry's biggest production houses. This is also why another big producer did not extend an invitation to Priyanka for his birthday party, the guest list for which included names of anybody and everybody who had a standing in the industry. Because the said director had his loyalties straight — he was friends with the wifey before anyone else. It was good friend and mediator Uday Chopra who apparently convinced the filmmaker to extend the invite to Priyanka — albeit with a clause. That she'd have to turn up only after 1.30 am. The sight of Priyanka understandably caught the paparazzi's fancy and became the talking point of the evening, almost at the cost of stealing the birthday boy's thunder.
Not that he complained. But the wife, one could say wasn't very happy about the arrival, which is why both the Mr and Mrs didn't spare a minute to make a quick exit — quick, but not so inconspicuous. Given the star wife's loyal clique, isolation became more frequent for Priyanka. Apart from friends, directors and even actors politely declined association with the actress. Around the same time Priyanka lost her father to cancer. But, none of that could hold her down for long and she bounced right back with her music album. It may have opened to mixed reviews, but it sure got everyone talking about the girl from the tropics. That still didn't mean getting back Bollywood offers though. That's when Priyanka sought help from good friend Salman Khan. It didn't bother her that Khans wasn't at that point, sharing the warmest of relationships with her friend. PC put aside all of it to forge a bond that could end up into a movie offer — that it didn't, didn't fluster her either.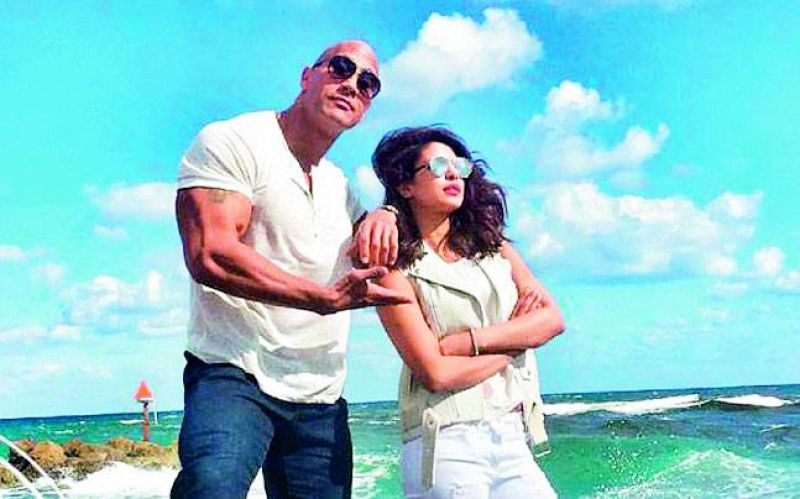 Stills from Baywatch
When that window didn't yield much, PC apparently approached another A-list actor and the two are believed to have dated for a very brief period. It was when these options has exhausted that Priyanka auditioned for ABC and waited frantically for a call from them for the role in Quantico. "I was excited but also scared, but I had to do this for myself — there were many reasons," she had said. Meanwhile Bollywood biggies were still snickering about Priyanka's decision to try her luck in Hollywood — no one had done it before, leave alone with such ferocity. Even before she could get started, the so-called movers and shakers of Bollywood were busy writing her off. All that changed rather swiftly once Priyanka got a blitzkrieg of publicity in the US. Suddenly, all of Priyanka's forgotten friends were wishing her success on her twitter handle.
There were rumours that Priyanka was dating a billionaire from LA, which only got the Bollywood wolves more excited. "The Quantico trailer had hit a million views overnight, and congratulatory messages had taken over my timeline," recalls Priyanka. Yes, it was the very people who refrained from socialising with her, who were now drooling all over Priyanka on social media. Priyanka had become an overnight star. Cut to 2017, the earlier mentioned director and Priyanka are great friends again. Things had, however, straightened up quite a bit during one of his dream tours abroad that quite liberally borrowed PC's name knowing how it worked magic in Hollywood. Undeterred by the brouhaha, Priyanka politely cleared misunderstandings that she was not part of the Dream project through a soft tweet that sent out the message loud and clear. Interestingly, Priyanka's sister Parineeti and rival heroine Katrina Kaif had no qualms about sharing the limelight either. Apart from the two ladies, the tour also featured Varun Dhawan and Aditya Roy Kapoor.
Things stand differently today, of course. The tables have turned and Priyanka once again has Bollywood making a beeline for projects and appearances. This is more the reason to celebrate Priyanka Chopra and her achievements. She did it alone. Most Bollywood actors who work in Hollywood go through an identity crisis, never knowing how much of Hollywood to grab, and how much to leave in Bollywood. But not Priyanka. She simply didn't believe in identity crisis. Professionally, there seems to be only triumph and no crisis for her. As for the broken heart, well, Priyanka will keep turning it into art, until she finds her Mr. Right.
Latest News
Most Popular
Columns