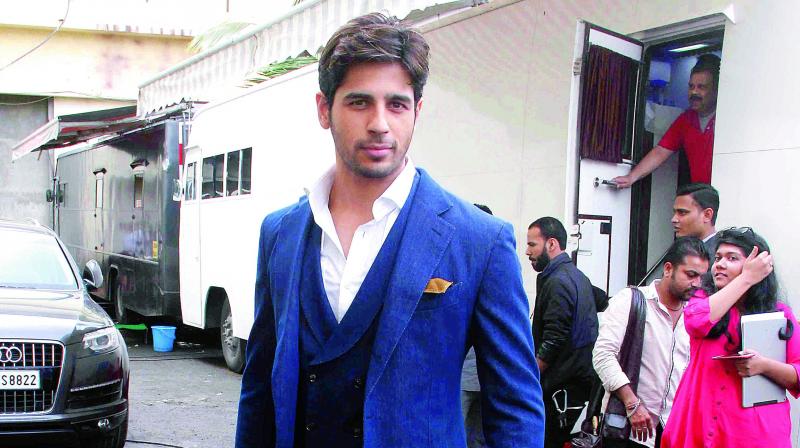 There's an immense amount of adrenaline rush that the drug called stardom gives you. And Sidharth Malhotra is using that drug to his advantage — in a good way. After a successfully completed Dream Tour in the US and going without sleep for many a nights, he's back in Mumbai. With not a modicum of rest, he rushes straight to the sets of a reality show with Katrina Kaif, to promote his next, Baar Baar Dekho. In the midst of the madness, we settle down for a chat in his vanity van, where he's sitting, dressed in formals, munching on a snack bar. Baar Baar Dekho is the second time Sidharth's working with a new director, Nitya Mehra, after having worked with debutant Vinil Mathew in Hasee Toh Phasee.
How is it to work with a new director? He explains, "They are far more open to suggestions, they are more open to taking a lot more and absorbing from people who have worked before. I have been pretty lucky with first time directors; they have had experiences in their own field. Vinil has been a great ad filmmaker, very senior. Nitya too has been a very senior assistant in movies. She's done enough work with Excel Entertainment, as well as international films like Life of Pi, and The Reluctant Fundamentalist. Hats off to her for picking a script like this for her first film."
Elaborating on the script and the challenge Nitya has on her hands, he says, "It's a very difficult script and has a lot of time jumping, different emotions, and even the narrative is not linear, then the actors have various looks. With that much material to take care of, she'd had to do a lot of homework. There's a nice feel to it and I was happy when she approached me for this film." Every actor has a comfort zone, though, and they would like to ensure that the director understood their style of work. Does Sidharth prefer the director understands him or is he an actor who adapts to the director's needs?
"I like to be pushed and need to be at the edge. I like that since it's never good for an actor if you move into a comfort zone. You'll always need the director to tell you to try things in a different way. So, you come up with something that's uncharted, some new territories, manage to get some new expressions. It only helps me to grow as an actor." As is the trend, Sidharth attended a month-long workshop before the film went on the floors. He says, "With Nitya, we did a lot of workshops together and we gave about a month for this process."
The actor plays out his character in three different age groups, as he grows older. Surprisingly, the research for playing an older character came from his own home. "I actually observed my family, my older brother, and my father. I started observing their mannerisms, if they were fast or slow to do anything and even their body language. Even with the prosthetics, Mark Hulio, who came from the UK, went back to my father to see how I would age, genetically," Sidharth painstakingly explains. "It's not old school in a way that you wear a white hair wig and it's done. I must admit that it was tedious to sit for the make up for five hours and shoot for eight hours in Glasgow."
Sidharth's still on a high with all the accolades Kapoor & Sons has been receiving. Excitedly, he says, "I'm still basking in the glory of that. The love I got for the film was very unique, because it was a film that was genuinely loved by people, especially from the middle class zone. We never expected such a great reaction; we were all doing it for fun." There have been enough Hollywood movies based on time travel, but Sidharth thinks his next will stand out with the Indian touch. "It's been done in a very Indian manner, and it's not been complicated," he explains.
"There's a nice explanation to the jump in the film. I think for the first time we have a love story which talks about relationships, youngsters, and their ambitions. We all want to make more money and this film teaches you to have a balance in life." The actor adds that he wishes to do a love story on home ground, Dharma Productions. In fact, he reveals, Dharma allows for its in-house talents to pitch a script they like and he owes this comfort level to Karan Johar.
"Yes, Dharma is far more open and casual thanks to Karan," he says. "That's his personality. We're all Dharma talent; all three of us (Varun Dhawan, Alia Bhatt) are associated with the company. I'm longing to do a full-fledged Dharma romantic film, because all the other movies — barring Kapoor & Sons and Brothers — have been other production houses. I want to do a dharma kind of love story, so if they're listening, please sign me up!"
...