Sunday Chronicle
For your eyes only
Deccan Chronicle | DC Correspondent
Published on: January 19, 2019 | Updated on: January 19, 2019
From Cartier Paris 18k Gold sunglasses costing $25,000 to Shiels Emerald Sunglasses priced $200,000, these style statements are surely pricey.
But these shades of glory don't come cheap as some of them are priced as much as a brand new luxury car.
While a sunglass is a functional and stylish accessory that can complement your day-to-day fashion, over the years, its function has evolved. In fact, sunglasses have played a huge role in helping certain celebrities build their brand images. But these shades of glory don't come cheap as some of them are priced as much as a brand new luxury car.
Chopard Sunglasses – $400,000
This one-of-a-kind piece was produced for Swiss jewellery house Chopard by De Rigo Vision. The reason behind the six-figure price tag is the fact that this pair of glare is made out of 60 grams of 24-carat gold. Apart from the precious metals, there are 51 full-cut four-carat river diamonds that adorn the arm of the specs that also have the brand name engraved on it. A special technique has been used to set the diamonds closer together that emits an extraordinary light.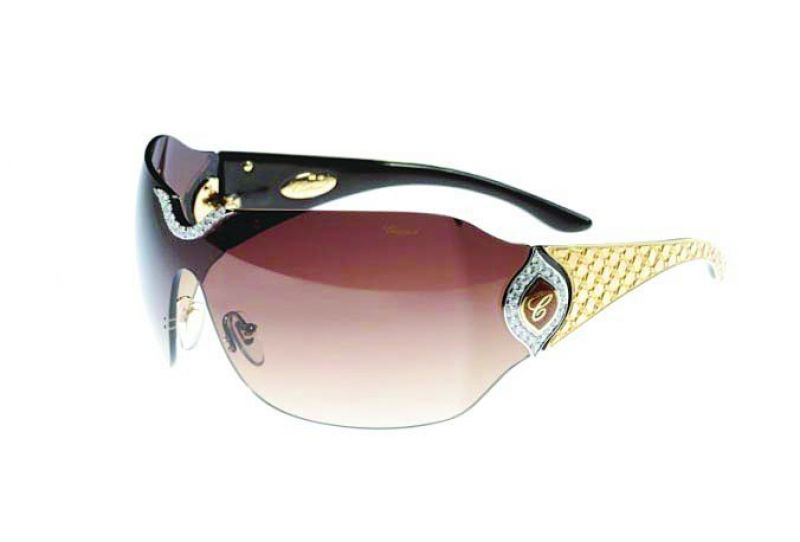 Shiels Emerald Sunglasses– $200,000
Designed by Australia based Shiels Jewellers, the price of this glass lies behind the precious gem and the exquisite craftsmanship. The emerald lens used in the glasses took five years to source and close to three months to shape, polish and cut the gemstone. The frame is not ordinary either as it is molded out of 18-carat gold. The glass also comes with an interesting story. The maker of this masterpiece was inspired by the Roman emperor Nero who used to watch gladiator fights through similar green gems.
Dolce and Gabbana DG2027B sunglasses – $383,000
The luxury fashion brand by designers Domenico Dolce and Stefano Gabbana added another feather to their cap when they launched the iconic pair of sunglasses DG2027B. The frame is made of solid gold and the brand name is studded with diamonds on both arms of the shade. The brown tinted glass adds a luxurious vibe to go with the price tag.
Luxuriator Canary Diamond Glasses – $65,000
Made by Los Angeles-based jewellery and eyewear designer Franco Inc., they launched the collection in 2004. As the name suggests, the glass is laced with diamonds on the bridge and hinges. The handcrafted glass uses pave or micro pave VS GF diamonds and the makers give the option of gunmetal gold, rose, yellow, or white frames to choose from. There is also an option of Luxuriator Uno with a single-bridge chassis and Luxuriator Due with a double-bridge chassis.
Bulgari Flora Sunglasses – $59,000
Made by the Italian luxury goods and jewelry brand, Bulgari, the frame is fashioned from 18 karat white gold and is completed with an accent made of diamond and blue sapphire. The frame is shaped like a cat eye giving the pair an edgy look.
Latest News
Most Popular
Columns