They say you're happiest when you love your work as much as you love your hobbies. Luckily, for wildlife photographer and National Geographic explorer Sandesh Kadur those two overlap — even if those hobbies were originally his father's.
"My father, Dr B.N. Vishwanath, was an entomologist, studying social insects and things and an avid photographer, while my uncle, the late Prakash Kadur, was an avid outdoorsman, adventurer and wildlife enthusiast who loved nothing more than being out in some place remote, camping in the jungle with a small camp fire burning while telling stories late at night. All this combined with being exposed to the works of Sir David Attenborough through my father who also had a passion for filmmaking, inspired me to doing what I do today. Come to think of it now, I basically live the hobbies of my uncle and father!" Sandesh says.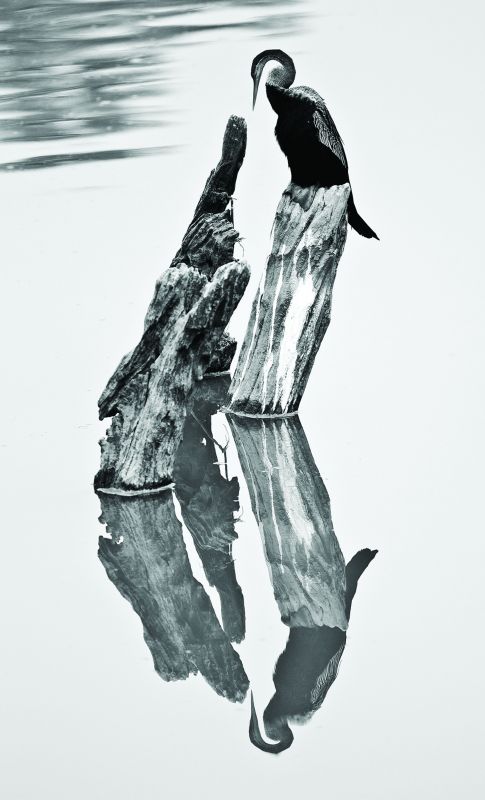 An Anhinga, also called a snake-bird, reflects on itself
Sketching animals as a 14-year-old, Sandesh's interest in nature and natural history came to him as he spent his days and nights in the field. "My father allowed me the use of his camera. It was an old manual Nikkormat film camera which I used as a documenting tool, capturing the world around me. Before I went out with it, my father told me, 'Set the camera at F5.6 on a cloudy day and adjust to F11 on sunny days.' With as little information as that I used my camera to document everything from a bird to a grasshopper," says the Bengaluru-based lensman.
A pair of highly adorable Small Indian fox pups at play by a den in the Little Rann of Kutch, Gujarat
As his love for photography and nature grew over the next couple of decades, Sandesh has been busy extensively documenting the wild across the Indian subcontinent, including the remote Northeast. Sandesh says, "It's a region that is cultural and naturally so diverse that it's stunning. So is India's wild west. Rajasthan, Gujarat are also amazing places to spend time. Then you come down along the Western Ghats, another favourite place of mine, which in the monsoon season just springs into life!"
An Atlas moth in defensive posture
Also dabbling with documentary film making, Sandesh's efforts and projects have won him numerous awards including twice being nominated for the Green Oscar. They have also been featured in international media houses and publications such as the BBC and National Geographic, with the latter giving him his 'Explorer' title in 2013.
A shot of Machali, the iconic tigress at Rajasthan's Ranthambore National Park
"My background is solidly placed in still photography, but I come to it from a story-telling perspective. With that, I treat every image as a story. It's no doubt difficult at times to make a decision whether I need to get a shot or get a sequence, so a lot of times I do both," Sandesh says about juggling cinematography and still photography, and adds, "With new technology and the hybridisation of still and moving images, the line between being a filmmaker and a photographer is getting more and more blurry."
A boy from Meghalaya showing Sandesh a blue whistling thrush that he had shot with a catapult that morning
The challenges he faces on the field aren't what you'd expect to hear from someone who's in the great outdoors, in all kinds of weather and floral and faunal settings: "The real challenge lies in getting the permits, permissions and access to go film the things you'd love to hang out with. Then, the next round of the game is patience. Our star, lead actors have their own time table and we just have to wait for them. It can be hot, humid, full of mosquitoes, or biting cold at minus 15 degrees Celsius — but the biggest challenge in wildlife photography and filmmaking is the ability to have and keep patience with yourself and with everyone around. The rest is trivial, like leeches, rain and food."
And why does he choose to do so? Sandesh explains, "'In the end, one will conserve only what we love. We love only what we understand and we understand only what we are taught.' This is a quote by a Senegalese conservationist, Baba Dioum. It best summarises the work that I do and the need to conserve what we have left."
...