Sunday Chronicle
Egg-cellent choice
Deccan Chronicle| Fareeda Kanga
Published on: March 17, 2018 | Updated on: March 17, 2018
What's not to like about an egg? Chefs share their secrets with Fareeda Kanga.
Eggs are integral components across recipes in both Indian and Western cuisines.
The most versatile and trustworthy ingredient in the kitchen is undoubtably the humble egg. Even though they are fragile and delicate to handle, they are probably one of the simplest and most adaptable ingredients to work with. Eggs are integral components across recipes in both Indian and Western cuisines. "They are actually the 'saviour' ingredient most of the times when it comes to cooking. From thickening agents in gravies and soups, to emulsifying agents in sauces and dressings, binding agents in cakes and desserts, coating agents in deep fried items, aerating agents in bakery products and also a colouring agent in baked products. There is no cuisine in the world which doesn't use eggs in its recipes," says Chef Jerson Fernandes, Executive Chef at Hotel Sea Princess.
As for Western, there's lots to play with. From a base mother sauce hollandaise to coating of meats with bread crumbs, everything involves eggs. "Many cuisines involve egg as the HERO ingredient like an eggs Benedict in European all the way to Tamagoyaki in Japanese which is their version of an omelette. When speaking of eggs in Indian cuisine, many of our breads including the popular roomali roti/baida roti use egg as one of its binding ingredients. The classic egg curry is an all time favourite and is eaten all over India as an all-day meal," say Vincy Rebello and Akanksha Saigal, head chefs at Silver Beach Cafe, Mumbai.
NUTRITIONAL BENEFITS
The ultimate "fast food", it can be whipped up in minutes and voila before you know it you have a tasty meal sans the empty calories present in other convenience foods. Plus, the marriage of taste and nutrients seems to be made in gastronomic heaven for eggs are one of those rare food items that are really good for you and don't taste like cough syrup or its distant cousin. Quite simply, they are the ultimate nutritional package — brimming with proteins, vitamins A, D and E. Also, one of the few foods naturally containing vitamin D. Plus, a dose of phosphorus, manganese, iron, iodine, copper, calcium and zinc.
DOS AND DON'TS WHEN COOKING WITH EGGS
Temperature is the key in cooking any egg product. Make sure the eggs are cooked at the right temperature (based on what dish is being made). Exposing the eggs to a higher temperature will coagulate them faster and over-cook them leading to a chewy texture, and exposing them to a lower temperature will leave them uncooked. For eggs the white will coagulate (set) between 145-150 degrees F, the yolk between 150 to 160 degrees F and whole egg between 145 to 160 degrees F.
SELECTION AND STORAGE
Eggs are very easy to select. You should always buy refrigerated, clean, unbroken eggs without any cracks or broken shells. Unwashed eggs/dirty eggs should be avoided. After selecting eggs, they should always be stored in the refrigerator at 0 to 7 degrees C, rather than room temperature. Avoid freezing eggs. A fresh egg placed in water can be easily identified because it sinks quickly and lies flat; if it is stale it turns upright; if it is bad it will float. Store eggs in a cool place (preferably the fridge) with the pointed end downwards. Their porous shells can absorb smells, so keep away from strongly flavoured foods (onions, fish etc).
EGG BENEDICT, GRILLED SPINACH, CRAB MEAT, HOLLANDAISE SAUCE
6-8 pieces of bacon
2 tbsp of parsley
4 eggs
1 tsp rice vinegar
2 English muffins
50 gm butter
For the Hollandaise:
10 tbsp unsalted butter
3 egg yolks only
1 tbsp lemon juice
½ tsp salt and tabasco to taste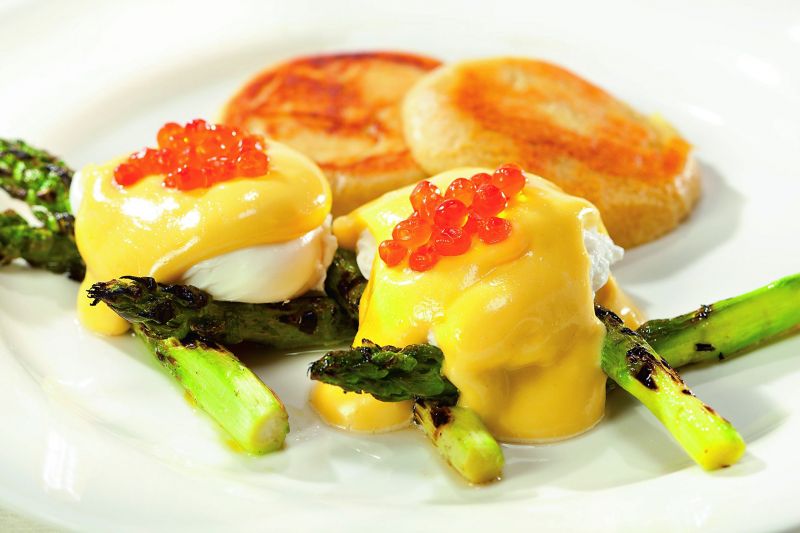 Cook the bacon on low heat until brown on both sides (takes about 10 min).
Remove bacon with tongs from the pan and set on a paper towel to soak excess fat. In a large saucepan, heat water (2/3rd of the vessel) and add vinegar once it comes to a boil. Allow to boil for a bit longer.
Make the hollandaise sauce in a blender — melt butter, add three egg yolks, lemon juice, salt to taste.
Poach the eggs, one egg at a time in simmering water. Remove once done.
Toast the English muffins.
Assemble: Butter one side of the English muffin, top with bacon slices and add poached egg with hollandaise on top. Sprinkle parsley and serve.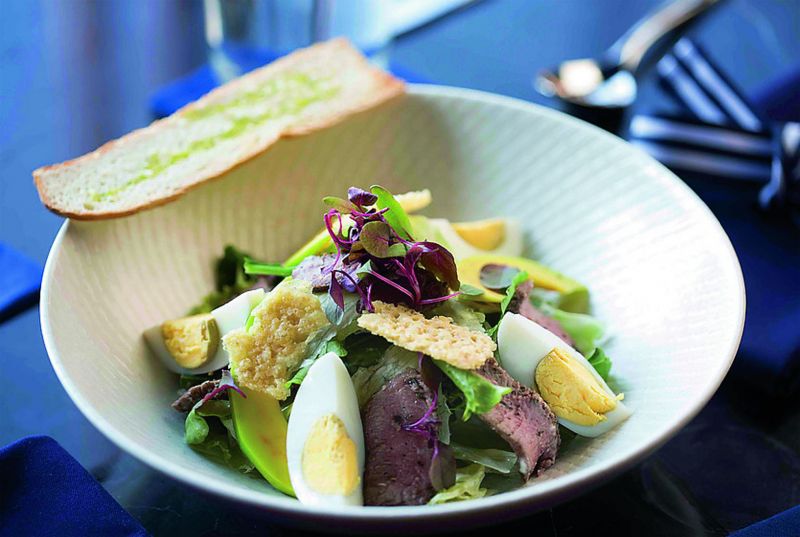 KEEMA SUNNY SIDE UP
3 tbsp vegetable oil
520 gm minced lamb
150 gm red onions thinly sliced
1 inch ginger chopped
5 garlic cloves roughly chopped
3 green chillies
½ tsp turmeric powder,
¼ tsp Kashmiri chilli powder (or mild paprika),
1 medium tomato finely chopped
1 tsp tomato puree
200 ml water
1 tbsp vinegar
1 tbsp dark brown sugar or jaggery
Salt to taste
4 free range eggs
2 tbsp coriander leaves finely chopped for garnish.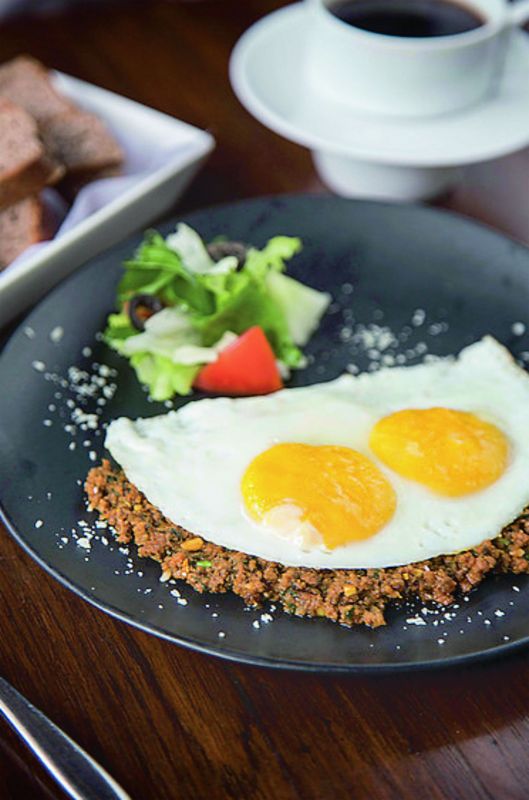 Add the ginger, garlic and 2 green chillies to a blender with 3 tbsp water. Churn to a smooth paste. Add minced lamb to a bowl with 1 tsp of ginger, garlic and chilli paste. Mix well and set aside. Reserve rest of the mix for later. Heat the oil in a heavy bottom pan. Add onions and fry on medium heat for about 10 mins. When the colour turns brownish, add remaining ginger, garlic and chilli paste and fry for 20 seconds making sure to stir well. Add minced lamb along with turmeric and chilli powder. Cook on medium heat for 10 minutes frying well; the lamb will start to brown and mix in with the spices. When the moisture starts evaporating and the oil begins to leave the sides of the pan, add chopped tomato, pre-mix tomato puree and green chilli cut lengthwise. Cook for a few minutes. Season to taste and add water. Bring to a boil and simmer for 15 minutes with the lid on. Stir halfway through the cooking process. Add vinegar and sugar, stir well and simmer for a further 2 minutes. Break one egg at a time over the gravy in the kheema. With heat on low cook the eggs for 4-5 minutes with the lid on. You want them to be slightly runny in the centre. Garnish with coriander and serve with chapati or crusty pav.
Recipes courtesy: Silver Beach Cafe
Latest News
Most Popular
Columns