Sunday Chronicle
Government by Twitter
Deccan Chronicle.| Aakar Patel
Published on: August 25, 2018 | Updated on: August 25, 2018
Some Ministers have been quick to grasp the power and reach of micro- blogging sites.
K. T. Rama Rao, Minister for Information Technology, Telangana.
One of the pinned tweets (meaning the message permanently on top of his account) of K.T. Rama Rao is this: To those of you wondering if I look at your posts on issues such as Roads/sewerage/water supply, I assure you that I do & forward them to my various heads of departments for action. Can't respond to each of you individually as there are many requests. Keep them coming though.
KTR's home page has individuals asking for help whom he has responded to. An orphan asking for money for studies, the daughter of a beggar interested in studies but without access to a school, someone with a health problem looking for assistance, another talking about the unwell child of a taxi driver, yet another poor child in need of leg surgery, a child on a ventilator. All of this, mind you, only in the first three days of July. All of these people are promised assistance. This is government by twitter. Readers will find this hard to believe, but politicians are the hardest working people in India. This is not sarcasm and this is true of the whole category.
Any leader of any standing will have to follow the same ritual. In the morning there will be a queue of people at his door. They will be constituents, relatives of constituents, people who vote for his opponent but hide this fact, party workers, neighbourhood associations, retired bureaucrats, former sportsmen and other assorted categories. They will line up with requests for his intervention in any number of things. It could be getting someone a job, having their snipped electricity connection restored, arbitration over some business squabble, coming to a wedding reception, inaugurating a shop and so on. These people will have to be dealt with through the day and then again when the leader returns home, late into the evening. Giving up privacy and personal time is the first requirement of the Indian politician. The delivery of services to people is actually how one becomes a leader. And this does not change, whether one is a municipal councillor or a member of Parliament, indeed even a minister: the people will come to you and they must be served. It is therefore absolutely vital that leaders be seen as providing what is expected of them.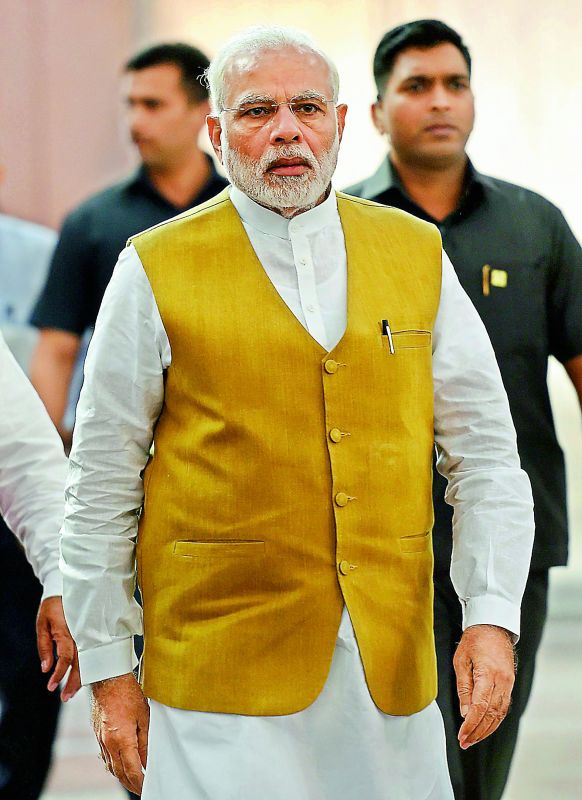 Prime Minister Narendra Modi, too, tweets to people personally at times.
This has historically always been the case and the Mughals responded to it by introducing a uniquely Indian phenomenon to their court ritual: the darshan. Every morning, or perhaps at some prescribed time, the emperor would show himself in public and the janata would go away, satisfied that they had witnessed the state personified. As long as the emperor was visible, the government continued. Four hundred years ago, there was born the legend of the justice of Jahangir (Adl-e-Jahangir). The story was that in the palace of the emperor was a chain attached to a bell which was in his quarters. The citizen seeking justice could walk up and rattle the chain, and summon to emperor to give him a hearing. Of course, this was highly unlikely to be practiced with any frequency if it existed at all (and Jahangir was notoriously lazy), but the fact that story exists itself says something about our culture and what is expected of its leaders.
Looking at KTR's tweet, and particularly his assurance that he forwards the complaints and demands to the various heads of department for action, I was reminded of an exchange I had with Anil Deshmukh, who was Maharashtra's minister for education a decade and a half ago. A friend of my father's brought his grandson to my office (I was editing a newspaper) to ask if the boy could be admitted to a particular college. Specifically, he asked if I would request the minister to recommend him. I had no experience of this and so telephoned Deshmukh. He said that it would not be a problem for him and he would send the letter across immediately. After this was given, and the individuals had left, I called Deshmukh again and asked if this letter would make a difference. He was honest, and said it would not. I asked why. He said that he received thousands of such requests from people and he could not say no to anyone and so issued the letters. So what did the principal of the college do, I asked. Deshmukh said there was no way he could possibly accommodate all the requests the minister sent and so he accommodated none. He just ignored them.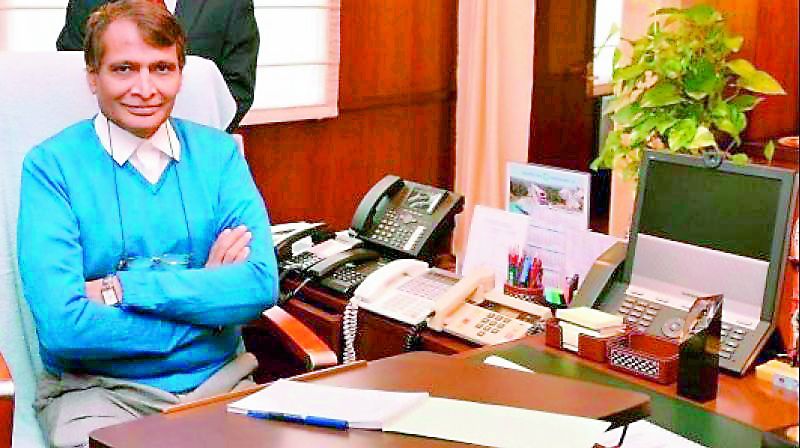 Former Union Minister for Railways, Suresh Prabhu came to the rescue of people in distress many times.
And of course KTR's style has parallels in the Union government. One of the most active twitter users we have is Sushma Swaraj, whose home page is a veritable front office for her ministry. Britain's foreign minister Boris Johnson does not assure visas over Twitter as she does. America's secretary of state Mike Pompeo (who cancelled a meeting with Swaraj a few days ago, presumably on account of proper business and not because he had to manage his twitter feed) doesn't have a 24/7 helpline open on social media for distressed citizens who need the assistance of the government. In their nations, the governments are designed to handle the routine and the extraordinary equally capably. No special nudge is required from the minister and no minister can pass off social media activity as an indicator of effectiveness.
Praising the hyperactivity on twitter of his foreign minister, prime minister Narendra Modi had this to say on one of his visits to the United States last year: "If any Indian in distress tweets from anywhere in the world to the External Affairs Ministry, even at two in the night, within 15 minutes Sushma Swaraj replies to it, the government takes prompt action and delivers results. This is good governance." Actually, it is not. Good governance lies in deeper things. In putting processes in place, in predictability and regularity, in ensuring that urgent intervention is in fact not needed. Personal interventions are required in systems that do not work. The state is dysfunctional in India at every level. This is not a secret. Nor is this a criticism of the current government: it has always been so. Things do not work. The myth of the justice of Jahangir existed because it reassured the citizen that there was hope, in a part of the world where the hope gets extinguished immediately on contact with reality. As long as this remains the case, we will see the personal (and highly visible) interventions from our leaders.
Restoring faith in bureaucracy
A combination of corruption, ambition and personal agenda has ensured that politicians have a bad rep. But some of them are actively trying to break free from the mould by engaging with the people.
They say we rise by lifting others. While many are attracted to life in public service for the power and prestige that come with the job, they fail to remember it is essentially a calling — to serve the people. In a country like India where a majority of the politicians are unreachable once elected, there are still a few who have their fingers on the pulse of the people. Some of these politicians have managed to tap into the potential of social media and have expanded the scope of their ministries. Others find it fulfilling to work at the grassroots level. From Union Ministers like Sushma Swaraj and Nirmala Seetharaman to Telangana's very own KT Rama Rao, there are some politicians across party lines who go above and beyond their call of duty to help those in peril. External Affairs Minister Sushma Swaraj's popularity has soared after she vigorously started using Twitter to solve the problems of people. Her brand of 'Twitter diplomacy' has resulted in her being featured across national and international media. "I help people every day. That too on a single tweet (sic)," she once tweeted. Wondering how she does that? Here's an example: Recently, a man named Kautilya Bansal wrote to Swaraj on Twitter, requesting help for a group of 20 Indians, including an infant. "@EOIBeijing : Please expedite this. There is an infant in the group (sic)," Swaraj tweeted in response. And with that single tweet, she took care of the situation.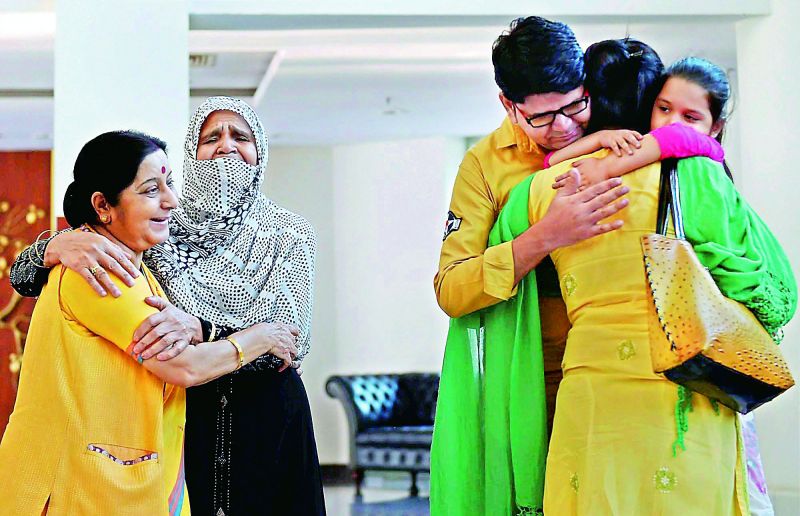 An Indian woman Uzma Ahmad, was allegedly sedated and forced to marry a Pakistani man at gunpoint during her visit to the country. She returned to India only with the help of Sushma Swaraj. The External Affairs Minister can be seen with Uzma and her family in the photo.
Swaraj isn't the only one doing noteworthy work through social media. K.T. Rama Rao, who holds IT, Municipal Administration and Urban Development, Industries & Commerce, Mines & Geology, Public Enterprises and NRI Affairs portfolios, is of the same mould. The Minister, who manages his Twitter account on his own, makes a note of every single request he receives on social media. His followers usually ask him to look into road repairs and financial assistance for poor children with serious ailments. The Minister promptly takes notice and demands action from concerned authorities through tweets.
A man named Robin recently tweeted: "Sir @KTRTRS Mrs. G Laxmi bai, aged: 55 years admitted in Narmada Hospital, New Bakaram, Had a sudden internal bleeding & her intestines came out, Doctors have conducted the surgery, this was unexpected for the family & they are not in a position to afford the surgery cost (sic)." The Minister quickly responded: "Sure Robin @KTRoffice will be in contact (sic)."
According to TRS MP Kavitha Kalvakuntla, it is important that a politician takes initiative. She says, "We are here for the people. In public meetings, people come and ask for help for their children who have health issues. If it's an emergency, we first mobilise personal resources to ensure the child gets medical care. Only later do we work to get government help." While some politicians use the internet to connect with people, others like Andhra Pradesh IT Minister Nara Lokesh feel there is no substitute for the personal touch. He feels the traditional approach is still relevant to reach out to those in villages, especially those who do not use social media. "Social media is one platform to connect with the people but I feel call centres are more important as many people in villages are not technology savvy," he says, adding, "We also use print media to track each and every article. We identify a need and make sure it's attended to."
Defence Minister Nirmala Sitharaman also seems to keep the interests of the citizens high on her priority list. She was instrumental in getting the pension sanctioned for Kamla Devi, mother of rifleman Rinku Ram who went missing while patrolling along the Line of Actual Control (LAC) in Arunachal Pradesh in 2009, after waiting for more than seven years. Parties also have understood the importance of leaders establishing a direct connection with people. According to Lokesh of TDP, "We send our leaders into the field and then measure their performance to see how are they responding to people's grievances." BJP MP Diya Kumari is of the opinion that the essence of being a politician is his/her dedication to the people.
"In a functional democracy, political leaders have a commitment towards their respective constituencies and the people who live there. Sometimes, however, politicians only look at how they will get re-elected and don't necessarily work in the interest of the people. But well-meaning and decent politicians must always strive to help ordinary, and especially vulnerable, citizens improve their livelihoods and solve their problems," she says. It is seen that those who adopt pro-poor policies or go out of their way to help the people, end up being successful in their careers. But the MP feels it's important to have a deeper vision.
"One cannot adopt a pro-poor policy just to be successful or win elections. The desire and commitment to work for the underprivileged should be inherent in a political leader. Sustainable development and social and economic improvements should help them come out of poverty. So just being 'pro-poor' without a plan to tackle poverty wouldn't have lasting results," she says. But how many politicians are actually committed to public service? Not many, feels former MP Pritish Nandy. He says, "A politician has to be at the beck and call of people, particularly people who need help desperately. But most of them are busy helping not the poor and disadvantaged but their rich cronies. That is why politics has such a bad name."
With power comes responsibility
BJP MP Daggubati Purandhareswari feels it's necessary that politicians use their power to help the common man. She acknowledges the importance of power by saying, "Without power, it is difficult in today's politics to serve people, as no one would even acknowledge your presence." Diya Kumari seconds this. "I do have some power vested in me by the people, which I use with responsibility. Many issues can only be dealt with by different departments and institutions. Valid problems that affect the community and those that can be resolved by government agencies are addressed. Different departments, various officers, and my fellow political leaders and Ministers find solutions for them. I aim to facilitate all of this and ensure that citizens are accessing the benefits of various schemes. We often help individuals and also local leaders like sarpanches, etc, apply for those schemes and ensure their timely implementation," she says, adding, "As a matter of fact, one of the reasons why I came into politics was in order to be given some official authority to help solve the problems of the people."
By Swati Sharma
Ministers who helped via Twitter
KTR
Minister KT Rama Rao has proved many times that he is just a tweet away for citizens who are genuinely in need of help
Citizen: @godlessIndia — Proud to be the first band from Hyderabad, Telangana to ever represent India at the worlds biggest metal festival — Wacken Open Air, Germany. We need the support of the government to get us there. Requesting an audience with Mr. @KTRTRS
#Hyderabad #Indianmetal #wackenopenair
KTR: Guys, will not be able to help you from Govt but will try and find a private sponsor for you to get to Germany
Citizen: @Aravind58985943 — Sir please help my son, he is suffering from eye cancer from last one year and his age is of 2 years so for treatment in Apollo we need 5 lakhs. We as a poor background family unable to bear that please help my child as a God sir.. @KTRTRS
KTR: Aravind, we surely shall support the child. My office @KTRoffice will contact you

Citizen : @Itsmeniyaz — This girl is begging at Golnaka. Interested in studies but says can't afford as she is a daughter of a begger. Little counselling and admission in nearest residential school will help in securing her future. @KTRTRS, @KTRoffice Could you please help?
KTR: Happy to help: What else is a government for? We absolutely shall get her into a residential school if you can give her contact details
Citizen: @SantoshEmbari - @SushmaSwaraj mam and @KTRTRS anna. My cousin, currently an NRI in US settled there 20 years back with his wife and son. We received a phone call this morning stating that their son has committed suicide. They don't have anyone there.
KTR: Would like @rpohyderabad to work with @KTRoffice in getting a passport urgently and request @USCGHyderabad to help the distressed family in getting an emergency visa to attend the funeral.
SUSHMA SWARAJ
Citizen: @Prav_me: @SushmaSwaraj @HCI_Accra Hello Ma'am, my uncle passed away last night due to heart attack in Ghana, Africa. They told us it would take a week to send the body to India. Pls help us to get his body to India faster. It would be of great help please. Thankyou ma'am.
SUSHMA SWARAJ: Indian High Commission in Ghana — This is a compassionate case. Pls help them.
Citizen: @shahabuddinasla
Mam struggling to get passport for my daughter from three months. She is only 9 months old. Please help us
SUSHMA SWARAJ: Police verification is not required for children. I have asked the @CPVIndia to give her the passport without police verification and take strict action against the concerned officer.
Citizen: @AartiDewan2 - @SushmaSwaraj my mother has expired and i need to travel to india immediately, i need Bridging B visa to travel from Australia to perform her last rights. No one is helping me because of the public holiday, and i feel helpless.
#Pleasehelpme
SUSHMA SWARAJ: Gondane ji — I know our High Commission is closed being a Sunday. But issue her the visa so that she may attend the last rites of her mother. @HCICanberra

Citizen: @ArjunVelotil - @SushmaSwaraj ji. Mrs sudharma babu Kuttan PP no. J5104301 looking for serious help in UAE. Her sponsor claim that passport is at embassy. As she was literally tortured and punished by the sponsor. She is a widow
SUSHMA SWARAJ: Navdeep — Pls see this. @IndembAbuDhabi
Citizen: @DhavaleSourabh
@SushmaSwaraj @CPVIndia PLS HELP,
Late @SnehaSalke drowned in lake at Orillia ON (Canada) on 20th May... Canadian authorities are saying it would take additional 7-8 days more to get her body back to India, pls help to get my sis ASAP.
SUSHMA SWARAJ: Vikas — Pls help the family. @HCI_Ottawa
Funny Twitter Exchange
@Ajeetvijaysingh: One of
my follower casually asked me: Do you work for @narendramodi? I smiled and said: No dear, he works for me..#IAmNewIndia
Narendra Modi: Absolutely. Happy to be the Pradhan Sevak for each and every Indian.
@AshokChoudhaary: Dear @smritiirani ji, kabhi raajneeti aur bhashan se waqt miley toh seeksha neeti ki taraf bhi dhyaan den
Smriti Irani: mahilaon ko 'dear' keh ke kab se sambodhit karne lage Ashokji?
@KothaShylendra: Good morning anna @KTRTRS Boarded a flight to Oakland from Baltimore.. i was thinking how to kill time..watched all your videos offline???? Happy Thursday
KTR: I didn't know I could be a source of entertainment/ timepass. If I were you, would've watched a nice movie instead
@chandarnandi: @SushmaSwaraj , Namaste Madamji, Myself & my wife selected for kailash Manas Sarovar Yatra 2018, in different batches. My wife will not be able to undertake the yatra alone. Seek your help to put us in the same batch. I will be 70 by next year
Sushma Swaraj: The computer is guilty of separating you. But don't worry. We will send you both in the same batch.
After Manushi Chhillar was crowned Miss World, Shashi Tharoor tweeted, "What a mistake to demonitise our currency! BJP should have realized that Indian cash dominates the globe; look, even our Chhillar has become Miss World!"
Replying to a guy who was carrying a placard asking Shashi Tharoor to marry him, he replied, "Haha! Now if they were only registered to vote in Thiruvananthapuram, it would be even better!"
(Tweets compiled by Neha Jha)
About The Author
Aakar Patel is a senior journalist and columnist
Latest News
Most Popular
Columns