Sunday Chronicle
Road to discovery
Deccan Chronicle| Vandana Mohandas
Published on: August 10, 2019 | Updated on: August 10, 2019
From 63-year-old Mumbaikar Sudha Ruprell to five-year-old Delhiite Bahira, every single member enjoyed the Road to London trip.
RTL participants celebrating their arrival at the UK.
Who wouldn't love to hit the road to unfamiliar places! What if your co-travellers, too, are random people? It would be a worthwhile journey discovering places, cultures, knowledge, experiences, boundless feelings and oneself. At the end of the trip, what remains is a strong camaraderie for life and a treasure trove of memories. When 27 people from various parts of the country decided to go on a road trip from India to London, most of them were apprehensive about spending time with strangers. But it was an enlightening experience for all the explorers who travelled together on seven 4x4 vehicles for over 50 days, covering 18 countries and 16,000 km, crossing multiple international borders every day, having breakfast in one country and dinner in another, sharing, caring and developing a unique bonhomie only adventurers can fathom!
From 63-year-old Mumbaikar Sudha Ruprell to five-year-old Delhiite Bahira, every single member enjoyed the Road to London trip.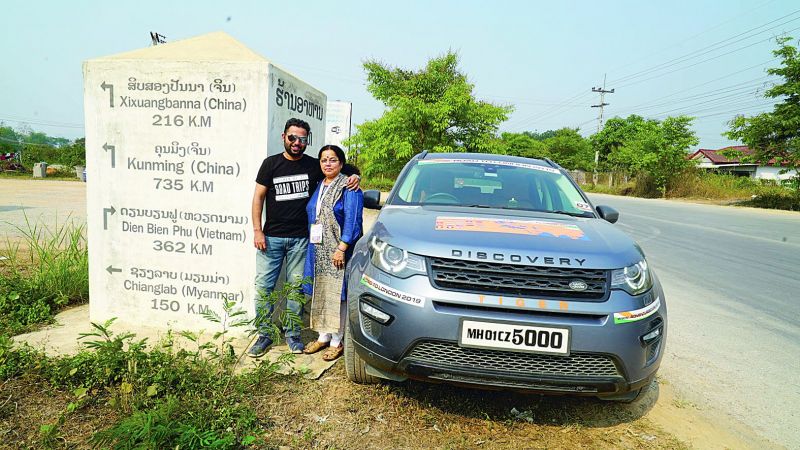 Along off-beat tracks, dirt roads, mountain passes, forest trails, expressways, highways and cities of Myanmar, Thailand, Laos, China, Kyrgyzstan, Uzbekistan, Kazakhstan, Russia, Latvia, Lithuania, Poland, Czech Republic, Germany, Netherlands, Belgium, France and the U.K. Organised by Sanjay Madan and Tushar Agarwal, the trip, which the group members call once-in-a-lifetime, cost each of them Rs 22 lakh, but as the Zen saying goes, the journey is the reward. What they shelled out was repaid to them in multiples – as love, emotions, sights and experiences.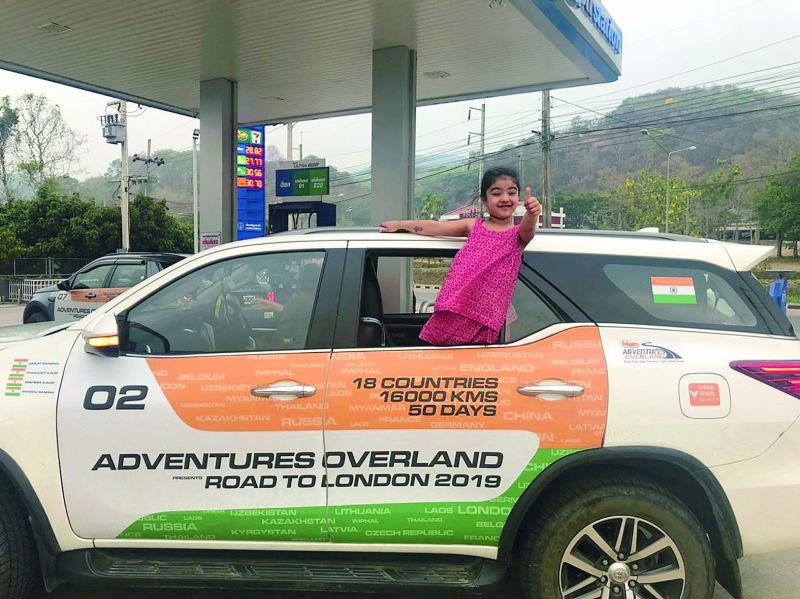 Age no bar for adventure
An adventure is only an inconvenience rightly considered. An inconvenience is only an adventure wrongly considered.
- G. K. Chesterton
A wanderlust soul, TV serial producer Hemant Ruprell is one who travels always; he had gone to Russia and Jordan by road. But this time, when he decided to sign up for Road to London, he wanted to take with him his 63-year-old mother Sudha. A retired HR professional who worked in a private shipping firm for 30 years, Sudha was happy with her carefree, leisurely life and was never contemplating a road trip — not with her motion sickness, diabetes and arthritis. While Hemant was adamant, Sudha refused to be cajoled. "It took two whole months of coercing by Sanjay and Tushar, who flew down to Mumbai from Delhi, and my son, to finally convince me to embark on the journey. They even arranged an interaction with people who had gone on similar road trips to ease me up." Even then, she was skeptical, but now, after the journey ended, she recalls it, showering superlatives. "Excellent, superb, fantastic, a life-time experience it was. 50 days in 33 hotels in different countries, Can you imagine!" she chuckles.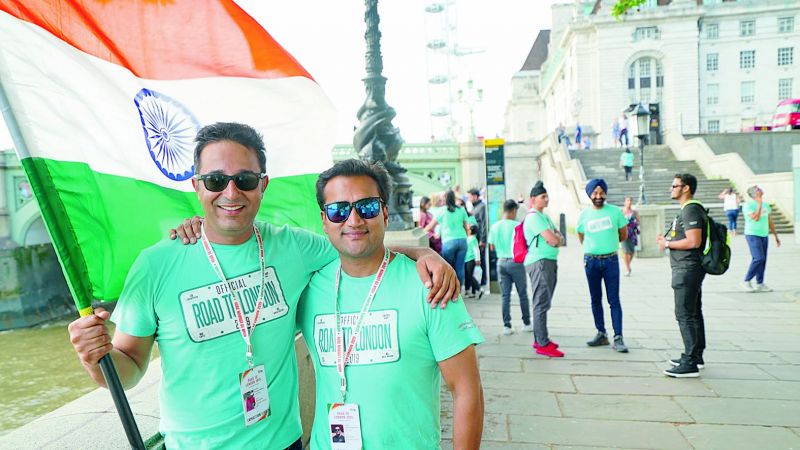 As the journey date neared Sudha grew restless; it was tiring with all the preparation, concerns and confusion. A vegetarian, her primary concern was food. As she puts it, "I can compromise on anything, but my food." The organisers would stock up dehydrated vegetables and dried food for the travellers, but Sudha was extra cautious. "I decided that we cook for ourselves and they agreed. Though we were travelling in our own car, the preparation for the journey itself took three weeks. Such a long journey, that too, by road, was a first for me. But it went smooth, better than I had imagined. All of us from different places caring for each other, sharing resources… It was wonderful," she adds.
Many experiences were a revelation for Sudha. "Especially the 17 days we spent in China. All my notions about the country turned upside down. Forget their rules and politics, I was so touched by their warm hospitality. Everywhere we had gone, people came and talked to us seeing our cars moving in a row and the stickers all over about the India-to-London expedition."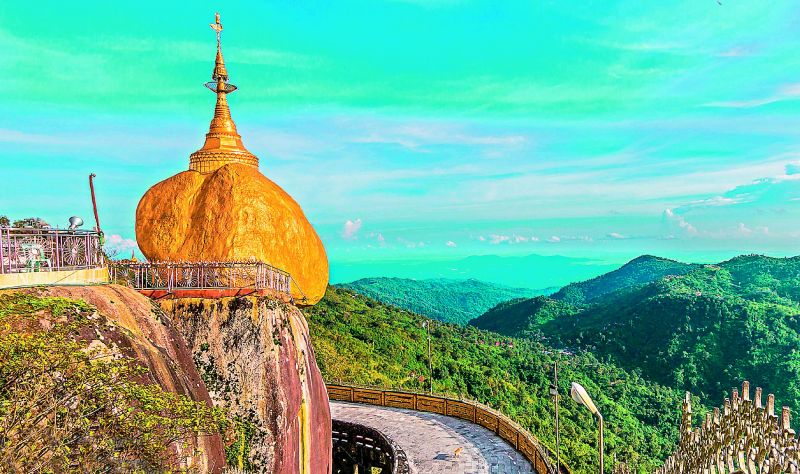 Golden Rock
How little Indians know about other countries and how much foreigners know about India too fascinated her. "Russians adore Indians and address us as Hindustanis. And in Tashkent, the capital of Uzbekistan, we were served a sumptuous Indian meal at a dinner hosted by the Indian Ambassador. A proper meal with basmati rice, dal tadka and what not!"
They had plenty of time for shopping and sightseeing. Ask what she brought back from the trip and Sudha quips, "Only memories. What else do I need at this age?" Excited about his mother's experience, an elated Hemant has started persuading her to agree for the next trip, but Sudha says she has had the experience for a lifetime. "I know that he will take me even to the moon. Let him get married and take his wife with him on his trips," she laughs.
Best decision in life
A journey is best measured in friends rather than miles
-Tim Cahill
Taranjot Sandha, an interior designer based in New Delhi, divides her life into two phases — before and after Road to London. Such has been the effect of the road trip on her. From someone who wasn't keen on trips, she has blossomed into a passionate traveller and is looking forward to her next big life-changing expedition. "Seeing how the world is from your windscreen is mesmerising. Experiencing new cultures, countries and food widens your little world. Travel has become my new passion," she says.
Taranjot was in the company of her husband Jagjit, 16-year-old son Manraj and five-year-old daughter Bahira, perhaps the youngest one ever to have undertaken such a long road trip. Hailing from a country where parents are very apprehensive about taking their little ones on long journeys, the couple's decision was exemplary. "It's because we undermine our children's strength. They are more patient than the parents. Initially, I too was skeptical thinking that it would be very difficult to travel with Bahira, but she enjoyed the journey as much as all of us. We are too glad to have her experience the joy of random people making friends, sharing and caring for each other. She proves to be a born traveller and was the sparkling star of the group," reminiscences Taranjot.
The whole group was very cooperative and little Bahira made a lot of friends from various age groups. "Everyone took care of her and made the whole trip comfortable. She showed commendable presence of mind and was never fussy about food, travel or sleep. She was conditioning herself very well to the climatic conditions of the countries we crossed. That's also the beauty of road journeys; our body gets slowly accustomed to the temperature around. The journey was much easier than I had thought," she says.
The myriad cultures, architecture and history of the places they covered spellbound Taranjot. "When the trip was flagged off, I had butterflies in my stomach. But as we got exposed to the shades and cultures of the beautiful countries like Uzbekistan and their lesser-known outskirts, I couldn't help but think that we should go back and explore them again another time. We could try different cuisine and realise that some things we had no idea was edible at all."
The interior designer in her too much benefited from the trip. "Looking with a creative eye, many parts of the journey was like going back in time. The Mughal era influences in Uzbekistan and the intricate blue and green carvings, their style and form are sure to have an effect on my upcoming projects."
China was a great experience for all. "Watching the snow-capped mountain ranges from the Great Wall of China was a surreal experience. If you want to feel how heaven is, you should witness it. That's the heaven on earth. The night we were to leave China, everyone was emotional. We were almost halfway of Road to London and none of us wanted the journey to end."
She has all praise for Tushar and Sanjay who organised the trip. "The whole itinerary was planned flawlessly. No one could have done it better. Journeys do something to you, I'd call it magic. And if you are looking for magic, get in touch with these guys," she gushes.
Keen on identifying herself as a juggler of interior designing, motherhood and homemaking, Taranjot would add one more phrase – a future globetrotter. She adds, "This expedition was indeed the best decision in my life. I have found a new passion to travel, explore and learn. Every single memory brings a smile to my face that lingers for a long time. To sum up the experience in simple words, I'd say: The world is an open book; everyone should get to read it."
Leaders of the pack
It is good to have an end to journey toward; but it is the journey that matters, in the end
- Ursula K. Leguin

It's their love for globetrotting that prompted Sanjay Madan and Tushar Agarwal, who hold a Guinness and 15 Limca records for their adventurous road affairs, to take people on expeditions. Having travelled extensively over 80 countries, hosted travel shows and penned books on their journeys, the duo has to their credit The Great World Trip, where they drove across 50 countries in six continents covering 90,000 km. To share the highs and joys of travel, they started a travel firm, which has just completed its third consecutive annual India-to-London trip. "This time, we hit the jackpot. Our arrival in London coincided with the ICC Cricket World Cup. Many of our travellers watched the match and London gave us a rousing reception when they came to know about our journey by road," says Tushar, who holds the record of being the first Indian to drive from London to India, and loves to push people out of their comfort zones to embrace the zest of adventure.
When they could have easily chose the air route, why road? Tushar has an answer to it, "We just wanted to let people know that London is not that far. If you want to explore, drive. The places you cross by road are not the ones you normally go on a holiday. Experience the unknown and embrace the unforeseen."
This year's Road to London gifted many memorable moments to Tushar. "Witnessing the World Cup was bliss, but it would have been sweeter had India won. However, it was a special feeling. It was a great experience to tread the unexplored parts of China, the people of which are warm and welcoming. And Uzbekistan has such lovely, friendly people who know everything about Bollywood. They are great admirers of Raj Kapoor, Shahrukh Khan and Mithun Chakraborty! Their love for our movies is incredible!"
For the expedition, the team travelled in seven cars all the way from Imphal to London from where the vehicles were shipped back and they all flew home. Tushar and Sanjay meticulously plan the itinerary by including personal preferences and double-checking on security measures, including documents and visa. Explaining the facilities, Tushar says, "One whole year of research goes behind each trip. The planning starts eight months in advance. We book hotels, arrange meals suiting the travellers' taste and habits, plan the route, activities, arrange local guides for each country, get visa clearance, inner line permits for restricted areas, stock up chocolates, snacks, water and soft beverages for every vehicle, keep ready visas, local permits, custom and immigration clearance. We also have a backup team with a crew vehicle equipped with medical professionals, GPS, oxygen cylinders, emergency food supplies and first-aid kits. All vehicles have road books, maps and walkie-talkie."
Even then, there have been unforeseen circumstances. "Like one time, a vulture hit our windscreen and then, there was an oil leak from a vehicle in the middle of nowhere. But we have overcome all those and the team members have all been amazingly cooperative. There had been landslides, accidents and road blocks, but all those are part of the game. That's the charm of road trips," Tushar winds up.
An explorer finds not just places, but oneself too, and emerges as a better, wiser person. It's just a matter of taking the first step.
Going by Rumi's verse, And you? When will you begin that long journey into yourself?
Latest News
Most Popular
Columns