Sports
Champion M C Mary Kom in a world of her own
Deccan Chronicle| Gandharv kamala
Published on: October 19, 2019 | Updated on: October 19, 2019
After winning her eighth medal at the World Championship, Kom goes home.
Mary with her daughter Merilyn.
Hyderabad: Even before M.C. Mary Kom left for the recently concluded World Championship in Russia, the boxer was engulfed in a trial controversy, which was not her doing. She won the bronze in the women's 51kg category — an unprecedented eighth medal at a boxing World Championships. She is the lone boxer in both the men's and women's category to hold that distinction. She should be celebrated for the champion she is. But instead, even before she came back to Delhi she was surrounded by another hullabaloo, again for no fault of hers.
When she came back to India, she did not stay in Delhi for long. She immediately left for Manipur. Not many know that Mary has four dogs in her bungalow and one of her favourite is Esko, a Tibetan Mastiff. The black fur ball puppy used to fit in her palms but eight months down the line, Esko has outgrown her. "I love dogs. I have four of them, one in Delhi and three in Manipur. When I bought Esko I never really knew he would outgrow me so soon. Every time I take him out for a walk it is difficult for me to keep him on a leash. Now it looks like he is my master and I am his pet," the London Olympic bronze medallist laughed.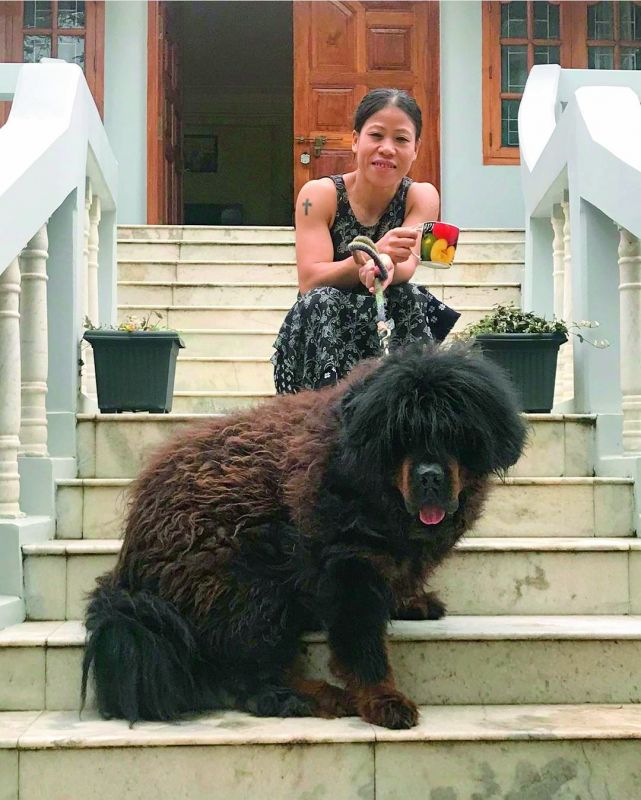 Mary with Esko
It was not just Esko that was waiting for Mary but an 11-month-old baby girl too, Neivar Merilyn Kom. The 36-year-old, who is a mother of three adorable sons, wanted a baby girl to complete her family. And Mary's prayers were finally answered.
"When we were talking about adopting a girl, Merilyn came into our lives. On November 26th, 2018, two good things happened to me. The first, I won gold at the World Championships in Delhi and the second, Merilyn came into my life. When I was standing on the podium with tears, I was waiting to hold my little girl. Now, I can say my family is complete," she recollected.
Changing topic is always difficult while speaking with Mary. But when asked about the whole controversy Mary quipped, "I am tired of being accused of false play. I have come through a lot of politics and I know how difficult it is for a youngster to make a mark in the Indian team. I have never said no to a fight be it inside the ring or outside. But when people disrespect me and what I have done for the country it hurts."
"I have known Abhinav Bindra for years. He is a good human being but he needs to stick to his business. I never questioned his place in the Indian shooting squad, why is he questioning mine? He knows nothing about boxing. If he enters a ring, he will not be able to score a single point. When he has absolutely no knowledge about what the federation or the coaches or the management have spoken or decided, why does he have to interfere," Mary added.
"I have fought hard for my medals all these years. I will continue to fight for them. If someone challenges me and wants a trial, I won't back down. I am a fighter," Mary said before returning to mother duties.
Latest News
Most Popular
Columns