Sports
Women of pure wonder
Deccan Chronicle| Nikhita Gowra
Published on: April 3, 2018 | Updated on: April 3, 2018
Extreme sports is no longer just a man's domain, and Kopal Goyal's documentary is a testament to the feats women have achieved in this arena
Kopal Goyal (left)
In an age where the field of extreme sports is dominated by men, especially in India, there are several women who are standing out. Bringing them to the forefront is 25-year-old rock-climber and filmmaker Kopal Goyal. Kopal's Project Wild Women, featuring 16 women in seven extreme sports, has taken off with a bang!
The extended trailer of the project has won the People's Choice Award at the IMF Mountain Film Festival and has been chosen for India Tour, which means that her documentary will be screened at 100 locations across the country. And interestingly, one among the 16 featured champions is Hyderabad's very own Anam Sultana, a surgeon in training and a skateboarding pro!
About how it all started, Kopal explains, "It was inspired by my own life. I have been rock-climbing and wall-climbing for over two years but my parents never understood my passion. I wondered if there were other people like me and when I looked for them, there were many! Now, I am featuring women who do downhill mountain biking, paragliding, skateboarding, surfing, frozen waterfall climbing, etc."
Notably, Kopal is a one-(wo)man army at the moment — she directs, edits and shoots the footage herself. She has also won accolades for other short films in the past.
A love for wheels
Stating that Anam's skill fascinated her, Kopal shares, "Even though Anam doesn't take part in competitions, her skills are on par. I wanted to feature her not only because she was the only skateboarder girl in the city, but also because managed to skateboard with a hijab."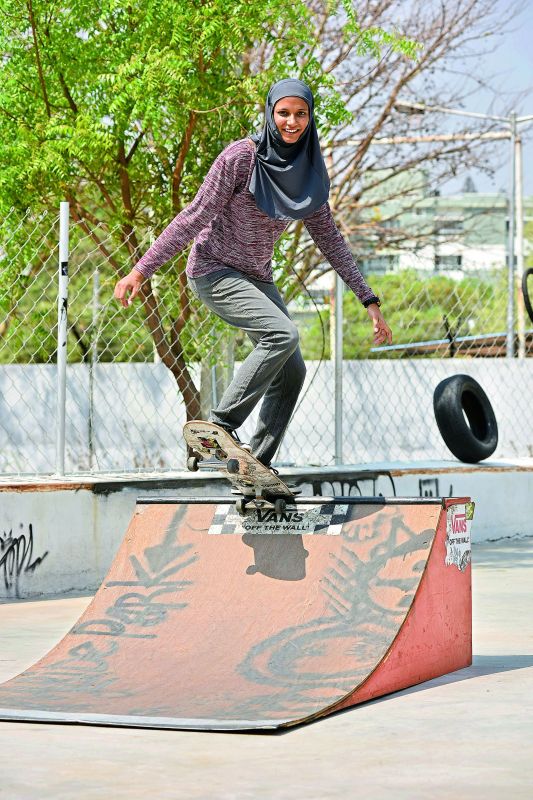 Anam Sultana
Anam's tryst with the wheels started when she was a kid and used to quad-skate. Her appetite for bigger challenges introduced her to roller-blading, and eventually, skateboarding. "I got bored with just rollerblading after a while. Then I came across a YouTube video of people doing tricks on a skateboard, and I wanted to do that," mentions Anam, whose family has been quite supportive.
Anam's father bought her her first skateboard and there was no stopping her thereon. "I'm not a very social person and I knew nobody who skateboarded. I would just skate on my home's terrace in the old city. This went on for six months after which I felt the need to look for other people. I came across a group which skated in the Lakdi Ka Pool railway station's parking lot. I was the only girl then. Now I go to the Wall Ride Park which is close to the hospital where I work. I've found great company but I'm still the only girl. I think a lot of people shy away from the sport because they're embarrassed to fall. Even I used to be. But I got more confident since I learned how to fall by watching others. There's a certain way to fall gracefully, which prevents major injuries," shares the young sport, who, surprisingly, hasn't thought about competing.
"I've never skated in front of my family, maybe because I'm afraid they'll freak out when they see me fall. So I've decided to surprise them with this documentary. Maybe after that I'll think about competing, if I get time off from work," she says.
So what about injuries? "Nothing major, but I have sprained both my ankles and wrists. But when you get a trick right, it feels so amazing that I forget about the falls," says Anam.
Talking about skateboarding in a hijab, she states, "I came across an Instagram post of a company selling sports hijabs. It was quite expensive and the shipping costs added to it. So I wrote to them explaining what I do, wondering if they could sponsor me, and soon enough, they gave me a sports hijab for free! It is so comfortable, it absorbs sweat fast and I don't feel so hot in it."
Latest News
Most Popular
Columns