Mumbai: If there's one reason India's run machine Virat Kohli is loved all round the globe, it will primarily be due to the love for his fans in addition to the dedication he puts out there on the cricket field. Now the Royal Challengers Bangalore (RCB) skipper has taken his fan connect to a whole new level where his followers can engage in private chats and get exclusive information from India's Test skipper.
It's an opportunity for fans to interact with me on a very personal level and get exclusive content which you won't find on my other social media platforms. I'll give them content that they need and what they are looking forward to," Kohli told the media here on Monday, while launching 'Virat Fan Box', an innovative social media platform exclusively for 'Viratians'.
Virat Kohli also posed with an autographed bat signed by him that will be available inside the Virat Fan Box. (Photo: PTI)
Costing Rs 16,999, the 'Virat Fan Box' claimed to offer a direct and unprecedented access to the star cricketer, both online and in real-life, and comes loaded with a state-of-the-art smart phone carrying the cricketer's emblem, designed and manufactured by Motorola.
Read: IPL 9: After RCB win against Pune, Virat Kohli fined Rs 12 lakh
Kohli, who also has his own clothing brand, wishes to stay as grounded as possible as far as his brand associations are concerned. But what is the secret to having such a great fan connect?
I cannot be someone else. I always play the way I do because I am myself on the field. I feel that's one of the reasons fans find that connect. It's very important to be you, very important to be honest and dedicated in what you do. I don't need to change who I am just to be associated with someone," Kohli was crisp with his reply.
Watch: Qandeel Baloch urges Virat Kohli to leave Anushka Sharma
I would like to be myself with every brand that I associate myself with. I cannot portray myself as someone else. I have always been a person who has sat and thought about things that I sit with first. If I can be of any sort of help to that idea to grow or a particular brand to grow, I just don't jump the bandwagon just to be a part of something. It has to sink with me and I have to figure out if I can actually help that particular venture grow," he added.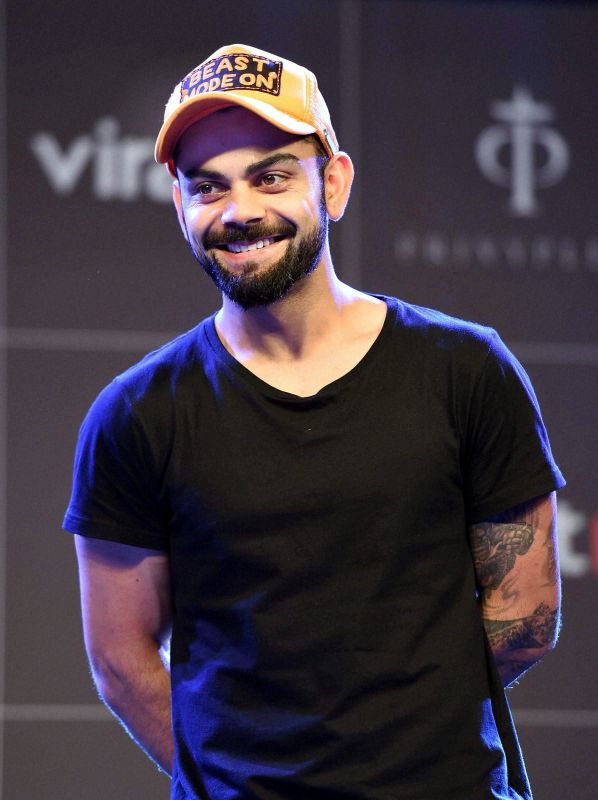 Virat Kohli looked dapper and was all smiles during the event. (Photo: PTI)
However, dealing with his fans also has its fair share of problems, specially when questions are thrown about his personal life. "It will be irritating if you read them but I don't have to entertain any senseless talks," Kohli asserted.
When I was growing early in my career, people used to think I am a different guy, but I am not like that. I did a lot of hard work to change that perception. People have accepted me now," he added.
Also Read: Silenced Faulkner with a perfectly timed retort: Kohli
Kohli, who celebrated Indian icon Sachin Tendulkar's 43 birthday on Sunday with an imperious ton against Gujarat Lions, is the least concerned that his followers are less than the 'Little Master's'.
Whatever fans you have on social media or Twitter is a by-product of your on-field performances. It's very important to have a good engagement with your fans. I didn't think my fan base would grow so much. If it has to grow it will, if not its fine," Kohli said with a broad grin.
But no matter how much adulation he receives from all corners, Kohli still makes it clear that he has a fan side to him.
Also Read: Why has Anushka Sharma stopped following her beau Virat Kohli?
As a fan I do tweet about people, I do mention about them so at least it goes to them that I am a fan. I want to let them know that I am a fan and I have my fan-boy moments all the time. I've looked up to so many people from different fields and in sports that whatever special happens with someone that I look up to, I always make sure I put it up there on social media," Kohli said, revealing Spannish giants Real Madrid is his favourite football club.
During the launch, he was asked about his alleged patch up with Bollywood actress Anushka Sharma. "That's for no one else to know. I wouldn't like to comment on it," he said.
Also Read: Shame on people trolling Anushka Sharma: Virat Kohli
On the contrary he delivered a prompt reply to the female scribe. "How is your personal life going?"
...