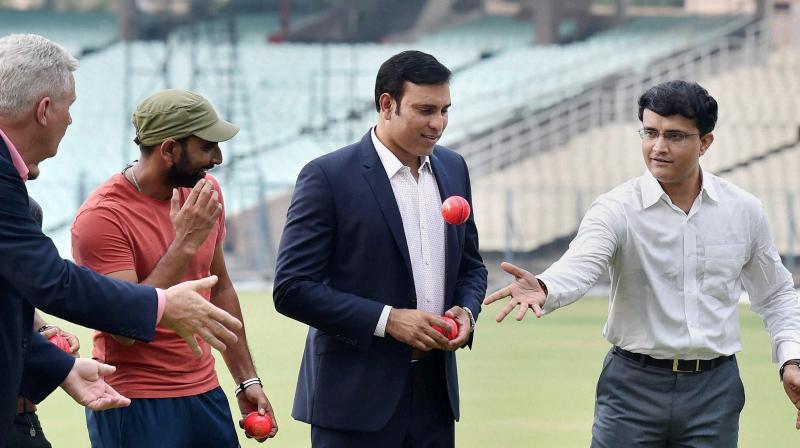 Kolkata: With Eden Gardens set to host the country's first day-night match with a pink ball in club cricket, an expert panel comprising Sourav Ganguly, VVS Laxman and Dean Jones on Thursday strongly felt that the innovation is here to stay.
In its bid to host India's first day-night Test, proposed against New Zealand in October, the iconic Eden Gardens will experiment by organising the final of the four-day Super League under lights with pink Kookaburra ball.
The June 18-21 match will be telecast live by BCCI's official broadcaster Star Sports and the Sourav Ganguly-led Cricket Association of Bengal is leaving no stone unturned to make the experiment a success.
Former Aussie batsman Jones, who did commentary in the first day/night Test between Australia and New Zealand at the Adelaide Oval, said the era of pink ball will make cricket an even contest.
"Now what we see is a bully type of a game and batsmen are having it too easy over the last decade," Jones said during a panel discussion on 'India's first pink ball multi-day match' here.
"But with pink ball it would be an even contest, and I'm liking the thing here. I would like to see the ball swinging a little bit more.
"I would like to see the defensive skills of the batsmen. I think it will be a better game to watch. Pink ball is here to stay."
He further joked that the 'night-watchman' would mean in a true sense with the advent of day/night Tests.
Jones further said a lot of research was being done on the kookaburra ball which would be completely dyed in pink and would retain the colour even if its get old.
"It's pink right through. Pink ball is not here to save Test cricket but to serve as a catalyst to bring people back.
It's like changing the work hours of a stall. People cannot sit in 45 degree sun for cricket. The pink is the new red," he said.
Ganguly, incidentally, had the experience of playing with pink ball when he represented MCC a few years back in the UAE and said he did not have any problem sighting the ball.
Citing the example of Virender Sehwag's century with pink ball in a Champion county match, Ganguly said, "Brightness was a lot better. This is here to bring people back to the ground."
"It's all about marketing. Pink ball is the way forward. You have to find a way to bring people back to the ground. Everything needs a bit of innovation. Like nobody thought T20/IPL to be so popular till it came to being.
"We take time to get used to the changes but then realise that's the best way forward. Yes, there will be dew in winter but we face the same problem with white ball. "First, let's have a start. Let's see the problems and try to address it and fix the issues."
Laxman said pink ball should be given to India's premier spinner like Ravichandran Ashwin to asses how it turns.
"Ashwin's only concern will be the softness of the ball as after 50 overs it loses colour and becomes soft what I heard. But with their calibre, the bowlers will find a way." Bhowanipore Club will face Mohun Bagan in the first pink ball four-day match under lights in the CAB Super League final.
The match timing would be from 2.30 pm to 9pm.
...